This post may contain affiliate links.
We'll be home for Christmas this year. Yes, in a real, 'stick & brick' home, that we recently bought in Colorado. That means we'll be doing more 'hub & spoke' style travel from our home base as part time RVers, instead of full timing as we have been for the past 6+ years. Here's the story.
Ironically, this move is creating more freedom and adventure for us, in this changing season of our RV travels and lifestyle.
The surprise part is that this is something neither of us were expecting. Or planning. Or shopping for. Or even talking about, for that matter. So the fact we actually DID IT is perhaps as much of a surprise to us, as it may be for you. Oh, and while we're on the subject of surprises, we also sold our motorhome, CC. We got an offer we couldn't refuse, and so we jumped on it. So now we're back to just one RV (the Casita) and the Jeep, and we no longer have to juggle two RVs. It was fun for a while, but in the end, practicality won out.
It all happened really fast, and to be honest, our heads are still spinning. We're really excited and happy about it all. But it's also taken more of an emotional adjustment than we imagined. Probably because we weren't planning it. So we had no time to actually get used to the idea. We needed some time to process ourselves before we were able to share the news!
Darling, let's be spontaneous!
As you may know, we typically plan and research things for months on end before making big (and expensive) decisions. Whether that's buying an RV. Or buying a camping membership. But we also know ourselves well, and we are (fortunately) very aligned with each other. So when a realtor friend in Colorado took us for a drive and showed us a cute, little place that we instantly fell in love with, we spontaneously said "let's buy it!" Within 48 hours we were under contract, and now we're all moved in!
Like we said, we've been processing all this and wondering how and when to share the news with you. We still have a ton of content in the queue, waiting to be edited and published on the blog and YouTube! But we also didn't want our backlog to cause us to wait any longer in telling you. We want to be able to authentically share on social media what's happening in our lives in real time, even if that means some of the content may be 'out of order'. And that's OK. "Out of order" seems to be the theme of 2020 anyway!
Many RVers are making changes right now
This news may not even be that surprising to you. After all, many of our fellow full time RVers have also either shifted to part time travel, decided to take a season off and pause their full time RV life, and some have hung up the keys on RV life altogether.
On a recent Live Call with our RV Success School students, everyone chimed in to share how the pandemic was affecting them and their travel / life plans. Quite a few have also shifted to a home base and decided to part time travel for a while. While some others have recently sold their homes and either hit the road already, or are preparing to embark on their own full time RV lives in 2021.
Just as we always say in the RV life – there is no one size fits all, and everyone needs to do what is personally best for them, at any given time.
Don't worry, we're not saying we are stopping full time RVing for good! We're just putting it on hold for the time being. We'll wait for the world to settle down a bit, which will also give us time to reassess what's next in our RV and travel adventures.
We'll be doing that in our cute little home, which is small, about two years old, and largely powered by solar. So it's easy and inexpensive to maintain and Marc is VERY happy that there's no lawn to mow! Just a small courtyard. Being a great "lock and leave" style home, it actually supports (rather than hinder) our future travel dreams and goals – both domestically and internationally.
Of course, compared to our 350sqf motorhome, the place feels huge! But it's compact enough not to feel overwhelming. And we really love having a second bedroom as an office, instead of always staring at our computers in the RV living space! To be honest, having our life and work so intertwined in the main living area of our RV was starting to take a toll that we didn't even realize, until we were no longer dealing with it. So we now feel more freedom, peace and joy in our work than we have in quite a while.

What does this mean for RV Love – and for you? 
From our perspective, it is all very positive – for you and for us. We will still be traveling in an RV  (ours and others) and we still love creating and sharing content that we know will help you, no matter where you are at in your RVing journey. Plus, we still have so much more content yet to be shared – from our Class A motorhome, RV rentals, boondocking, and our camper – that haven't been edited yet. We have plenty of ideas for other kinds of content too, which we're excited to roll out in 2021.
In fact, we're already working on a second book with our publisher (about RV life) right now, and that will keep us busy for the next few months at least! We'll share more about that as soon as we're allowed to! 
And while we have identified as full timers since 2014, all of the experience and content we have developed along the way remains available to you – here at our website, on our YouTube channel, social media, our first book and our online school.
Freedom comes in many shapes and forms
Ironically, we now feel more free to embrace different kinds of RVing adventures – with our much smaller travel trailer and Jeep. And we plan to do more RV rentals, so we can share a host of new RVing experiences in different kinds of rigs, without having to be on the hook for the cost of RV repairs, maintenance and depreciation!
If you read our 6 year blog series, including the real cost of RV ownership, you'll see what we mean! 
Living the life you want takes courage
The Dedication on page 5 of our book reads: 
It's only in hindsight that we realized our recent decision to buy a house and make these big changes WERE actually pretty brave. And these new roads are already leading us to more freedom and fun… In fact, it was the twists and turns in the roads of 2020 that have been introducing us to new kinds of RV adventures and opportunities that we had not considered before.
In Chapter 2 of the book, we talk about your "WHY" and how to design an RV lifestyle that works for YOU. We did this exercise back in 2013 when planning to hit the road full time. When we did the exercise again recently, we realized that this decision is actually supporting us in our bigger goal of traveling even farther and wider. That is, when things open back up again, in the USA and internationally, of course. So this season of our life is giving us time to plan more for that.
Finding RV storage and places to park the Casita have been pretty easy. Even finding a place to hang out with both of our RVs – while it can be a bit of a juggle and extra expense – wasn't even that much of an issue. But finding an affordable place to store our 40' motorhome for longer periods – say for a trip to Australia (which we've since cancelled) was proving to be more of a challenge. And it just didn't make financial sense.
One of the keys to more freedom and fun in our life is simplification. And it feels like we have created a simpler, healthier balance for ourselves. We're in a beautiful part of the country, close to family, and can travel to some of our very favorite places on just one tank of gas! Of course, we've redirected the money we were spending on our big motorhome to a small piece of real estate that is appreciating in value, while supporting our current and future lifestyle needs. Emotionally and financially.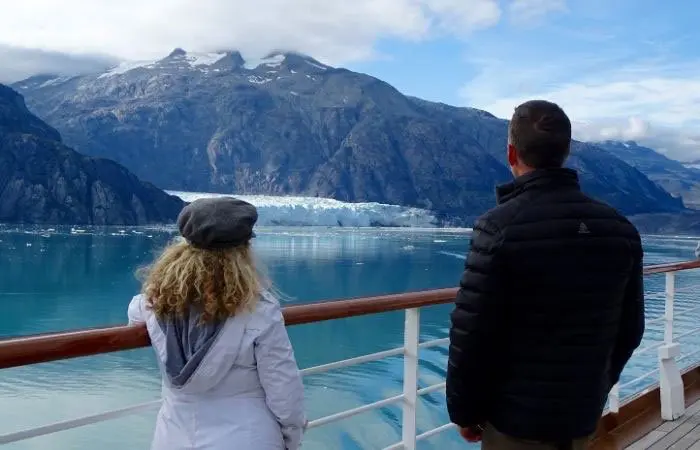 Did we have an exit plan for our RV life?
Over the years, whenever people asked us if we had an exit plan for our RV life, the answer was always no. We have truly loved our full time RV life, the places we've been, the people we've met, the adventures we've had and how we have grown personally and as a couple, through it all. We honestly could not imagine stopping. We usually found ourselves getting itchy feet (wheels?) after 3 or 4 weeks in one place.
We always figured that if and when we were ready to change our RV lifestyle, we'd feel that nudge, and talk about it. Rather than try to put a specific timeframe on things, we figured a 'feeling' or a 'situation' would be the catalyst, and we would just cross that bridge when we got to it. You can't plan everything too far ahead in life as so many things can change. And who was anticipating a global pandemic, and how that would impact all of our lives!?
Of course, we never imagined the 'perfect house' for us would show up so quickly and serendipitously in the way it did. But then 10 years ago we never imagined we'd be living, working and traveling the country full time in an RV for over 6 years either. Or that we would end up making a full time career out of it – one that we love – while helping thousands of people and creating an incredible community of RVing friends (That's you!)
And we don't consider this an 'exit' from our RV life, so much as a change of travel style and pace. At least for now. And an RVer is an RVer, no matter how you choose to do it.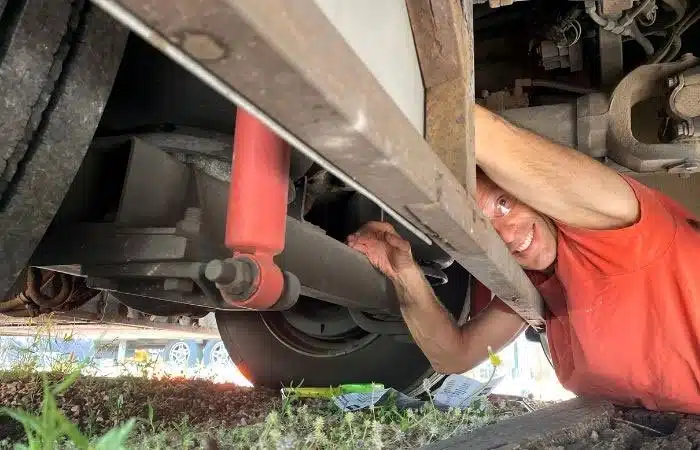 Less time fixing, more time doing other things!
With less time spent on travel planning, moving, and fixing the coach, we actually have additional time to create more of the kinds of content we want to share. And take in the joys of a slower pace of life and travel for a while. Ah, slow living. There really is something to be said for it! 
Traveling fast and furious can be fun, but it also gets exhausting after a while. Especially after six years, while working full time! We're really looking forward to doing some shorter getaways with the Jeep and camper, snow camping (!?). And after loving our experience renting a smaller RV in Florida earlier this year, and another in Texas, we also plan to do more RV rentals in different kinds of rigs.
What are our plans for the rest of 2020?
We feel 2020 has forced all of us to take a breath, step back and reassess what we really want more of in life. At least, that's what it has been for us. 
So with all that, we're looking forward to a quiet and cozy time "in" this holiday season… Having Zoom calls with family – in Australia and the USA. Cooking up a delicious feast (with leftovers for days). Working on another book. And reflecting on the year that was… and the year that is yet to be.
We're excited for the new adventures that lay ahead, and sharing it with all of you!
Wishing you and yours a very Merry Christmas and a Happy New Year! May the holidays be filled with peace, love and happiness. 
– Love, Julie & Marc
GOT COMMENTS OR QUESTIONS?
We would love to hear from you. Drop us a note in the comments section below and we will answer them in a future blog post/video.