This post may contain affiliate links.
It's our 3 years on-the-road-i-versary! It's surreal to think back to this day in 2014, as we waved goodbye to our Colorado townhome and drove off into the sunset with our RV and MINI in tow, as we headed north to Wyoming en route to our first destination – Lake Tahoe, California. We had left behind our suburban Colorado neighborhood, Marc's family, our friends and our very 'normal' life… to set out on a new adventure and create an entirely new way of life. We were optimistic, but in truth, we had absolutely no idea how it was all going to work out.
Fortunately, it's worked out very well indeed. In some ways, June 2014 feels like it was yesterday and in other ways it feels like a lifetime ago. Either way, it's amazing to look back and reflect on how hitting the road as full-time RVers has been life changing on so many levels.
As we enter our 4th year as "full-timers" we stopped to reflect on some of the ways we believe our full-time RVing lifestyle has changed us for the better – and shared a handful of our favorites photos from our journey so far.
Photo: Grand Canyon North Rim, AZ: September 2016
1. Life is Simpler and Richer
In downsizing our life we downsized our stuff and along with it, all the things that weighed us down. Not only material stuff but also many of the mundane chores and daily grind that goes along with a regular life, home and existence. We no longer have the desire to shop or fill our lives with things that don't have meaning or feed our souls. We've learned to lighten up, live in the moment and appreciate the little things so much more on a daily basis. Every day is simpler yet so much richer as we now have the time, energy and space within ourselves and our lives to embrace them fully.
Photo: Going to the Sun Road, Glacier National Park, MT: August 2016
2. Friends, Friends Everywhere
Throughout our travels to 49 USA states (so far) we've met and made friends with our RVing neighbors at campgrounds and even remote boondocking locations all around the country. These days it seems we know someone just about everywhere we go. Just this past weekend we reconnected with 2 RVing couples we'd met in Quartzsite, AZ in January. Later this week, we'll be having breakfast with friends in Phoenix. And in August we'll be watching the Solar Eclipse in Oregon with dozens more of our RVing buddies from all around the country. And while it took a little while to build our community on the road, they literally are everywhere and we've found our new network of friends to be bigger, bolder and more adventurous than we ever imagined.
Photo: With friends Erik and Kala of Livinlite.net in New Orleans, LA: March 2016
We consider ourselves to be aware, understanding and compassionate people with an appreciation and healthy respect for others – their views, opinions and backgrounds. But there's nothing quite like being exposed first hand to different people and places to really be able to see life through the eyes of another. 
Sometimes encounters are fleeting and other times stories and circumstances hit home on a deeper level, but all of it has deepened our awareness and understanding. These days, it's easier to take a step back and view things from another's perspective, and remember that while we can all be so very different – with diverse viewpoints and life choices – on a deeper level, we often share more similarities than we may realize.
Photo: Marc with Amish farmer and buggy driver, David in Lancaster, PA: November 2015
Living authentically has always been high value for us – individually and as a couple. It's not always easy to show up as your true self in the world, but as RVers, we've found it's easier to share more of our authentic selves and experiences with the people we meet on the road. Strangers don't have pre-conceived ideas of who we are, where we're from or what we do. 
Of course, when we share so much of our journey publicly (here on our blog, social media and YouTube) people who 'know us' via these channels can still make assumptions, but that's even more reason to stay transparent. 
Living life on our own terms and marching to the beat of our own drums, we care less about society's expectations and stay focused on what feels right for us. That helps us stay connected to and express our authentic selves, as we continue to live our lives as an example of what we believe in and stand for.
Photo: Standing on the corner in Winslow, Arizona on Historic Route 66: March 2015
Living full-time on the road as RVers, we're almost always venturing into the unknown and getting out of our comfort zones – whether it's exploring new places, meeting new people or diving into new adventures. This stretches our minds and expands our world to be so much bigger than it once was. The more we're able to handle what life and the road throws at us, the more we know we can handle. 
We feel a newfound sense of bravery. Whether it's trying something new or accepting an invitation from strangers, we say YES more often and are up for just about anything. We're able to dream bigger, make bolder plans and somehow they seem entirely possible, which gives us the courage and confidence to take a risk and go for it! After all, if it doesn't work out, what do we have to lose?
Photo: On the black pebble beach at Yaquina Head Lighthouse, Newport, OR: August 2014
We've learned to deal with the inevitable challenges of the RV lifestyle which can require troubleshooting and problem solving on the fly – often under stressful circumstances. The upside of that is it rewards you with new experiences, learnings and confidence. These days we also spend more time dry camping solo in more remote locations – which means we're not as dependent on "the grid" or society as we would be at home in our regular life – at least for a week or two. There's a real sense of independence and empowerment that comes with that level of self sufficiency.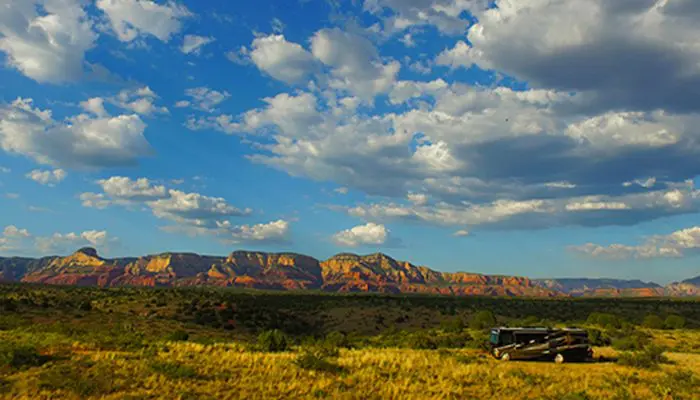 Photo: Boondocking on National Forest land in Sedona, AZ: June 2017
7. Travel has Expanced our World
We feel truly blessed to have been able to travel and explore so much of this beautiful country – and even other parts of the world – over the past three years. And the fact we've been able to do all this while still working full-time – thanks to technology – is truly humbling. 
The more we see, the more we realize there is yet to see! This world – even North America alone – is bigger and more beautiful than you can even imagine and it's going to take a long time to explore it all. We're just so glad we decided to start RVing as soon as we did, as our travels have changed us inside and out, and this journey is far from over!
Photo: Snorkelling on the Great Barrier Reef, Australia: April 2016
8. We're OK With Being 'Not Normal'
When we first began researching the full-time RV lifestyle, it seemed like such a strange and foreign world to us. We were curious and intrigued, but it was still kind of strange as it was SO unlike what we were used to. Now, three years later, it is 'normal life' that seems so strange and foreign to us! 
Whenever we go back home to Colorado or visit big cities and see people so busy with their lives, jobs and commutes, we're brought back to earth with a jolt. We are reminded that it is WE who are the different and weird ones. We can't relate to a 'normal life' anymore. 
But that's OK. We're living a life that's right for us and it doesn't matter if no-one else understands it. We're happy and thriving and we don't see any reason to go back! In fact, we don't think we could.
Photo: Standing by the Pacific Coast Highway 1, CA: November 2014
9. We Created More Freedom
Our path to freedom began in 2013 when Marc's new job enabled him to work from home. A year later, we took it to another level and hit the road in our RV. Then, as the demands of Marc's job began to take a toll on his health and wellbeing, we knew it was time for him to stop. 
n early 2017, Marc quit his job so we could create new freedoms and choices in our lives. We dove into developing then launched our online learning platform for RVers in May. To us, the ultimate success is living a life of freedom and doing what you love while helping others. And it feels like we're exactly where we are meant to be.
Photo: Arms outstretched in Rocky Mountain National Park, CO: June 2015
10. We're Constantly Inspired
It doesn't matter where we go or how long we've been traveling, we continue to be inspired by the people we meet along the way. Whether it's solos, couples or families, millenials, retired or somewhere in-between, we never tire of hearing the stories of people who have chosen the RV lifestyle. 
We love hearing about their creativity and resourcefulness and how they figured out a way to make the lifestyle work for them. People choose to RV for so many reasons beyond just travel – simplicity, health, to achieve financial goals, reconnect with nature or loved ones, or simply live life as fully as they can. No matter what their motivations, taking the leap into living from the road full-time takes a certain kind of creativity, boldness and courage that constantly inspires us.
Photo: Gazing out at the pink cliffs during an off road adventure in Utah: September 2016
People often ask us "so how long do you think you're going to do this?" and our answer is always the same "we have NO plans to stop". This lifestyle suits us, we continue to love everything about it and we see ourselves RVing for a long time to come. After all, there are many more roads to travel, more people to meet and even more adventures that are bound to surprise us.
We're feeling a sense of anticipation about this next phase of our life, looking forward to what the future holds and, as always, excited to be sharing the journey with you.
Thanks for being part of our first 3 years on the road. Here's to the next 3 years and beyond! We hope to see you down the road someday. Safe travels!
Photo: And the never ending road trip continues!
GOT COMMENTS OR QUESTIONS?
Did Any of the points in this article resonate with you? Please share – We would love to hear about it.