This post may contain affiliate links.
It sounds a little crazy, but we really did buy an RV for $1 with the intention of setting it on fire. 
A few years ago, we visited an RV salvage yard where hundreds of RVs were damaged by fire. Then last year, six people we knew lost their homes to fire – two of those were homes on wheels – RVs!  So we decided to make an RV Fire safety video to help educate more people and keep you and others safe.
But… in this distracted world, how do we ensure enough people will see it and get the information? 
Maybe if we actually caught an RV on fire it would get the attention it deserves.  Of course, this isn't something you can go and do in your backyard safely.  So, we dove into this multi-month project alongside Fire professionals from the area we were RVing in and the state-level officials too.
This was a big project, and we learned a lot. So this post tells the story and shares a TON of great information with you. 
We included some quick links to jump to sections of the post below.
And you can watch the video here – we think it's the best one we've ever done. Let us know what you think in the comments!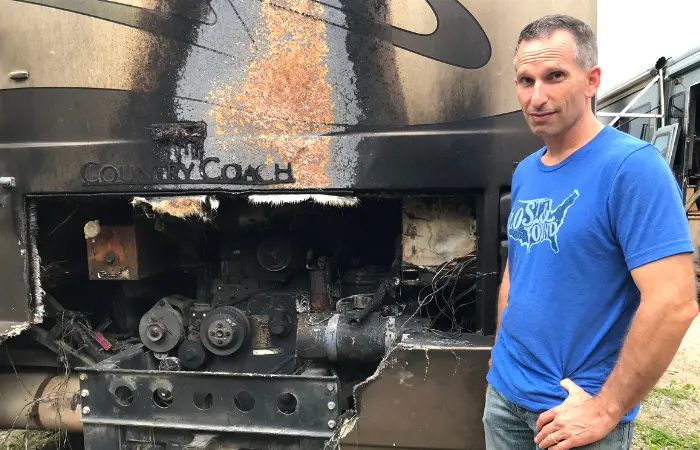 Marc stands by a motorhome that was the victim of an RV engine fire
The Crazy RV Fire Safety Idea
So, as mentioned briefly above, we had this crazy idea that the best way to help others avoid loss and injury to fire with their RVs is by actually catching an RV on Fire on purpose.  We just knew that the first-hand experience and visuals would be the best way to help educate others.
But you must admit, it sounds a little crazy and dangerous. This isn't exactly something you can safely do by yourself in your backyard. There are many moving parts and logistics to safely find, transport, burn, and clean up after a big project like this. Could we even pull it off?
Fire crew inspects Harvey the RV for hazards before the burn 
Engaging the RV Fire Fighting Professionals
We were in western Colorado for a few months, so we started asking around in that area. Because before we can even begin considering setting an RV on fire on purpose, we need to make sure we could have the right people on hand to put the fire out.
Before long, we had a conversation with a local fire department chief who really liked the idea.  Being a fellow RVer, he loved the idea of bringing extra attention to the additional fire hazards of RVs.  Even better, he also believed that he could help us gain the support of state-level officials.  
So he connected us with the Colorado Division of Fire Prevention and Control. We met via Zoom with Chuck Altvater, an RVer himself, who was also excited about RV fire safety. By combining resources, we could reach a larger audience and help more people. Chuck was also able to help work with other fire departments across the state so that when we could find a suitable RV and location, the odds were good that the local fire department in that area would come on board too. It is a great training exercise for the fire departments. 
Harvey the RV is a 1973 Winnebago Indian motorhome that has seen better days
Grandpa and Grandma had fun with the RV, until it was left to rot in a field for 20 years
Finding a Suitable RV To Burn
In our travels, we always see unused RVs, so we were confident we could find one.  The more tricky part would be finding an RV that people watching the fire could relate to. It needed to be nice enough that people could imagine it being a normally functioning and regularly used RV. 
But at the same time, we didn't want to destroy an RV that could be restored and continue to provide great memories of RV travel for new owners.  Plus, we had to find one relatively close to the burn site (once that is established) so that we could safely transport it to the scene of the RV fire.  
The local fire department reached out to their network, and Julie also reached out to community Facebook networks to find the goldilocks (just right) RV for our RV fire project. Before we knew it, we had multiple RVs to choose from.
Marc buys Harvey the RV for the princely sum of one dollar!
Which RV Did We Decide On?
The best fit for our RV fire was this 1973 Winnebago Indian 22 motorhome.  The owners had some wonderful travels and memories with it for years after they bought it.  But after a mechanical issue sidelined the RV, it eventually sat in a field behind their barn for twenty years. 
During those 20 years, the roof was damaged by kids jumping on it, which lead to extensive water damage. The metal and chassis were all rusted, and many other parts degraded from lack of use to a point of no return.
The previous owners loved the idea of their memory machine RV making one final journey and helping others stay safe in their RV travels. So they accepted our offer to buy it from them for $1.  Yep… ONE dollar for this once iconic RV that once was on many people's wish lists! Money had to change hands so we could obtain and legally own the title before we set fire to it!
We really loved the look of this old RV. So much personality.  We even chose to name our new purchase.  Harvey the RV.  It is a shame it was no longer restorable, but it was great that it will be able to go to a good cause instead of just continuing to rot in a field.
We hope Harvey's sacrifice will do a lot for RV fire safety and save thousands of other RVs and the lives of their owners.
The entrance of scenic Kebler Corner campground in Somerset, Colorado
Our campsite at Kebler Corner
Finding The RV Fire Location
Finding an appropriate place to have such a big fire is difficult.  Our first hope was to do the fire in or near a salvage yard so that the RV chassis would not need to be moved again once we were done. But, despite a lot of effort and a good cause, we could not find anyone to accommodate us. 
Reaching out to the broader community, we received a message from a very unexpected source. The owners and operators of a beautiful campground in the mountains nearby are big advocates for fire safety in general and RV fire safety in particular. They thought they might have just the right location. So we looked up their campground on our RVLife app and visited.
When we pulled up, we saw the great welcome center and tree-covered RV sites surrounded by forest land covered in trees along a river. But, around the back part of the campground was a huge open space.  Apparently, the open space used to be a large horse arena. This large space would give us plenty of space to bring in extra fire trucks and keep enough distance from the beautiful natural surroundings to avoid starting a forest fire.
Aerial view of Kebler Corner Campground
This field was once a horse arena, when the property was owned by a billionaire
More About Our RV Burning Location
With their passion for educating on fire safety, owners Paul and Emily St. Ruth of Kebler Corner offered us to use the space as long as once we were done; we left no trace of the RV fire. Now, we knew it would make a BIG mess, but we were also confident that with the right equipment and help, we could make it look like nothing happened there.
Plus, the location even had cabins in addition to RV sites, so there would be a place to stay for the others coming into the area to help with the project. You can read more in our review of this campground here.
So, we all agreed that it would be the perfect spot and set a date for when we would do the RV fire. We needed to act fast before the wildfire season started, which would put demands on the fire fighting resources and potentially encounter a fire ban that occurs most summers in Colorado mountain areas. Then started making arrangements for all the others to fly or drive into the area to help out.  Many hands were needed.
Harvey the RV's final road trip – being towed to the burn site
Getting the RV to the Fire Site
Though we could buy the RV for one dollar, we couldn't just drive off in our new RV. We had to hire a tow truck to drag it out of the field and up to the RV burn location. And… remember, it had been sitting in that field for 20 years, so it had really old tires, and who knows what other challenges in moving it. 
Amazingly, the tires still had a little air in the tires, which was a good sign. But tires normally need to be replaced after 5-10 years. So hopefully, they would hold together for the 30-40 minute tow as long as we drove slowly.  
I grabbed my Viair air compressor out of our Jeep while waiting for the tow truck driver to arrive and aired up all the tires from 10-15 psi up to about 50 psi to better support the weight for what would be their final journey.  You can read more about our air compressor in this review post here.
The tow truck driver hooked everything up and disconnected the drive train so that it would not overheat and cause an RV fire before we were ready.  Thank goodness, the trip went off without an issue, and the next thing you know, Harvey the RV was at Kebler Corner in the former horse arena, waiting for his big day.
Sadly, the motorhome was completely trashed inside and beyond restoration
Marc does some 'patch up work' to make the RV look more habitable
Marc drills holes in the shock absorbers to reduce the risk of a fire explosion
Prepping the RV for the Fire Safety
But getting Harvey the RV to the burn location was not all that needed to be done to prepare for the RV fire. Next, we needed to repair some of the damage, clean it up, and make it more lived-in. And we also needed to make some modifications to help ensure the safety of the RV firefighters.  
On the safety side of things, we needed to remove the propane tanks, gasoline, and batteries.  We also needed to drill holes in the suspension shock absorbers to avoid them building up too much pressure and bursting.  When you see how big the RV fire is, you can imagine how much bigger the fire would be with a full tank of gasoline and propane that would exist in most RVs that people travel with.
Then, on the repair and decorate side of things. The roof had largely caved in from the water damage, so we had to use plywood to strengthen and reshape the roof to more like the original roof would be. Then we had to clear out wasp nests and debris. The stove and cooktop had been removed years ago, so we needed to build in a new countertop and put a portable cook stove top for our cooking pan to simulate a grease fire.  Next, we added a few decorative touches, some linens, and some clothing in the closet.  
We gave Harvey the RV a mini makeover to make it look homey, before burning it
Why Decorate Before an RV Fire?
You see, when traveling in an RV, many of the items we carry are also sources of combustion.  Paper towels, snack chips, polyester clothing, and drapes.  Also, nail polish, cleaners, and other flammable materials that we forget can be dangerous. A few more decorative touches and Harvey actually started to look quite homey.  
Then we planned how to position cameras inside the RV to capture the fire footage, hoping they would survive the blaze.  Chuck built special fire-resistant boxes for the cameras out of particle and gypsum boards.  You might not know that gypsum board, or drywall sheet rock as it is sometimes called, is a very commonly used material for building traditional homes. 
One of the special features of gypsum board is that it is made up of 30% water which is a huge benefit to resisting fire.  Of course, RVs are not made with the same materials and therefore are much less fire-resistant.  Once the temperature gets high enough, the materials that RVs are made up of become very flammable.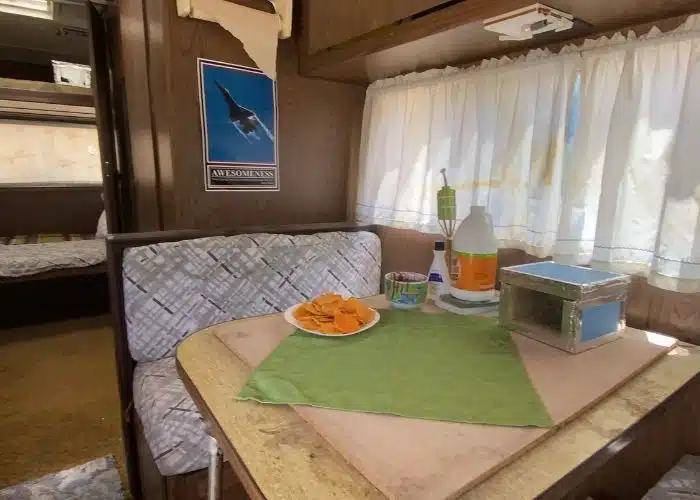 Everyday flammable items include corn chips, nail polish remover, candles etc
Trouble... RV Fire Cancelled?
Everything to this point was coming together really well.  But then trouble struck. A forest fire started in the area, and there was some wind in the weather forecast, so a red flag (no burning) warning was issued. After months of planning and so many people who traveled great distances to be here, it looked like the RV fire would be canceled.  
Even worse was that it seemed that fire season might have started early and that if we were not able to do the RV fire this week, we might need to wait until the snow started to fall in early winter. We were all understandably disappointed. But at least we could still go ahead and film some fire safety tips, fire extinguisher demonstrations, carbon monoxide testing, and other safety learning while we had all the firefighting professionals in the area. Then hope that the conditions would improve the next day. If not the next day, it was likely it would not happen for at least six months.
We learned a lot and will share even more with other blog posts and videos soon. Too much for a single article. Spoiler alert… as you probably saw in other pictures, we were able to do the RV fire the next day. The wind forecast completely dropped the following day, so everyone was on board to go ahead.
The motorhome is well and truly on fire, around 10 minutes in
Fortunately, the weather cooperated, and the RV fire safety professionals were all comfortable with doing the RV fire demonstration.  So, it was back ON!
We did our final preparations for the RV. Then the firefighters brought two fire engines to ensure we were extra safe.  Then they simulated a cooking fire by lighting a fire on the stovetop.
Within 30 seconds, the smoke detectors went off, and smoke was filling the RV. In less than one minute, the RV was unfit for human life. Yes, an RV fire can become deadly in less than one minute.
The fire continued to build and quickly engulfed the entire inside of the RV.  Flames began coming out of the roof, visible through the windows from outside. Within 5 minutes, the flames were over ten feet above the RV. Keep in mind that the average response time for a fire department is 8 minutes. And a more rural environment, like most RV parks and camping locations, would be much longer.
By 15 minutes, the RV was basically one giant fireball with a huge plume of black smoke filling the sky. There was a small explosion when the fuel nozzle for the gas tank shot out from the pressure of the heat. We had forgotten to remove the fuel cap! At that point, we asked the firefighters to extinguish, and they went to work putting out the blaze.
The Aftermath of the RV Fire
The crew of firefighters had the fire extinguished in about 3-4 minutes. Little remained of the RV. The frame and floor were intact, but most everything above that was charred remains.
Shockingly, our fireproof bag mostly survived the blaze, with our 'important documents' – including our book Living the RV Life – which were still mostly intact!
All three of our cameras inside the RV melted, despite the fire-resistant boxes we built to protect them. Fortunately, the SD cards from two of the melted cameras still saved the images we used in the main video.  
If you haven't watched the video yet, click here to watch it.
What Are The Most Common Causes of RV Fires?
There are of course many common causes of RV fires.  Let's run through some of the most common causes to help keep you safe!
Cooking in RVs
RV cooking fires are the most common source of RV fires when not in motion.  Most RVs use propane stove tops, and all too often, there are flammable objects too close to the cooking area.  Also, when cooking with grease or oils, it can burst into flames if the temperature gets too hot. Normally around 650 degrees F  The small space and low ceilings in most RVs make it more dangerous than cooking in a traditional home.
RV Fire Safety While In Motion
Trailer chains dragging and making sparks.  You might have seen trailers that have safety chains that are too long, causing them to drag on the ground. This is especially noticeable at night.  It only takes one stray spark to cause a fire. 
Improperly inflated tires can overheat and cause a tire failure and/or a fire. Ensure your tires are at the proper temperature and pressure by installing and monitoring them with a Tire Pressure Monitoring System (TPMS). You can check out the review of our favorite system by clicking this link.
Improperly adjusted trailer brake settings sometimes cause overheating brakes, and sometimes from just driving too fast or with too much weight on steep grades. The brakes can catch on fire if overheated enough. But even if only a little overheated, they can still be a major hazard if you pull over onto the road shoulder or off-highway area where the wheels and brakes can come into contact with highly flammable material like dry grasses and weeds.
Similar to brakes, the wheel bearings on trailers can overheat if they are not properly greased.  Once they overheat they can become a hazard similar to the hot brakes mentioned above.
Exhaust systems on your motorhome or towing vehicle can become very hot, especially the catalytic converter. If the exhaust comes in contact with flammable material like weeds or dry grasses, or fabrics, they can easily cause a fire.
Propane appliances in motion
Cooking or running propane appliances while in motion. Cooking while in motion is extremely dangerous, especially when cooking with propane. But other propane appliances like propane refrigerators can also be dangerous because they are only meant to be operated while level. 
But when driving, your RV is often not level, especially when going up and down hills. If operated when not level, the flame can weaken the metals and cause the fridge to fail and cause a fire. Some newer propane fridges can be operated while in motion but still need to be turned off if not level for more than a couple of hours. Of course, dealing with a fire is dangerous enough when parked, but even more so when in motion.
Another reason to turn off propane appliances is that they can be especially dangerous in fuel stations.  Some propane appliances like water heaters have an open flame. Gasoline vapor and an open flame are not a good combination.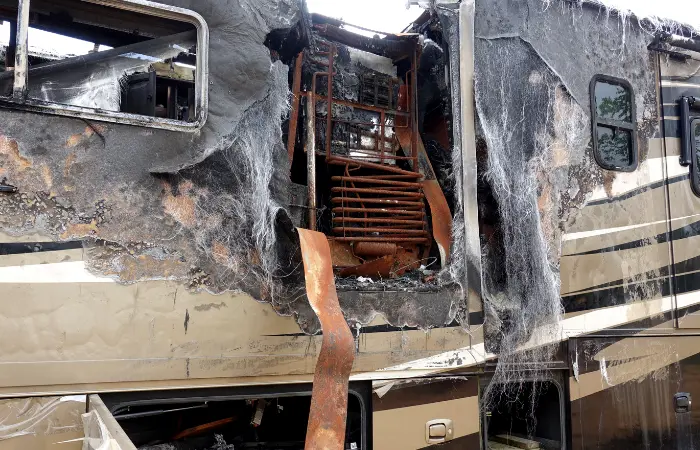 An RV refrigerator fire totaled this Class A motorhome
Though many newer RVs are starting to use electric or residential-type refrigerators, historically, most RVs have fridges that operate on propane at least part of the time. These propane RV refrigerators or heat absorption fridges are great for conserving electricity when not hooked up to power, but they also have a few disadvantages.
Heat absorption RV refrigerators need to be level when in operation, If unlevel, the burner inside can heat unevenly and weaken the parts, which will eventually cause them to fail and cause a fire.
Because propane RV refrigerators need to be level while operating, Some newer models can be operated while in motion because of the changing angles and vibration. But, if stationary for more than a couple hours, it must be level to operate.
Another potential hazard with heat absorption RV refrigerators is that because of how much heat they produce, they need to be well-ventilated.  The open vents required to operate them can attract insects, birds, and other pests to create nests in those areas.  These nests near high temperatures can easily become a fire hazard, so you need to regularly check these areas to make sure they are free from debris and RV fire hazards.
RVs can be complex homes on wheels, especially some more modern ones that are filled with electronics.  When wiring a traditional home, the wiring stays very stationary.  But in an RV that is frequently in motion and bouncing. With the construction style and the movement, wires can sometimes experience abrasion that leads to damaging the electrical wires.  And, the electrical systems in RVs are not always meant for some of today's high-draw electrical appliances. So, RV electrical fires can be an increased risk.
These RV electrical fire hazards are, of course, in addition to electrical fire hazards you might be familiar with in your traditional home, like overloaded electrical outlets, extension cords connected to other extension cords, cords under rugs that don't allow heat to dissipate, flammable materials near electric heating appliances.
Remember, if you have an electrically charged fire, never use water to put it out.  Only use a fire extinguisher that is approved for type C fires.
The aftermath – the RV fire was extinguished by the fire crew after 15 mins of burning
RV Fire Hazards Also Found In Regular Homes
Overloaded electrical outlets

Loose fabrics near heat sources, especially synthetic fabrics.

Rugs over cords don't allow the heat to escape

Daisy chained cords (plugging multiple extension cords together)

Candles can cause a fire if tipped over, or if flammable material comes near the flame

Smoking 

Cooking
The motorhome is fully engulfed in flames, this is at the 15 minute burning mark
Other Reasons RV Fires Can Be More Dangerous Than Traditional Home Fires
Fewer and more difficult fire escape routes

Unfamiliar environment for occasional travelers

Less prepared/practiced using appliances, cooking in the space

Wildland Urban interface (WUI). When in your RV, you often camp in the WUI, so you have the dangers of both environments. If another RVer or camper starts a fire in the area, you could be impacted by their fire.

More flammable materials. Most home interior walls in North America are built with gypsum board (drywall) which is made up of 30% water.  When there is a fire, the gypsum board can release some of this water, reducing flammability.  RVs are mostly made of much more flammable material.

Campfires nearby RVs, and in some cases, camping in areas that could be prone to wildfires.
How To Prevent RV Fires and Stay Safe
Don't overload electrical outlets
Cook outside when possible

Don't cover cords with rugs or carpet

Provide ventilation for any heat-generating electronics or appliances

LED candles instead of regular candles

Maintain and properly use heating sources

Regular inspection for hazards in RV and surroundings

Avoid campfires if any wind is present

Be aware and mindful of fire restrictions in the area

Don't leave portable heaters running when sleeping

Make sure your campfires are dead out and cool to the touch

With clothing or loose fabrics like curtains, choose natural fabrics like cotton and hemp instead of synthetic fibers like polyester, which is much more flammable. If using synthetic fabrics, coat or dip them with fire-retardant coatings

Regularly check wire connections for good connection

If you smoke, do not throw your butts on the ground, and preferably only smoke outside
Frequently check the undercarriage and outside panels of RV appliances to ensure that no pests have created nests and that there are no flammable materials present
Practice emergency evacuation plans
Never enter a vehicle or RV on fire
Keep a spare set of keys handy for your towing vehicle for escape
RV Smoke detector. Change the batteries every year, unless ten year battery, and replace the detector every ten years.

Carbon monoxide detector. Consider a low-level detector with a digital display to alert you of low levels which can still cause harm over the long term.  Change the batteries every year and replace the detector every ten years.

RV Fire extinguishers in multiple places. We like to keep one in the bedroom, kitchen, entry area, outside storage, by the BBQ grill, or in the towing vehicle. Mount them in easy-to-see and reach locations for fast response.

Types of fire extinguishers for RVs. For best safety, use those rated for both type A (wood, plastics, cloth, etc, AND type B (liquid fuel like grease, oil, stove, and motor fuel). It is good if they are also certified for type C fires (electrical) – Never use water on type B or type C fires!

Water, shovel, and fire extinguishers for outdoor fires too. Keep it right by the fire.

Consider switching appliances to an electric fridge and induction cooktop instead of a propane fridge and propane stove/cooktop.
Here is a link to our Amazon store page with some of our favorite RV safety, and RV fire safety products 
Thank you to everyone who helped us pull of this crazy RV fire experiment!
Thank you to so many others who helped make this possible.
Paul and Emily St. Ruth at Kebler Corner Cabins and Campground for offering their beautiful location for the RV Fire
Chuck Altvater and Kyle from the Colorado Division of Fire Prevention and Control for sharing their wisdom, guidance, and support of resources
Paonia Volunteer Fire Dept for keeping it all safe and putting the fire out
Jason and Megan Rutel for helping to film the content
Tim and Emily Rohrer from Own Less Do More, for volunteering to help with set up and clean up!
RV Life for supporting this project and helping us share this important message with others
To Mobile Must Have for sending us some fire extinguishers for our testing. More on those in a future post.
The previous owners of Harvey the RV – Duane and Rose – for selling us their RV for a dollar for this cause
To All of You for watching, and for sharing this blog post and video with others to help keep others safe!
Thank you again. We could not have done this without all of you!
GOT COMMENTS OR QUESTIONS?
We would love to hear from you. Drop us a note in the comments section below.