This post may contain affiliate links.

Road Trip #1: Delaware, Ohio to Denver, Colorado. 4 days, 5 states, 1,338 miles and 23 driving hours.
Our first road trip, to bring our coach back home, was a big one. In terms of miles, time, range of emotions and interesting experiences! Here's a recap of our 'maiden voyage', complete with the lessons we learned along the way. We're confident there will be many more lessons ahead. Hopefully, none of them will be serious or too embarrassing to share!

Thursday, May 15
Feeling a bit nervous but mostly excited, we took a morning flight from Denver to Delaware, a cute little airport in a relatively small, mid western community in Ohio, about 30 miles north of Columbus, to pick up our new home on wheels. It was a month since Marc had flown out to inspect the coach and "sealed the deal" with a deposit. Now it was time to finalize the transaction.
The previous owners, a delightful retired couple named Manuel and Elizabeth, had generously picked us up from the airport and chauffeured us to the coach. They had already set it up at Cross Creek Campground – jacks down, slides out, lights on. It was surreal for me to set foot inside the coach after so many months of research and planning and realize that this was going to be our home for the next who-knows-how-long! Although Marc was confident I would like it, it was also a relief for him to see how impressed I was seeing it in person. It had been kept beautifully, almost like new – inside and out.
Manuel and Elizabeth gave us a full training session: Manuel sharing his experience and tips with Marc on the mechanicals and outside of the coach. Elizabeth gave me the low-down on how she managed everything on the inside. In the RV world, these are often described as "blue jobs" and "pink jobs". Having each of the responsibilities allocated to one or the other definitely makes it easier to work together as a team and make sure everything is done properly, every time. Soon enough, we would learn a few lessons about what happens when you miss something on the checklist!
Time to Celebrate!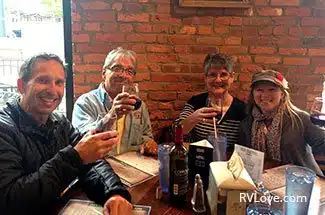 Training and handover done, it was time to celebrate with dinner and wine! Manuel and Elizabeth took us to Amato, a local wood fired pizza restaurant, where we enjoyed a great dinner and more than one bottle of wine. What a great night. It was wonderful to finally be able to sit down and relax, with all the 'business end of things' done and nothing more to do but eat, drink and share stories as we got to know each another. At the end of the evening, Manuel and Elizabeth drove us back to Cross Creek Campground to spend our first night in our new home. We'd packed a suitcase of linen, tea towels and a few kitchen items to ensure we were equipped with the basics for a comfortable three day drive back home to Colorado. OMG – it's starting to sink in – the adventure has already begun!
Friday, May 16
We were pleasantly surprised by what a good night's sleep we had. The coach had an upgraded queen mattress which was super comfortable. We began packing down the rig, mentally following the instructions Manuel and Elizabeth had shared so we could pack 'er up and get ready to roll. We even remembered to unhook the electricity! LOL. Apparently that's a common thing for first time RVers to forget, but all good there – Marc was on it!
If you've never driven a very large vehicle or RV before (ours is 35′ 10″, almost 12 meters long) , I can tell you, it's rather daunting! Fortunately, Marc has had a lot of driving experience with big vehicles. He was a super stretch limousine driver in his younger years in Denver and also spent time behind the wheel of several large trucks and a semi. He's a natural and I have to say, a highly skilled and impressive driver. Still, driving the RV was a whole new adventure – being our home on wheels, there's a lot at stake. If anything goes wrong, there could be potentially serious consequences.
Watch our video of Marc's first time driving the RV (and a couple of mishaps) by clicking image of video below:
We took off just after 10am, with Marc driving very slowly out of the campground, paying close attention to low hanging tree branches and the turning radius as we edged our way back to the main road. I just sat wide-eyed in the passenger seat, very glad to be co-pilot. We had only been driving a few minutes when we heard a banging sound.  I'd forgotten to lock one of the the pocket doors! A little later in the day, we discovered I hadn't closed the bathroom vent either. Both issues were quickly rectified – with no harm done.
Lesson #1: Carefully follow your pack-down checklist. Don't simply rely on memory, especially if you are a newbie
We stopped at a Flying J truck stop to fill the tank with gas for the first time, only to discover the challenges of maneuvering such a large vehicle properly to get close enough to the pump for the hose to reach! After a couple of attempts, Marc finally mastered it (for that time anyway) and filled 'er up, putting a good dent in our Discover card at the same time!
Lesson #2: Fuel up at places with easy access for big rigs and pull up close to the pump

We headed west, and had a good drive out of Ohio and across Illinois until about 5.30pm. At which point we came to a complete standstill on Interstate 74 in Indiana. We stayed stationary for the next four and a quarter hours! We learned there had unfortunately been a semi accident (a fatality) a mile or so ahead of us. Thank goodness we missed it. The incident closed both sides of the highway for the best part of the evening.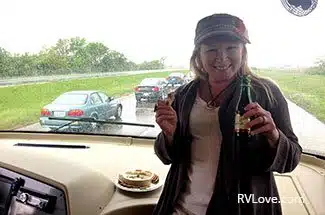 However, on a more positive note, this was when we discovered one of the joys of owning a Class A motorhome! We enjoyed the convenience of a bathroom on board, and a stocked refrigerator. Luckily we had done some grocery shopping early in our trip. And, with our Wifi hotspot, we were easily able to stay comfortable and pass the time. Everything we needed at our fingertips – snacks, drinks and more. I was even able to have a few Skype calls back to Australia with friends! All while watching the sun set over the lovely, peaceful fields of Indiana beside us. It wasn't a bad way to spend the evening.
Lesson #3: Be sure to embark on a journey with enough food and drinks to get you through unexpected delays
Finally, around 9.40pm, the road opened back up and we got in a couple more hours of driving, before exiting the highway to spend the night in a Cracker Barrel parking lot in Bloomington, Illinois. That's one of the unique things about this lifestyle. Many restaurants like Cracker Barrel and stores like Walmart love RVers as they are typically good customers. So many of their  locations allow RV's to park overnight. Just be sure to call ahead to get permission from the manager first!
We also noted that we got pretty good fuel economy (for an RV) on our first day – around 8.5 MPG. Driving an average speed of around 57 miles per hour on the highways, as recommended by Manuel.
Saturday, May 17
Despite a little highway traffic (which was more like white noise) we both slept well, but found ourselves wide awake at 4am. So we got an early start to make up for the lost time the day before.
The next 3 hours were a beautiful, peaceful drive through the Iowa countryside, passing farmland and hundreds of energy generating windmills during sunrise, until our arrival at Davenport, Iowa for a Cracker Barrel breakfast. Although Cracker Barrel is a favorite breakfast haunt of Marc's whenever he's traveling, it was my CB experience. I had to be initiated! With their typical warm, friendly service and home-style comfort food. We were happy to settle in for a bit. After browsing through their country store, displaying goods and memorabilia ranging from cute to cool to kitsch, then devouring our eggs, bacon and pecan pancakes. A breakfast fit for two serious road trippers. Then we were on our way again.

The road along Interstate 80 is long, quite pretty at times, but fairly uneventful. Yet, I always seem to find something to snap or capture on video with my iPhone. Even while traveling at 60 MPH the sheer number, size and elegance of the energy generating windmills was impressive. In the afternoon, we stopped by Council Bluffs in Iowa (just before Omaha, Nebraska) to pick up a tow dolly that we'd bought via Craig's List for towing our Mini, and arranged to collect it during our drive from Ohio to Colorado. Aside from a brush with the low hanging trees that etched a few surface scratches on the side of the coach, we successfully loaded on the tow dolly and were on our way again.
Lesson #4: Plan your route ahead of time and try to avoid roads with low tree branches
We continued on along I-80 across Nebraska, battling wild and gusty winds for the next 2.5 hours. When you're driving a large, rectangular shaped vehicle that's around 432 sqf of surface area (the body being 36 feet long and 12 feet high), you catch a lot of wind from the side. It was a blustery and tiring time for Marc, who had to stay hyper vigilant to keep from being blown into the next lane or avoid the swerves of other vehicles also being blown across in our direction. Holding tight onto the steering wheel at a 75 degree angle just to keep driving in a straight line might give you an idea of the conditions we faced!
After a long 10+ hour day of driving, we were glad to finally settle in for the night, at a lovely State Park campground called Mormon Island just off the interstate at Doniphin, Nebraska.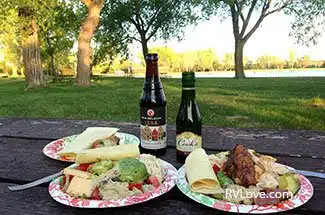 It was the first time we were really able to stop, relax and reflect on the enormity of what we'd just done – and were doing! We took our beer and champagne down to a picnic table by the lake, along with a plate of chicken and salad and just sat and enjoyed our meal in the beautiful, peaceful campground. We walked around the park just before sunset and captured a few photos before heading back to the rig to watch a lovely movie "About Time". It seemed rather appropriate – being about love and time travel and the notion that making the most out of life doesn't require time travel at all. Just an appreciation for every moment that life offers, and enjoying it for what it is.
Later that night
As we settled into bed, Marc was so overcome with emotion and happiness that it literally brought him to tears, and shared: "I'm just so happy right now. This is going to be our new life – having dinner by lakes and watching sunsets in places like this, almost every day".
It was a beautiful moment for both of us and I'm so happy to see and feel how much of a positive impact this new adventure is going to have on his – and our lives.
Lesson #5: Be present and appreciate those special little moments in life that bring you to tears
Sunday, May 18
We had a much needed sleep in before hitting the road by 10am for the final leg of our 3 day journey! We tried to fill up with fuel at a Pilot gas station, only to discover none of the regular gas (non-diesel) pumps were working! Due to the low amount of fuel remaining in the tank, Marc felt it was safest to back track five miles and fill up at another gas station we'd passed when we first left the campground. By the time we turned around, filled up and were on the road again, we realized that whole process – just to fill up with gas – took over an hour!
Lesson #6: Always plan for more time than you think you need to deal with unexpected situations
We'd not long left the gas station when a car came up beside us, honking and pointing. I looked in the mirror to see one of the basement doors had swung wide open. We thought this was odd, as we hadn't even used or accessed it. But no harm done. We pulled over, shut and locked the door and were back on our way.
Lesson #7: Double check all doors are securely closed and locked before driving
The winds continued to give us a beating most of the way along I-80 through Nebraska and part of Colorado. We stopped for a break and some lunch in the tiny little town of Brady, NE at the Hitchin' Saloon which had a decent Yelp review rating. They served up a pretty good burger and fries!
An hour later, we were back on the road and being our third driving day, Marc was feeling more comfortable behind the wheel and wanted to make up time, so he increased our driving speed a little from the 57 MPH we had averaged on day one to 65-70 MPH. That, combined with the gusty winds and the increased elevation of Colorado ended up denting our fuel economy quite a bit. It took our AVERAGE mpg of the whole trip from around 8.5 MPG to below 7 MPG. Which means that we were probably getting less than 5 mpg that day. It was a good experiment though to get a real, first-hand gauge of what is optimal.
Lesson #8: Stick to 55-60 MPH as much as possible for maximum fuel economy and safety
Mid afternoon, we pulled off for a 20 minute break and a snack. We were pleasantly surprised to see a free dumping station facility right there. So Marc was able to do our first dump of the black tank (toilet). All went smoothly. Phew – trust me, that isn't something you want to go wrong!
In general, what we've found so far is that with the coach being a fairly new model (2012) and having such modern features, the motorhome is really very easy to operate and live in. There's not nearly as much time and work involved as Marc or I had initially expected. The biggest thing we have observed is simply to allow more time in general than we think we might need. Time to prepare for any unexpected delays ie. road closures, inoperative gas stations, gusty winds and the need to drive at a slower speed than we would in a car!

Sunday night around 6.30pm, we finally arrived home in Colorado. We found that although we were tired, we felt good, as the ergonomics of the motorhome seats are so comfortable. It really is much easier to drive the coach over longer distances than in a car  – or at least, OUR car – the Mini!
So, that was our road trip, halfway across the country. All the way from Delaware, Ohio to Denver, Colorado! We loved it and are excited to hit the road full-time, in just a few weeks. Stay tuned for more!

© RVLove.com
Like this article? Check out these related posts
Take a virtual tour of our motorhome
Flashback! Our RV purchasing experience
The truth about how we are adjusting
3 months on the road – living, working and traveling fulltime in our RV: video update
6 months on the road – our 4 biggest changes: video update
9 months on the road – our big news + travel highlights: video update