This post may contain affiliate links.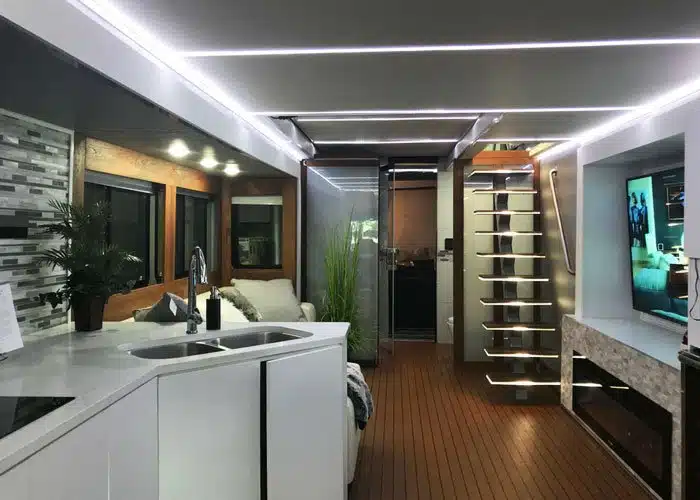 This is the 3rd and final post/video in our 3-part series, where we show you the latest RV models, trends, styling, and features from the RVIA National RV Trade Show. Here we show you 3 standout 5th wheels from VanLeigh, Grand Design and Redwood. We also tour the incredible Furrion custom RV showcasing their gorgeous RV appliances. And we visit the RV Supplier Showcase and share our favorite product innovations. But before we do that, we want to give you a bit of backstory and what to expect (and not expect) n this post/video.
As we mentioned in Part 1, this event was absolutely enormous at over 1 million square feet and we only had 3 days to try to see as much as we could. We walked through virtually every type of RV, from truck campers, travel trailers and fifth wheels all the way up to large class A motorhomes costing nearly a million dollars, in an effort to try and find what was new and hot. So remember, we were specifically looking for innovations that you can't typically see anywhere else, rather than simply do RV tours. Understandably, there were more innovations to be found in the $400,000 motorhomes, than in the $40,000 towables, so they captured more of our time and attention, as you saw in Part 1 and Part 2.
There were a number of new trailer manufacturers, and some new innovations in travel trailers, but the sheer magnitude of the show simply prevented us from seeing everything we wanted to see with so little time available. By the last day, things got a little crazy and we were literally running out of time and still trying to squeeze in last minute filming while vendors were turning off the lights and packing down their displays around us!
That's why we only have a handful of innovations from towables to share with you in this post and related video in Part 3. We figured sharing a little is better than sharing nothing at all. But we definitely plan to carve out more time for walkthroughs of travel trailers and fifth wheel at other locations this year, as the series has proven to be so popular.
So, with your expectations managed, are you ready to dive into the third and final part? Read on and watch the video below,
Similar to the motorhomes trending smaller, we saw a lot of smaller travel trailers too.  Catering to a market that might want very lightweight trailers that can be towed with the small SUVs or other cars they already have in their driveway or garage.
With hundreds of travel trailers and only a few days we didn't get inside nearly as many as we hoped, but we did still find a few innovations worth mentioning.
Taxa makes small lightweight expandable off road trailers, including this Tiger Moth model
Award Winning Van Leigh RV
Van Leigh is a sub-brand of Tiffin motorhomes and is headed up by (and named after) Bob Tiffin's son Van and grandson Leigh. They came out with their first fifth wheel, the Vilano, about two years ago, but their new Beacon was getting the attention at this show. The Beacon has received multiple industry awards this year and is a beautiful fifth wheel.
Van Leigh is bringing over many of the popular and desirable features from the Tiffin line of motorhomes into their fifth wheel and offer a luxury fifth wheel without the full luxury price tag. We think this will appeal to a lot of buyers who want a 5th wheel from a reputable brand like Van Leigh that is synonymous with Tiffin's legendary reputation for quality and service.
Taxa makes small lightweight expandable off road trailers, including this Tiger Moth model
Redwood RV Takes Work Serious
As RVers who work full time from the road, we also really liked the Redwood RW388 which offered a fully dedicated office space with a desk, storage and fireplace. It had glass interior walls and door which felt open and spacious, yet it was still semi-private for long days 'in the office' and meetings or phone calls. 
We spoke to a number of others who were also excited about this floorplan and with so many folks now working from the road, we believe that the manufacturers that offer dedicated workspaces – or at least multi-functional spaces that can easily convert to a workspace – will become very popular in the coming years.
Grand Design Floor Plan Innovation
Grand Design had some very innovative floor plans and features as well. One was the Solitude 375RES which had an outdoor kitchen that came out of the normal forward basement storage section, plus a huge storage area in the rear of the fifth wheel. The rear storage area was achieved by adding a couple of steps up into the living room on the inside of the fifth wheel. We loved this!
Normally a full height fifth wheel has very tall ceilings that seem like a waste of space to us. It makes the cabinets difficult to reach and is a lot more volume to heat and cool. The elevated room allowed for a more cozy feel, and much more accessible storage inside the RV, as well as an enormous increase in storage space on the outside. Grand Design has other floorplans utilizing the same concept. They also had nice, thoughtful touches like shoe cubbies in the steps and pet bowls that stow away in a drawer at a nice height for your furry friends.
Grand Design Solitude 375RES offers plenty of space inside and out
With a couple of steps up to the rear living room from the kitchen area and a lower ceiling height
It allows for more easily accessible cabinets with the lower ceiling height shown above AND allows for massive storage in the basement shown below
Unusually large storage in the basement can accommodate even a hard sided kayak
Other Innovations and Exciting Products
Some other product innovations that we thought were exciting were showcased in the Furrion Show RV. Furrion is a relatively new company on the scene that supplies residential-style appliances and electronics to the RV and marine industries. They had a very impressive custom Class A motorhome at the show and we saw their products in many of the new RVs on the show floor.
Why yes, that IS a helicopter on the roof of the Furrion show bus! And a hot tub too!
Furrion appliances and electronics were everywhere to be found in many of the higher end RVs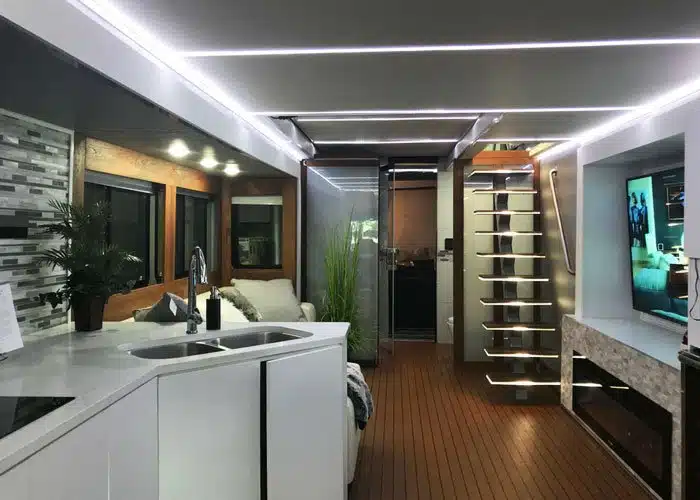 We also loved a new fabric we saw called Sileather, an eco-friendly silicone fabric that looks and feels like leather, but has improved resistance to weather, stains, rubbing, scuffing, mildew and other aging factors. It is available in a variety of textures and colors and can even be printed in any pattern you like. This would be a great product if you're considering re-upholstering your furnishings or valances in your RV – or even your home!
We looked at bed manufacturers that supply mattresses to the manufacturers and aftermarket world, including the company that made our custom RV mattress. It was eye opening to see what's really inside a typical RV mattress and makes us extra glad we decided to upgrade ours. Like so many things related to RVs, there's a lot more than meets the eye.
There were literally hundreds of suppliers of products represented at the show. So many that they filled three separate areas, with an entire arena floor being just one of those three areas. There was everything from towing equipment, to heating and cooling, to appliances, electronics, water purification, lighting, insurance, financing, solar, grills, chairs and other furniture, ladders, awnings, windows, cleaning chemicals. 
You name it… it was there. And virtually everything at this show was truly related to the RV and outdoor lifestyle. So often at consumer shows, the vendor booths have little to do with RVing – they just buy a booth in an area with a lot of foot traffic. As this was an RV industry trade show, the only folks in attendance were part of the RV industry, so if it didn't have something to do with the industry, it had little purpose being there.
In summary, we thoroughly enjoyed our first ever visit to the RVIA National RV Trade Show. Although overwhelming and exhausting at times, we also felt like a couple of kids in a candy store, getting to spend our days checking out hundreds of RVs, cool products, technologies and meet interesting and knowledgeable people to continue learning even more about the things we're most passionate about – RVs!
We definitely look forward to attending more shows like this in the future and sharing our discoveries with you!
Did You See Part 1 and Part 2?
This is a three-part series covering the RVIA Trade Show, so be sure to read/watch them all!
Check out Part 1 – where we look at the latest trends in smaller RVs with Class Bs and Class Cs galore! Plus we take you inside the edgy and stylish Winnebago Horizon, RV of the Year.
Check out Part 2 – where we share some Class A, B and C motorhomes from Newmar, Tiffin and Entegra
GOT COMMENTS OR QUESTIONS?
We would love to hear from you. Drop us a note in the comments section below.