This post may contain affiliate links.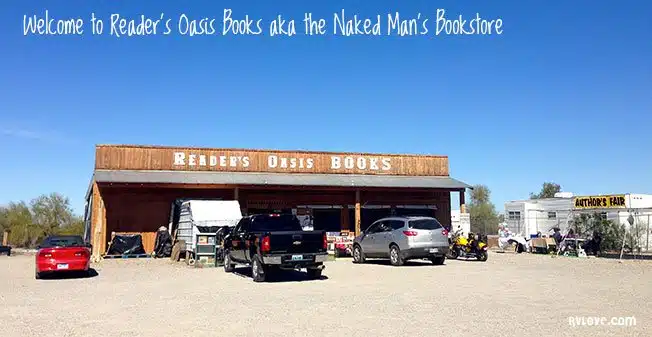 While boondocking in the Arizona desert, I'd heard about the famous "Naked Man's Bookstore" – possibly Quartzsite's biggest star attraction. Being a book lover and a curious Aquarian, naturally I went along to check it out and meet the owner Paul Winer, a former professional musician/activist turned second hand bookseller who is most famous these days for…well… being naked! I guess technically he wears a crocheted sock/thong (in Australia we'd call it a G-string) and a hat, but it's about as naked as you're likely to see anywhere without going to a male strip show!
I snagged the last space in the busy parking lot of "Reader's Oasis Books" – the store's official name – at lunchtime on a Friday in mid February. Inside, the store was bustling with a dozen or so customers, many of them seemed to either be locals or regulars engaged in animated conversation with Paul, trading in books or tracking down individual titles – all of them completely unfazed by the fact he was basically starkers! In the 90+ degree F dry heat (mid 30s Celcius) I decided Paul was probably the most sensibly dressed of us all!
I wandered around the store for a bit, listening to the old-style jazz and blues music playing in the background, while taking photos and video, amazed at the number and variety of titles he carries – well over 200,000. A skinny, yet muscular man sporting a mane of wavy grey hair under his straw hat, he embodied a sense of self confidence in his nakedness that most of us could only hope for.
Although I'd dropped in unannounced, I managed to convince Paul to do an interview with me. Most of the customers had left, yet he was constantly busy, putting away books in the south-western and metaphysical section, when I made my request. For a moment he paused "I'm not sure I feel like doing an interview…" then within moments, he had a change of heart, stepped outside, pulled out his pipe and smiled broadly. "OK , let's do it."
Click the video below to watch my interview with Paul – you just have to meet this colorful character for yourself.
Paul shared his insights on the book industry and the reasons why his business hasn't been affected by technologies such as eBooks, Kindle and Nook. I found it amusing to learn that he does wear clothes very occasionally on cold days, when he'll don some sweatpants and/or a sweater (we call them a tracksuit or 'tracky-dacks' down under). He says a couple will walk into the store – dragging along another couple who doesn't believe there's a naked guy selling books there – and walk right past him saying "he's in here somewhere, we'll find him" because he was wearing clothes and they didn't recognize his face!
He's quite the comedian, and I was fascinated by Paul's colorful background, musical celebrity and the 68 legal cases that he fought – and won – which still today provide the line of the law for freedom of expression on stage – physically and verbally. During my research and video editing process, I did little more digging around – here's what I discovered:
Paul was 11 years old when he saw Fats Domino in concert and that is what inspired him to become a musical performer – specifically, a piano player, who assumed the stage name of "Sweet Pie"
Sweet Pie's professional musical act was a naked boogie-woogie-blues-comedy show which he performed for over 1.5 million people during his original career from 1965-1990
For four 90 day summers, he shared the stage at Salisbury Beach, MA with a 22yo up-and-coming comedian named Jay Leno who had an improv act with two friends – the group called themselves "Fresh Fruit Cocktail" (and no, they weren't gay)
In 2010, after being out of showbiz for 20 years, Paul received a special invitation to return to Salisbury Beach, MA for a "1970s reunion concert". To prepare, he spent more than 200 hours over the next 4 weeks listening to old cassette tapes of his shows, writing down the lyrics and practicing on his piano to get his groove back for the Salisbury Beach show
Today, Paul still performs at "sold out/standing room only" shows in Quartzsite, Arizona and people travel hundreds of miles to be in the audience
A couple who attended Paul's 2011 concert were friends of Jay Leno and offered to deliver Jay a note from Paul. Jay called Paul the next day to catch up on 'the good ole days'. Jay told Paul that there would be a spot for him to perform on the Jay Leno Show whenever he was ready. Although Paul doesn't have Jay's phone number, Paul's customers, friends and fans have used social media to send messages to Jay Leno saying "Sweet Pie is ready." Paul is still waiting for a formal invitation to appear on the Jay Leno Show – he hopes he gets the chance to do the show and fulfil a life's dream.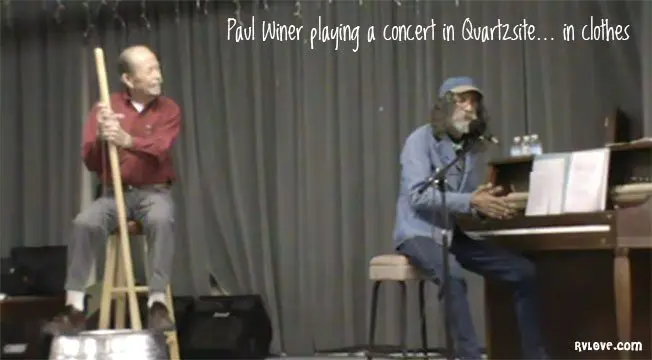 I just wish I'd known about Paul's musical history and notoriety before our interview – I would have asked him a few more fun and probing questions! The man is a living legend and a unique piece of history, that's for sure. If you ever get to Quartzsite, Arizona, make a point of dropping in to visit and say hello.
As Paul himself says "it's quite a respite from the real world".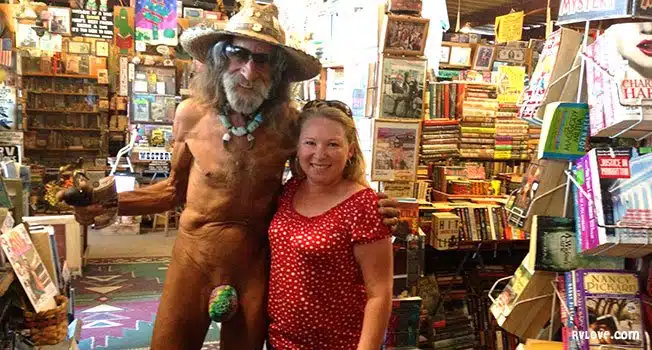 Read more about our boondocking experience in Quartzsite here
© RVLove.com