This post may contain affiliate links.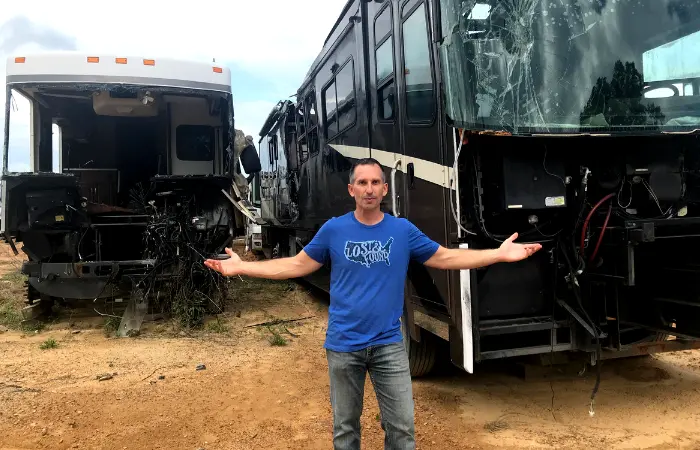 We went shopping at an RV salvage yard and left with some hard-hitting lessons about RV fires, tire blowouts, accidents, and the most common causes of this destruction. And importantly – as responsible, safety-conscious RVers – here are some tips on how we can help prevent situations like this from happening to us.
Fair warning… some of the images in this video and blog post may be disturbing to some. That is NOT the intention of this post/video. Sadly, fires, accidents, and totaled RVs are a fact of life (as with cars and homes). This was such a unique experience and an eye-opening reminder of the importance of RV safety. So we wanted to share it with you. 
Also, this post and video are not an endorsement of Visone. We have no affiliation with this RV salvage yard or any other. So we can't help you with finding parts for your RV.
At the end of this post, you will also find some recommendations (and links to reviews) for safety equipment that we use in our RV. You can take a tour for yourself and get a feel for the place and what we experienced in this video.
Here's the back story.
While searching for some used RV parts for our motorhome, we were recommended to check out a considerable RV salvage yard called Visone RV Parts in Kentucky. We were staying in Tennessee then, so it was only a short 2.5 drive. Yes, for people who love to drive, like us, that's considered a short drive! Heck, we've driven that far for dinner!
Why Did We Decide to an RV Salvage Yard?
Most of Visone's business is by phone, not in person. But, we were only in the area for a short time and otherwise had a fast travel pace in the coming weeks. So we couldn't have had anything shipped even if they had it in stock. Plus, we thought it might be interesting to check out the RV salvage yard in person anyway. Definitely something different.
When we arrived, we learned that Visone doesn't actually let visitors out onto the property for safety reasons. You need to be escorted, and they just don't have the staff for it. Fortunately, they were having a relatively slow day, and with some convincing, they agreed to have some staff show us around. 
They let us fly the drone and take as many photos and videos as we wanted, so we did! And now, we can share it with you—after all, an RV salvage yard is not a place that most will get to visit in person.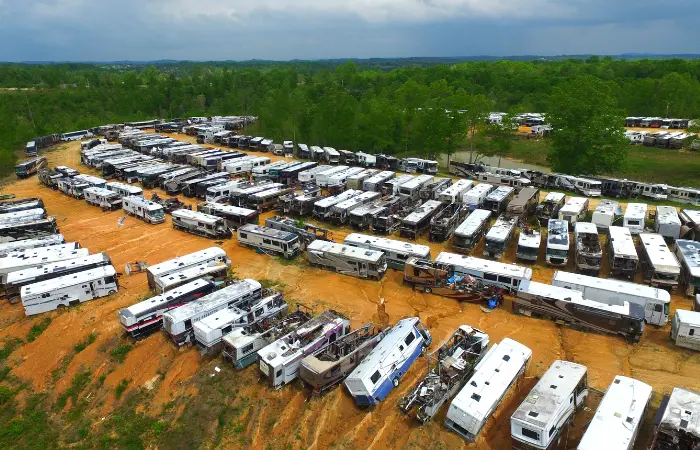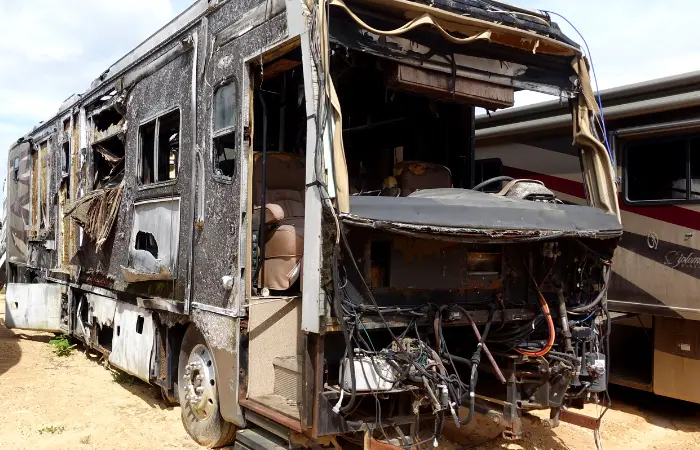 About Visone RV Salvage Yard
Visone RV Parts is massive. They claim to be the largest motorhome RV salvage yard in the world, focusing primarily on Class A motorhomes. Though we did see a handful of Class C's and a lone Airstream. They had almost 1,500 motorhomes on their enormous 100-acre property at the time of our visit in May 2019.
Located in East Bernstadt, Kentucky, Visone has been in business for thirty years. But they have only focused on motorhome salvage parts for about ten years. With such a large inventory, they are an excellent place to call when looking for hard-to-find used parts for your motorhome.  They have inventory ranging from over twenty years old to nearly new.  
They purchase damaged (salvage) motorhomes and haul them to their property to part them out. Engines, batteries, generators, fluids, and some interior parts are removed before putting the remaining chassis out into the yard. This is better for the environment and also protects some of the most valuable parts to keep them in the best condition. Motorhomes are on the more expensive side of RVs and often have high-quality parts.
We share some photos from inside the warehouse further down in the post.. and some footage in the last couple of minutes of the video.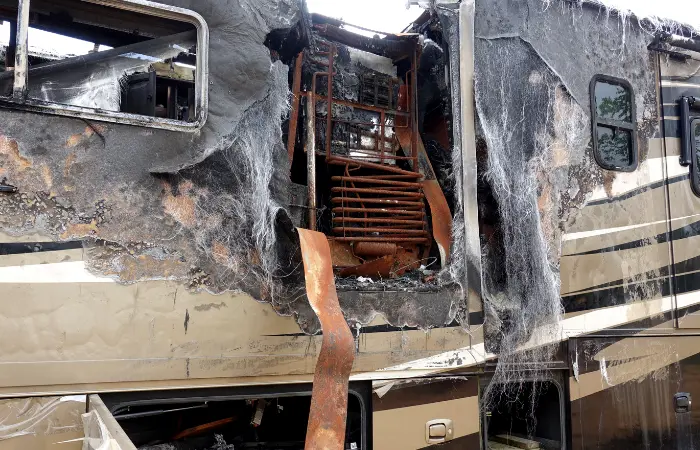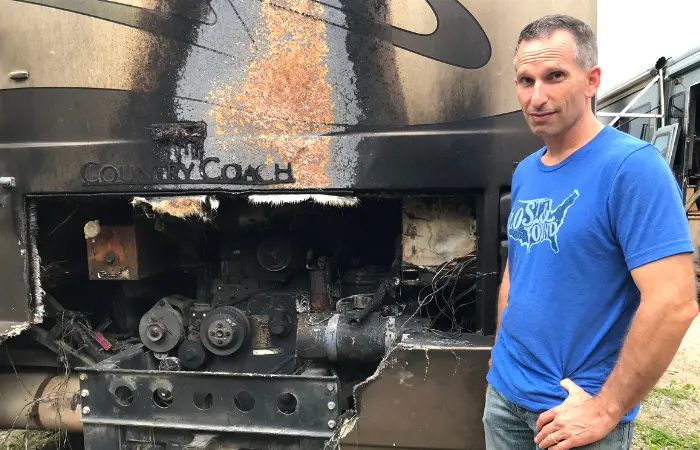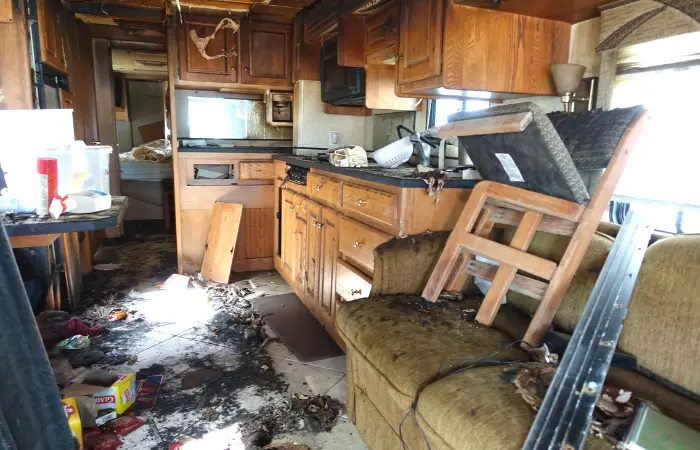 How Do Motorhomes End Up At An RV Salvage Yard
Just like regular cars and homes, motorhomes are often damaged by accidents, fires, and even severe weather like floods, tornadoes, and hurricanes. There are salvage yards for cars all around the country. If damaged badly enough, after settling with the insured person, an insurance company will auction off the totaled RV. Visone has multiple semi-trucks to pick up these damaged RVs and transport them to their RV salvage yard. 
When looking around the property, one might start to think that fridge and engine fires are common occurrences in motorhomes. And that's pretty disconcerting, but that's where you need to keep it in perspective instead of allowing the visual shock to take over your emotions. If anything, it's a powerful and sobering lesson about the importance of being safe, especially regarding RVs.
Remember that there are hundreds of thousands of motorhomes out on the road. And they have been around for decades. Only a small percentage of motorhomes meet their end this way.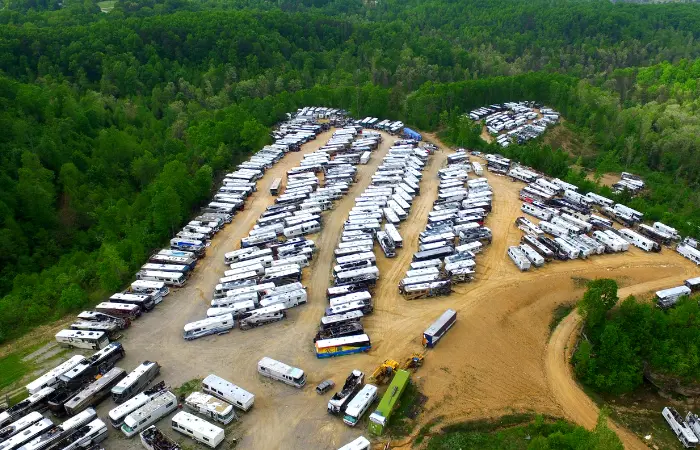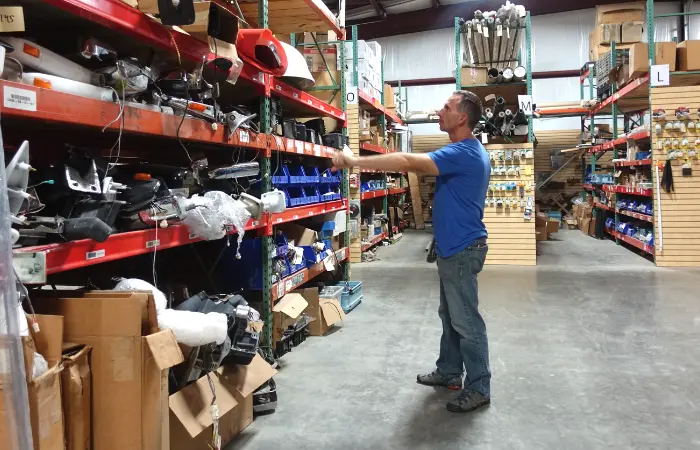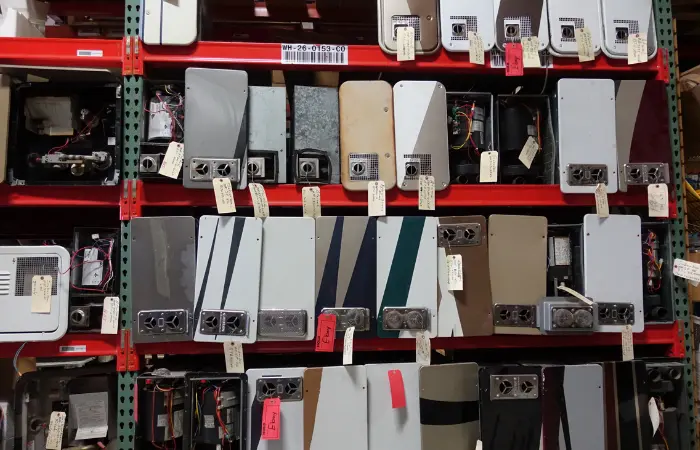 What We Learned At the RV Salvage Yard
Upon touring the property with Visone staff, we had a lot of questions, and they provided us with the answers. Here's what we learned.
Most RVs are used recreationally. And many of them spend significant time in storage. Many RVs get damaged while in storage, whether it be from a fire or severe weather. And so, a large percentage of totaled RVs are not occupied by people at the time of the incident.

Some RVs are totaled as the result of a fire. The most common causes of RV fires are engine fires, RV fridge fires, air conditioners, and faulty electrical.

In most instances, if an RV is occupied when a fire breaks out, the occupants are able to exit the RV safely.

If an RV catches fire while it is being driven – typically an engine fire – then the driver will pull over and passengers can safely exit the vehicle.

Not all RV fires are "innocent". It is suspected that some people cause arson to their RV.
More Learning
Some RVs are damaged by driving accidents. Most accidents (around 95%, according to Mike) seem to be caused by tire failures. RV tires tend to age out before wearing out. Your tires might still look OK, especially if they still have good tread on them. But they don't have the strength of a newer tire. RV tires generally drive fewer miles but are often pushed to their limits.

 

If not correctly inflated or otherwise compromised, tires can fail and may cause an accident. This is especially true if the front tires fail at highway speeds or on narrow roads. Tire blowouts are the most common reason for RV accidents.

RV fridge fires have reduced in recent years as more RVs are being equipped with residential fridges. Plus, regular RV fridges can be modified to increase safety. Better education about the dangers of RV fridge fires and how to protect against them has helped too.

RV fires, accidents, and other weather-related incidents are often preventable.
In a nutshell, your (and our) chances of being faced with a situation like this are low, especially if you take good care of your RV and learn how to drive your RV safely.
We cover the topic of RV safety in Chapter 3 of our book "Living the RV Life – Your Ultimate Guide to Life on the Road".
Check out our recent post about RV Fires, where we intentionally set fire to an RV with the fire department to learn even more.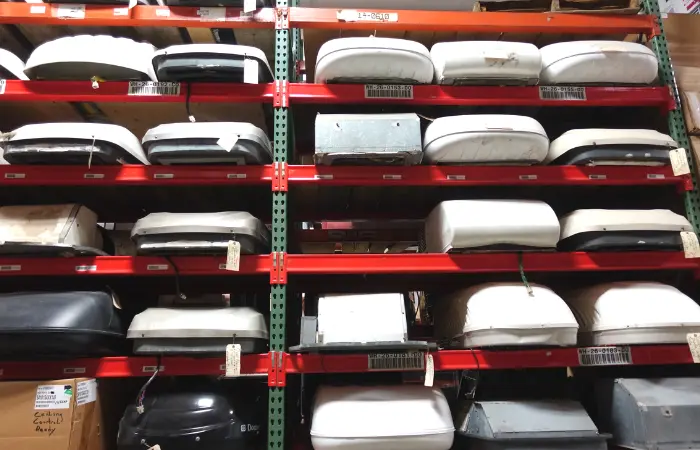 Don't Let This Scare You off RVing!
The goal of this article is not to scare you. It is not intended to frighten you or make you believe that RVing is especially dangerous. If you visited a car salvage yard, would you continue to drive your vehicle? Of course.
Like anything in life, there are risks. And many reasons why things like this happen. But if you take care of your equipment and operate it safely, you will dramatically reduce the odds of an accident. 
As we shared in the lessons learned above, we can educate and empower ourselves to be safe RVers. And enjoy the lifestyle for all the wonderful things it has to offer.
All that said, it is definitely an eerie and unsettling feeling being surrounded by so many destroyed RVs. It is incredibly humbling to walk inside one, smell the charcoal, and see the personal belongings of the previous owners. But we remind ourselves that it most likely happened while the RV was unoccupied in storage. And the owners were safe.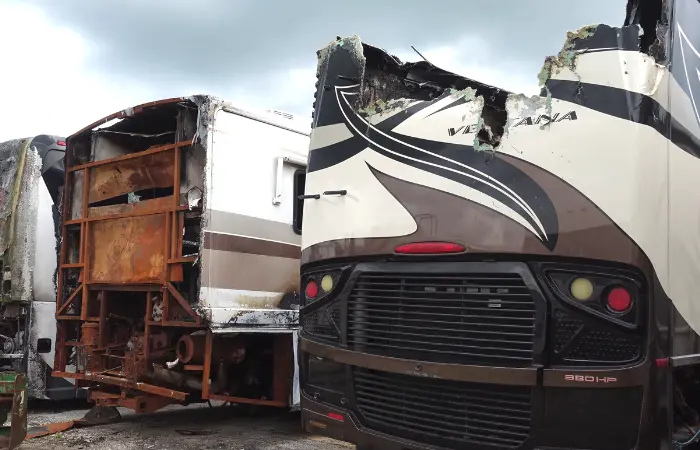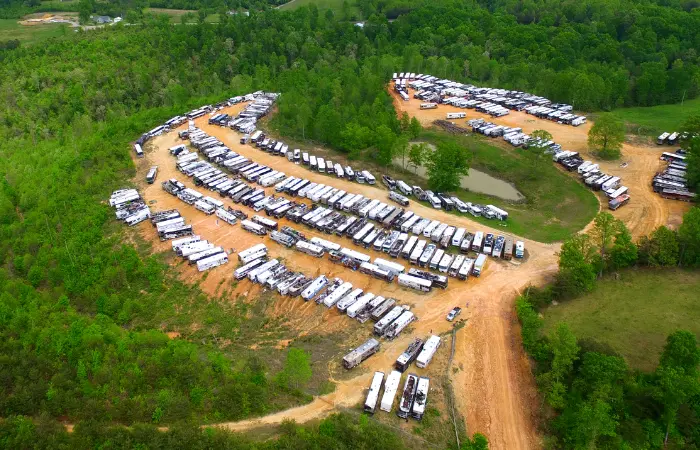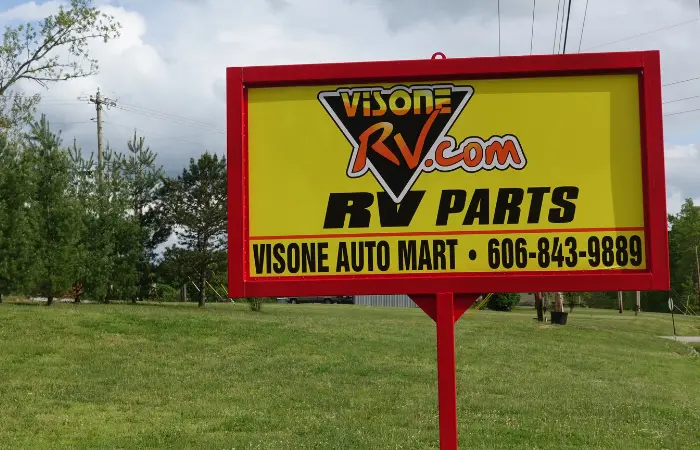 Did We Find What We Were Looking For?
Yes and No. They did not have the right size basement door that we needed for our motorhome CC. Maybe another one will come in some time down the track. 
But we definitely appreciated the opportunity of being able to tour the property. And learn more about this little-known side of RVing and the ability to share it with you. 
We definitely left the Visone RV salvage yard with more than what we bargained for. It was a powerful and sobering reminder of the reality of RV life. And one that we hope, with a continued focus on prioritizing safety, we will ALL be able to avoid or, at the very least, minimize.
Remember, keep it all in perspective. And above all, stay safe out there!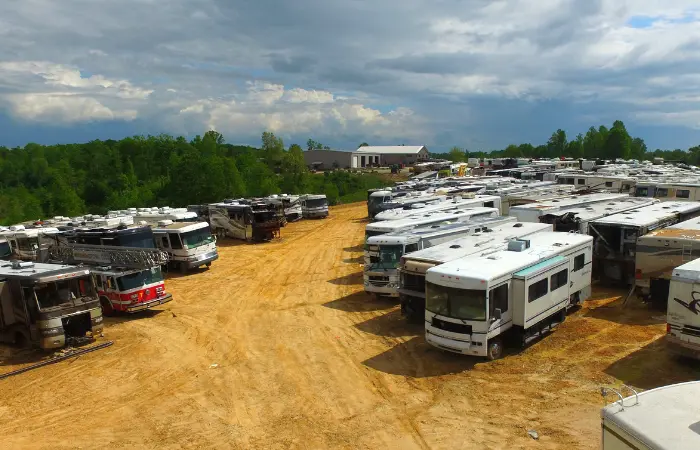 What Tire and Fire Safety Gear Do We Use in Our RV?
Since publishing this post and video, we've had a lot of people reach out to us and ask what equipment we use in our RV to stay safe. Of course, anything (like fire or a tire failure) can happen to any of us at any time, BUT we can significantly reduce the chances of it occurring, with the right equipment. We will be publishing a separate, more in depth post/video about this soon. In the meantime, we wanted to share with you some links to our favorite RV Safety Gear.
Tire Safety
Marc has always been super diligent about taking care of our RV tires, and we have never had an issue. However, these are two items we wish we had on board our RV from day one.
Viair Air Compressor for proper tire inflation
We did a video review about this on Road Gear Reviews last year. After using a cheap air compressor from Harbor Freight for a couple of years, the Viair is one thing we wish we had spring the extra money for much sooner.
Click here to buy the Viair from Amazon
GOT COMMENTS OR QUESTIONS?
Have you experienced an RV fire or accident? Visited an RV salvage yard? Let us know in the comments below.