This post may contain affiliate links.
We just wrapped up a nine-week California RV trip to escape the cold winter. Given California's reputation for being so expensive, our expense report may surprise you! Where did we stay? How many miles? What was our fuel bill? And what was the total cost? In this in-depth post, get all these answers in our road trip stats, campgrounds, and average nightly cost. Plus, learn all the ways we found to save money so that we could live large for less!
Trip Destination and Travel Dates
We left Colorado for our California RV trip on December 17, 2022. Our main destination was the desert southwest. And toward the end of the trip, we spontaneously decided to finish with a drive up the California coast. Luckily, we dodged the storms and flooding, so we stayed safe! But of course, we also kept an eye on the weather and planned accordingly. We returned to our Colorado home base on February 19th, 2023.
California RV trip vs. Florida RV trip
We also compare our 2022/2023 winter snowbird RV trip to last year's huge RV trip to Florida in the winter of 2021/2022. Despite traveling in the same RV, they were very different winter RV trip experiences. We had different goals, travel style, and pace this time. And this led to some very interesting comparisons and learnings to share with you.
Of course, we know many people love to pit California and Florida against each other as they are opposite in more ways than just their geographical location! But the truth is, they are both beautiful states, with good people and SO much variety in scenery and experiences on offer. Especially for RVers! We hope you get to explore both of them on your RV travels and along your journey as you visit all U.S. 50 states!
Keep in mind as you read this…
As RVers, there are SO many variables related to the RV lifestyle's cost and your preferred travel style. But that's also what's great about RV life. You get to design yours any way you like. It all depends on your personal goals, budget, and desired experiences.
So in reading all this, take on board what works for you, and leave the rest as you design your own RV trip budget to your own personal style. There's no one way, right way, or wrong way to RV! This was ours, which worked out great for us.
OK, are you ready? Let's get into it!
PS. You can also keep up with our RV living, tips, and travels via our email updates and social media on Facebook and Instagram
We left Colorado and headed to warmer weather for our winter California RV trip
Our four-state travel route, with camping destinations and fuel stops
Overview of Our Winter California RV Trip
We love our little 'lock and leave' home base in Colorado. But after more than six years of full-time RVing, we're also used to being in mild or warm winter weather. We have spent part of every winter here in Colorado hunkering down to focus on big projects. Like writing our second book RV Hacks. But we really love to get out for at least part of the winter every year.
So like last winter, we headed south and to a lower elevation. During this winter California RV trip, we visited only four states, drove a combined 4,600 miles, and stayed at 10 locations in 63 days.
Last winter, we visited 16 states, drove 8,500 miles, and stayed at 30 different locations over 102 days. We will dive much further into the differences throughout the article below.
Our choices for this RV trip were intentional, and share a very different experience.
This is our 25′ Class C diesel motorhome – 2017 Winnebago Navion 24J
Our RV For This California RV Trip
If you have been following us for a while, you would know that during our 6+ years of full-time RVing, we traveled in Class A motorhomes (a gas, then a diesel) and towed a car. And a couple of years ago, we got a small Casita camper travel trailer – that we towed with our Jeep – for short getaway trips.
After renting our friend's RV for this huge 8500-mile RV Trip To Florida last winter, we bought this Class C RV from him. We took it on many short trips during the summer and fall. We love this mini motorhome, a great RV for this type of trip.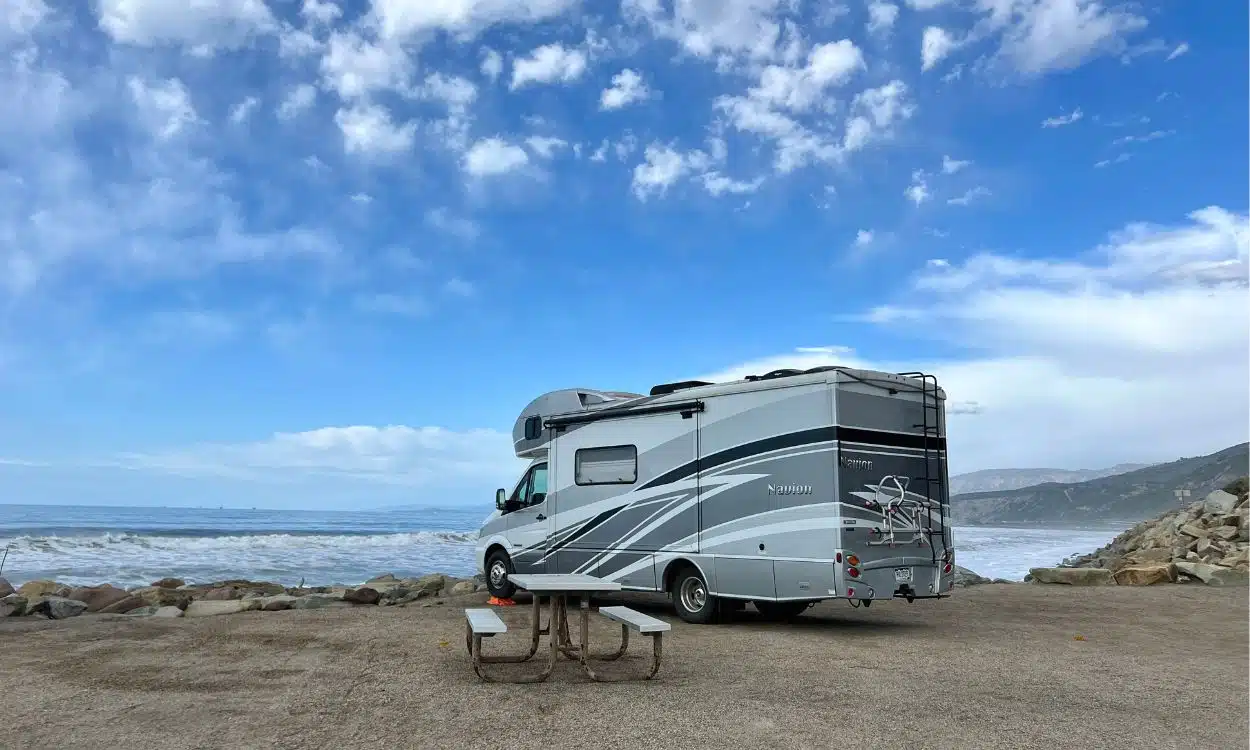 If you're not familiar with this RV, it is built on the Mercedes Sprinter 3500 chassis and runs on diesel. The floor plan includes a corner bed, a full bath, and a large U-shaped dinette. You can tour and learn more about this RV in the short video and detailed blog post below. 
Related:
Marc did all of the driving on this California RV trip, with Sunny as co-pilot
How many miles did we drive?
On this California RV trip, we drove our RV 1,746 miles and our Jeep 2,867 miles for a combined 4,613 miles. We will share our reasons for bringing our Jeep along this time in a bit.
Last year, our RV trip to Florida and beyond was around 8,500 miles. We didn't bring a tow vehicle. So ALL of those miles were in the RV. That time behind the wheel really added up. We estimate Marc spent over 200 hours behind the wheel on last year's winter RV trip of 2021/2022. That's equal to 5 work weeks!
To offer some perspective, in our full-time RV life, the miles we traveled each year were usually split fairly evenly between our motorhome and towed vehicle. We typically drove 8,000–10,000 miles yearly with the Class A motorhome, averaging about 9K miles yearly. And we would drive around 11,000 miles on average in our towed vehicles. So we did about 20,000 miles per year, all up, with both vehicles. 
Driving through beautiful Utah, the views never disappoint!
Winter California RV Trip Stats
Let's take a quick look at the overall stats from this California RV trip:
States visited: 4

RV Miles traveled: 1,746 approximately

Average miles per gallon for RV: 14

Average miles per gallon for Jeep: 20 (much lower than normal)

Nights stayed: 63

(a combination of Thousand Trails; Private RV parks; National Park, and County Park; Staying with family)
How long in each state: 60 nights in California, two nights in Utah, and one night in Nevada
For comparison, here are the same stats from our RV trip to Florida: 
States visited: 16

Miles traveled: 8,500 approximately

Average miles per gallon: 14.4

Nights stayed: 101 

(at Thousand Trails; Private RV parks; National, State, City, and COE parks; Boondocking/driveway surfing; Harvest Hosts, etc)
How long in each state: 65 nights in Florida, 9 nights in South Carolina,
8 nights in Arizona; the remaining 13 states were three nights or less.
RV Trip Wizard is our key RV route planning tool, and also has campground reviews
Naturally, we wanted to avoid snowy winter conditions on our departure and return travel days. We were driving through Colorado, Utah, Nevada, and California. So we knew our route would take us through mountainous terrain and several steep grades. We are sticklers for safety in our RV life, so it was important to plan ahead for those. Especially so we could decide the areas we felt comfortable towing our Jeep and where to disconnect to drive separately.
We did most of our trip planning pre-departure using RV Trip Wizard. Having used this online trip planning tool for years, we are big fans of how much easier it makes our RV life. It's super valuable for multiple reasons. 
What does RV Trip Wizard do, and why does it matter?
In case you are not familiar with it, RV Trip Wizard is an excellent online trip-planning tool that is customizable for your RV and travel style. It offers RV-safe route planning, has over 20,000 campgrounds, and shows nearly 60,000 points of interest. Plus, it shows fuel and travel distance radiuses and lets you plan and track your trip and the costs.
A recent addition we're excited about is RV Trip Wizard now shows information about elevation and gradient so that you can view steep grades along your route. Marc especially loves this new feature, as he is our primary route planner. Grades are a very important consideration when driving an RV. Especially if you are near your maximum weight rating and if you are towing. Which we did part of the way for this trip.
Take a look at this screenshot of our trip route map below. At the bottom, you'll see the blue areas indicating grades along our route. As you can see, they vary quite a lot! This important data helped us determine where we would drive with the Jeep connected to the RV and where we would drive separately.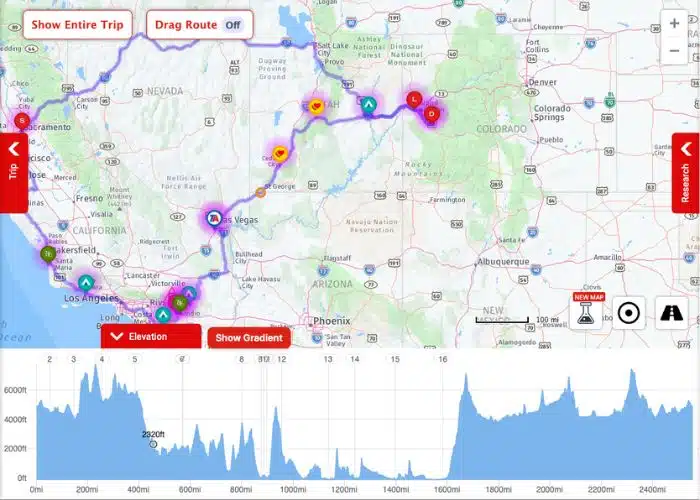 We love the new elevation tool on RV Trip Wizard. See those steep grades in blue!
Try RV Trip Wizard for Free. Save 25% with Discount Code
If you want to try out RV Trip Wizard and start getting familiar with it, you can do that with a free 7-day trial – click here to sign up. If you decide to keep using it, you can save 25% on an annual membership to RV Trip Wizard when you use our RVLOVE25 coupon code. We've been subscribers since their early days, and it is money well spent. So try it out for yourself and see what you think.
The importance of planning fuel stops
Planning RV-safe routes is especially important for big rigs to avoid hazards like narrow roads and low bridges. But even though we are traveling in a much smaller 25′ motorhome now, we still like using RV Trip Wizard for several reasons. We use it to lay out the main route, find places to stay, and plan fuel stops using the fuel distance radius tool. And track our trip expenses, too.
Most larger diesel engines are not as particular about the type of fuel they burn. But our Class C Mercedes Sprinter RV prefers automotive diesel and can only accept Biodiesel up to B5. This can be an extra challenge, as many truck stops use biodiesel higher than B5. We like using truck stops to use our discount diesel fuel card and (usually) save some money.
Unfortunately, we could not find many truck stops on our total route. And none in California had automotive diesel in the truck lanes. So, we had to do most of our RV fuel fills at regular fuel stations. We like to use the GasBuddy app to find the best fuel prices nearby.
Where Did We Stay On Our California RV Trip?
During this California RV trip, our personal goal was to enjoy a much slower travel pace than last year. We wanted to get out and immerse in local areas, connect with friends, and recharge our (personal) batteries. We also wanted to give ourselves time and space to reflect on the year that was while planning for the year ahead.
From a financial perspective, we wanted to spend less time driving and spend significantly less money on camping fees.
We spent the vast majority of our trip at Thousand Trails Palm Springs RV Resort
Here's a snapshot of where we stayed
We stayed 63 nights all up. Of these, 60 nights were in California, two nights in Utah, and one in Nevada. To maximize cost savings, we spent most of our time in our Thousand Trails membership parks. Most of our California RV trip was spent in and around the Palm Springs area. We've spent many months there over the years and love both the area and the winter weather.
Thousand Trails: 57 nights in 4 parks in California (Thousand Trails Palm Springs, Palm Springs Oasis RV Resort, Pacific Dunes Ranch, and Marina Dunes RV Resort
Private RV Parks: 3 nights in 3 parks (Oasis Las Vegas, Nevada, KOA Green River, Utah, and Jojoba Hills SKP RV Resort, California
National Park: 1 night boondocking at Joshua Tree National Park Belle Campground
County Park: One night at Faria Beach Park near Ventura, California
One night at a family member's house in Sacramento, CA
Varied costs
Like last year, most of our camping fees were spent at just a few RV parks. The lowest we paid was $15 for a boondocking spot at Joshua Tree National Park's Belle Campground. The most we paid was almost $100 at Oasis Las Vegas, and we didn't even get to use the pool or hot tub! A few others were $50-$60 ish each.
And fortunately, the majority had no nightly fee, with 52 nights spent at Thousand Trails Palm Springs (this actually cost us a total of $29 as we used our bonus week extension) and Palms Springs Oasis RV Resort. 
Pulling into Oasis Las Vegas for an overnight stay en route
We could have easily avoided this…
It is also worth noting that we could have easily avoided our most expensive stay on this trip – Oasis Las Vegas RV Resort at the princely sum of $96.56 – if we chose. That's because we could have stayed at Thousand Trails RV Park in Las Vegas for free as part of our camping membership. But we were only in Vegas for a night and wanted to see our RV friends / YouTubers TrynSomethingNew. 
If you don't know this RV adventure family, we highly recommend you check them out for 'good vibes only'! They are so much fun and make fantastic videos. Check out their RV hack reel in this post. Staying in the same park would make it easier for us to visit on our short stay. Plus, we just like Oasis Las Vegas RV Resort and have fond memories of a month we spent there in 2017.
Lots of great catch ups with friends, and more socializing this winter!
Julie and Sunny relaxing on the beach
Details of our RV trip to Florida last year for comparison
We stayed 101 nights all up. We spent 65 nights in Florida; 9 nights in South Carolina; 8 nights in Arizona; and three nights or less in the remaining 13 states.
Thousand Trails: 33 nights in 6 parks and three states (Space Coast, Sunshine Key, Gulf Air, and Crystal River in Florida. Mesa Spirit in AZ; Las Vegas in NV). Check out 40+ Thousand Trails RV Parks in Florida here
Upscale RV Park: 16 nights (Camp Margaritaville Auburndale, FL)
Motorcoach Resort: 9 nights (Hilton Head Island Motorcoach Resort) 
Other private RV Parks: 12 nights (KS, FL, TX, CA)
National Park: 3 nights (Zion and Capital Reef in UT)
State Parks: 5 nights ( FL, AZ, NM)
City Park: 3 nights (FL)
Core of Engineers park: 1 night (TX)
Florida RV Supershow: 5 nights at Fairgrounds
Harvest Hosts: 4 nights (AR, MS, LA)
Driveway Surfing/Boondocking with friends: 2 nights (FL
Boondocking on BLM land: 1 night in Lake Havasu, AZ 
Parking lot boondocking: 4 nights (Grocery Store, Bass Pro, truck stops)
RV Repair Shop boondocking: 1 night (AZ)
Other: 2 nights at Newell Coach HQ, OK
Most of our camping fees were spent at just 3 RV parks. 
You can see how much more brisk our travel pace was, with many more short stays.
Keep reading for more detail on our RV camping costs, plus fuel, RV costs, and our overall total trip cost.
How far in advance did we make camping reservations?
We recommend you make winter camping reservations for popular places like California well in advance to secure a spot. 
We made our first reservation four months in advance for a 21-night stay at Thousand Trails Palm Springs. Our Elite membership has a 120-day reservation window. But our delayed departure date bumped our arrival to December 20. We also decided to tack on an extra seven days, using one of our two bonus extension weeks. This cost us $29 and gave us a 28-night stay to really settle in and relax over Christmas and New Year. It was so nice not to have to move!
We originally booked a two-week stay at Palm Springs Oasis in mid-October for a December stay. We moved this back to January 17, but only 9-nights were available. January and February are the toughest months to score winter camping reservations, as they are in high demand.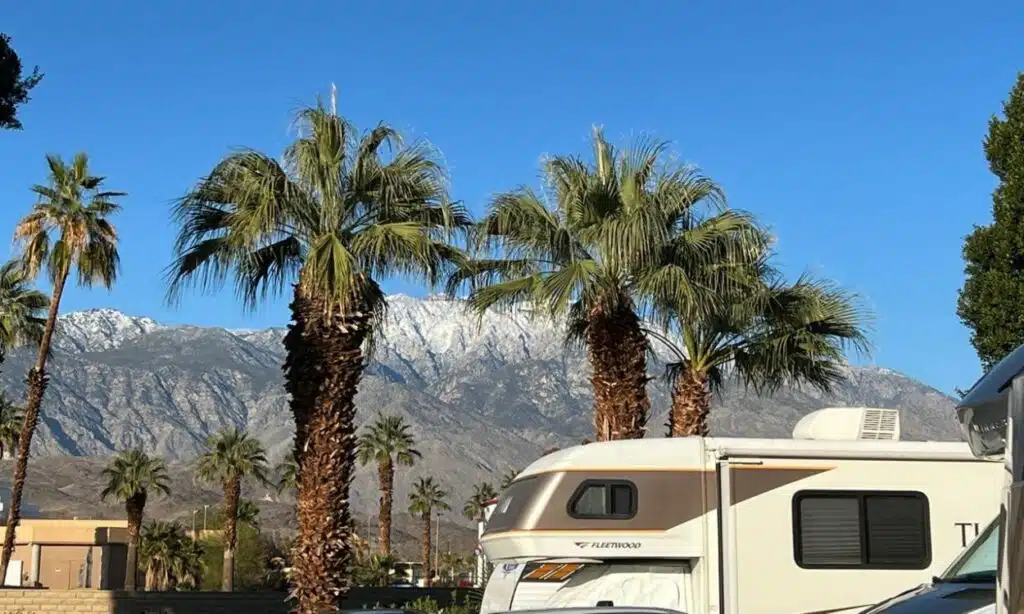 How easy is it to get last-minute camping reservations?
On the day we were supposed to leave the Palm Springs area, we decided we weren't ready to go! Somehow we got very lucky and scored another two weeks at Thousand Trails Palm Springs in late January, booking the very same day! 
People are always canceling camping reservations as they adjust their travel plans. So you can often get lucky picking up a last-minute campsite, as we did! But you need to be flexible, and having a smaller rig helps! Sometimes you have to be persistent and keep calling, but cancellations often show up last-minute. 
Our beachfront camping spot near Ventura
Our short-notice California RV trip reservations
During our stays up the California Coast, the rest of our camping reservations were booked at short notice. It was a spontaneous decision to drive up the coast. We made most of those reservations about 7-10 days in advance. Including the one above. More on our Ventura beach camping experience here. It wasn't quite what we hoped. But we're glad we got to experience it.
One point to note is following the December-January storms along the California coast; many RV parks closed due to flooding. Many RV campers were displaced, and no doubt others canceled their reservations. We were able to do a good portion of the coastal drive in mid-February, in between the big storms! Part of it was planning and watching the weather, and a big part of it was luck! It was still cold and windy but also sunny and pretty at times.
Travel Pace
As mentioned earlier, we visited four states and drove only 1,746 miles in the RV. And with only 10 locations in 63 days, we averaged nearly a week's stay in every location. Our longest single stay in one place was four weeks, which felt much more peaceful.
By comparison, we drove five times more miles with the RV during our RV trip to Florida. Stayed in four times as many states. And we stayed at 30 locations in 101 days, averaging only three days per location. That was a much faster travel pace (by about double) and for a longer period. We were pretty exhausted by the time we returned home from the Florida trip. Hence our decision to slow things down next time!
Not only was that more relaxing and enjoyable, but it was also much cheaper.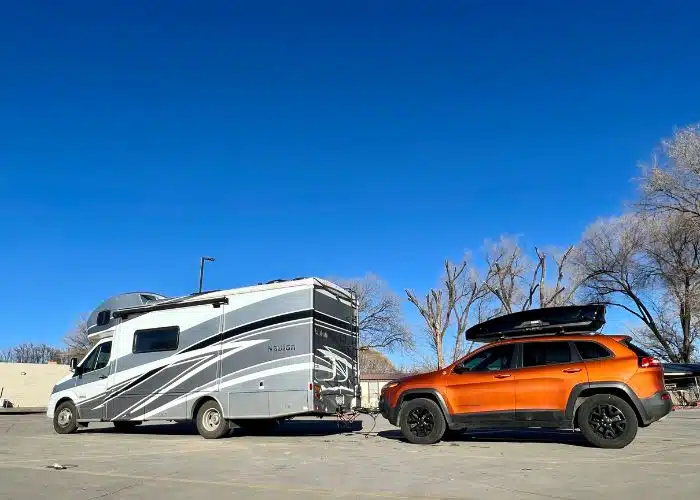 We decided to bring our Jeep along this year, and towed it for part of the way
Towing a Vehicle Instead of E-bikes
One of the biggest differences between this California RV trip and last year's RV trip to Florida is that we chose to tow/bring a separate vehicle instead of just using e-bikes for running around.
During our 6+ years of full-time RVing, we always towed a vehicle for local exploring. A MINI Cooper Convertible, then a few years later, we switched to a Jeep Cherokee Trailhawk. In the winter of 2021/2022, with our fast travel pace and wanting to stay light and nimble in the Class C motorhome, we did not tow a vehicle at all. We did our local exploring with the RV or our e-bikes. Part of that decision was the huge distances we traveled and not wanting to tow as much with this Class C mini motorhome. We wanted to try a smaller, more nimble travel experience.
Last winter, we explored with our Blix e-bikes instead of towing a vehicle
For our California RV trip, we decided to bring our Jeep
We decided to travel with two vehicles instead of just with the motorhome and e-bikes for multiple reasons.
Camping reservations in the same city for almost two months. We wanted the Jeep to visit friends, explore, go to the dog park, and run errands without breaking camp with the RV. 
Having stayed in this area many times, we knew the Jeep would be much better suited for running around than our e-bikes. The areas we stayed in were not as bike-friendly and had fewer bike trails than in Florida.
Taking the RV out at night would have been a hassle. It would mean setting up in the dark every time, which can be annoying for our camping neighbors, and also a much higher risk of damaging the RV.
We hoped to do some off-roading with the Jeep (but didn't).
California is much closer than Florida. So it wouldn't be a big deal for us to drive separately when encountering steep grades or high elevations.
Through our route planning, we knew that the California RV trip route would be mostly flat or downhill from Colorado.
It's still nice for us to be able to do things separately sometimes. If you only have the RV, everyone has to go everywhere together every time.
RV miles versus Jeep miles
Earlier, we mentioned that we only traveled over 1,700 miles with the RV. But we drove the Jeep a lot more. Our Jeep added nearly 2,800 miles to the odometer on this trip. Part of that difference is we left the RV in Sacramento when visiting Marc's uncle. This saved the 1,000-mile drive back to Colorado with the RV. But that's another story, as this blog post is already long!
Also, we drove the Jeep separately from the RV for most of this trip. We estimate that we only towed the Jeep for about 600 miles. Most of those miles were on the way to Palm Springs from Colorado.
We still brought Julie's e-bike and Marc's Adventure bike (not his cargo e-bike this time) so that he could enjoy cycling in the warmer SoCal weather. Most of the time, we transported both bikes in or on the Jeep.
The bikes were quick and easy to set up. And Marc put his bike to good use, but Julie didn't use her e-bike as much as she hoped. In hindsight, we would have left that at home. Unfortunately, Palm Springs doesn't have as many good biking trails in Palm Springs as Florida does! And the unexpectedly colder and windier weather up the coast was not so enjoyable for biking.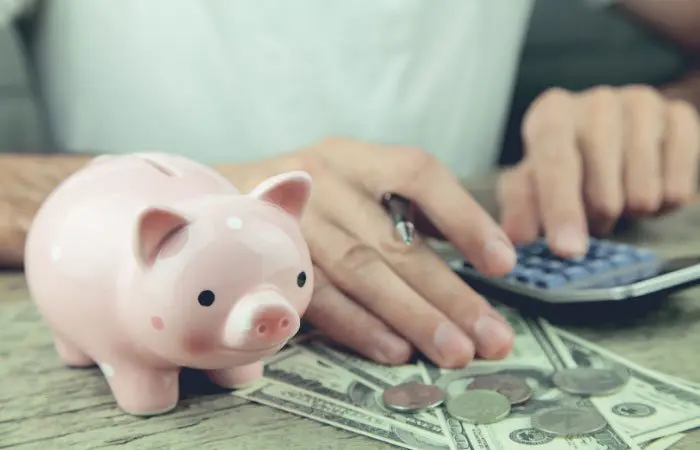 What It Cost: Fuel, RV Costs, Campgrounds?
So, how much did all this cost? Here's the breakdown, by category. We share what we spent on Fuel, Repairs and Maintenance, and Campgrounds.
Fuel Cost and Fuel Economy
During this 63-day California RV trip, we drove our RV 1,746 miles. The total fuel cost for the RV was $766. Our average fuel economy was just under 14 mpg. We also drove the Jeep 2,867 miles at the cost of $728. Fuel prices per gallon were high for both the Jeep and the RV this year. Diesel fuel averaged over $6 per gallon, and mid-grade fuel for the Jeep was nearly $5 a gallon. So, our average monthly fuel cost for this California RV trip, including both vehicles, was $664. 
Compared to last year's Florida RV trip, with much lower average fuel prices, we spent around $2,500 in fuel over the 8,500 miles traveled. The monthly average on our Florida trip was over $700. Remember, fuel prices were lower in the early part of last winter and kept increasing toward the end of our trip. Then kept going up in 2022!
Here's a fun comparison worth sharing to give you some perspective. When we were full-time RVing, we spent an average of $375 a month on fuel, traveling 12 months each year. But remember, full-time RVers don't usually return to a home base. Many are surprised to see how much less we spent on fuel in our full-time travels. Especially considering those bigger Class A motorhomes only averaged seven to eight miles per gallon. Our towed vehicles averaged around 27mpg, which brought the average to 14mpg overall.
RV Repairs and Maintenance Cost
Now, let's talk about the fun stuff (not)… RV repairs and maintenance.
As discussed in more detail in our blog post comparing full-time and part-time RVing costs, we spent thousands of dollars on this RV the previous year to get it into tip-top shape. So, we expected our RV repairs and maintenance costs would be quite low on this trip. That was mostly the case. We only spent about $60 on small repairs and maintenance. Things like new grip tape on the entry steps, some wax, sealant, and a couple of interior upgrades. 
Marc applies new caulking around the RV shower
Our unexpected expensive RV repair
But, the cabin light above the driver's area had stopped working. We (and the shop) suspected the light fixture failure was related to a water leak that showed up soon after we bought the RV last spring. After thoroughly re-sealing the RV, the leak issue was resolved. But the cabin light was a casualty and not a cheap fix! Being water-intrusion related, this wasn't covered by our RV extended warranty. 
The total cost to replace this at the Mercedes dealership was $862. Ouch! At least it was a fairly quick and easy repair. The shop was just a few miles from our campground and diagnosed it within a few hours. They ordered the part, and we returned the next day so they could replace it. So we didn't need to spend any time out of the RV. And it was only a few weeks between calling to make the appointment and taking it into the shop, so it was not too bad of a wait time.
If it weren't for that cab light repair, this would have been a cheap nine weeks of RV maintenance costs. You can find our comprehensive blog posts linked below for more detail on our RV ownership and maintenance costs over the years. Every RV is different, and it's eye-opening for sure!
What did we spend on RV campsites?
We spent a total of 63 nights away on this California RV trip. Our nightly camping fees totaled $463. This averaged out at just $7.35 per night. 
By comparison, during last year's RV trip to Florida, we spent 101 nights away, and our nightly camping fees came in at $4,732. An average of $47 per night. 
So this winter, we saved nearly $40 a night on camping fees! That's the sum of many parts. The biggest one was we took advantage of our Thousand Trails camping membership and stayed in their campgrounds for most of our trip.
Note: the totals above do NOT include the annual dues we pay for our camping memberships with Thousand Trails. We only included the nightly fees paid. 
But we know what you're thinking. This is not the full picture. So let's take a quick look at what those numbers would be if we pro-rated our annual dues, then added them to our nightly fees.
Marc and Sunny take a walk along the beach opposite our campground
What is the nightly cost if we include membership fees?
Here are some modified totals below if we include the pro-rated costs of those memberships into these two trips. We are basing the numbers on the fact that our Thousand Trails membership dues average $52 per month, and our Trails Collection averages $28. So a total of $80 monthly, or $960 a year. Which is $2.63 per night or $18.46 per week.
When you consider our pro-rated membership dues of $166 for the nine weeks and add that to the $463 in total camping fees, that comes to a grand total of $629. This brings our average nightly camping fee for our California RV trip to just $9.98 per night. 
Pretty darn awesome! And imagine how low it would have been if we'd skipped a few of the more expensive one-night stays! Or stayed exclusively at Thousand Trails parks? That's the beauty, though. You don't always have to stay in them if you're a member. But we like to use our membership for longer stays as it helps subsidize the costs of more expensive stays at other RV resorts. It reduced our overall average nightly camping fees.
Pacific Dunes Ranch is part of the Thousand Trails Encore network, and located adjacent to some oceanside sand dunes by the California Coast
Previous year averages and Thousand Trails-specific data
Again, compared to our Florida RV trip last year, adding pro-rated membership dues brings the total cost to $4,998. That's an average nightly cost of $49.49. About five times the cost of our California winter RV trip. During our full-time travels, we have experienced average nightly fees on an annual basis for less than $9 a night with our Thousand Trails camping membership. 
Many campgrounds average $40-60 a night or more these days. When we researched other campground options in the Palm Springs area, many quoted us over $2,000 per month. So we think a total of $629 for over two months and an average nightly rate of $9.98 for our California RV trip was pretty impressive! Especially as we stayed at some very nice, higher-end places.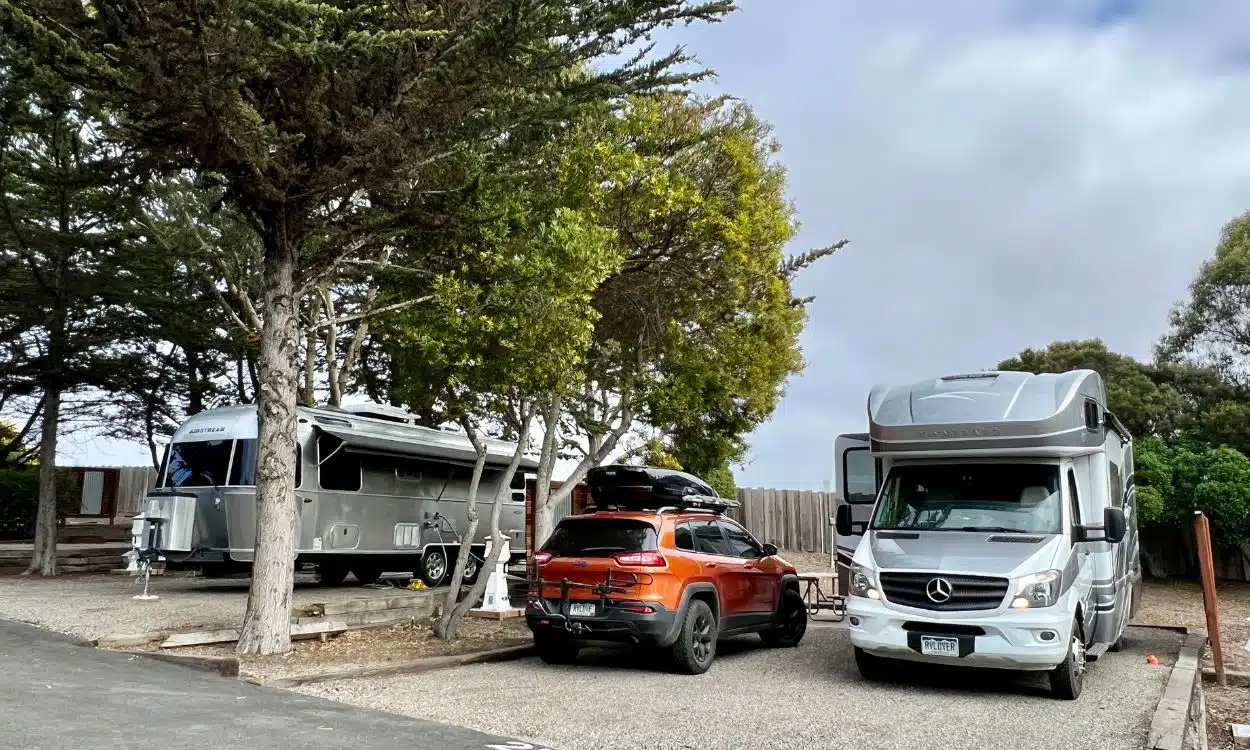 How low can it go? Doing this trip on a tighter budget
Of course, you could make this trip even cheaper. Let's say we removed the few high-priced stays we had. And instead, stayed exclusively within the Thousand Trails network using our membership. Let's also assume we stayed only in the 'zero nightly fee' campgrounds, as there are 23 of those in California. What would those numbers would look like? 
That would bring our 57-night total spend down to only $120, an average of $2.11 per night. Even factoring in the pro-rated membership costs, it would only cost $286 for an average of $5.02 per night. 
If this post sounds like we're big fans of Thousand Trails, it's because we are. We literally could not have afforded to RV full-time for over six years without it. And now, even as part-time RVers, we still find it is worth paying the annual dues. We continue to get our money's worth out of it every year. Since we bought our Thousand Trails camping membership in 2014, it has saved us thousands of dollars annually. With numbers like what we've shared above, combined with the increasing campground costs, it is easy to understand how.
Thousand Trails isn't for everyone. But it's worked for us, and we've learned how to make the most of it. We recommend you do your homework to understand how it works and what you're getting before you buy. If you want to learn more, we've included links below to some articles that explain it further.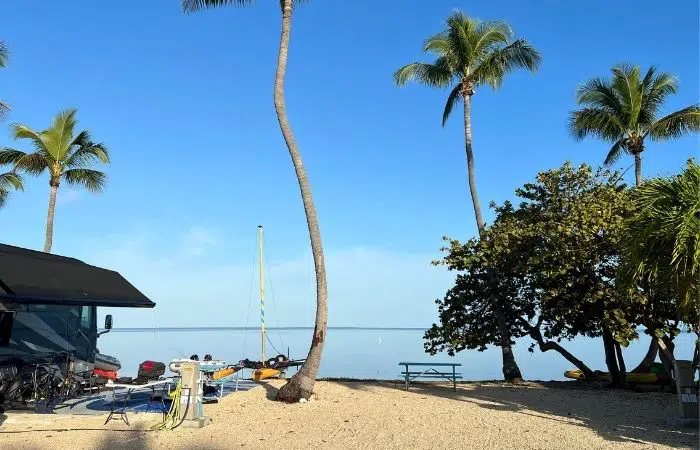 Aerial view over Marina Dunes RV Resort near Monterey, CA
How We Saved Money on our California RV Trip
Let's do a quick recap on how and where we saved money on this California RV road trip. Our goal was to be budget conscious but still go out and have fun!
Made use of our camping memberships to save on nightly fees. Staying primarily at several Thousand Trails campgrounds saved us the most money on this trip, to the tune of thousands of dollars. 
Traveled in a small, fuel-efficient RV. The diesel engine on this 25′ motorhome gave us a good fuel economy of around 14 miles per gallon. Also, keeping our average driving speed lower saves us money on fuel. And it's safer. We rarely drive over 65 miles per hour in any of our RVs.
Planned our route and filled at discount fuel stops.  We planned an efficient route using RV Trip Wizard. Where possible, we fueled at places we could use our TSD/Open Road discount fuel card. But there weren't many, so we also used the GasBuddy app to find the best fuel prices. We also chose routes with fewer grades and towed the Jeep part of the way – when appropriate – eliminating some Jeep fuel costs.
Chose a much closer destination. The other huge part of the fuel savings was simply not driving as far! On last year's winter RV trip, we drove our RV 8,500 miles through 16 states! This year we only drove the RV a bit over 1,700 miles through four states. That is 80% less RV driving. Less time behind the wheel also meant more time for relaxing and other activities. And fewer miles means more time between RV service intervals!
Slower travel pace. Moving less frequently saved us a lot of time and money. Longer stays generally offer lower average nightly costs. And the time savings from not breaking camp allowed us to settle in and save money in other ways, like not eating out as often.
Ate budget-friendly meals. We make most of our meals in our RV, which is not only cheaper but healthier too.
We like to cook most of our meals – like this beef short rib dinner – in the RV 
Average Nightly Cost of Our California RV Trip
Let's now calculate our California RV trip total costs, including fuel and campgrounds. We divided this by 63 to get the daily average for each category. Then totaled, rounding up to the nearest dollar. We did not include RV repairs and maintenance costs, as we don't consider those to be travel costs as much as an RV ownership cost.
Fuel Expenses: Average $24 a day
We spent around $1,494 on fuel between the two vehicles covering 4,600 miles in only 63 days with both vehicles. So fuel was around $23.71 a day, which we rounded to $24. Interestingly, this is almost the same as the previous year's average of $25. But last year was 101 days and a total of $2,500.
Remember that we had two vehicles for this year's California RV trip. And fuel prices, in general, are much higher this year than last year. 
Campground Fees: Average $7.35 a day
During the 63 days of this California RV trip, we spent $463 on campground fees. That averages out to only $7.35. 
As mentioned above, our average nightly campground rates exclude our campground membership annual dues. But if you want to include those, we spent $629. That's an average of $9.98 per night.
This number was dramatically lower than the previous year's average of $47 (or almost $50 when you include pro-rated campground membership dues).
Our pup Sunny 'celebrating' the 19 states he has visited by adding paw-prints to our state sticker map
Total RVing-related costs: $31 a day
Our average daily fuel and campground fees cost around $31 a day. Or $15.50 each for two people. This, of course, does not include food or entertainment, which are both very personal, variable expenses. And remember, you'd also be spending money on food, entertainment, and fuel, even if you stayed home. But that wouldn't be near as much fun.
If you wanted to include the higher average for campground fees, including our pro-rated membership dues, then the average cost would be $34 a day.
The previous year's average nightly cost for our RV trip to Florida was $72. Or $36 per person per day. So more than double the cost of our California RV trip!
Value of our California RV Trip – Was it Worth it?
Absolutely! While we love many forms of travel, this is where RVing can be hard to beat. How else could you spend $31 a day for two people, compared to air travel, hotels or Airbnb, and maybe even a rental car for a nine-week winter getaway? It's amazing value, really. Especially when you consider all the freedom and flexibility of having your home on wheels with you everywhere you go. 
Not to mention the spectacular views you can simply pull over to take in on a whim. Like this pullout parking spot above that we scored by Bixby Bridge near Big Sur on the famous Highway 1 on Valentine's Day. We stayed for a few hours… people-watched, photographed the stunning scenery, and cooked an amazing meal. Then enjoyed it with some bubbly while taking in the multi-million-dollar view. It was a priceless experience and right up there as one of our favorite memories in all our years of RV travel.
Julie cooks dinner in the RV by Bixby Bridge near Big Sur on Highway 1
But remember…
Of course, this isn't the FULL picture. You also need to take into account the cost of RV ownership as well. Or, if you prefer, you can also rent an RV, like we did on another RV trip to Florida. Some RV resorts even have RVs or cabins you can stay in to enjoy the amenities and benefits of the RV lifestyle! You have options.
As always, do your research, plan, put together a budget, and figure out creative ways to make your RV and travel dreams a reality. We've got loads more articles and resources here on our website. So feel free to browse and use the search tool, too. We've also included some very useful posts at the bottom of this post.
We know this was a lot of information. But we hope what we shared in this report helps you plan your next RV road trip. And if you think this post, or any of the other posts mentioned, would be helpful to a friend, please feel free to share!
Summary Recap and What's Next
We had a fantastic time on our winter California RV trip. It was awesome to connect with our RV community, meet up with friends, and explore more. And it was great to avoid the coldest part of winter in Colorado. Now that we are back from our trip, we plan to explore more locally and regionally.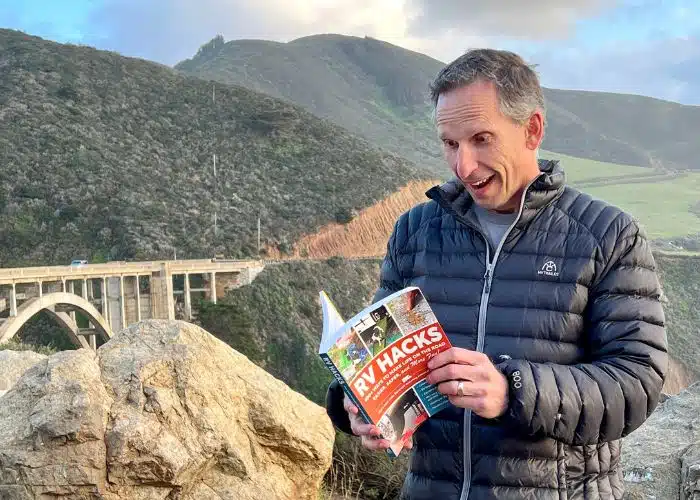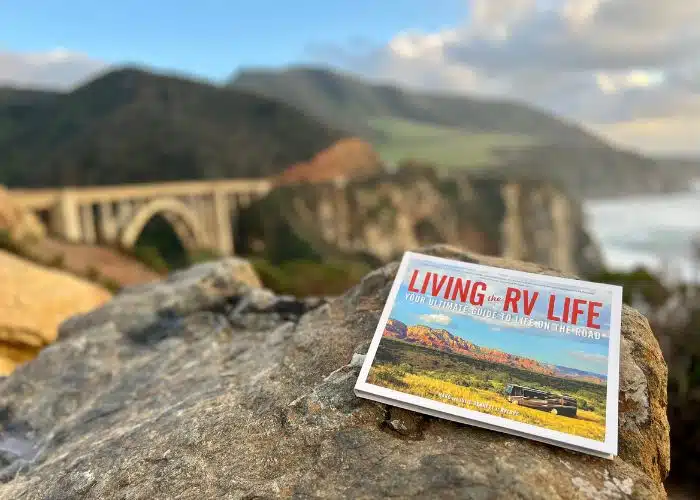 What are your travel plans?
Tell us where you went this past winter, and share your travel plans for the coming year in the comments section below!
Links To Related Videos and Blog Posts
We have a ton of related content to this article. From campground reviews to more detailed blog posts on specific topics to deepen your learning, help you save money, avoid mistakes, and have more RV travel fun. Check them out!
Related blog posts:
Plus, campground reviews for most places we stayed
GOT COMMENTS OR QUESTIONS?
We would love to hear from you. Drop us a note in the comments section below.