This post may contain affiliate links.
Here's the recap on our epic 8,500 mile, three and a half month RV trip to Florida and beyond. In it, we answer all your questions, like… What is this new RV? Where did we stay? And how many gallons of fuel were guzzled? In this post, we share our road trip stats, campgrounds, unexpected RV repairs, average nightly cost, and how we found ways to save.
If you've been following our travels via our email updates and social media posts and videos, you probably know we headed south for the winter. We left Colorado in early December to head to the Florida Keys. And let's just say we ended up staying out much longer – and visiting more states – than we originally planned. Because well it was warm (mostly), we were having way too much fun, and well… isn't that what RV life is all about!?
Let's get into it.
We hit the road from Colorado to the Florida Keys in December 2021
Our final 16-state travel route, with camping destinations and fuel stops
Overview of Our RV Trip to Florida and Beyond
We love our little 'lock and leave' home base in Colorado, but after more than six years of full time RVing, we're also used to being in mild or warm winter weather. We did spend most of last winter here in Colorado – to write our second book RV Hacks – but then we bounced out for 6-7 weeks in late February to early April. 
And now that we have a puppy, the idea of going outside multiple times a day and dealing with the snow (and inevitable mud), wasn't at all appealing. So this winter, as fully fledged snowbirds, we headed south, and to lower elevation. 
Much more than just an RV trip to Florida. During this winter RV trip we visited 16 states, drove around 8,500 miles, and stayed at 30 different locations over 102 days. This meant an average stay of only 3 nights per location. Some stays were as long as two weeks, but we also did a LOT of one night stays. 
This was definitely easier in a smaller, more nimble motorhome. Such a fast travel pace would have been more challenging with a bigger rig, especially a truck and trailer because of all the extra set up and pack down involved. But, if we were traveling in a larger RV, we would have traveled at a slower pace. So this was all a conscious choice.
OK, now let's talk about the rig we chose to travel in this winter.
Time to try something different… again!
Why Did We Rent a Class C Motorhome?
If you have been following us for a while, you would know that during our 6+ years of full time RVing, we traveled in Class A motorhomes (a gas, then a diesel) and towed a car. And a couple of years ago, we got a small Casita camper travel trailer – that we towed with our Jeep – for short getaway trips.
When we started planning this RV trip to Florida, we asked ourselves what kind of experience we wanted. Having rented Class B+ and C RVs in previous years, we had even considered downsizing to a smaller rig. We knew this kind of RV suited us well for trips like this. Even though we already had the Casita sitting in our driveway, we knew that wasn't an option for this longer trip. 
After returning from a 12 day trip to the Albuquerque International Balloon Fiesta, we knew that the Casita was really only comfortable for short trips (a few days). Especially as we still need to work. Three months and many thousands of miles would just be too much to pull off with the Jeep and Casita, especially with our puppy. That's when we decided renting an RV might be a better option.
How and where did we find an RV to rent? 
A Denver-based friend had a Class C motorhome that he kept in storage when it wasn't being used. We had rented it for a weekend once before. And rather than him leaving it outside in winter storage, we proposed a win/win scenario for both of us. We would rent it at a "mate's rate" to cover all of his RV expenses (plus a little extra), while exercising his motorhome and keeping it in a warmer climate. This would give us a good deal on an extended RV rental. Plus, we knew we would end up fixing a few things along the way, because… well, it's an RV!
We promised our friend that we would bring it back in better condition than when we left. Little did we know just how true that would be! Yep, we'll cover the RV repairs and maintenance we did along the way too.
This is a 25′ Class C diesel motorhome – 2017 Winnebago Navion 24J
What is this motorhome?
It's a 2017 Winnebago Navion 24J with a corner bed. It's built on the Mercedes Sprinter 3500 chassis and runs on diesel. Technically, it sleeps 6 with the over cab bed and U-shaped dinette that can also fold down to a separate sleeping area. It has a shower, toilet, fridge, double sink, and quite a bit of storage! We just can't use it all – at least, not if we want to stay within our safe cargo carrying capacity (CCC) – which of course we always aim to do. You can take a tour and learn more about this RV in the short social media videos we've been sharing – links throughout our post below.
Related:
Marc did all of the driving on this RV trip to Florida and 15 other states
How many miles did we drive?
What started out as an estimated 5,000 mile RV trip to Florida and then directly back to Colorado, actually ended up being much longer. By the time we returned in mid-March, we had driven a total of around 8,500 miles. Keep in mind that ALL of these miles were in the RV, as it was our only vehicle. Both for long distance travel and local exploring. Marc did all of the driving, and we estimate he spent about 200 hours behind the wheel all up.
To offer some perspective, in our full time RV life, the miles we traveled each year was usually split fairly evenly between our motorhome and towed vehicle. We typically drove 8,000–10,000 miles a year with the Class A motorhome, averaging about 9K a year. And we would drive around 11,000 miles on average in our towed vehicle. So about 20,000 miles per year altogether, with both vehicles. 
What about other miles and transport?
Other miles we covered were lots of small trips with our electric bikes. Running errands like grocery shopping were done as a stop in between RV stays so that we didn't need to break camp more often than necessary. This definitely shows how little you need an extra vehicle when you have such a nimble RV.
Related:
Winter in the Florida Keys is pretty awesome!
Let's take a quick look at the overall stats from our RV road trip: 
States visited: 16

Miles traveled: 8,500 approximately

Average miles per gallon: 14.4

Nights Stayed: 101 

(at Thousand Trails; Private RV parks; National, State, City, and COE parks; Boondocking/driveway surfing; Harvest Hosts etc)
How long in each place: 65 nights in Florida; 9 nights in South Carolina, 8 nights in Arizona; remaining 13 states were 3 nights or less.
RV Trip Wizard is one of our core RV route planning tools
We did most of our trip planning pre-departure, using RV Trip Wizard. We have used this online trip planning tool for years, and we're big fans. Naturally, we wanted to avoid snowy winter conditions on our departure and return days. But this trip planning tool is super valuable for multiple reasons. 
In case you're not familiar with it, RV Trip Wizard is an excellent online trip planning tool that is customizable for your RV and travel style. It offers RV-safe route planning, over 20,000 campgrounds, nearly 60,000 points of interest, shows fuel and travel distance radiuses, and enables you to plan and track your trip as well as the costs. You can save 25% on an annual membership to RV Trip Wizard with coupon code RVLOVE25.
The importance of planning our fuel stops
Planning RV-safe routes is especially important for big rigs, to ensure you can enter and exit the fuel station safely, without damaging your RV. But even though we were traveling in a much smaller 25′ motorhome this time, we still like using RV Trip Wizard. This allows us to lay out the main trip to create our route, find places to stay, and especially plan fuel stops, using the fuel distance radius tool. 
Planning our RV fuel stops was even more important on this trip, because we were driving a Class C motorhome built on a Mercedes Sprinter chassis. This RV prefers automotive diesel and can only accept Biodiesel up to B5. This can be a bit of an extra challenge. Many truck stops use biodiesel at higher than B5. 
We prefer to fill at truck stops as much as possible, because our discount fuel card saves us a ton of money on diesel fuel. But it only works at truck stops. So, I would find truck stops along our main route, then double check the fuel type offered at that truck stop by checking their website. 
When in doubt, or if there were no truck stops in the area, I just filled at regular fuel stations that had automotive diesel. While this may seem like a lot of extra effort, it really doesn't take long, only an extra minute or two, and the cost savings, to us, are worth it.
Related:
More detail on route and fueling
We did about 1,000 miles of local exploring in the RV, on top of what the main overall trip route shows in RV Trip Wizard. Also note that because we were driving a smaller RV, we sometimes turned off the RV-Safe GPS routing. We had traveled many of the roads before, so we were confident our smaller rig would be OK. But for the main RV trip to Florida planning, we DID use RV-Safe routing to keep us on major roads in unfamiliar areas. Also because it tends to keep us on roads where we are more likely to find truck stops where can re-fuel using our discount card.
And while our goal was to use truck stops as much as possible to save money, we also knew it would be impossible to fill using our discount fuel card 100% of the time. We were, however, able to use it for about 80% of our fuel purchases. If our RV didn't require specific (up to B5) diesel, we would have averaged about 90% of our fills at truck stops. We would likely never hit 100% anyway, as we explored some areas with no truck stops (eg. Florida Keys, remote scenic byways).
Our campsite at Sunshine Keys RV Resort was nice and spacious for the Keys!
We took advantage of this smaller RV to really mix up our travels up a lot, which gave us a great experience of all kinds of RV camping. We stayed in National Parks, State Parks, City Parks, Core of Engineers, privately owned campgrounds, Thousand Trails campgrounds, Harvest Host locations, driveway surfing and also some boondocking in parking lots and Bureau of Land Management property.
Here's the breakdown
We stayed 101 nights all up. We spent 65 nights in Florida; 9 nights in South Carolina; 8 nights in Arizona; and 3 nights or less in the remaining 13 states.
Thousand Trails: 33 nights in 6 parks and 3 states (Space Coast, Sunshine Key, Gulf Air and Crystal River in Florida. Mesa Spirit in AZ; Las Vegas in NV). Learn more about the 40+ Thousand Trails RV Parks in Florida here.
Upscale RV Park: 16 nights (Camp Margaritaville Auburndale, FL)
Motorcoach Resort: 9 nights (Hilton Head Island Motorcoach Resort) 
Other private RV Parks: 12 nights (Hay KS; Fort Myers FL; Fredericksburg, TX; Marfa, TX; Earp CA)
National Park: 3 nights (Zion NP,UT; Capital Reef NP, UT)
State Parks: 5 nights (Grayton Beach FL; Lake Havasu, AZ; Oliver Lee, NM)
City Park: 3 nights (Lake Monroe, FL)
Core of Engineers park: 1 night (Midway, TX)
Florida RV Supershow: 5 nights at Florida State Fairgrounds
Harvest Hosts: 4 nights (Hay Farm AR; Alpaca Farm MS; B&B MS; B&B LA)
Driveway Surfing/Boondocking at friends: 2 nights (Florida Keys)
Boondocking on BLM land: 1 night in Lake Havasu, AZ (way too crowded!)
Parking lot boondocking: 4 nights (Grocery Store, Bass Pro, truck stops)
RV Repair Shop boondocking: 1 night (Cummins, AZ)
Other: 2 nights at Newell Coach HQ, OK
Interestingly, the majority of our camping fees were spent at just 3 RV parks.
Keep reading for more detail on our RV camping costs, plus fuel, RV rental, RV repairs and maintenance… and our overall total trip cost.
How far advance did we make camping reservations?
While typically it is recommended to make winter camping reservations in popular places like the Florida WELL in advance, our decision to make an RV trip to Florida was made fairly late in the year. 
We made our first reservation in October 2022 – at Sunshine Key RV Resort in the Florida Keys – just 60 days before our arrival. It was the fact we were FINALLY able to get into this place (under our Thousand Trails membership) that was the deciding factor for going on an RV trip to Florida for the winter. The rest of our camping reservations started to take shape in November–December, after we decided to rent our friend's RV. Some reservations were made just weeks or days in advance of our stay. Traveling in a smaller rig, and being flexible on dates helped. As did our willingness to accept whatever site was available, including one of the worst RV sites we've ever stayed! At least it had hookups and was near our friends.
Travel Pace
As mentioned earlier, we visited 16 states, drove around 8,500 miles and stayed at 30 locations during this 102 day trip. Nearly two thirds of our RV trip was in Florida during the peak winter RV camping season. This meant we spent the other 36 days in 15 other states. That's a lot of fast moving, short stay travel!
And while this style of travel is not particularly conducive to a work schedule, it IS a lot of fun. Especially if, like us, you like to drive!
We estimate that Marc (who did all of the driving) spent around 200 hours behind the wheel. Plus, there's all the time in setting up and packing down the RV, and planning our route and fuel stops. Julie researched the campgrounds, and made reservations for our stays. Travel planning can definitely be a part time job these days, especially if you're on the move a lot – or traveling in popular places (like Florida in the winter) where availability can be limited.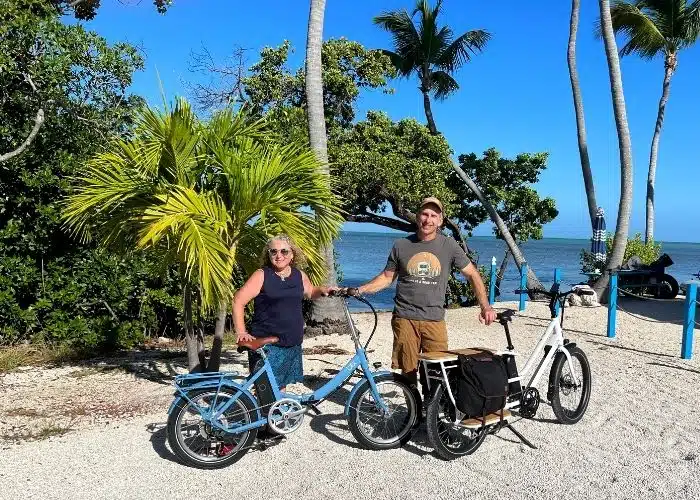 We decided to carry electric bikes instead of towing a vehicle
E-bikes Instead of Towing a Vehicle
One of the biggest differences between this trip and most of our previous RV travels is we didn't tow a separate vehicle/car. We got a taste of this style travel when renting Class B+ and Class C RVs for Florida and Texas trips a couple years ago. But since we were not flying in for this trip, we had the option of bikes for running errands, and exploring, without having to break camp with the RV.
We both got new (different) electric bikes for Christmas, and had them delivered right to our campground in the Florida Keys. They were quick and easy to set up, and we put them to good use – as an alternative form of transport and for fun!
We carried Marc's cargo ebike on the back of the RV and Julie's folding bike inside
During this trip, we each put 150-200 miles on our e-bikes. Most were short trips less than 5 miles, but we also did a a few longer, 20+ mile trips. The eBikes are a fantastic way to have immersive experiences in the areas we stayed in. We made a point of going out biking to discover and local areas, seeing new places in different ways, while getting in some exercise too. Of course, being electric bikes, we simply charged the batteries up from our RV while in a campground, for free. 
We also used our e-bikes for running errands, grocery shops – we even managed to easily fit about $200 worth of Walmart shopping on one trip, with room to spare! Marc's cargo e-bike is especially great for shopping, and taking loads of laundry to the campground laundry room. With the accessories we added – basket and rear bag on Julie's ebike, and panniers on Marc's cargo bike – we're able to carry a lot! All 3 of us were even able to go out on Marc's cargo bike, with Julie sitting on the back, and our dog's trailer hooked up behind. 
You can learn more about our ebikes and read detailed reviews in our dedicated blog posts below.
Related: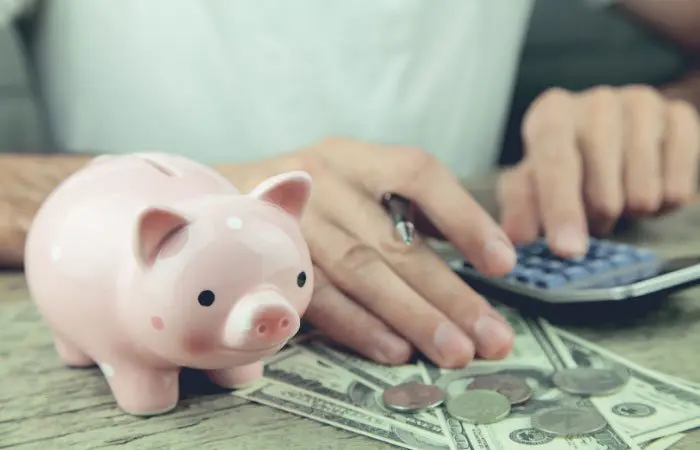 What Did It Cost: Fuel, RV Rental, Campgrounds?
We know you are wondering how much all this cost, so we have broken it down into individual categories below:
RV Rental Cost
While most people rent from RV rental companies, RV dealers or peer-to-peer platforms like RVShare or Outdoorsy, there are other options. 
We were lucky to rent this Class C Winnebago direct from a friend who planned to store his RV over the winter. He still had to cover his loan payment, and insurance so we proposed renting his RV for $1,200 a month – a little more than ownership and storage costs. We promised our friend we would give it some "RV Love" and return it in better shape. At the time, we had no idea just how much we would be delivering on that promise! (more on that in a bit).
All up, our 3.5 month RV rental would have cost us about $4,200, but we also spent time on RV repairs and maintenance, and covered some of those repair costs. So we traded a month's rental in lieu of some of the RV repairs. 
If you have a friend or family member that trusts you to take good care of their RV, renting from them may be an affordable option for you to consider. Especially if their RV is sitting unused for long periods of time.
RV rental cost comparison
OK, so we got a mate's rate on this RV rental. But what if you don't know anyone with an RV you can rent? How much would it normally cost to rent an RV like this?
To give you an idea, we looked up a similar unit in Denver, that's a few years older than ours. The nightly rate – with the monthly rental discount – was $215 a night (plus taxes and fees). So if we had rented this RV, we would have paid over $7,700 a month PLUS taxes and fees. In fact, out of curiosity, we entered the information and got a quote for a 4 month RV rental next winter. The price came in at around $31,000 including taxes and fees. WOWSA!
Despite the fact we drove an ambitious 8,500 miles – 100 miles a day is often included in most RV rentals – we would not have incurred any extra mileage fees. Since over the course of the 102 days, we averaged 85 miles per day.
But still, you can see how this really adds up! We are grateful that we got lucky and were able to get such a good deal renting from our friend! But it did turn out for the best for all of us. And yes we DID, as promised, return the RV in much better shape than when we picked it up!
Fuel Cost and Fuel Economy
During the 100-ish days we drove this RV, we spent around $2,500 in fuel, over the 8,500 miles traveled. 
We used about 590 gallons of diesel fuel, and our mileage average for the trip came in at 14.4 miles per gallon. The fuel tank holds 26.4 gallons. Our best leg of the trip saw us get 17.7 MPG which you can see in this quick video.
Average monthly fuel cost for this three and a half month, 8,500 mile RV road trip to Florida and beyond, was a little over $700. By comparison, when we were full time RVing, we spent an average of $375 a month on fuel, when traveling 12 months each year. And remember, our travel back then was one way! 
Our previous Class A motorhomes averaged 7-8 miles per gallon, and our towed vehicle averaged 25-30 mpg. So our historic average fuel economy was also around 14 miles per gallon. So looking at the big picture, this was very similar, but the travel experience was very different.
What was the range in fuel prices?
When we started our RV trip to Florida in early December, diesel cost around $3.40 per gallon in Colorado. Of course, prices kept creeping up each month. By the time we returned, diesel was $5.12 a gallon in Colorado – an increase of around 50% a gallon! And prices have only continued to rise since then.
Overall, we paid an average of $4.25 per gallon. The biggest fuel saving we got – using our TSD Open Roads discount fuel card – was 80 cents a gallon, which saved us a little over $13 on an 18.50 gallon fill.
Related Articles: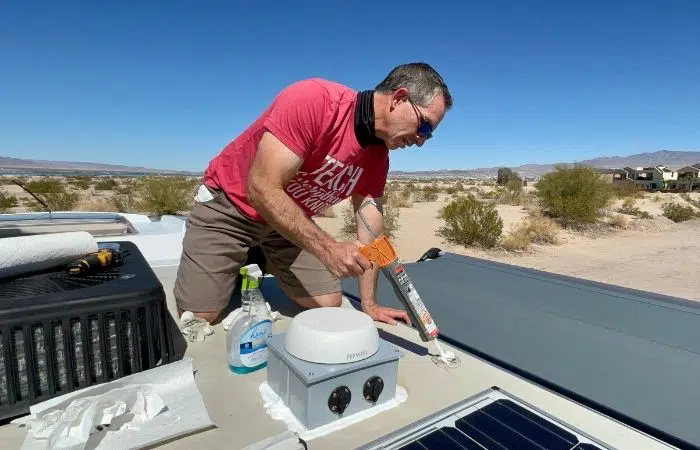 RV Repairs and Maintenance Cost
Now, let's talk about RV repairs. Typically, RV renters don't have to worry about dealing with – or paying for – RV repairs. However, it's also quite possible (even likely) that something may happen to your RV rental that will need attention. When we rented a Class B+ for a previous RV trip to Florida, a guy from the RV rental management company had to come out and fix a broken shower. Plus, Marc ended up doing another simple RV repair himself. The time and inconvenience of RV repairs is something you may need to be prepared for, even if – as a renter – you don't need to pay for it.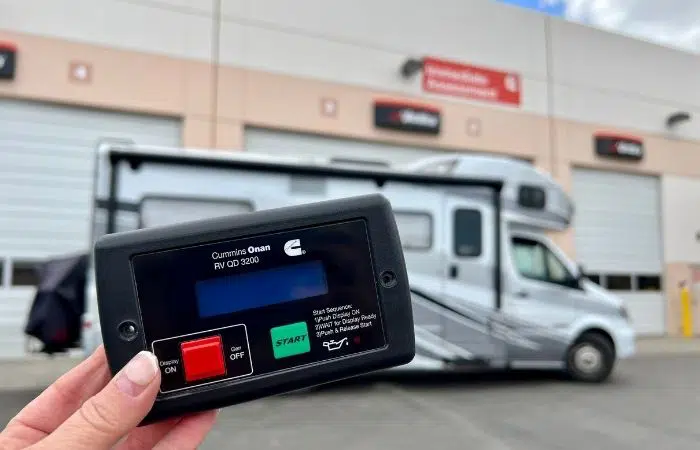 What needed fixing?
Here's a summary of the issues needing attention during our RV road trip:
Fortunately, our friend's RV is covered by an RV extended warranty with a zero dollar deductible. This covered most ($746) of the bill for the generator starter panel – which cost a total of $906 to diagnose/replace.
Given the state of RV repairs right now, it is neither easy nor convenient getting into an RV repair shop. Especially when we're on the move. Maintenance, damage and 'wear and tear' items like the new windshield, replacing / upgrading the RV batteries, and repairing roof sealant, would not be covered anyway, and it was honestly fairly quick and easy for us to fix (or arrange) ourselves. And way less hassle than taking it into an RV repair shop! We did attempt that once, and it was a complete waste of time (that's a story for another day, no thanks to Camping World).
Related Articles:
What did we spend on RV camping?
We spent a total of 101 nights away on this trip, and our nightly camping fees came in at a grand total of $4,732. This averaged out at about $47 per night. 
Note, this does NOT include the annual dues we pay for our camping memberships, like Thousand Trails and Harvest Hosts. Why? Because we have already gotten our money's worth out of those memberships in other camping throughout the year/s. In the past we have experienced average nightly fees on an annual basis for less than $9 a night with our Thousand Trails camping membership.
And while $47 a night may seem high, remember that that we chose to spend about a third of our trip (more than 30 nights) in a few premium RV resorts. These typically charge between $80 and $260 a night. These days, many campgrounds average $40-60 a night, and this can be MUCH higher in Florida during the winter. So we actually think our average nightly rate was pretty reasonable. But we could have certainly done this trip much cheaper, if saving money was our primary goal.
This trip's nightly average of $47 was higher than we have experienced in the past, for four key reasons.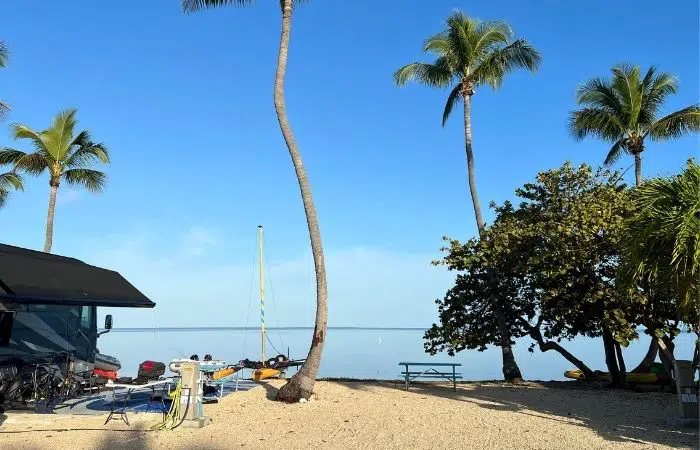 A premium waterfront site at Sunshine Key RV Resort, Florida
Reason #1
First and foremost, we wanted to try different places and have new experiences, so we did not spend as much time in Thousand Trails parks as we usually did in our full time RV life. However, we did manage to score 2 weeks at Sunshine Keys RV Resort in the Florida Keys (a Thousand Trails / Encore property) which cost us just $20 a night plus tax. Our Thousand Trails membership has literally saved us thousands of dollars each year since we joined in 2014. And what we save by staying at Thousand Trails campgrounds allows us to 'splurge' at other non-TT properties from time to time… like we did on this trip!
Related Articles:
The central Tiki hut area at Camp Margaritaville Auburndale, Florida
Reason #2
The second reason for our higher nightly average camping fee is simple. First, the nightly rates at many RV parks and campgrounds have increased, due to inflation and the higher demand over the past couple of years. And second, we made the conscious choice to stay at some highly desirable – and more expensive – RV resorts, like Camp Margaritaville in Auburndale Florida, and Hilton Head Island Motorcoach Resort in South Carolina. So we paid a premium for those. In fact, these two stays alone account for a large portion of our total RV camping costs for this trip. But that's OK. No regrets! 
While our 2-week stay at Sunshine Key is also considered highly desirable, that price was extremely low at just $315 all up, due to our camping membership.
Related Reviews:
RV camping overnight at a Harvest Hosts property in Mississippi on our RV trip to Florida
Reason #3
A third reason our nightly camping average was a bit higher is because the RV generator was not working for most of the trip. Plus, the house batteries weren't working for the first 5 weeks. This meant we needed to be plugged into power most nights, which significantly limited our ability to boondock without hookups. So we ended up paying for campgrounds, or electrical hookups with Harvest Hosts that offered them, because we had to!
Once we were able to upgrade the house batteries with Battle Born lithium batteries our options opened up immensely. One of the last RV repairs was the generator, which gave us full camping flexibility, in our final few weeks.
Reason #4
Finally, while we are budget-minded and try to save money when we can, this trip was not budget FOCUSED. We wanted to explore new places, and went out of our way to meet up with friends in other states. Yes, on our way back from Florida to Colorado, we literally drove to Arizona, then California – a significant diversion that added a few thousand extra miles to our original trip plan! We will travel far to see our besties!
Plus, our faster travel pace, made easier by traveling in this smaller Class C RV, meant more frequent and shorter stays. We did not do many long stays, which generally turn out to be less expensive.
More miles, a faster travel pace, and more stays simply add up to more money! 
And we were OK with that.
12 Ways We Saved Money on our Road Trip
Let's do a quick recap on how and where we saved money on this RV road trip. We've also linked to some of our related short videos – most are under 30 seconds.
Rented an RV from a friend. This was cheaper than paying retail prices, which saved us about $25,000. However, there is NO WAY we would have considered paying anywhere near $30K to rent an RV for this trip! Of course, you can rent much less expensive RVs than the one we had, or travel in an RV that you own. But it's worth considering if you know someone with an RV that would be willing to rent it to you for a discount!
Traveled in a small, fuel efficient RV. The diesel engine on this 25′ motorhome gave us good fuel economy of around 14.4 miles per gallon.
Drove at a maximum speed of 60-65 miles per hour. This increased fuel economy, safety and enjoyment. What's the rush?
Planned our route and filled at discount fuel stops.  Where possible, we used our TSD / Open Road discount fuel card. By stopping at truck stops that have the right diesel for our RV, we saved on our fuel fills – up to 80 cents per gallon.
Used grocery store fuel points. By shopping at grocery store chains with a fuel points program, we accumulated fuel points. This gave us discounts at their fuel stations, and fuel stops in their network.
Made use of our camping memberships to save on nightly fees. Staying at several locations within our Thousand Trails and Harvest Hosts memberships saved us literally thousands of dollars on this trip.
Stayed at places where entertainment is built-in. When you stay at places with things to do – like Camp Margaritaville, Sunshine Keys RV Resort, and Harvest Hosts where we fed alpacas – you don't need to go elsewhere for fun.
Found free RV parking near cool places. We were able to park the RV for free in places like Key West then biked downtown for free entertainment! We also found free street parking for the RV when visiting Magnolia Silos in Waco, TX.
Boondocked overnight for free. By staying in friends' driveways, Bass Pro Shops parking lots, and a dirt field opposite a truck stop, we saved on quite a few nights of RV campground fees.
Stayed at less expensive campsites. We found affordable – and scenic – campsites in national, state, and local city parks, and one Core of Engineers.
Used electric bikes for local exploring and errands. Our cargo / folding electric bikes cost nothing to recharge or maintain, or park.
Ate budget friendly meals. We like to make meals in our RV or stop at Publix grocery stores on Wednesdays for $5 sushi. This is great on travel days to grab lunch and stock up on groceries. And it helps balance out the budget for when we like to splurge at new and favorite restaurants!
Related:
Average Nightly Cost of Our RV Road Trip
OK, let's look at the grand total of our winter RV trip to Florida and beyond  – including the RV rental, fuel and campgrounds. We divided each of these by 102, to get the daily average for each component, then totaled them (rounding up to the nearest dollar).
RV Rental Costs: Average $41 a day
We rented the RV for about 3.5 months at a very reasonable "mate's rate" of $1,200 per month. We did trade one month of rental for some of the RV repairs we did and paid for during our monthly rental. But for simplicity's sake, we did the math based on $4,200 divided by the 102 days we traveled.
Fuel Expenses: Average $25 a day
We spent around $2,500 on fuel, over the 8,500 miles we traveled. Keep in mind we were moving at a fast pace, and driving a relatively fuel efficient diesel RV. So fuel worked out to be around $24.50 a day, which we rounded up to $25.
Campground Fees: Average $47 a day
As mentioned above, our average nightly campground rates paid exclude our campground membership fees since those are covered by other camping we do during the year. We could have certainly brought our RV camping fees down quite a bit, by not staying at higher end RV parks, and spending more time in Thousand Trails parks. And if the RV generator had been working, we could have boondocked a little more as well.
Grand Total of our Winter RV Road Trip: $113 a day
When you add up our average daily cost for the RV rental, fuel, and campground fees, this came to $113 a day. Or $56.50 each for two people. This, of course, does not include food or entertainment, which are both very personal, variable expenses. And remember, you'd also be spending money on food, entertainment and fuel, even if you stayed at home! But that wouldn't be near as much fun!
When you consider the overall cost of this RV trip to Florida and 15 other states, we still think it's great value compared to air travel, hotels or Airbnbs, and potentially a rental car for three and a half months. Especially when you consider all the freedom and flexibility offered by having your home on wheels with you everywhere you go. It's a great way to travel and even 'try before you buy' an RV.
Summary Recap and What's Next
We had a great time on our winter RV trip. It was awesome to connect with our RV community, attend the Florida RV Supershow, meet up with RVing friends and do some more exploring. It was great to avoid an unusually cold winter back in Colorado. Plus, our new puppy Sunny had the opportunity to be exposed to all kinds of experiences and socialization while still young. This is proving to make him a very adaptable dog. And of course, it was nice to be able to just be outdoors a whole lot more, put in a lot of biking miles, and enjoy warm, pleasant weather all winter long. 
Now that we are back from our trip, we plan to mostly do local and regional exploring this summer, to save on those gas prices! As for what's next with regards to our RV? We really enjoyed the Class C and the size proved to be ideal for this trip. So stay tuned for another update!
Links To Related Videos and Blog Posts
We have a TON of related content to this blog post. There are dozens of short form videos, campground reviews and more detailed blog posts on specific topics to deepen your learning, help you save money, avoid mistakes, and increase your RV travel fun. Check them out!
Short Videos from the trip
This is just a sampling of the videos.  There are many more.
Related blog posts:
And check out other RV travel related posts below.
GOT COMMENTS OR QUESTIONS?
We would love to hear from you. Drop us a note in the comments section below.