This post may contain affiliate links.
Looking for ways to save money on fuel at the pump? Don't let the current high fuel prices cramp your RV travel style. While none of us have control over fuel prices, there are ways you can reduce – or at least offset – your fuel expenses by making a few tweaks to reduce the pain and save every day.
Here are seven of our top tips for how to save money on fuel costs in your RV travels… and even in your everyday life and daily driver vehicles. Some of these tips can save you up to $1 a gallon, so let's check them out and save some cash!
1. Grocery Store Discount Fuel Programs
Our first tip for saving money on fuel is to use fuel discount points that are available through grocery store chains. We all spend money on groceries, so why not stretch those dollars further!? 
Shop at grocery store chains with large regional networks such as Kroger – including King Soopers, City Market, Smith's, Ralphs, Frys, and Fred Meyer – at home and as you travel. Large grocery store networks like these are linked to some fuel stations and can offer very substantial discounts. 
We're using Kroger as an example here, as it's the program we personally use regularly, and they have a large network of stores around the country. 
What are some of the ways to save?
Typically, at Kroger, for every 100 points earned using your Shopper's Card, you'll earn 1 Fuel Point for every $1 you spend, which saves you 10 cents per gallon of fuel. Plus, you'll earn Fuel Points on gift cards at their Pharmacy, Fred Meyer Jewelers, and even online orders being shipped. Note some items may not be eligible for earning points (e.g., tobacco, milk). You can also earn extra points by paying for your groceries using the Kroger app on your smartphone.
Of course, you can also use coupons to save on grocery items, so keep an eye out for those. You can find these in their grocery app and website.
Nancy Patrick is a cost-conscious RVer and avid Kroger shopper who really knows how to make the most of her fuel points! She shared many of her tips for maximizing fuel points with us in this article.
"I just filled up 35 gallons of diesel in the motorhome, and completed that sale with April fuel points. Immediately afterward, I logged in on the same pump to use my leftover March fuel points, and it worked!"
"If you use Kroger Pay (link credit card for direct payment) you receive 50% more fuel points. Sometimes it is double the fuel points! Recently, when I spent $30 to get my March total up to 400 points, instead of receiving 45 points I got 60 just by using the Kroger Pay feature at the register. This also means you don't have to enter your phone or scan anything during your checkout. Just scan the QR code that comes up when you click "Kroger Pay" on your phone. It's nice that you can shop and not need to take a purse or wallet with you. And believe me there are times I do forget my wallet, but rarely my phone."
How much can you save on fuel?
You can redeem Fuel Points earned at any of Kroger's Fuel Centers or partner fuel centers and use up to 1,000 Fuel Points for $1 off per gallon. Just know your Fuel Points are redeemable in 100-point increments, up to 35 gallons of unleaded, mid-grade, premium, diesel, or E85, and in one transaction. 
Make sure your tank is low enough to accept the maximum amount of fuel discount allowed whenever possible. Some program points don't carry over from one month to the next. So, use them or lose them! Consider timing your tank fills to maximize fuel savings.
How to Maximize Your Grocery Points to save money on fuel
Sign up for the grocery store loyalty program (if you haven't already) and enter your number every time you shop to accumulate points on your grocery spend.
Check for coupons and promotions in their app or website.
Buy gift cards for other retail stores and restaurants – for yourself (especially big purchases) or others – and earn 2 points for every dollar spent on gift cards from

Amazon, Apple, Home Depot and many more.

Watch out for Bonus Points offers – You can earn extra points just by timing your purchases to coincide with promotions.

W

e've taken advantage of 4X bonus fuel points offers on gift cards, which you can buy online or in person.

Link your credit card to the Kroger Pay app and use when paying, to earn extra points.
Complete grocery store surveys to earn bonus points (aka fuel discounts) as often as you can. Some allow you to do one every week online or via their app.
Track and use up your points balance which you'll find your printed at the bottom of your grocery receipt, or by logging into your account / grocery app. Keep an eye on your balance, especially points expiry dates. You don't want to let them go to waste!
"We bought a $100 Chipotle gift card that we use when we stop for lunch breaks on our RV travels. Since we bought it during a 4X fuel points promotion which earned us 400 fuel points – that's a saving of 40 cents per gallon."
We often use our electric bikes to run errands and do our grocery shopping
Make the most of your grocery shopping!
Since you always have to buy food, make the most of it by getting fuel credit! Depending on where and how much you shop, it might be worth shopping and accumulating points at two or more different grocery store chains to increase the number of fuel stations where you can use the discount.
The main thing is to check the terms of your fuel rewards program/s, stay on top of ways to save, keep an eye out for bonus offers and special promos, do their surveys, and use those points before they expire!
Being conscious of what you spend, where and how may only take you a few extra minutes per week, but it can add up to BIG savings on fuel.  
About Kroger Fuel Card Program: https://www.kroger.com/d/fuel-points-program
2. Save money on fuel with discount fuel programs and apps
Many fuel discount programs and apps save you money at the pump. Some save anywhere from 3 to 12 cents which barely makes a difference right now. So here, we focus on three options that can save you at LEAST 25 cents per gallon. 
Gas Buddy
This app helps you find the cheapest fuel prices in your area or along your route for every fuel type. You can save up to 25 cents a gallon, which isn't too bad in this high-price environment. We've been using Gas Buddy for years, and the app is free to download on your smartphone.
Here are a couple of other options they offer:
Free Forever Gas Card. This saves 5x as much as their app, needs no credit check, and debits your gas purchase directly from your linked debit card. Find and activate exclusive Deal Alerts in the app to save up to 25 cents per gallon.
Gas Buddy credit card. This requires applying for their MasterCard and a credit check. It gives you $10 Gas Back on your first purchase, earns 3 cents off and up to 25 cents per gallon back on gas purchases as a statement credit, 3% Gas Back on convenience store and restaurant purchases, plus 1% GasBack on other non-gas purchases. 
This all adds up, and gives you the flexibility to use the card everywhere, not at one particular gas store chain. Even if you don't get the Gas Card or credit card, the free Gas Buddy app is definitely one to keep on your phone to check fuel prices along your route, both for your RV and your regular vehicle.
Learn more at: https://www.gasbuddy.com
Open Roads / TSD Logistics Fuel Savings Card
This card is a no-brainer if you have a truck or an RV with a diesel engine. It costs nothing to apply and requires no credit check. 
The TSD / Open Roads fuel discount card is our favorite way to save money on fuel prices. Usually, we save at least 30-50 cents a gallon using this card, but we have saved as much as $1 a gallon on fuel. We used this card extensively during our recent 8,500-mile winter RV trip to Florida, and our biggest saving was 80 cents per gallon when filling in Colorado. 
Prices vary daily at each location, so you'll need to check their app to see which truck stop has the best prices along your route. We've been using this card for about four years and did a very detailed post and video on this discount fuel program that you can read here: Discount Fuel – How to Save Money on Fuel with This Fuel Discount Card.
How are they able to get better fuel prices?
Open Roads, also known as Tri-State Delivery TSD, is a trucking company that wanted bigger fuel discounts for their trucking fleet. The best way to get those discounts is by increasing their fuel volumes with suppliers. So they decided to expand their 'fleet' by opening up their trucker fuel program to allow regular RVers like us to join. 
This creates a win/win for all. The higher volume means they can negotiate better prices for their truck drivers, and we RVers get to benefit from their truck fleet prices when filling at participating truck stops. The more RVers that join, the bigger the discount potential. Now they have tens of thousands of RVs in their fleet, so great fuel discounts are available at more than 16,000 truck stops around the country. So everyone saves money on fuel.
Other benefits of the Open Roads discount fuel card
There are additional benefits beyond fuel savings. Let's take a look at those now.
Other benefits of the Open Roads TSD fuel program
No low restriction on maximum gallons or dollars spent. This is great news for those with big coaches or trucks with auxiliary fuel tanks, as there is no problem filling your 150-gallon tank at a discounted price. 
Pay at the pump in a single transaction. As folks with big fuel tanks know, one of the biggest hassles of refueling, especially now with high prices, is running up against the dollar maximum limit on regular credit cards. It's not unusual for a pump to shut off at every $100 unless you prepay for your fuel inside, so this resolves that issue.
Easier to maneuver big rigs. Fueling at truck lanes helps you avoid the risk of damage from tight turns, so it's safer for you and your RV. 
Fill faster. The high-volume pumps can fill your large tank in a fraction of the time it normally takes to fill at a regular pump.
Freedom Pass option. This allows you to charge tolls to your fuel card in more than half the US states, with more states being added.
Earn points with other loyalty programs. When using your Open Roads TSD discount fuel card, you can also earn points with other loyalty cards like Love's Travel Stops "My Love Rewards" for free showers and drink refills. 
Is it only for large RVs?
Filling at truck stops with bigger lanes is much easier for big rigs. But you can fill your pickup truck and smaller diesel RV too. Even though we have recently been traveling in a much smaller Class C motorhome, we still like filling at truck stops and using our discount fuel card because of the savings. 
We just have to check to ensure the truck stop has the right kind of diesel fuel for the Mercedes Sprinter engine. For example, it is not recommended to use biodiesel higher than B5 in the Sprinter. So know your vehicle's fuel type.
Plan ahead to get the best prices
We don't always use our TSD / Open Roads discount fuel card. But we do use it for about 90% of our RV fuel fills. We always check the apps to see what makes the most sense. So we do our research ahead of time, find the stops where we can use our card, and plug them into our RV Trip Wizard software. (More on that at the end of this post.)
The Open Road TSD (EFS) fuel card has been a very handy – and often used – tool in our arsenal, which saves us the most money on fuel.
How to apply for free
It's free to apply for this card, and there's no credit check required. You will, however, need to provide your bank details for them to debit the fuel bill from your account. But we, and thousands of other RVers, have been using the TSD / Open Roads discount program for years without any issues. So we recommend this with confidence.
Click here to apply for the card now, online, for free.
Related Articles
This is a free app that gets you instant discounts of up to 50 cents a gallon on diesel fuel at hundreds of independent fuel stops. It is ready to use with your credit or debit card, and there are no fees. Mudflap joins forces with smaller fuel stops to get access to big discounts that large fleets get because they have large gallon volumes. 
MudFlap is simple and easy to use:
Download the app.
Add a debit or credit card to link your bank account as your payment method. 
Pick a fuel stop, and tap the green button to get a 6-digit fuel code. 
Show your code to the fuel desk, and they will turn on the pump.
Pump your fuel. 
Once you're done fueling, Mudflap will charge you the discounted Mudflap price and immediately email you a receipt. You can also get a paper receipt at the fuel stop. There are no fees, fuel cards, contracts, credit checks, or hidden fees.
Sign up for Mudflap here and save $10 on your next fill, and save up to 30 cents per gallon instantly.
3. Use Credit Card Points to Save Money On Fuel
Ever heard of travel hacking? It's the art of signing up for travel credit cards and collecting credit card points, hotel points, and/or airline miles to cash in for free flights, upgrades, hotel stays, transportation, and more. But you're an RVer, so maybe you think this isn't relevant to you? Especially if you don't travel by air or stay in hotels much. Think again!
We've been travel hacking for years and accumulated (and used) hundreds of thousands of points! We've used points during a trip to Hawaii – for car rentals and hotel stays – which made for an affordable vacation. But we've also used our points for cash, applying them as credits on our statements.
How does it work?
When applying for a travel credit card, you are usually eligible for a large signup bonus (often 50,000 points or more) when you spend a certain amount in the first few months. This alone can be worth many hundreds of dollars in travel credits. Plus, it is amazing just how fast the points can add up on everyday purchases, including fuel. 
Some credit cards, like the Chase Sapphire Preferred Card, which is the one we have, offer extra points for travel-related purchases. And as so many of our purchases like fuel, campgrounds, and restaurants are travel related, we earn bonus points for those. But we don't ALWAYS need to redeem the points we earn for things like airfares, hotels, rental cars, etc. 
Often these points can be converted to cash, with many cards allowing you to cash in points on prior purchases. Sometimes they even pay bonus points when cashing in on certain types of purchases. Here's an example:
"Recently we cashed in points we'd been stacking up for a few months when Chase offered a "Pay Yourself Back" with 25% bonus, if we applied points toward an Airbnb purchase on our credit card statement. Marc had stayed in an an Airbnb with his family in January, so using the "Pay Yourself Back" bonus feature got us a $450 cash refund, which buys a LOT of fuel! We've also applied bonus points to our internet bills."
Double / Triple Dip Tip! Use your credit card to link to your grocery store app when making purchases (as covered above), and you'll earn points from your grocery store AND your credit card. Buy gas station gift cards from the grocery store during their bonus promotions and earn even more points!
Use credit cards to their full benefit
Of course, there are plenty of credit card programs out there offering points, cashback, and other benefits. You may already have a card you aren't using to its full benefit. So check the terms and conditions and see if there's a way you can make it work even better for you. We recently damaged our Pivo camera while out biking, and the replacement cost was covered by our credit card provider (Chase). We also save on rental car insurance by using our credit cards when we rent a car.
Over the years, we've had many types of credit and charge cards. But after doing a ton of research, comparing the options and benefits, and getting advice from our traveling hacking friends, our favorite credit card for accumulating travel points is the Chase Sapphire Preferred, which we use almost exclusively now. 
It's ideal for all kinds of travelers, yes RVers too! And if you are a new customer, you should be eligible for large signup bonus points. Yes, there's an annual fee, but it's worth it for us, as the benefits we get far exceed that. If most of your spending is on fuel, campgrounds, and eating out – as it is for us – you'll accumulate many points in no time.
4. Save Money On Fuel with Local and Regional Travels
Your travel style, destinations, and pace can make a big difference too. The most obvious way to save money on fuel is not to use as much of it in the first place! So instead of doing that big cross-country trip, do more local and regional travel to explore what's nearby. Seek out hidden local gems that aren't as well known within a 50, 100, or 200-mile radius. 
Then again, tomorrow is promised to no one. So do a reality check around what a bigger trip will cost you with the higher fuel costs. If it won't make or break you financially, you can still make the trip. Just find other ways to save and offset the gas prices! Where there's a will there's a way!
Reframe your thinking, be flexible and open-minded
If you had bigger travel plans for this year, only to find the high fuel prices have ground them to a halt, look for the positives in the situation. There are always interesting places to see and things to do – and often with fewer crowds – if you seek out local and regional destinations.
State parks, city parks, scenic roads, and roadside attractions. You can find many of them in the RV LIFE app, RV Trip Wizard, and the RoadTrippers app. You can save 25% on an annual membership to RV Trip Wizard with coupon code RVLOVE25.
Because we've visited all 50 USA states – and many Canadian provinces – we're actually really happy to stay 'local and regional' this summer. We've been exploring Colorado, where there is SO much to see and do. So we don't feel like we're compromising or missing out at all. We're actually LOVING finding gems we never knew about before! And sharing them with friends who visit.
We have a quick trip to South Dakota planned, but with our discount fuel card and other tools (like camping memberships), we can still make that trip very affordably.
5. Slow Your Driving and Travel Pace
Even if you want to travel long distances, there are still ways to save money on fuel. Here are just a few ways to use less fuel, and increase fuel economy, which reduces the number of fuel fill stops!
Drive efficiently. Accelerate gradually instead of pushing the pedal to the metal. And plan your travel times to avoid sitting in stop-and-go traffic. If you can sail through an area at cruising speed it will be much more efficient. By traveling through busy cities between 10 am and 2 pm, you should encounter less traffic.
Slow down. RVs are not aerodynamically efficient, so the faster you drive, the more wind resistance you encounter. When driving over 60 miles per hour, some RVs (and trucks) will see exponential losses in fuel economy. This is even worse when driving into a strong headwind at highway speeds. So keep your speed below 65 miles per hour when possible. This might mean modifying your route and driving secondary highways instead of interstates. We aim to drive at around 60mph, which we've found is an optimal speed – both for fuel economy and safety – plus it's more relaxing and enjoyable.
Avoid toll roads UNLESS it saves you money on fuel. We generally try to avoid toll roads in our RV because of the extra charges for larger vehicles. However, currently, high fuel prices might mean that paying a toll for the more efficient route can be partially offset by saving money on fuel.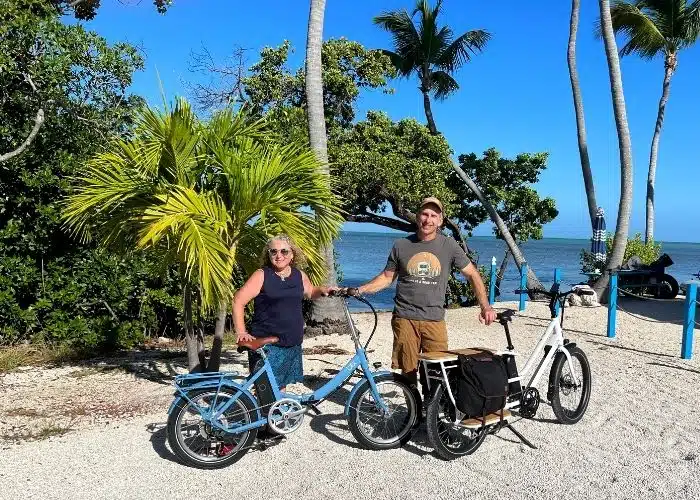 We have put in hundreds of miles on our Blix e-bikes this year, no fuel required!
Carry electric bikes instead of tow vehicles. Consider getting around locally on a bike or e-bike if it makes sense. We use e-bikes for exploring, grocery shopping, and errands. We spend nothing on fuel, get in some exercise, and enjoy the experience so much more! It's also less expensive than setting up a vehicle for towing. Julie has a folding e-bike, and Marc has a cargo e-bike.
Take your time. Why rush? And review your options. It literally pays for itself in savings.
Related:
6. Plan your route to increase efficiencies

We almost always plan our RV travel routes in advance for greater efficiency. We usually look for the most RV-friendly route (for our rig size) and the best fuel prices and add the fuel stations we prefer to fill at. 
Planning ahead for your fuel stops – instead of just filling up when you need it – can make a real difference. You may be surprised by how much pump prices can change after crossing a state border! 
Use apps and join RV-friendly fuel programs to locate the best fuel prices in your area and between destinations. 
Just use Google Street View to ensure you can access the gas station with your RV. If it's too tight to maneuver your rig, don't risk it. Causing expensive damage to your RV or vehicle is not worth the fuel cost saving!
A few years ago, we met an RVer who shared the story of how he went to a specific gas station to get the cheapest fuel price. Unfortunately, he ended up side-swiping his high-end Class A motorhome on the yellow posts, resulting in an insurance claim of several thousand dollars. He had to pay the deductible AND was inconvenienced while his coach was being repaired. Unfortunately, he didn't learn from his mistake and did the same thing AGAIN at the same fuel station. So he lost money and time – twice!
Moral of the story? 
NO cheap fuel price is worth the saving if you risk damaging your RV or vehicle trying to navigate the fuel station! Know your rig and know the exit and entry points and turn angles. And the roads you travel.
This is why we always liked filling our bigger Class A motorhomes at truck stops because it was easier, safer, and less stressful. Even if the price it's a few cents higher, it's often worth it for the peace of mind.
We use the online RV Trip Wizard Trip Planner to plot all of our stops – including fuel stops, campgrounds, and attractions. We like using RV Trip Wizard as it also provides RV-safe GPS directions, plus we can access the trip details, campgrounds, and stopping points, using the RV LIFE app during the drive. 
RV Trip Wizard is also a great way to track your RV travel expenses – fuel, campgrounds, and miles – and it shows how much each leg of your trip costs.
Click here to sign up for RV Trip Wizard and get a free trial. And you can save 25% on an annual membership to RV Trip Wizard with coupon code RVLOVE25.
We found a great campsite at Colorado National Monument for $22 a night
7. Save money on campgrounds
For RVers, fuel and campgrounds go hand in hand. The savings you can make by staying at inexpensive campgrounds can substantially offset the higher fuel costs. Just like fuel, camping fees are also at record highs, but you can save there, too. 
Here are a few ways you can do that:
Boondocking. Seek out free places to camp in your RV to avoid paying nightly fees at RV parks and campgrounds.
Moochdocking. Driveway surfing or parking on the property of family or friends is a great way to spend time with people while having your own space to stay and save money.
Find inexpensive campgrounds. While the average campground charges $40-60 a night, and many are $80-$100 a night or more, there are still affordable options out there. Look for local city parks, state and national parks, USFS forest campgrounds, and even private campgrounds in less touristy or more rural areas where the demand isn't as high. We have found several under $25 a night.
Stay longer. Nightly fees can be expensive, but if you are able to stay longer – say a week, a month, or a season – this can really reduce your average nightly rate. Monthly or seasonal rates are the cheapest ways to stay. Plus, of course, the slower your travel pace, the fewer miles you'll drive, and the less you'll spend on fuel.
Use camping memberships. We have several in our arsenal that we use often – Thousand Trails, Harvest Hosts, Boondockers Welcome, and Passport America. 
How we use our camping memberships
Our Thousand Trails membership paid for itself long ago (we've been members since 2014) and full-timed for 6+ years. Here's our comprehensive review after staying 823 nights at Thousand Trails. We pay zero nightly fees to stay at Thousand Trails campgrounds. We just pay our annual dues. They have a campground in Colorado now – Blue Mesa Recreational Ranch – so we're making good use of that this year. 
We've also been Harvest Hosts / Boondocker's Welcome members since 2014 and love staying overnight at their winery, farm, and attraction locations nationwide. The unique experiences and affordability make it well worth the annual fee. 
In July, we made a quick trip to South Dakota and Denver. We mixed up our stays across Harvest Hosts, boondocking, and state / national parks to keep our travels affordable.
Membership Discounts
Related Articles
Summary of 7 Ways to Save Money on Fuel
While there's nothing much we can individually do to change the current high gas prices. We CAN change our own actions and attitude and focus on what's within our control. That means being smarter about our travel planning, choosing how and where we spend our money. Adjusting how we drive and taking advantage of programs like the ones we have shared can at least help reduce some of the pain at the pump. 
Of course, many of these tips can be used in your everyday life, not just your RV travels. And it's just good practice to find different ways to save, no matter what the fuel prices are.
These are just some ways to help keep RVers out there enjoying the RV lifestyle. What other tips do you have to share? We'd love to hear them in the comments!
Safe travels!
Hermit's Rest is hidden gem of a picnic area we found on US-92 in Cimarron, Colorado
Quick Poll
Will Fuel Prices Change Your RV Travel Plans in 2023?
GOT COMMENTS OR QUESTIONS?
We would love to hear from you. Drop us a note in the comments section below.