Disclosure: Please note this post may contain affiliate links. This means – at no additional cost to you – we earn a commission if you make a purchase using our links. We only link to products and companies we use and recommend. The income goes toward supporting the free content on this site and community.
While we've done a Canadian border crossing from the USA several times with our tow vehicle. Crossing at 4 different locations from east to west. We can finally now say we've driven our RV internationally, after spending the month of September in BC, Canada! Of course, Canada, like all countries, has specific rules and regulations around border protection. Rules about what you can, and even more importantly, what you CANNOT bring into the country.
In this video, we share our Canadian border crossing experience. The questions we were asked, including why they grilled us about firearms! Yes, we'll admit we were a bit nervous, even though we had nothing to hide. But the last thing we wanted was a lengthy delay, interrogation or RV search!
We share the key things you need to be aware of plus some tips for avoiding trouble at the border. The whole purpose of this video –and the information and links in the article below – is to help ensure your own border crossing goes as smoothly and quickly as possible. Because Canada is worth it.
Information Subject To Change
Please note that, as you might expect, the information shared in this post may be subject to change by the Canadian Border Service Agency (CBSA) at any time without notice. We consider this article and video to be a good overview.
But we always recommend you double check the CBSA website in advance of your visit. Visit the links we've provided as a handy reference for when you need them. We've rounded up all the links in one handy place at the bottom of this article.
But first, let's address the elephant in the room…. out biggest fears are usually the unknown!
Why Canadian border crossings can be stressful
Unless you've done border crossings a couple of times before, they can be somewhat unnerving. You never quite know what to expect and each time can be a different experience. It's another country after all. You could end up facing anything from long delays to difficult border agents to an interrogation. Others might experience confiscation of food, duties charged on goods or even an inspection of your RV and/or car. To us, the latter feels like the worst scenario of them all and one we do everything to try and avoid!
We have personally witnessed other RVers standing outside as border control agents and dogs went through their home on wheels from top to bottom in search of who-knows-what. Some full-time RVing friends of ours recently shared their motorhome was thoroughly searched too. 
Agents went through every cupboard, drawer, even under their bed – during a border crossing into New Brunswick. They had nothing to hide and nothing was found. But our friends believed they were targeted because hubby didn't remove his sunglasses upon approach to the border patrol officer.
Knowing What To Expect
Yes, it can feel like an invasion of privacy, but ultimately, we have to keep in mind that it's their right. And it is also their job to protect their country. So it's just one of those necessary evils we have to deal with when traveling internationally. Just like TSA agents at the airport!
Overall, we found our crossing from the USA into Canada to be fairly quick and incident-free. But it's not always the case. When you know what to expect and you take the time to plan ahead, you can increase your chances of a quick and easy border crossing experience. Of course, we cannot personally guarantee this. But following our tips and suggestions will get you off to a great start.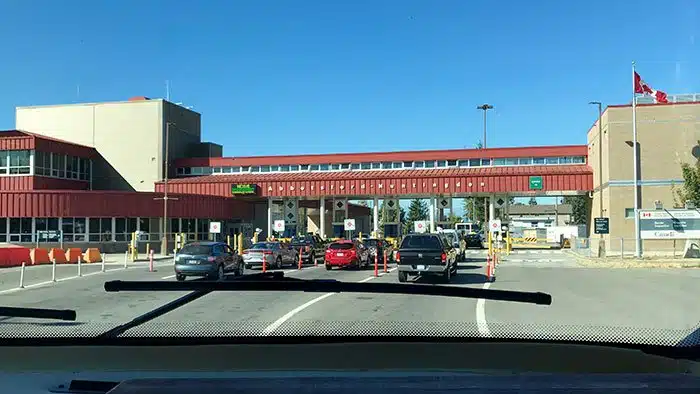 10 Tips for a Smooth Canadian Border Crossing in Your RV
Have your Photo ID documents for all passengers ready in advance – Passports, Green Card – and hand them to the driver

Stop using cell phones. Turn off cameras, GoPros and radios/music on approach to the border control area

Roll down windows so agents can clearly see all passengers

Keep your seatbelts buckled

Remove your sunglasses so the agents can see your eyes

Stay calm, relaxed and look the border control agent in the eye

Answer ALL questions truthfully

Be polite, cooperative and courteous

Be prepared to report goods you are bringing, including food, plants and any animal products

Only answer questions you are asked
What NOT To Do
Don't lie

Avoid being sarcastic, defensive or rude. This will only extend your conversation

Don't bring strangers across the border (of course)

Avoid bringing firearms, weapons or ammunition into Canada unless pre-approved
Don't leave planning to the last minute!
Your Canadian border crossing may be a fairly simple one. But depending on your situation, it may require some more advance preparation and planning regarding passengers, health, pets and/or firearms. Here are a few key things to keep in mind that may require some advance planning, special arrangements or sourcing of appropriate documentation. See the Useful Links section at the bottom of this article for helpful, related links.
Guns, Firearms and Ammunition
Canada has a zero-tolerance policy when it comes to bringing guns and weapons into the country (no Second Amendment Act). If you're found to be carrying them and you haven't declared them, you'll be in for a hefty fine and a jail sentence. It is NOT worth the risk, so be sure to check the rules well in advance and stay legal.
When bringing a firearm into Canada or the USA, it's advisable to begin the process three (3) months early as complications and processing time can make this a lengthy procedure. This means if you are an RVer that chooses to travel with firearms or weapons, you will need to make arrangements well in advance. Without going into a ton of detail here in this post (that's what the links are for) here's a quick overview.
Generally speaking, you may bring up to three allowed guns across the border if you fill out a form and pay a fee. Firearms are typically classified into three categories: Non-restricted, restricted and prohibited, so be sure to do more thorough research via the links for more specific rules, regulations and procedures for bringing guns into Canada as this is a large, important and complex topic.
Options To Consider
The simplest (and quickest) option would be to safely store your firearms in the USA. Find an appropriate facility BEFORE you reach the border crossing. Keep in mind this also means you'll need to return to the same place to collect them.  This makes driving from one side of the country to the other rather inconvenient.
One popular option is renting a local safety deposit box. But you may want to contact the nearest gun shop to your intended border crossing to ask for their recommendation. Or if you're heading to Alaska, you can also make arrangements to send them via Fedex care of an address. 
The biggest problem Americans have is forgetting about a handgun they have with them. People from states such as Texas, which allow concealed weapons, get snagged quite often at the border.
So PLEASE sure to check the link on bringing a firearm into Canada to see what what category your firearm falls under and to obtain additional information that applies to both countries.
Medical Testing and Radiation
An unusual problem may occur if a member of your party has recently undergone any type of medical test involving radiation.  When you cross through most ports you will be scanned to detect any kind of radiological source. If you test positive you will likely be sent for a secondary inspection. So patients who have been exposed to radiation may want to delay a trip or at least get a note from the doctor explaining the radiation source.
Traveling with Pets
When traveling with pets, know that dogs and cats 3 months of age or older need valid signed and dated certificates from a veterinarian verifying vaccinations against rabies. If your pet is less than 3 months old, you will need proof of age. Service dogs traveling with owners are exempt.
Traveling with Children
Border Control Agents are always on the lookout for child abduction. So they may ask detailed questions about kids traveling with you. This is especially true in the absence of both parents. So if a child is traveling with just one parent, grandparents or other friends or family members, this scenario may attract further questioning.
If only one parent (or any other family member) is traveling with the child, you will want to have a Consent Letter from the other parent (or both). You will also likely need authorization to obtain medical treatment for the child.
How To Plan Ahead for a Border Crossing
There are 26 border crossing locations from the 4,000 miles spanning east to west USA-Canada. So plan your route in advance by finding your nearest border crossing point

Wait times, rules and restrictions may vary from point to point. So be sure to check the rules relating to your preferred border crossing point in advance via the website or CanBorder app

Stay in the car/RV lanes (not truck lanes)

Avoid stocking up on groceries in the days leading up to a border crossing. Consume as much of your fresh food as you can –especially fresh produce and animal products (meat, milk, eggs)

Drink up! Whittle down your stash of alcohol so you stay within the alcoholic beverage product limit to avoid paying duty and taxes. You're allowed 2 x 750 ml bottles of wine, 1.14L of liquor and 24 bottles/cans of beer/ale (355ml each) – per adult

Smokers – your tobacco limit is 200 cigarettes and 50 cigars

Offload all firewood in advance in the USA

Ensure your RV is within its safe legal weight rating

Locate (or ask your vet for) copies of your pet vaccination certificates (in particular, rabies shots) for dogs and cats 3 months or older. For other pets/animals. Be sure to check the CBSA website for rules

Keep your stash of cash (and cash equivalents such as stocks, bonds,

 

bank/traveler's checks, gold, and silver etc) under CAN$10,000 to avoid having to declare it. You can carry more, but be prepared for more questions

If you travel with firearms, weapons, and ammunition, you generally cannot bring these into Canada. However there are exceptions and you'll need to pay close attention to the rules around what you can and cannot bring. Be prepared to either store, ship or declare firearms. See below for more info and links (ie. DO NOT just show up at the border with firearms

Check and potentially avoid significant delays by checking border wait times via the CanBorder App or website

Visit the Canadian Border Services Agency (CBSA) website for the latest updates and information
What Kind of Questions Will They Ask?
Border control agents can ask you just about any question. We've shared a list of the questions they asked us, along with a few other common questions we've heard from others, to give you an idea of what to expect.
Where do you live? (We share our domicile, which is Livingston, TX – we don't try to over-complicate matters by saying we live full-time in our RV)

What is the purpose of your visit?

Where are you staying and for how long?

What is your citizenship / residency status?

Do you have any alcohol on board?

What do you do for a living?

Do you have any pets on board?

Who is traveling in the vehicle?

Do you have any firearms?
Other questions you may be asked include:
What is the length, height and license plates of your RV and tow vehicle?

Do you have proof of vehicle insurance?

Are you bringing any goods or gifts?

Are you conducting any commercial business?
Again, remember to stay calm, maintain eye contact and be honest. They are just doing their job and trying to determine that you are a trustworthy person that doesn't pose a threat to the safety of their country. If they have any concerns, they can send you to a secondary inspection for further questioning or search your vehicle
Once you've safely crossed the border into Canada, you can finally take a deep breath. Congratulations, you made it! Now, to avoid speeding fines, missed turns or sticker shock at the pump, here are just a few more things to keep in mind:
Speed limits in Canada are measured in kilometers not miles. So once you cross the border, you will start to see signs that say 100. Keep in mind that 100km = 62 miles per hour. Sticking to 60mph is easier to remember and your safest bet

If using a GPS that is set to give distance in miles (imperial system), you'll need to get used to seeing/hearing it in the metric system ie. meters instead of feet (1 meter = 3 feet approximately)

Fuel prices in Canada are charged by the liter, not gallon, and there are 3.78 liters in a gallon, so don't be fooled at the pump. Gas is more expensive in Canada than the USA. So those prices aren't as exciting as they appear at first glance!
Finally, yes, we know, this may sound like a LOT of hassle to go through just to drive across the border into Canada. But we're here to say that it really is worth it. Canada is such a beautiful country with wonderful people, and it really does do us all good to get out and experience another country – even if it is part of the same continent speaking (mostly) the same language.
One of the things we love most about our RV lifestyle is the freedom and ability to visit new places, cultures, and countries while taking our homes with us. We also love not having to deal with airports and TSA! 
So grab your passports, get out there and drive as far and wide as you can. Canada is waiting for you! We have barely scratched the surface of the Great White North and we definitely look forward to returning many more times. We hope you get there too. Happy travels!
GOT COMMENTS OR QUESTIONS?
We would love to hear from you. Drop us a note in the comments section below.