This post may contain affiliate links.

As the National Park Service just celebrated it's 100th birthday in August so we took a moment to reflect on all of the amazing national parks we've been lucky enough to experience so far. In our 26 months on the road, we've visited 17 of the 59 parks, we plan to visit another 8 by the end of 2016. That will take us to 25 and doesn't even get us halfway, so I guess that means we'll just keep RVing and exploring until we see them all!
As we reflect on these amazing experiences, we decided to share a selection of favorite photos taken at the 17 National Parks we've checked off our list to date, along with a 'postcard message' sharing the highlights of each visit. We hope these give you some inspiration and tips for national parks you'd like to add to a 'must-see' list of your own.
Featured parks, in chronological order of date visited, are: Arches National Park, UT; Crater Lake National Park, OR; Mount Rainier National Park, WA; Redwoods National & State Parks, CA; Joshua Tree National Park, CA; Grand Canyon (South Rim), AZ; Great Sand Dunes National Park & Preserve, CO: Rocky Mountain National Park, CO; Wind Cave National Park, SD; The Badlands, SD; Acadia National Park, ME; Everglades National Park, FL; Hot Springs National Park, AR; Theodore Roosevelt National Park, ND; Glacier National Park, MT; Yellowstone National Park, WY; and Grand Tetons National Park, WY.
Sign up for our email list for more RV and travel news and tips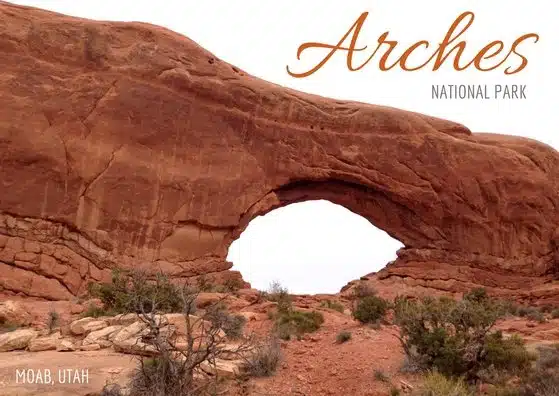 November, 2013: Within one month of deciding to embrace the RV lifestyle, we sold both of our cars and flew from Denver to Las Vegas to buy an Orange MINI Cooper Convertible as our TOAD. It was an eventful drive back to Colorado – with a quick visit to Arches National Park in Moab, Utah and a late night snow storm while driving over Vail Pass (the MINI only had summer tires at that time). We took it slowly and stayed behind a snow plow and eventually made it home safely! While our trip to Arches NP was short (and sans RV) we loved it enough to know we definitely want to return and explore it more deeply, go hiking and take more photos when the sky is not so cloudy! 🙂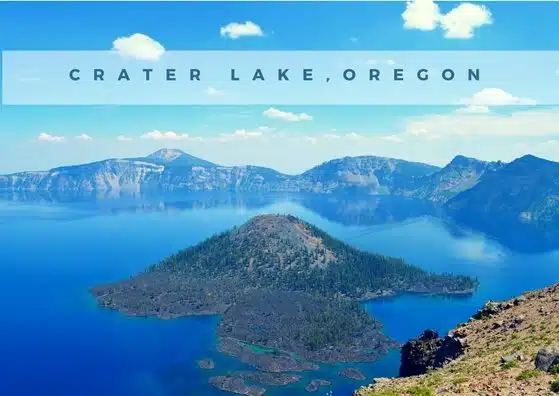 July, 2014: While staying in beautiful Ashland, Oregon we took a day trip to Crater Lake and bought our first National Park Annual Pass – we definitely get way more than $80 worth of value from our pass each year! We're not sure if it's because of how much we loved the spectacular drive around the stunning blue lake that day or the fact that it was our first real National Park experience as RVers that made it special, but Crater Lake remains one of our favorite National Parks to this day. If you're in the area, nearby Ashland is definitely worth a visit too!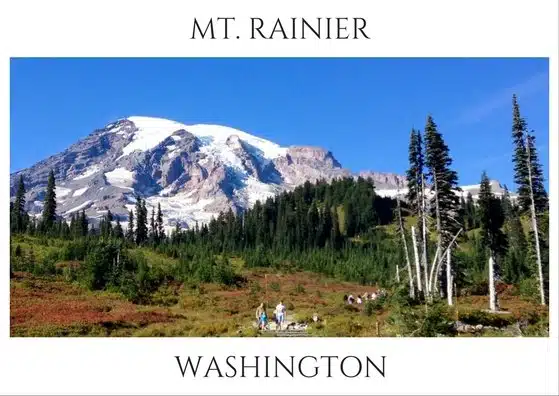 October 2014: The majestic peaks of Mount Rainier are a sight to behold from miles away as you approach the park. Standing at 14,410 feet above sea level, Mount Rainier is a Washington icon, an active volcano (yes, really!) and the most glaciated peak in the upper 48 USA states. It's also America's 5th oldest National Park and covers an area of almost 370 square miles. Being so far north, the park is beautiful (and most popular) in the summer when you'll see snowcapped glaciers with colorful, blooming wildflowers in the foreground. As true drivers, we really loved hugging the curvy roads with the top down on the MINI and walking through wildflower strewn meadows, with snow capped Mount Rainier always towering over us. Be sure to take a picnic lunch to enjoy down by the lake while snapping one of those picturesque photos you've probably seen in brochures – notice we didn't share that one here!
October 2014: Visiting the Redwoods is a popular bucket list item for many and we were no different! We celebrated Marc's birthday weekend exploring these ancient and magical forests, feeling the immensity and power of these enormous trees that tower as high as 379 feet and can live for up to 2,000 years! We took a drive through 2 of the 3 "Drive-Thru" trees which you simply have to do if you get the chance. The Redwood forest is truly a place that helps you put the world – and your place in it – into perspective. There's something so peaceful, quiet and mysterious about the forest, it brings stillness to your soul. Be sure to drive Avenue of the Giants to get the best experience – we did it twice – once in the MINI and one with the coach. You can read more about our experience and see more photos in our blog post Walking Among Giants. It's remains one of our trip highlights so far.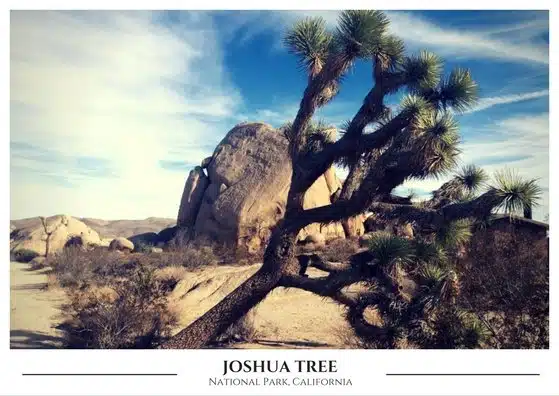 December 2014 & February 2015: When we first entered Joshua Tree National Park we surprised by how desolate it felt, even a little underwhelming compared with so many other national parks. However, as we continued to drive we discovered more vegetation unique to the southwest and many more of the famous Joshua trees that the park is named for. As we continued touring the park, we came across much more interesting (to us) geologic formations with enormous rocks that seemed to appear out of nowhere! We did a couple of fun, short hikes, watched the sunset over the valley and saw a coyote on our way out at dusk, so it ended up being a really enjoyable day. We returned to Joshua Tree NP in February with some fellow RVers who took us jeeping in through the backroads and that was awesome fun! We'll definitely go back on our next visit to Palm Springs, CA.

March, 2015: Unquestionably a "must see" national park, the Grand Canyon was everything we had hoped for and more. Our first glimpse of it was on a Tuesday evening after work. We were staying in nearby Williams so after a 48 hour snowstorm (16+ inches) and on the recommendation of our RV park host, we drove an hour to see the Canyon covered in snow and captured this rare shot of the Canyon framed by snowy tree branches. Breathtaking! The following weekend we camped inside Trailer Village campground in the South Rim (basically a parking lot with hookups) but at least you are close to the canyon, hiking trails, the shuttle, Visitor's Center and museums. Wildlife sometimes come through the park too – we saw a number of deer! You've heard people say the Grand Canyon is a place you just have to see for yourself and we agree 100%. It stayed with us in ways we can't explain. We'll be staying at the North Rim campground next month to explore the Canyon from a different perspective – wonder if we'll feel so deeply touched on our next visit?
April 2015: About the last place you'd expect to find the tallest sand dunes in North America is near a small town called Alamosa in southern Colorado, right!? This wasn't our first visit to the Great Sand Dunes National Park & Preserve (we'd been before when we lived in Colorado) but it was our first with our RV Rocky and our MINI Juice, so of course, we had to stop and take plenty of pictures! With sand dunes towering as high as 750 feet (230 m) – about 70 stories – from the valley floor and the beautiful snowcapped Sangre de Cristo mountain range as a stunning backdrop, it's a place that is quite literally jaw-dropping. You may be wondering "how on earth did all that sand get there!?"  Guess you'll just have to go visit the Great Sand Dunes to find out for yourself! This is a place where grown ups can be kids again, running up the dunes and rolling down them in this gorgeous, giant sandbox! We played, we laughed, we ran, we rolled and took photos until ominously dark storm clouds began to roll in and it was time to head back to the coach for lunch before continuing our journey north to Colorado Springs and Garden of the Gods. You can read more about our visit to the Great Sand Dunes along with photos here in our blog post.
May 2015: Being former Coloradans, we've enjoyed several visits to Rocky Mountain National Park but honestly, we're not being biased when we say it's one of our favorite national parks! It is truly a beautiful park that encompasses over 400 square miles and abounds with scenic roads, hikes and wildlife galore. When the snow begins to melt and the plows have been through, Trail Ridge Road opens (usually late May) – a must-do drive which takes you up and over 12,000 feet with plenty of overlooks along the way to stop and take in the stunning views and diversity of both the subalpine and alpine worlds. We camped right next door at a very nice but pricey RV park – so the fantastic, convenient location allowed us to get into the park quite often. We did a few hikes, enjoyed scenic picnics, saw lots of wildflowers and wildlife – elk, deer, mountain goats, bighorn sheep, eagles and owls. Elk also wander freely around RMNPs hometown Estes Park day and night, so it's pretty much impossible to visit Estes Park and/or RMNP and NOT see elk (there are hundreds if not thousands) and frequently deer as well. Colorado is a beautiful state at any time of year and Rocky Mountain National Park is one of the state's crown jewels.
July 2016: We happened across the Wind Cave National Park on our drive to South Dakota and upon arrival, signed up for the 75 minute ranger-guided Natural Entrance Tour ($12 each) which takes you about 300 steps down into the cave which is unlike many other caves as it is abundant with rare and intricate 'boxwork' formations. Over many years of exploration and mapping, Wind Cave has grown to be one of the world's largest known caves with over 142.75 miles of passages, making it the third longest cave in the U.S. and the sixth longest cave in the world. The park also has large prairies with wildlife including bison, elk, prairie dogs and a beautiful scenic loop drive. It's worth a visit for a few hours or or a whole day when you're next in South Dakota.
July 2015 & 2016: We've visited the Badlands National Park twice – guess we both really enjoy and appreciate rock formations! The striking geologic deposits contain one of the world's richest fossil beds as it was once the home of ancient mammals such as the rhino, horse and saber-toothed cat. The Badlands are imposing, desolate and ruggedly beautiful all the the same time. The park is 380 square miles with terrain varying from a neutral tan to bright yellow colored rock formations to mixed-grass prairie where bison, bighorn sheep and prairie dogs roam. Our best wildlife sightings were of bighorn sheep which we caught framed by prairie grass and rock formations from the unpaved Sage Creek Road – it's fine for cars but not recommended for larger RVs like ours. However, the main park loop roads are a fairly easy drive for most RVs. We drove the entire loop in the MINI in 2015 and more recently (in July 2016) with the coach towing the MINI but we only drove part of the loop road as our goal was to take a bunch of photos – mainly at Yellow Mounds Overlook (for our new website). We continued just a mile or so beyond the Yellow Mounds to enjoy a beautiful sunset picnic dinner before turning around to return to our campground in Rapid City. We love that the Badlands never felt crowded – even on weekends – and there are some nice little trails down into the canyon where you can grab some great pics with a dramatic and somewhat mysterious, unearthly background.
August 2015: It's easy to love Acadia National Park in beautiful Bar Harbor, Maine. It's the first national park of the east coast, and offers granite peaks, miles of rugged shoreline, 2 beaches, 125 miles of hiking trails plus 45 miles of historic carriage roads for biking. The park loop is a 27 mile drive and takes 3-4 hours with stops. We camped only 7 miles away at a nearby RV park so managed quite a few visits during our 9 day stay. Among the highlights of our visit to Acadia – tandem biking around the carriage roads which were beautifully scenic and not at all crowded; driving up Cadillac Mountain (1528 feet, 466m) to watch the sun set; and last but not least, waking up at 4am to drive to the top of Cadillac Mountain to watch the sun rise over the many islands in the harbor below. It's extremely popular for seeing "the nations' first sunrise" so be sure to get there early to score a parking space! You'll be glad to dragged yourself out of bed for it, we promise.
December 2015: The Everglades National Park was conveniently located only 23 miles from our campground in Miami so we packed the tandem bike into the back of the MINI to ride the entire 15 mile (24km) scenic loop which takes about 2-3 hours. Naturally, we hoped to see an alligator or two up fairly close – but not TOO close. With eyes peeled, we biked along the paved trail beside the marshy wetlands until we reached the Observation Tower. We walked to the top and looked across the wetlands, seeing only birds and marsh. The tower didn't inspire us enough to stay long, so we continued riding and soon spotted our first alligator – sunning in the marsh about 10 feet from the bike path. He was 5 feet long and (thankfully) completely disinterested in us. Shortly after, we saw a larger gator – 9 feet long – in the water by the trail. Mission accomplished – we got to see gators and lived to tell the tale! That and our pleasant bike ride were the highlight of our Everglades visit. The Everglades provide an important habitat for numerous species of wildlife and is critical to the ecosystem and while we're glad we went, just one visit was enough.
April 2016: We spent a week in Hot Springs on our way from Texas to Tennessee at an RV park about 6-7 miles from the heart of the action on Central Avenue. The town is situated smack bang in the middle of Hot Springs National Park and it's a fairly short yet beautiful drive to the top and back down again. Hot Spring had shady beginnings as a rough frontier town – infamous for illegal gambling, speakeasies, corruption and as a popular hangout for gangsters like Al Capone. The town later evolved into an elegant spa city more famous for the healing waters of it's thermal hot springs and row of historic Bathhouses. We took a tour of the must-see Fordyce Bathhouse which houses the Visitor's Center and Museum, strolled along the Grand Promenade behind the bathhouses and soaked in the mineral springs at Quapaw Baths and Spa and enjoyed a massage and took photos of the Buckstaff Bathhouse which also offers traditional thermal baths. About 1,000,000 US gallons (3,800,000 L) of 143 °F (62 °C) flow from natural hot springs each day and you can fill up jugs from one of the several water spickets around town – we filled up several times the week we were there – but be warned the water is REALLY hot!
June 2016: Our RV campground was conveniently located within a few miles of the Mammoth Cave National Park, which preserves the world's longest known cave system, with over 400 miles explored. It's vast chambers and complex labyrinths are what earned Mammoth Cave it's name. Silly us – we didn't plan ahead and by the time we arrived, their guided cave tours were already fully booked! Learn from our mistake and book your cave tour well in advance. We took a drive around the national park scenic loop in the MINI instead, hugging the curvy roads underneath a lush, green treetop canopy, going from river to ridgetop, from sinkholes to springs, and from old guide's cemeteries to overlooks. Well worth a drive and there are plenty of hiking trails too. If, like us, you aren't able to get into a Mammoth Cave tour, head over to the privately owned Historic Diamond Caverns which will also give you a excellent taste of the beautiful formations that lay beneath you.
July 2016: With just 3 states left to go on our state sticker map, we were determined NOT to be one of "those RVers" that had visited every state BUT North Dakota! We drove up from Rapid City, SD and dry camped on the Friday night then spent Saturday morning driving through the Theodore Roosevelt National Park. Prairie dog town makes for a fun short stop, you'll likely see buffalo grazing – or at least buffalo poop in the fields – and maybe elk too. It reminded us in some parts of the Badlands of South Dakota and there is even an area named the Badlands. We learned that Theodore Roosevelt spent a lot of time here to heal after the death of his mother and his wife (within 4 hours of each other) and later claimed that he would not have become President if it wasn't for this place, so it holds a pretty incredible place in history. We didn't drive the entire park loop as the road conditions were not as good as we had hoped, especially for large rigs, although there were quite a few large pullouts (we drove the coach, towing the MINI.) Next time, we'll plan to stay in the area a little longer so we can do some hiking and explore the town of Medora, which seems to have a lot to offer, including some well known music events.
August 2016: We'd heard so many glowing reports about Glacier National Park and it didn't disappoint. We stayed at an RV park in Columbia Falls, about a half hour drive from the west entrance to the national park – a spectacular mountainous paradise with many glaciers and scenic trails. We did the easy Trail of the Cedars boardwalk stroll then continued on to hike the popular Avalanche Lake Trail based on the recommendation of a few locals. It's a moderate 5 mile round trip that takes you past the gushing waters of a narrow gorge, a hill with hundreds of avalanched-felled trees and down to Avalanche Lake – a clear turquoise-blue mountain lake with a little sandy beach – nestled at the base of majestic mountains. I had my closest encounter yet with a deer and a cheeky chipmunk tried to get closer during our lakeside picnic lunch. We carried bear spray, as recommended, but didn't see any. We also drove the famous, scenic Going to the Sun Road twice in the MINI (vehicles over 21 feet are prohibited) and were rewarded with spectacular views of mountains and valleys, glaciers and mountain goats, weeping rock walls and waterfalls. Take your time and enjoy the journey –it's one of our top 5 favorite drives in the USA – or take the free shuttle so you can sit back, relax and simply enjoy the views. Next time we plan to hike at least part of the 12 mile cliff-hugging Highline Trail. Summer is an ideal time to visit Montana and Glacier National Park is a treasure you won't soon forget!
August 2016: Our visit to Yellowstone, America's first national park coincided with our 48 states milestone. We drove the upper loop one evening after work then dry camped over the weekend at Grant Village, in the southern end of the park. Yellowstone is probably the most diverse and definitely the most odoriferous of all the parks we've visited! We visited steaming geysers including Old Faithful, Beryl Spring and Norris Geyser Basin and stared into the bottom of the vivid blue and yellow geothermic pools of Grand Prismatic Spring, watched mud caves bubble and sputter and got stuck in more than one 'bison jam' on park's loop road. We also saw elk, deer, coyotes and many birds. The smells ranged from sulphur from the springs (rotten egg smell) to berries on the side of the road to smoke from the wildfires to the distinct smell of bison. We didn't get to see any bears but we did carry bear spray while out on a few good hikes. We took the steps down to Uncle Tom's Trail, walked the South Rim trail and snapped photos of the iconic view that is the Grand Canyon of Yellowstone from Artists's Point. The park is absolutely enormous, full of history, trails and remember, you're inside a giant caldera – an active volcano. That's pretty amazing when you think about it! We'll definitely go back and plan to explore the Mammoth Springs in the north loop next time.
August 2016: Just 50 miles or so south of Yellowstone lie the Grand Tetons, a craggy, mountain range that seem to rise out of nowhere and reach high up into the sky. The contrast of the rocky peaks without typical foothills is both highly unusual and strikingly beautiful. Being summer, the surrounding vegetation were green and gold, and we can only imagine how stunning the peaks must be in the winter when snowcapped. We actually saw more wildlife in the Grand Tetons than we did in Yellowstone – a herd of of hundreds of buffalo resulting in a lengthy bison-jam on Highway 89, pronghorn and our first time seeing MOOSE! The drive around the loop inside the Grand Teton National Park is stunning and breathtaking, with plenty of spacious pullouts to take photos – even with your RV! We dry camped in the nearby Gros Ventre Campground which is part of the National Forest for a week where moose sightings are pretty much guaranteed. We have officially fallen in love with the town of Jackson and the Grand Tetons so it's not a matter of whether we will go back but when!
—————-
All signed with love… and immense gratitude to the visionaries and staff behind the National Park Service for preserving these amazing and special places so we can all enjoy them.
Marc & Julie xo
Which of these parks have you visited, and which are your favorites. Please share in the comments below!