This post may contain affiliate links.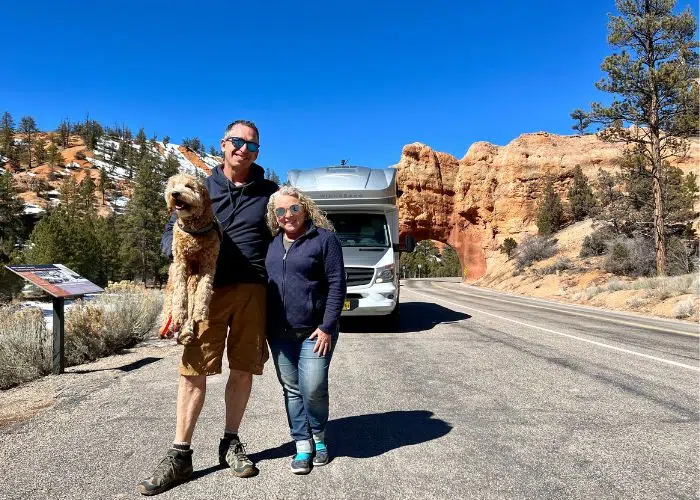 Shortly after wrapping up what we suspect may be the longest RV test drive of all time, we purchased this Class C RV. It is our 4th RV and our 3rd motorhome. Before buying an RV – especially a motorhome – we recommend taking it for a decent test drive first. And renting an RV before buying is also a great way to determine if a particular type of RV, size, and floor plan will suit your needs. So we did both! 
If you've been following us for a while, you'll know that we rented a 25' Class C motorhome from a friend and drove it 8,500 miles over winter – from Colorado to Florida – then spontaneously ended up returning home via California and Utah. Yeah, it was quite the detour – especially amidst high gas prices – but we'll travel far for fun and good friends! Click here for a detailed recap of that trip.
Initially, we planned a 5,000-mile two-month round trip, but Colorado was still just slightly too cold for Julie's liking. So we extended our trip and kept on driving, covering 16 states over 3.5 months. This gave us a REALLY good experience of what it was like to drive, live, work, and travel in a much smaller motorhome than we are used to. And because we were feeling ready to change RVs, it ended up turning into a super long RV test drive to help us decide if this was 'the one'.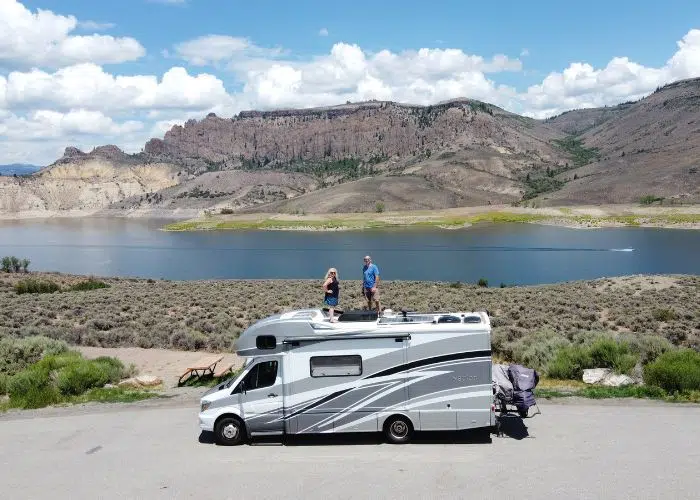 Not exactly a well kept secret
For many of you, this announcement likely comes as no great surprise. But it wasn't a secret either. It just took a bit of time to finalize all the details. We had already shared our thoughts on Class A vs Class C motorhomes here. And we dished out all the details and stats from this RV road trip, including mileage, where we stayed, and the costs. Plus, we've been sharing plenty of photos and videos of this RV on social media in recent months.
Yes, we definitely put this motorhome through its paces and even fixed a bunch of stuff along the way. You can read about those here. So by the end of that trip, we felt pretty invested in this coach on many levels. Marc suspects it was Julie's plan all along to buy this RV eventually. She even decorated it with peel & stick wallpaper and cute wall art to personalize it before we left Colorado! But after traveling in this rig for a few months, it was clear to both of us that this was a great fit for this stage of our RV life and the new kinds of experiences we wanted to have.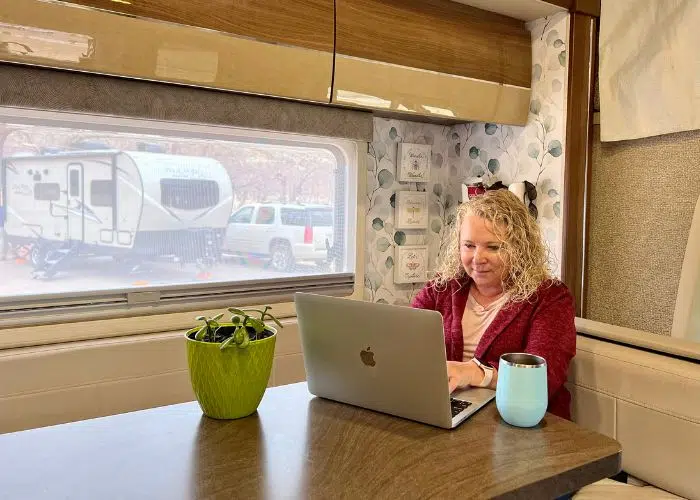 Julie works from the large, U-shaped booth dinette. Do you like the wallpaper?
It's one thing to rent an RV, as it's a low level of commitment. But it's quite another to buy it, as there are many more things to consider. 
Because we weren't exactly sure what RV we wanted next, we had discussed the idea of renting different kinds of RVs for a year or so. That way we could continue to have various experiences, without being on the hook for all the costs related to RV ownership. But RVing is such a huge part of our life –and it's so convenient to have our own rig and gear ready to go at any moment. We just can't imagine ourselves not owning one!
We had casually asked our friend if he was considering selling the RV to let us know, as we may be interested. He wasn't ready. But by the end of our trip, he WAS ready to sell it. We must wonder if sharing our regular 'RV repair and maintenance' updates tipped him over the edge – ha! Gotta love RV life! It doesn't matter what RV you have. There's always going to be something that needs fixing!
Speaking of costs of ownership. We recently posted a super detailed article comparing our Full-time RVing costs versus our Part-time RVing costs. Check it out here.
The RV house batteries were toast, so we switched the lead acids out for lithiums
What Class C RV did we buy?
It's a 2017 Winnebago Navion 24J with a single slideout and rear corner bed. And it is built on a 2016 Mercedes Sprinter 3500 chassis. The coach had just under 30K miles on it when we started our journey and closer to 38,000 upon our return. Our pangs of guilt over adding about 25% of the total miles may have played a part, but there are several other reasons for deciding to buy this RV.
Watch the quick video tour below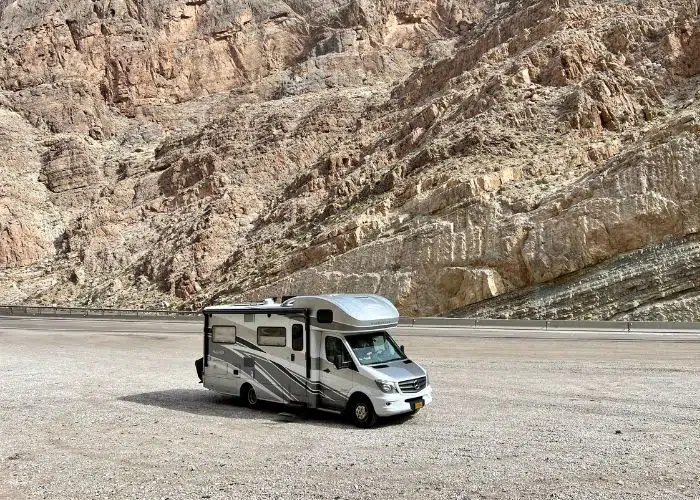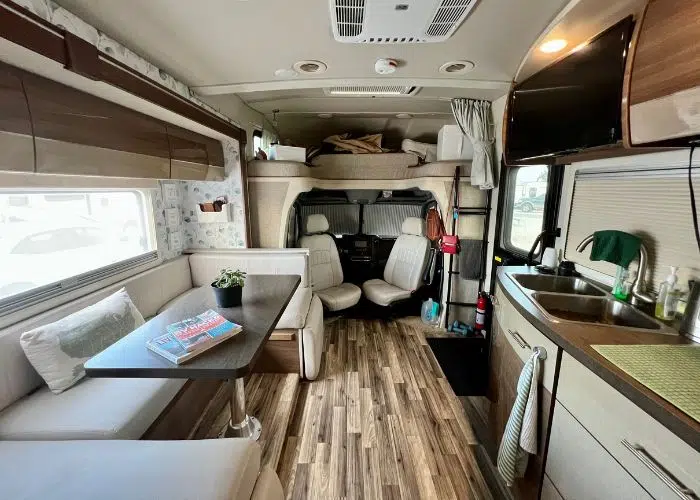 Reasons for buying this Class C RV?
Now that we're part-time RVers with a home base, we don't need an RV as big as the Class A's we've had in the past when we were full-timing (we previously owned a 36-foot gas motorhome and a 40-foot diesel Class A motorhome). A smaller RV suits us just fine, BUT our Casita camper was just too small for us to be able to enjoy properly or take trips longer than a few days. 
We could have bought a bigger travel trailer, but then we'd also have to get a truck, and those have been harder to come by and more expensive lately. Plus, we still love our Jeep Cherokee Trailhawk and aren't ready to sell that. While the Jeep towed the Casita like a champ, it couldn't tow anything heavier. 
Marc would love a truck and be happy with another travel trailer, but Julie is more of a motorhome gal. The convenience of having everything with us all the time – and being able to get up to access the fridge, bathroom, etc, while driving – is pretty hard to beat.
The 4 RVs we have owned and traveled in, so far!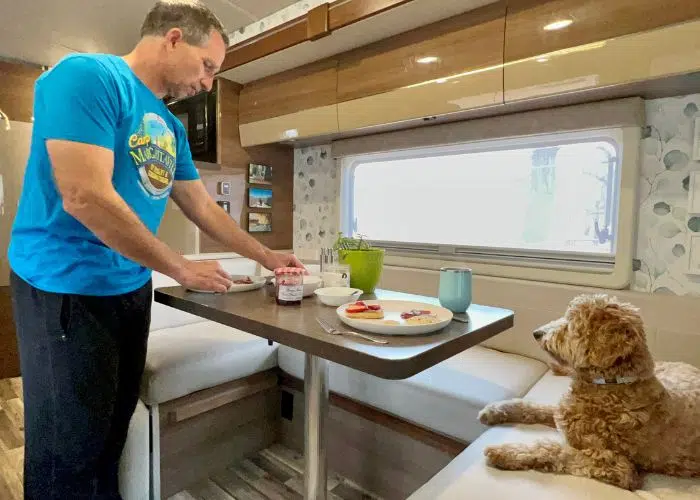 So let's break down the Pros and Cons of buying this Class C RV, to give you some insights into our decision making process.
Size: This 25' RV proved to be a great size and very comfortable for us – and our 30-ish pound dog Sunny – for extended RV road trips. And it's very easy to park in most places.
Floor Plan: The large U-shaped dinette is great for eating, relaxing, and working. This 17J model with a single slide is not as heavy as some of the other floor plans. And everything is accessible, even when the slide is in.
Sleeping: We like the separate permanent bed setup with a privacy curtain in the rear, especially as we have different sleep schedules (Julie stays up/gets up later than Marc).
Storage: There's a ton of storage inside and out, more than we can even use (more on that in the Cons section below). We also like the cab-over bunk area as a storage option for larger items. We can also park it out front of our house when it's not being used (instead of having to find/pay for storage for a bigger travel trailer).
Fuel Economy: We've been averaging 14.4 miles per gallon, which is pretty good for a motorhome! And being diesel, we can also use our discount fuel card – we just have to check to ensure truck stops carry the right kind of fuel for the Mercedes Sprinter.
Low Mileage: Even after we hammered on 8,500 extra miles, this RV still only averaged 7,600 miles a year.
Drivability: We really like how it drives, the diesel engine is very torquey, and handles mountains with ease. Plus, Julie can drive it.
Condition: The RV was in very good condition, with just a few cosmetic blemishes, nothing that bothered us. It has very nice styling with a neutral modern palette. And it had just one original owner – a friend that we trust.
Extended Warranty: This RV still has an RV extended warranty (until July 2023) which we were able to transfer into our names for a small fee. The warranty gives us peace of mind that we should not be faced with any other major repair costs in that time.
More Pros
Upgrades: This RV has full body paint, and even though it's five years old, it still looks new and modern. It has the Cummins QD 3200 diesel generator, which sips from the main RV fuel source when running. It also has aluminum wheels, plus 300 watts of solar on the roof. 
Nimble: Being small and more nimble, we are able to easily access a lot more places, which allows us to enjoy a different style of travel. And it's easy to park just about anywhere.
No Toad: While we can tow a vehicle –  if we choose – we like the freedom of traveling with no tow vehicle. We just carry our electric bikes, which is more fun and saves on fuel.
Easy: With decent RVs so hard to find these past couple of years, being able to buy our friend's RV was, quite simply, an easy and painless solution. This saved us from having to spend (waste) a lot of time shopping around.
Experience: Our really long test drive gave us a lot of confidence in the vehicle, and we had also spent time and money fixing a whole bunch of stuff on it, so we felt this RV was pretty dialed in!
Quality: Winnebago is known for making decent quality motorhomes, and we are happy with the quality of most things on this RV.
Price: Being used (5 years old), we could buy this RV from our friend at a reasonable price, which we felt offered good value for the money.
Because of our extensive experience driving and living in this RV – and the fact it has an RV extended warranty – we actually didn't end up getting a professional RV inspection done before finalizing our purchase. Should we have? Probably. But we rented it and got to spend over three months living in it. And we are experienced RVers who know the most important things to look for. So we weren't going in blind, but it was still a risk. If there had been an inspector in our area and it was convenient, we should still have had it inspected, just to be on the safe side.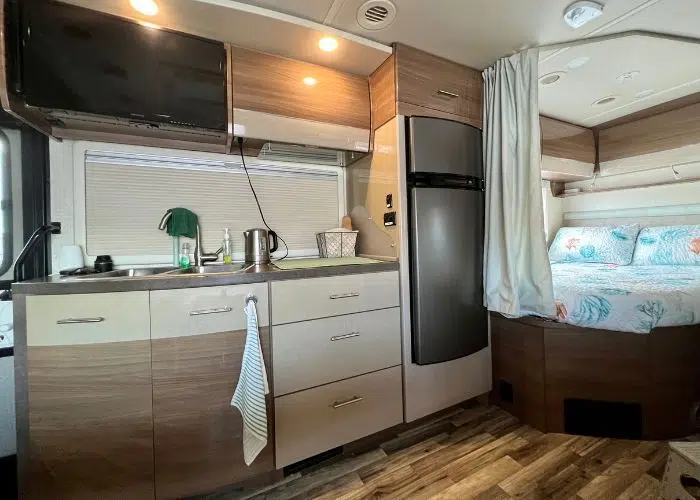 For a small RV, it has a surprisingly spacious floor plan and is very livable
Cargo Carrying Capacity: We still have to stay mindful of weight, as the cargo carrying capacity is not as much as we'd like. It's sufficient for our needs (if we don't overpack), but we can't use all the storage without becoming overweight. (GVWR is 11,030 pounds).
Tires: Being five years old, the six tires were aging out and needed replacing.
Service Schedule: This motorhome was fast approaching the Schedule B service at a Mercedes Benz-authorized service center. These aren't cheap, but many of those miles were ours from the rental period.
Mattress: The stock RV mattress isn't that comfortable, and we knew we'd want to replace it with our favorite RV mattress ASAP.
Price: It was much more expensive than the Casita (which we owned outright). So we'd need to finance it. Fortunately, we got a good deal on the RV and the financing.
Honestly, our biggest hesitation in buying this RV was financing a large purchase. We really enjoyed not having a payment on the Casita! Aside from our home mortgage, we are debt free, and that's a great feeling that brings a lot of freedom. We're also saving for retirement, so wanting to spend and invest wisely. 
While we love RVs, we are not big fans of over-committing financially on RV purchases. Remember, these are typically depreciating assets – even though the last few years have been an anomaly. There are also repairs and maintenance to consider as part of the overall cost of RV ownership. It always ends up costing you more than you initially think!
So much depends on one's life stage and goals – both personal and financial. But RVing is such a huge part of our life we needed a rig that would check as many of the boxes as possible. And this RV does that.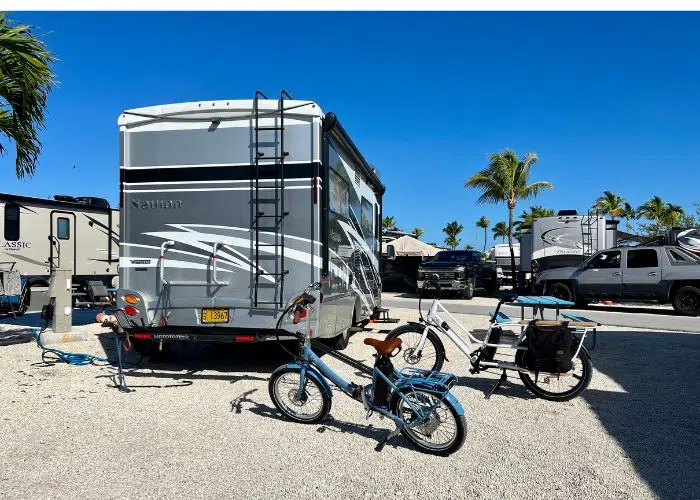 What was the deciding factor in buying this RV?
As you can see, the pros of this RV far outweighed the cons! We knew that if we were going to continue to enjoy longer and more frequent RV trips, we needed something that suited our needs and new travel style better. Turns out we just weren't taking the Casita out often enough, because it wasn't as easy or comfortable. 
And for all the reasons we outlined above, this 25' Class C motorhome has really turned out to be a great fit for us and our more nimble, part time RV travel lifestyle. It's an ideal size, satisfies our most important criteria, and it offers new travel experiences that we couldn't have easily (or at all) with our bigger coaches.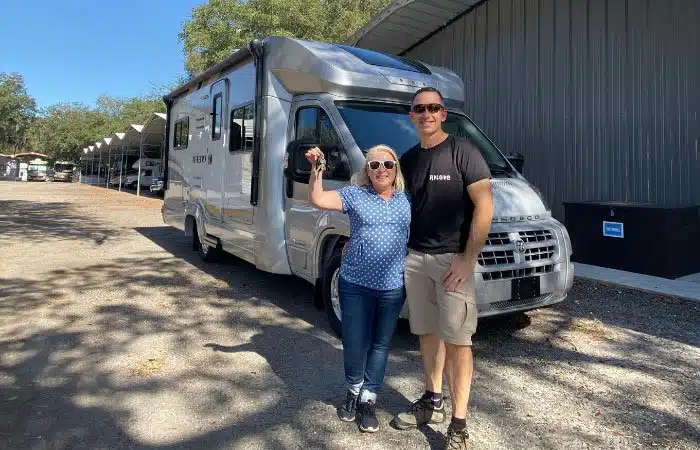 We got a taste of nimble travel when we rented a 23′ Winnebago in Florida
This change had been on our minds for some time
Funnily enough, it feels like we have come full circle to what we had been considering way back in early 2020. Right after our first RV rental experience (pre-pandemic), we were starting to explore the idea of parking the big coach on an annual site as a home base. And getting a smaller motorhome for more nimble travel. 
Now here we are, some two years later, doing just that. Instead of the big coach on a site, we have a small sticks and bricks home base and the mini motorhome. For us, it's the best of both worlds!
This RV has also come in surprisingly handy as a 'second vehicle' – when we must take the Jeep into the shop or transport / tow a larger item. When we visit family and friends, we can now driveway surf and sleep in our own bed! It's so car-like that it's very quick and easy to jump in and drive off on a whim!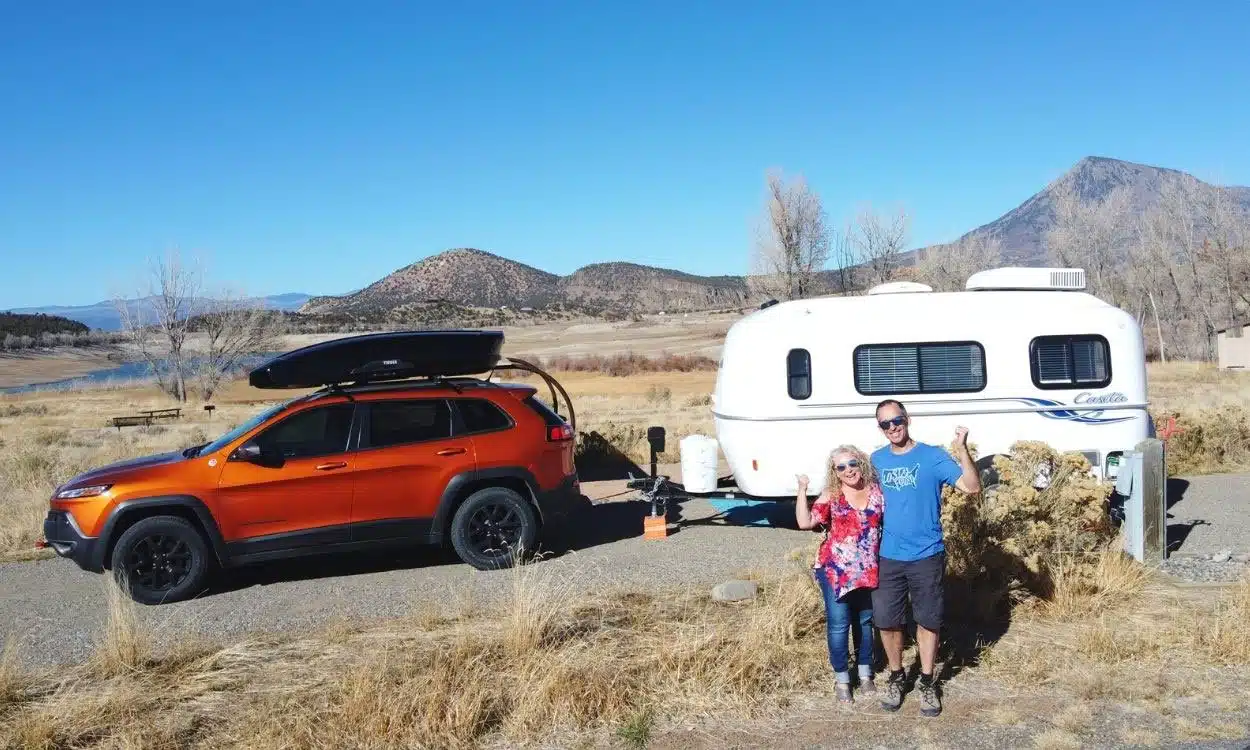 What happened to our Casita camper?
As great a camper and cute as it was, the Casita was just too small for us. Especially as we still work while we travel, and now we have a dog. These are the key reasons we decided to rent the Class C over the winter after scoring a cheap, two-week reservation in the Florida Keys. We knew we would need much more space to stay comfortable, sane, and productive on an extended RV road trip. 
Fortunately, we ended up selling the Casita for a little more than we paid for it, so we didn't lose any money on that! We had made quite a few upgrades on the Casita, which we know some of you are interested in learning more about. So stay tuned for our upcoming post with the mods we made our fiberglass Casita camper.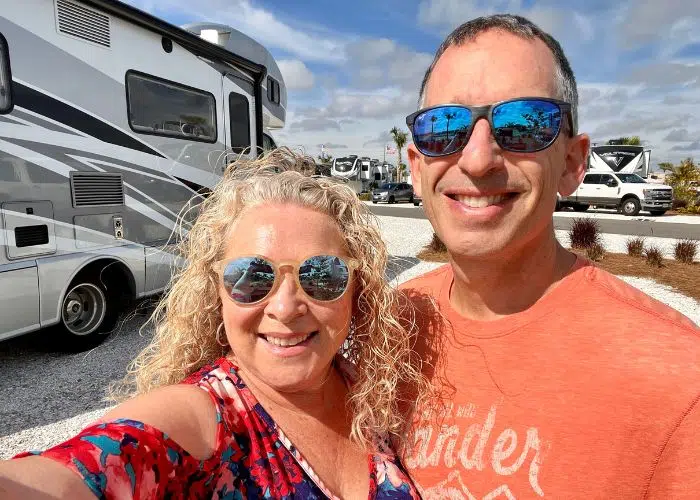 We've already made a few mods and upgrades to our 'new to us' mini motorhome, and we'll share more about those in another post. This summer, we have been loving our local and regional travels, and are looking forward to many more miles of travel in the Class C. We have been sharing plenty of travel experiences and RV life hacks in this motorhome on social media. You can keep up with them on Facebook, Instagram and TikTok.
Until next time, happy travels!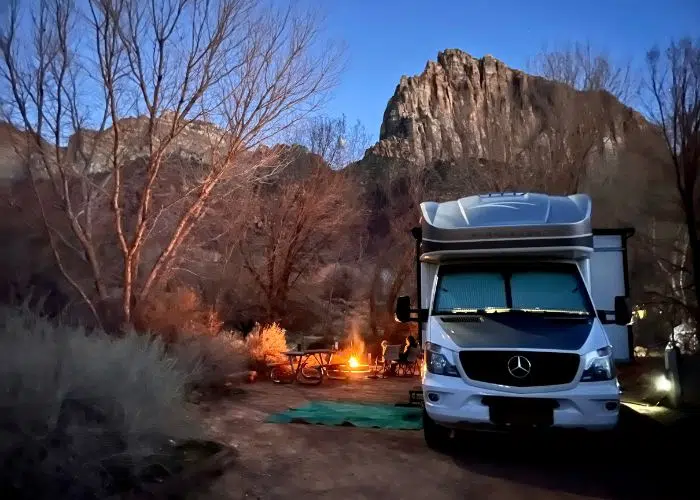 GOT COMMENTS OR QUESTIONS?
We would love to hear from you. Drop us a note in the comments section below.