This post may contain affiliate links.
Towing a vehicle behind your RV allows you to explore and run errands without having to break camp. But not all cars can be towed. Choosing the right vehicle to tow is a big decision, and you want to avoid making an expensive mistake. 
So where do you even start? We've made it easier for you by rounding up more than 20 vehicles of all sizes and types that are worthy of consideration. 
In this post, we focus on what we believe are some of the best cars, trucks – and even sports cars – that you can flat tow behind your RV. That means towing it with all four wheels on the ground.
But you'll get the most out of this article with some basic towing education first. Follow the advice and recommendations we share, and you'll soon be on your way to being well-prepared for your RV and towing journey.
By the way, in the RV world, the vehicle you tow behind your RV is often referred to as a TOAD, towed, or even a dinghy.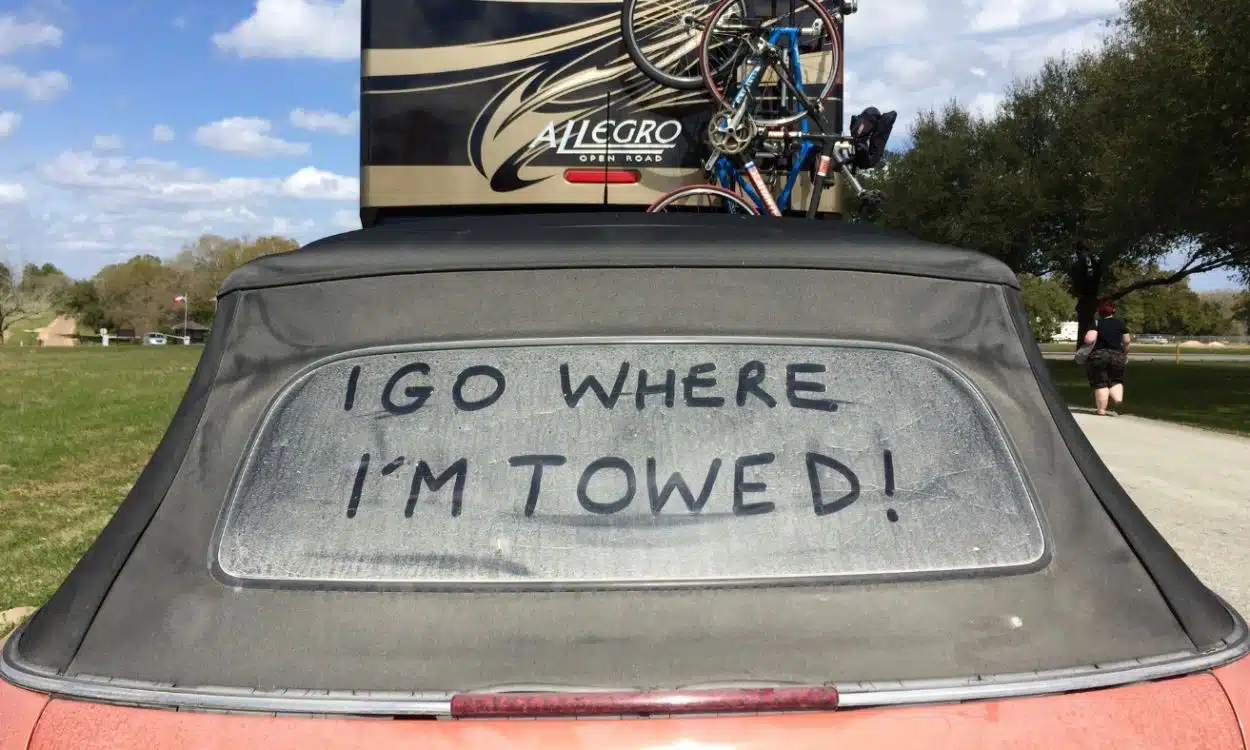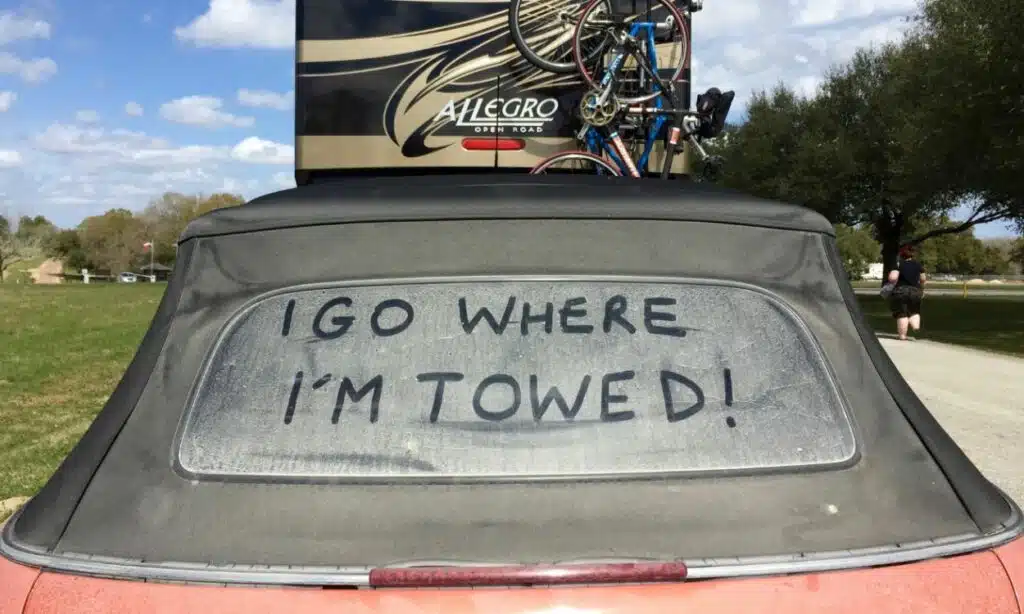 What towing options are available?
Flat towing is the most popular way to tow a vehicle behind an RV. That's because it's almost always easier and faster. Keep in mind it can also be more expensive to set up. But this is not the only way to tow.
If you already have a car that you love but find it isn't towable with all four wheels down, you may consider using a car tow dolly. We have experience with both towing four-down and with a dolly. You can even tow your vehicle on or inside a trailer. Learn more about these options in the pros and cons of towing with a dolly vs 4-down article and our video on how to load a car onto a tow dolly.
But in this article, we focus specifically on some of the cars that we think make a great 4-down towing option, as that's the most popular. We'll start with what you need to know first, then move on to our top picks.
Key Considerations for Cars To Tow Behind RVs
There are many important factors to consider when it comes to deciding on what vehicle to tow behind an RV. There is simply no one-size-fits-all answer. You will need to do extensive research in advance of purchasing your vehicle. Or, even if you want to tow a vehicle you already have. 
This article is a great place to start, as it covers a ton of useful information, tips, and related resources. Just know that your homework won't end here! 
Buyer Beware!
First up, DO NOT trust what a car salesperson tells you! Their job is to sell you a vehicle, not ensure it's suitable for you to tow! You need to personally confirm the information in the owner's manual for that specific vehicle to ensure it is able to be flat towed. Look for references to 'recreational towing' behind another vehicle, not just using the vehicle for towing. Unless, of course, you plan to do both as we have with our Jeep, and many people do with trucks.
We have towed our Jeep behind three motorhomes. And we've also used it as the towing vehicle, for our small travel trailer. You can see all of the different RVs and ways we have towed a car over the years in the photo gallery below.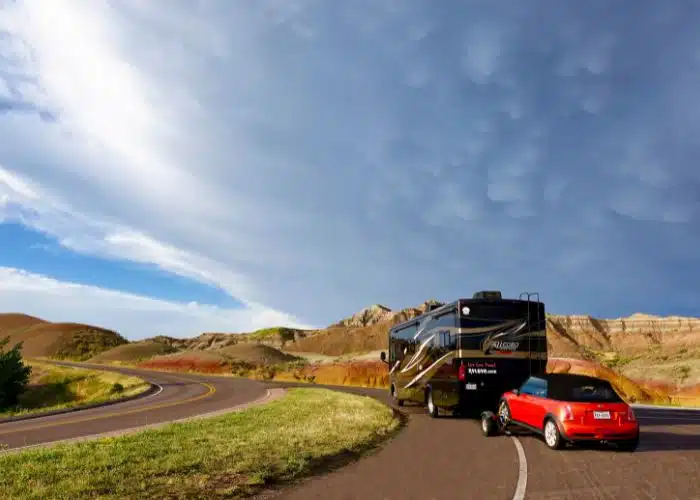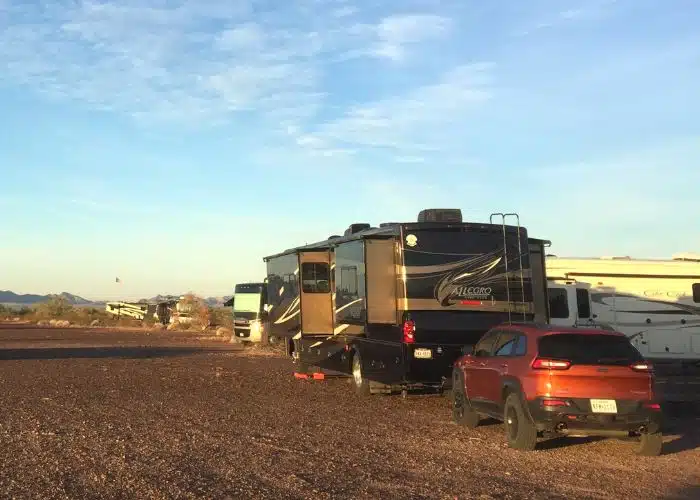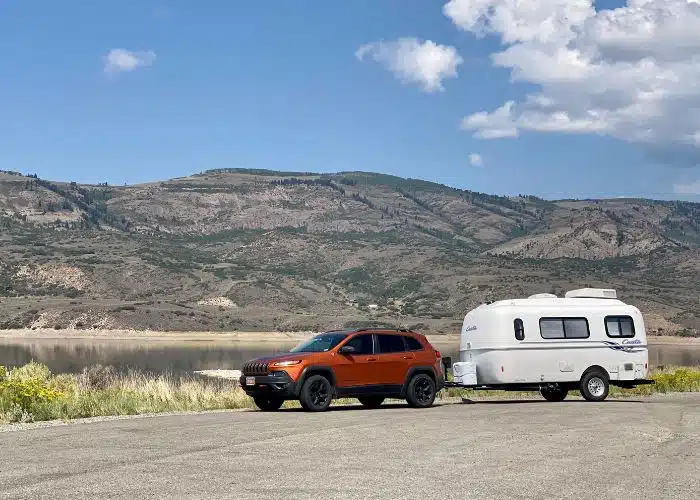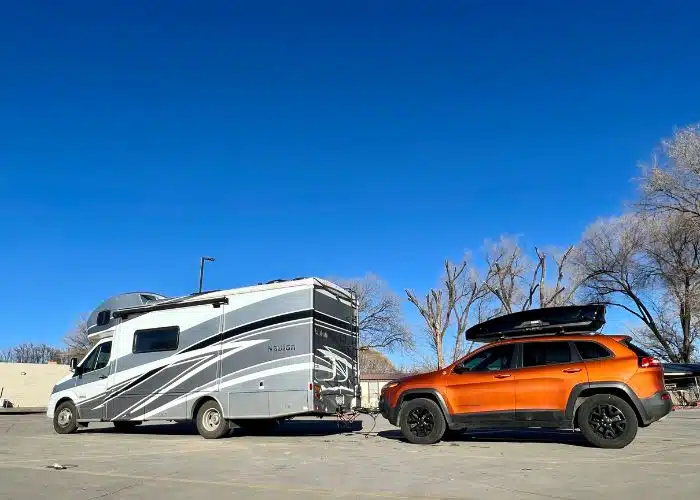 Be aware that towing your car behind an RV can potentially impact manufacturer warranties. And the 'tow-ability' of a vehicle may depend on the model year as manufacturers may change the transmission. 
Don't assume it is OK to tow a car simply because you see someone else towing one. They may have made significant modifications to that vehicle to do so safely. Or they could be doing damage to a car that was not properly modified. Be especially careful if your car is still under a factory warranty, as towing could void it!
What else do you need to know?
Before we dive into our vehicle selections, you also need to understand a bit about vehicle transmissions, towing weight ratings, and towing equipment. All of these play a part in the top vehicles we selected for this article. 
We have taken care to ensure the information we share is useful, relevant, and accurate to the best of our knowledge. However, YOU are ultimately responsible for ensuring the vehicle you choose is suitable to safely tow behind your RV. Keep reading to learn more.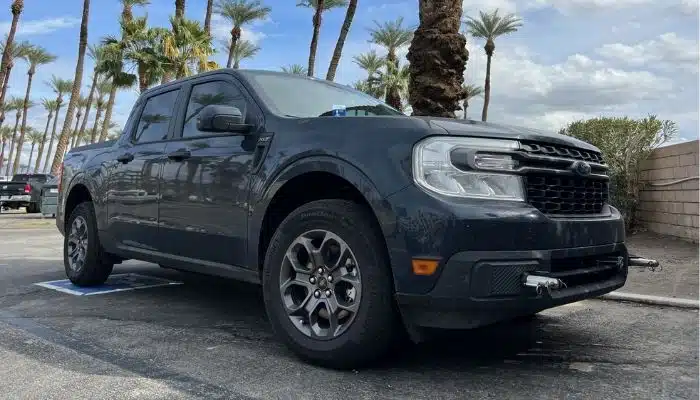 Towed Vehicle Transmissions
Transmissions are one of the most important variables when towing a car behind an RV. Many need to have a transmission with a differential that can be put into neutral, or a manual transmission. This is one reason why four-wheel drive units are commonly towed vehicles. But different models and trim levels of the same car or truck can have very different transmissions, even if they are both four-wheel drive.
A great example is our 2015 Jeep Cherokee Trailhawk (below). The Trailhawk trim level is one of the few models of Jeep Cherokees with the appropriate transmission to be towed four-down. Another example is the new 2023 Ford Maverick (pictured above). Only the hybrid version of the Maverick is currently towable. Check for restrictions on how fast it can be towed, or specific instructions to enable towing.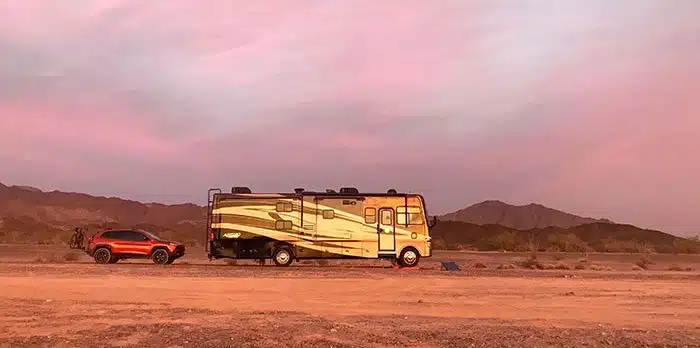 Towing Weight Ratings To Consider
Other extremely important factors are the weight of the vehicle being towed, and the rated capacity of your towing vehicle (RV). Keep in mind that it is quite common in the RV industry for RV manufacturers to point out that the motorhome has a 'hitch rated for 5,000 pounds'. That doesn't always mean that you can tow a 5,000 pound vehicle! The 5,000 pound rating often assumes that you have very little weight inside the RV.
In most cases, RVers are carrying people, pets, and gear in their motorhome. This can bring their RV weight close to – or even exceed – the weight capacity. The weight carried in the towing vehicle will often significantly reduce the available weight for towing. So your RV might have a hitch rated for 5,000 pounds but once loaded, can only tow a 2,500 pound car. Learn more about RV weight issues here.
This is also why, shortly after buying our Jeep in 2017, we switched from towing it with our Class A gas motorhome (pictured above) to a Class A diesel motorhome. This had a much higher weight capacity and was also much safer.

How are you towing?
Another very important factor in towing weight capabilities is whether you are towing a trailer or towing a vehicle with all four wheels down. When using a tow bar instead of a trailer, there is virtually no hitch/tongue weight. A trailer attached to the rear of a towed vehicle usually has a tongue weight of 10-15% of the trailer weight.
This means that a 5,000-pound trailer would have a 500 to 750-pound load on the hitch. This weight would need to be considered in your total cargo capacity for the towing vehicle. So, you can tow a heavier car four-down than you could with the combined weight of a car and trailer while still staying under the RV weight rating.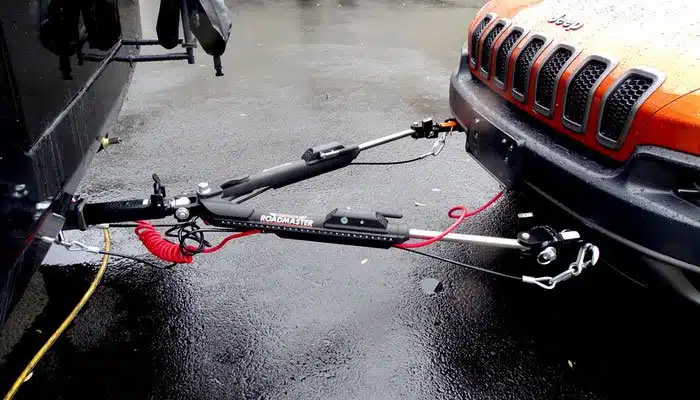 Aftermarket Towing Equipment Needed
This could be a whole other article, but we'll keep this high level so you understand the basics. You'll need a tow bar, plus base plates that will need to be fitted to the towed vehicle. Make sure that base plates and other equipment are available for your chosen vehicle, especially if it is a newly released model. 
Don't cheap out on your towing solution. The potential consequences of a runaway car behind your RV are NOT worth the cost savings or risk. Buy your four-down towing equipment from a quality company, such as Roadmaster or Blue Ox. These are two of the most popular brands trusted by RVers. We recommend you strongly consider a 'non-binding' tow bar, like the Roadmaster Nighthawk that we use, as it's easier to connect and disconnect.
Check out this post for more detailed information on all of the towing equipment we chose for towing four-down behind our RV. We also recommend you buy new towing equipment, as you will know the entire history. Tow bars need to be properly maintained and eventually age out. Have your equipment checked regularly. 
Remember that you will also need a supplemental braking system installed in your towed vehicle. There are many different types. Some are portable units that can easily be switched from one towed car to another. Others are more complex permanent installations costing thousands of dollars. There's a lot more research required to decide which option is best for your needs. But you can read about what we chose for flat towing our car behind our RV in this article.
Related: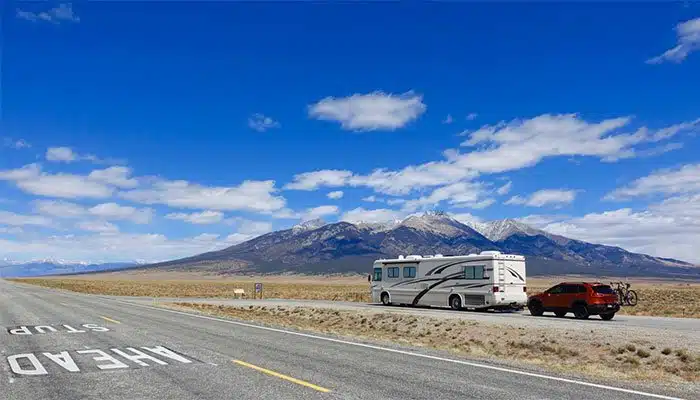 How we selected our list of cars to tow behind RVs
For over twenty years, FMCA has been publishing a great Vehicle Towing Guide. It lists most of the towable vehicles by manufacturer and also includes some of the restrictions of those models. Though it is a great tool for initial research, you still need to do some deeper research beyond what you find. Their guide is meant to significantly narrow down your list of options and get you started on the path to finding a great car to tow behind your RV.
This article goes a step further by creating a shortlist of towed vehicles that caught our attention. Some because they are very popular with RVers, like SUVs. Others for their versatility and capabilities. We include smaller and full-size trucks. And also call out towable hybrids and the best small cars to tow behind an RV for people focused on efficiency. There are even some rare towable sports cars. All have been checked against the FMCA Vehicle Towing Guide.
What types of vehicles?
We've organized our selection by category, with suggestions for each type: SUVs, Smaller Trucks, Full-size Trucks, Hybrid Vehicles, Small Cars, and Sports Cars. Sorry, no fully Electric Vehicles, as we aren't aware of any that can be flat-towed…. yet!
Of course, this is just a selection that we personally selected to suit a wide range of RVers. And just because a vehicle isn't included doesn't mean it would not be a great vehicle to tow. This list is a good place to start and see if you find a vehicle that fits your needs. We've done the initial homework for you. But you'll need to do the final research as covered above, to be 100% certain it's the right choice for you.
Are you ready? Time to jump into our recommendations for best towed vehicles! 
Recommended cars to tow behind RVs
Please consider this list as a handy guide to get you started. Then do more research on the specific vehicle, model year, and trim level to ensure it is suitable to tow. Check the owner's manual and warranty conditions. And remember, DO NOT trust the salesperson to give you the correct information! Do your own research.
SUVs that can be towed behind an RV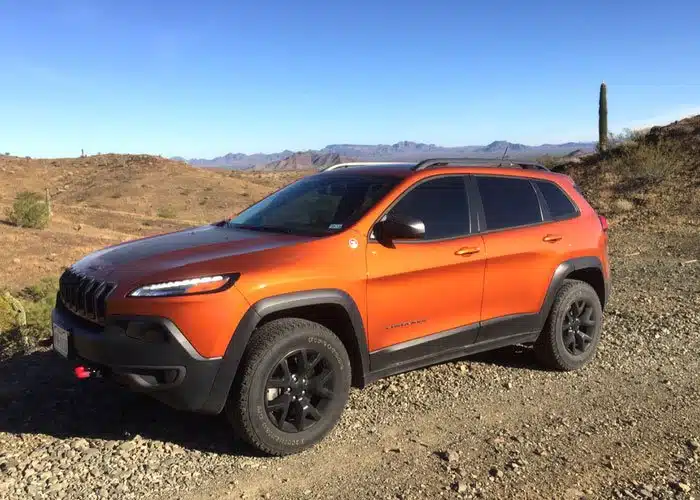 Of course, an obvious choice for our shortlist would be the car we actually chose to tow behind our RV. We bought our "Mango Tango" 2015 Jeep Cherokee Trailhawk in 2017, and still totally love it today. It has been the perfect mix of on-road and off-road performance, luxury, and functionality for our RV life and travels. You can learn tons more about our Jeep and why we chose it in this post. In it, we also reference an important mod we had to make to our 2015 model for additional safety but is no longer required on later models.
Related: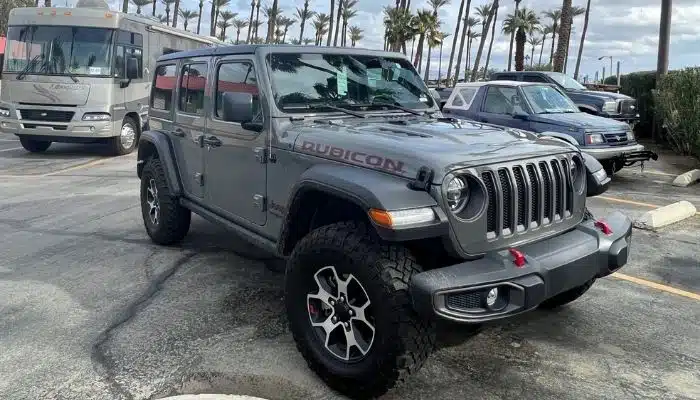 Perhaps the most popular vehicle we have seen towed behind RVs over the years is the Jeep Wrangler. These have been a popular choice among RVers for decades. Many love them for their rugged off-roading capability. They are reasonably lightweight, especially the older two-door versions that weighed only 3,200 pounds. 
Having a higher clearance rugged vehicle as a towed car is extra forgiving of road imperfections, curbs, etc. There are many different models and trim levels of the Jeep Wrangler to choose from, including the new truck version called the Gladiator.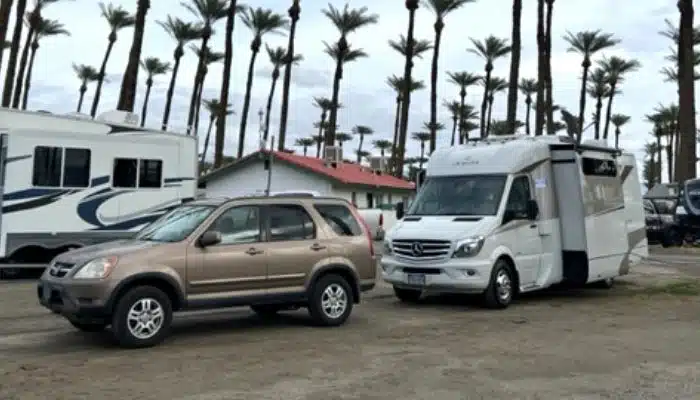 Another extremely popular towed vehicle for well over a decade is the Honda CRV. But you need to be very careful of what year it was made as many years are not towable. Most built up to and including the 2014 model year are towable. But then Honda changed the transmission, so the newer models since then are no longer flat towable. 
This is a nice, reliable, and lightweight SUV, weighing about 3,400 pounds. We have met multiple RVers who tow and love these. One retired couple we met towed the same Honda CRV for over 20 years. That same couple also traveled full-time in the same motorhome for 20 years! This is rare and pretty amazing for sure.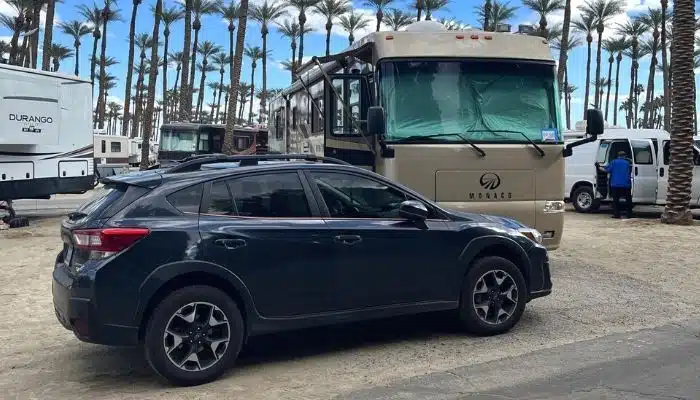 Subaru Crosstrek (some model years)
While some other Subaru models are also towable, we especially like those built on the Subaru Impreza platform. The Subaru Crosstrek is basically a lifted Impreza, with much higher ground clearance. This makes it less likely to get damaged, and easier to get in and out of. 
Subaru Imprezas are relatively lightweight for their size at around 3,200 pounds, very reliable, and fun to drive. In fact, the Crosstrek was also on our shortlist, when shopping around for our Jeep Cherokee Trailhawk. Many models are all-wheel drive and have manual transmission, but beware of changes made to model years after 2016.
Smaller Trucks that can be towed behind an RV
Personally, I like the idea of towing a truck behind an RV because I love all the functional capabilities of a truck. Smaller trucks like the Chevy Colorado, Nissan Frontier, and Ford Ranger (pictured above) can provide that versatility without being especially heavy. 
Most of these weigh around 4,000–4,500 pounds. One potential advantage of the Chevy Colorado is that it is available with a diesel engine. This might be handy if you already have a diesel motorhome you tow it with, being the same fuel type. Make sure you check the details of which years and models are towable. Usually, only the four-wheel drive models can be towed, but some manual transmission two-wheel drive models are towable too.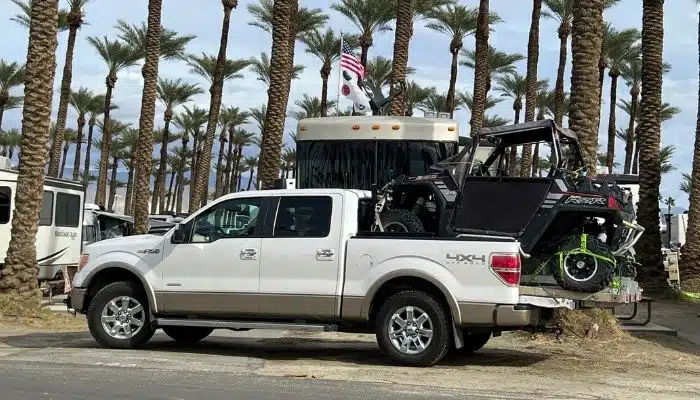 Towable Full-Sized Trucks
If you have an RV with enough towing capacity (like a big diesel motorhome) and want the extra capacities and capabilities of a full-size truck, you CAN go bigger. Four-wheel drive versions from Chevrolet, Ford, GMC, and Ram are towable if properly equipped. And even heavy-duty three-quarter-ton and one-ton versions.
You could have a truck that you can tow behind your RV, but could also tow a big trailer if you decide to switch to a different style of RV-ing down the road. Many people like towing full-size trucks because they can put their motorcycles, ATVs, or other big toys in the truck while towing. You can see an examples of this setup in the photos above and below. This also means they have a truck to transport their toys to recreation areas to use them. But towing a 5,000 to 7,000 pound truck plus toys is not usually an efficient or necessary choice for most RVers.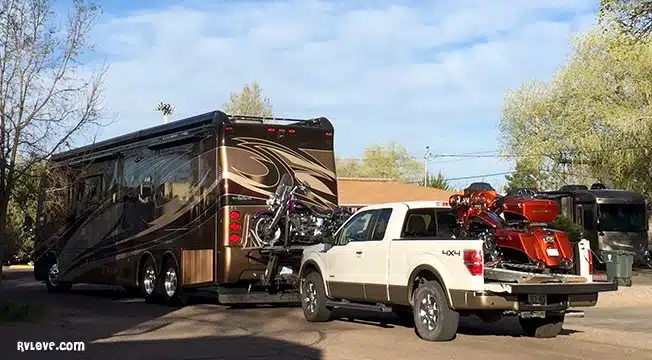 This 45′ diesel pusher motorhome is towing a Ford F-150 truck with a Harley Davidson motorcycle in the bed, plus another motorcycle on the back of the RV!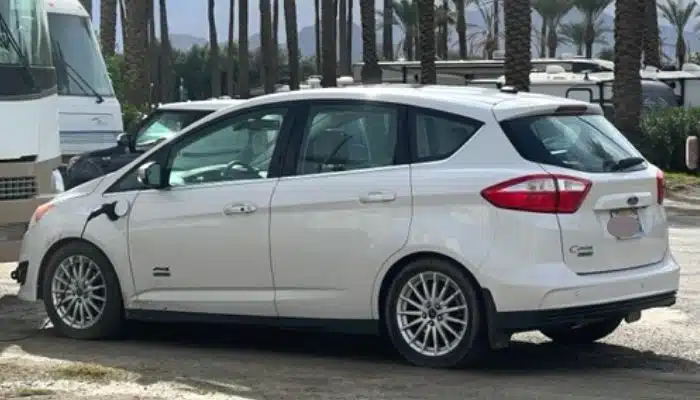 If you are looking for a highly fuel-efficient towed vehicle, consider a towable hybrid model. Ford has offered a towable hybrid version car for many years. They are one of the few manufacturers that has consistently had one. The Ford Escape and Ford Maverick are their two most recent. 
If you look back a couple of years, try a 2014–2018 Ford C-Max Hybrid which weighs around 3,600 pounds. This is pictured above, charging at a campground. Or even look at a 2010 Ford Fusion Hybrid. There are a handful of other hybrid cars from other manufacturers that are towable. But since Ford consistently offers them, this gives me extra confidence in the ability to tow many of their hybrid vehicles.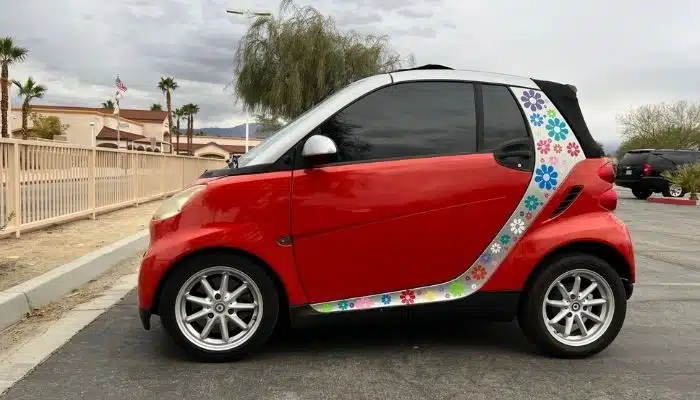 Best Small Cars to Tow Behind an RV (or even inside!)
Probably the smallest and lightest weight four-down towable car is the Smart Car, called a Smart Fortwo. These are currently discontinued but were made for many years. So there are plenty out there on the used market. Usually weighing less than 2,000 pounds, they can be towed very easily, even by some smaller motorhomes. 
Of course, you'll need to be OK with a tiny two-seat car with limited storage. We borrowed a Smart Car from a friend while visiting the Florida Keys a few years ago. They are fun to drive and amazing for finding parking where it's very limited. It is hard to find a modern car smaller and lighter than the Smart Fortwo. We have even seen them transported in the rear toy hauler garage of a fifth wheel.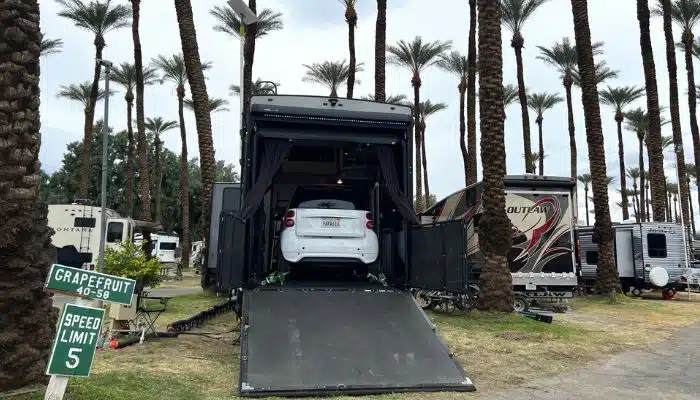 A Smart Car loaded in the garage of a fifth wheel toy hauler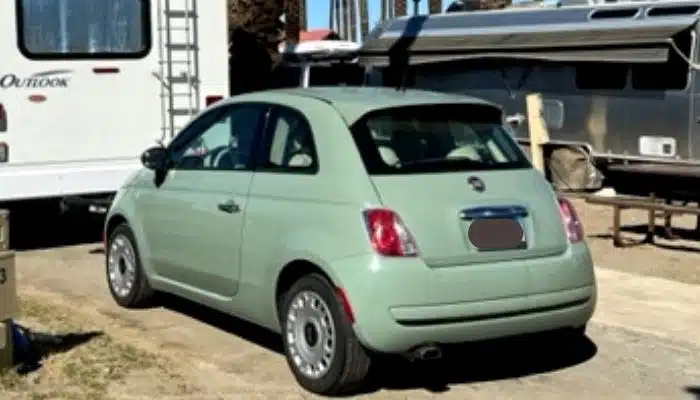 At only 2,300 pounds, the Fiat 500 (above) is another popular choice for those wanting to tow a lightweight vehicles. This is a more substantial car than the Smart Fortwo, and has a back seat. We've seen many in campgrounds, and have some RV friends who have towed one for over five years and remain happy with their choice.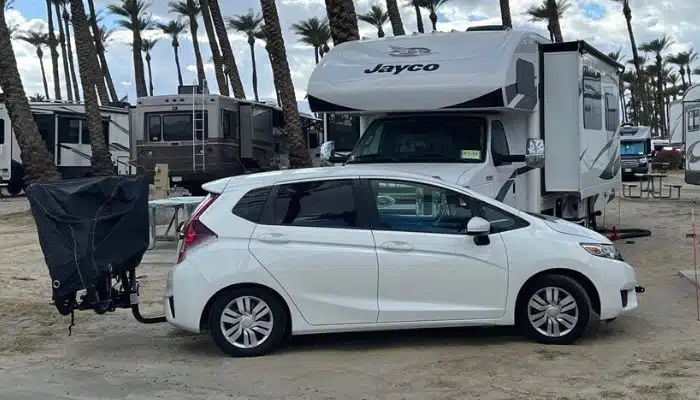 Want an even more functional car while still only around 2,500 pounds? Consider the Honda Fit (above). With a back seat plus additional storage, this is a lot of car packed into a lightweight and relatively inexpensive package. The Honda's manual transmission version is fun to drive too. This is a great lightweight towed vehicle.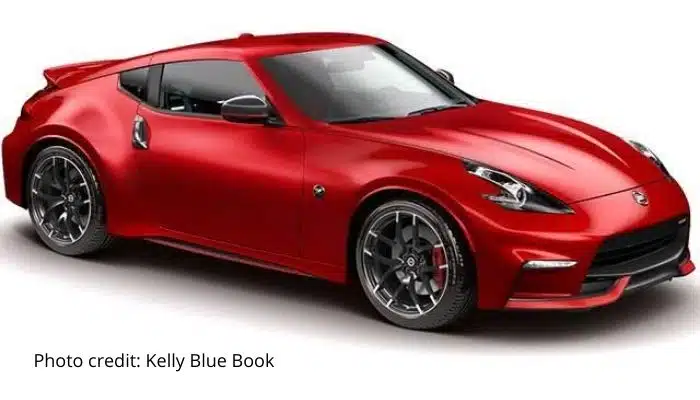 Sports Cars you can Tow Behind an RV
One of the few true sports cars that we have seen listed as towable year after year is the Nissan 370Z (pictured above). It's a really great sports car weighing just 3,300 pounds. Just be careful towing such a low-profile car. You may need to look into special towing equipment to be at the lower height. Another cool sporty car is the 2012-2014 Dodge Challenger with manual transmission. That is one of the cooler relatively recent towable muscle cars.
Other sports cars we have seen being towed four-down include a couple of Mazda Miatas and many MINIs. In fact, the first car we towed (from 2014 to 2017) was a 2006 Mini Cooper Convertible S with manual transmission. WE LOVED that car as it was so much fun. And while we could have set this up to tow 4-down, for many reasons we opted to tow it with a dolly instead. Despite changing our towing setup a few years later, we have no regrets about both of our initial choices, which we share more about here in Finding the Ideal TOAD.
As mentioned above, remember that just because you see people towing a vehicle, it doesn't mean it's recommended and it could void warranties. Do your research!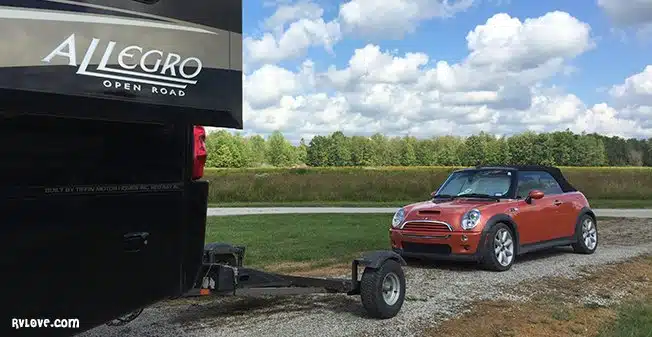 We chose to tow a Mini Cooper Convertible with a tow dolly behind our first RV
So there you have it. Our shortlist of cars and trucks we think are worth having a look at when choosing a car to tow behind an RV. Of course, everyone is different and has their own priorities when making their selection. Your shortlist might be very different, especially if you like larger and more luxurious towed vehicles. 
We highly recommend you check out the FMCA Vehicle Towing Guides for even more ideas for vehicles you can tow behind your motorhome! Again, just make sure you do your own research and don't rely on a salesperson! 
Check the owner's manual for the specific vehicle you're considering, to confirm it IS flat-towable. And if it isn't? Don't worry. You can also consider alternative towing options such as a tow dolly or even a trailer – whether flatbed or enclosed. Learn about the pros and cons of these towing options vs four-down here.
Finally, there really is no one-size-fits-all when it comes to tow vehicles. You just need to find the best option for YOUR needs. Here are a couple more options.
Marc loads an electric moped onto a rear rack behind our Class C motorhome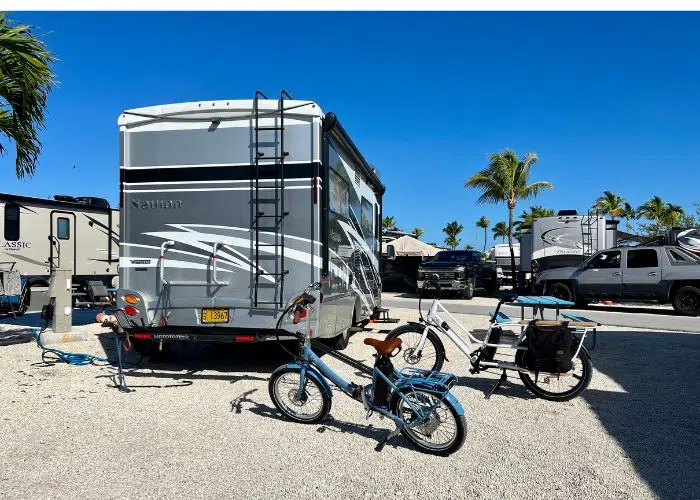 Many RVers traveling in small motorhomes (like us) travel with e-bikes instead of a car
To tow or not to tow?
After doing all the research, you may even decide not to tow a car at all! Some people use rental cars at their destination.
Or, you may consider carrying a small moped for local transportation. Or even bring along electric bikes. A cargo e-bike or folding e-bike are ideal for exploring and running errands. We've traveled and enjoyed both of these options (moped and e-bikes) as they suited our more nimble style of RV travel in a smaller Class C motorhome. 
Whatever you decide, good luck with your research! Safe travels.
What other vehicles would you have added to this list? Do you already tow a vehicle behind your RV? We would love to hear what you tow, and why you chose it. Please share them below in the comments.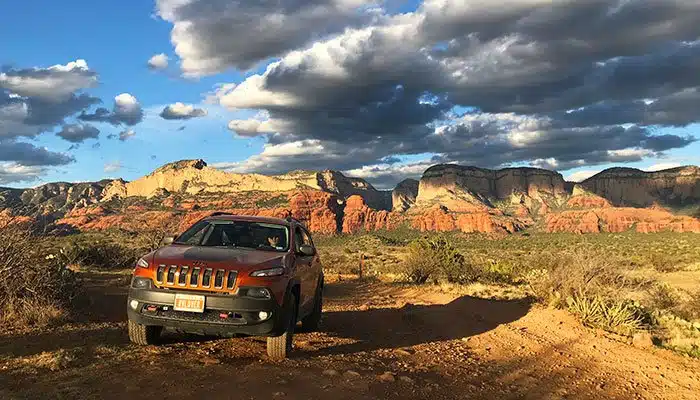 GOT COMMENTS OR QUESTIONS?
We would love to hear from you. Drop us a note in the comments section below.