This post may contain affiliate links.
In just 34 days over January and February, we stored our RV in Arizona, took 5 flights, visited 4 states, borrowed 1 van, rented RVs, and rented 3 cars. During our visits to New York, Connecticut, Florida and Texas we drove over 2,000 miles! But WHY? What are we thinking? And what's coming up next?
If you have been watching our social media channels – Instagram and Facebook – you would have been getting a sneak peek of what we've been up to. We've been having all kinds of RV and travel experiences, without our own motorhome! Attending half a dozen events, meetups and book signings we estimate we got to meet at least 1,000 people including many of YOU, which was awesome!
We also attended the Florida RV Supershow, did a bunch of RV tours, and yes, we've been exploring the idea of getting a second, smaller RV. Let's get you caught up on the back story, and what's been on our minds.
Bringing you this update from our RV, while boondocking out in the Arizona desert. Watch the video here to get caught up!
Why leave our motorhome in Arizona
The opportunity to attend the Florida RV Supershow, a friend's 40th birthday (in NY) and visit friends in Rio Grande Valley all came up at pretty short notice. We were on the opposite side of the country in the desert southwest, in Arizona. We simply did not have enough time for such long drives – from Arizona to New York, Connecticut, down to Florida and across to Texas. 
Besides, it makes no sense to drive an RV to the north east in the winter! We left our motorhome stored safely at National Indoor RV Centers (NIRVC) in the Phoenix area. Kinda funny that when we left our coach, it was at their still operational old facility. But, by the time we returned, they had relocated everything (except our RV) to their new facility in Surprise AZ! We knew our RV and Jeep would be safe at NIRVC, until our return some 34 days later.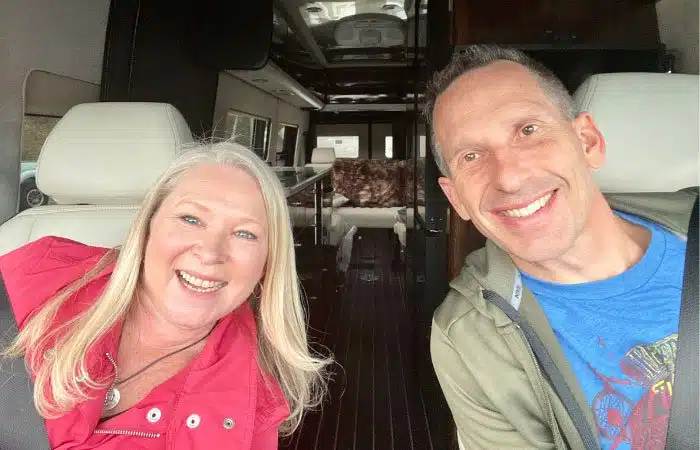 Why are we trying smaller RVs on for size? Are we downsizing?
Yes. No. Maybe!? We just don't know for certain yet. As you know, we love RVs, learning about RVs, and trying new RVs. And we have been exploring different options to mix up our RV travels. We still love the comfort, size and livability of our larger Class A motorhome CC, especially since our RV makeover! And it's really hard to beat sleeping in your own bed. And while we are considering doing slower and less frequent travel with our 40′ motorhome, we don't want to stop or slow our travels altogether. 
Here are some of our reasons for considering a second, smaller RV:
Keeping CC as a home base
We like the idea of keeping our larger motorhome CC as our home base, with all the creature comforts we enjoy. The floorplan, layout, size and styling work well for us. It's home.
Slowing our travel pace
We want to slow our travel pace in our 40′ motorhome, and stay longer, say 1–3 months in each location.
Mixing up our travel style
We want to keep enjoying new travel experiences, and visit new places, and have a different kind of RV experience in another type of RV.
More nimble travel
With more book signings, RV rallies and other event invitations in our future, we're thinking it might be easier to zip off of at short notice in a smaller, more nimble RV which is easier to drive and park.
Business tax deductions
There are potential financial benefits, being able to write off more of our business-related travel expenses, with a second, smaller RV. Currently, as CC is our home AND primary mode of travel, we aren't actually AWAY from home for most events. We can really only claim business related travel expenses when we are away from our full time home – our motorhome. 
Obviously, a second RV purchase would have to make financial sense. One of the ways we've been thinking we could make this financially viable is by renting out our second RV part of the time. That could subsidize the expense of ownership. Of course, much more research and number crunching will be required before making a decision!
Minimizing air travel
We are not fans of domestic air travel, dealing with airports, security, luggage etc. Then there's the need for a rental car and hotel or Airbnb for accommodations. More lugging of bags, logistics and sleeping in different beds. This kind of travel is tiring, a pain, and can be discombobulating. 
Marc is an introvert, and busy airports and air travel is extra stressful for him. And he's also a bit of a germaphobe. Air travel exposes you to more people, which increases the risk of getting sick or compromising your immune systems. And while we didn't mention coronavirus…. these things are definitely factors to consider!
Increased productivity and comfort while traveling
Because we also work from the road, having our home (RV) with us, is a huge advantage. It's a more consistent environment, we can make it comfortable for us, and create a good work space for increased productivity. We also have our own bedding, pillows, things, fridge, food and cookware with us, so we can stay healthier as we travel.
RVing is hands down our preferred way to travel, as much as we can, so we always have our home with us. Plus, we simply just prefer to DRIVE!
Will we even LIKE traveling in a smaller RV?
But before we go too far down the road of considering buying a second RV, we wanted to try a few on for size. We first wanted to see if we even LIKE traveling in smaller RVs. And if so, which ones?
Hence, our decision to rent RVs instead of staying in hotels or Airbnbs in Florida and Texas on this trip. (While in NY/CT we stayed with friends – in their home and even did an overnight in their van – more coming up on that!)
Besides, we figured it would just be FUN. And it provides additional opportunities to continue to learn a lot more about them and share with you.
Of course, there will also be many logistical challenges to weigh up, as we consider the viability of this option. On top of the actual RV purchase – and related costs – there's the reality that we would then own 3 motorized vehicles. Two RVs and the Jeep! That is, presuming we bought a motorhome. We're not ruling out a small towable that we can tow with the Jeep. We bought our Jeep with the Tow Package, which is handy, but our options will still be limited by the RV weight.
A second RV would mean more planning and logistics for our RV travels. We may need to think about how to move two RVs if we're relocating CC to another base. Where we would park a second RV. All of that requires more consideration, in respect of our future travel plans.
What kinds of RVs are we considering
During this 34 day trip, we had the opportunity to try out 3 different RVs – driving, parking, sleeping, and living in them!
We'll be covering each of these experiences in more detail, in our subsequent videos and blog posts. So if you haven't already, subscribe to our email list and YouTube channel for updates.
Our RV Renting and Borrowing Experiences
Here's a quick overview of the RVs we tried on for size during this trip.
1. Airstream Interstate Van
While in the northeast, we borrowed our friend's Airstream Interstate Van on the Mercedes Sprinter 3500 chassis. We took out for a good drive, ran some errands, and even spent the night in it, to test our the sleeping arrangements! We will be sharing what it was like trying out 'van life" for less than 24 hours, in our next blog post and video. 
Want to learn more about van life and the Airstream Interstate Van? Check out our recent post and video with Chris and Aaron, who have been living and working full time in an Airstream van for over a year. They give us a tour and share their experiences and realities of life on the road in a van.
2. Class B+ Winnebago Trend with no slides
While Florida, we had the chance to drive and live in a 24′ Winnebago Trend motorhome – with no slides – for 2 weeks. We stayed on-site at the Florida RV Supershow in Tampa area, stayed in private RV parks a state park, boondocked, and even made it down to the Florida Keys! This motorhome was on the Ram ProMaster chassis, powered by gas. More on that coming up – including what we liked and what we didn't.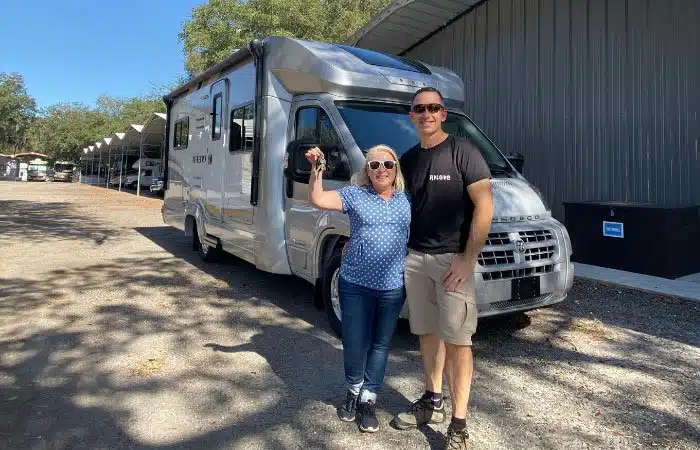 3. Class C Coachmen Prism with 2 slide-outs
When in Texas, we rented a slightly larger C (B+) with two slides. We drove it from Austin area down to the Rio Grande Valley, near the Mexico border. And even spent a night camping on the beach! This motorhome was about 25′ long and powered by diesel, being on the Mercedes Sprinter 3500 chassis. Another dedicated tour and video about our travels and experiences in this RV coming up.
Stay tuned for our next installments, renting smaller RVs in our separate, dedicated blog posts and videos coming up next.
Our RV shopping and renting experiences have been been more enlightening than we even imagined. There is no substitute for first hand experience living in an RV. Pretending to live in an RV for an hour or two on the dealer's lot can be eye opening.  But there are some aspects that can only be experienced when driving it and spending a few days or even a week or more actually living in it, and using it on a daily basis. 
We found that by spending just 24 hours in the van, and 2 weeks each in the Class B+ and Class C rental RVs gave us a chance to really see what worked, and what didn't. In terms of drivability, parking, living, sleeping, cooking, working. Everything! We also found it valuable to compare multiple RVs within a short time frame. Our experiences and learnings were fresh in our minds which enabled us to more easily compare.
Stay tuned for much more detail on each of our RV experiences. We'll be sharing what we learned from each in more detail in dedicated videos and articles for each. 
RV Shopping considerations
While at the Florida RV show, we did video tours of a few larger RVs that were hot and new at the show. You can take a tour of Newmar Supreme Aire Super C, and Winnebago Forza Class A with new Design Studio option and get our thoughts on both.  But the majority of our limited time was spent focusing on looking at smaller RVs, like the Regency RV Ultra Brougham Class B+. Plus we have some more smaller RV tours on the way as well.
As we were limited with time in Tampa, we stayed focused on motorhomes. But as mentioned above, we're not ruling out the idea of a smaller, towable RV that we can pull with the Jeep. Honestly, we just don't know what we'll end up deciding on yet, but we're having fun exploring our options. 
Even after nearly 6 years of RV ownership experience and tons of time in other people's RVs. We are actually surprised at how much we have been learning from our experiences borrowing and renting RVs.  By sharing some of what we consider when looking at these RVs, we hope it helps you in your own shopping for whatever kind of RV you are looking for – whether it's a travel trailer, fifth wheel or motorhome.  
Well, that was a lot to get you caught up on – and that's just the START. Some of our RV tours from the Tampa RV show have already rolled out, with more on the way. We also have a lot more in-depth content about our RV rentals and travels. We think you'll enjoy seeing these different experiences – and discovering we are learning, liking, and NOT liking about them all.
Stay tuned for our upcoming articles and videos:
Trying out an Airstream Interstate Van

Renting, Living and Traveling in a Class B+ Motorhome in Florida

Renting, Living and Traveling in a Class C Motorhome in Texas
Let us know what YOU are most interested in seeing and hearing about and learning from our RV rental and RV shopping experiences and travels.  Do you have a second RV? If so, how to you juggle the logistics? Drop us a note in the comments below.
GOT COMMENTS OR QUESTIONS?
We would love to hear from you. Drop us a note in the comments section below.