This post may contain affiliate links.
It's hard to believe it's been a YEAR since we bought our coach "Rocky". One of our subscribers emailed to ask how we'd gone about finding our coach and if we'd physically seen it before buying. GREAT question, which reminded me of a blog post Marc wrote a year ago but I never published! So here it is…Marc's recount of our purchasing experience – complete with the excitable energy that comes with such a big, life-changing decision! We hope you enjoy this little trip down memory lane as much as we did.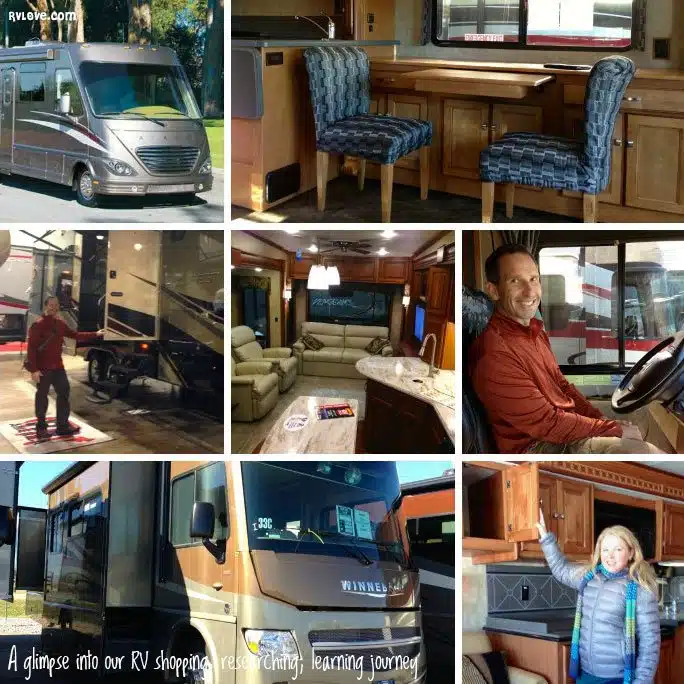 The backstory – how we found our "ideal home on wheels"
After several months of intensive research and traipsing through a hundred or more RVs of all different brands, types, shapes and sizes, by late January 2014, we had narrowed down to the exact coach we wanted to buy – a 2012 Tiffin Allegro Open Road 35QBA (bunkhouse) in Rocky Mountain Brown (hence the name "Rocky") with 7000 Watt generator, ivory leather furnishings, English Chestnut cabinetry, driver's door, central vacuum, upgraded mattress, surround sound, extended warranty – all in our price range of under $100K. Yes, we were THAT specific and YES our coach has got it all. It really does pay to be very clear in what you want and create a vision board to make it a reality!
We found one that fit the bill perfectly via RVTrader.com being sold by a private party in Delaware, Ohio. Funnily enough, we'd seen that exact coach on RVTrader in December 2013 and although it caught our eye, we weren't yet ready to pull the trigger. Our target timeframe was May 2014 and at that time, we hadn't even narrowed down our choice of coach to a Tiffin. We initially were seriously considering a 2013-2014 Winnebago Sightseer 33C, but at around $115K (after negotiating HARD down from the MSRP of about $146K) it was ultimately more than we wanted to spend. Taxes and first year of registration are much higher on a brand new coach, so total cost can be much higher than anticipated.

We were happy to see "our coach" was re-listed on RVTrader.com in February, after being absent for a few months. This time we called the owner, Manuel, to discuss. It turns out he'd simply taken the coach off the market for the winter so he didn't have to take it out of storage on cold, snowy days. Although we had a positive conversation and we were VERY interested, February was still just a bit too soon for us to make our move, and so we were straight forward with Manuel about that. We figured if it was "meant to be", it would still be waiting for us when the time was right. In early April, we decided to sell our townhome instead of renting it out as we wanted to feel completely free during our travels. We knew our home would sell quickly which would enable us to buy the coach in May as planned. We called Manuel once again – he still had the coach but there was another fellow who had planned to go look at it on Easter Monday. We made a fast decision to have Marc fly into Delaware, Ohio on the Saturday prior to inspect and drive the coach. If it was all that we expected it to be, he would make an offer and put down a deposit. Suddenly, things were moving super fast – we were both excited and nervous at the same time!
Marc's recount of "the big day" – written one year ago
What an exciting day! I just jumped on a plane back to Denver after a very exciting 16 hours in Ohio. Flew in last night, arriving at my hotel at around 1:00am, woke and drove out to meet the current owners of what Julie and I hoped would be our new home on wheels.
When I arrived at the storage unit, the owners – Manuel and Elizabeth – had already pulled the beautiful 2012 Tiffin 35QBA motorhome out, all shiny and looking like new, in Rocky Mountain Brown. After introductions, we started with a quick tour of the basement storage compartments and other mechanical systems. It was already evident that this rig was well cared for during her time with them. The paint shone and seeing that they had tire covers for a rig that is mostly stored indoors was a great sign. We stepped inside and the interior looked like new as well. Manuel and Elizabeth continued the tour, sharing many of the little tips and tricks they have learned that make living in an RV easier and more comfortable. Even though Julie and I had done extensive research about RVs in general and this model specifically, there were still many features and things to learn that dealers, blogs, and other private sellers hadn't shared, which was very useful.
We had reviewed the coach photos and descriptions online but there is definitely a special feeling that happens when you realize you are in the physical presence of your potential new home. She (for some reason, our coach has always felt like a "she") is optioned exactly how we would have done if we were buying new – and almost exactly as we had placed pictures on our dream vision board. Rocky Mountain Brown – with full ivory leather interior, English chestnut cabinets, central vacuum, the driver's door, the big 7000 watt generator, upgraded mattress, surrounded sound – and yes, even an extended warranty! The coach had just the right amount of use for the previous owners to work out all the bugs that ALL new RVs have, but not so much as to show wear and tear. All the cabinet latches were tight and the rig felt very solid. A testament to Tiffin quality and one of the reasons we chose this coach.
After learning more about the RV, her owners and the times they spent together, we went for a short drive to get a feel for things on the road. I was very pleased that everything felt very solid, with no rattling or wind noise like I had experienced in other coaches (even new ones). As expected, being a gas coach, the RV "floats" a bit compared to what we normally drive (a Mini Cooper S) but it felt good on the road.
Ironically, at the exact time I was inspecting the coach, Julie was at a local Tiffin dealer looking at another one in Colorado. We had visited this local dealership several times over the previous 7 months and the sales guy Jerry knew we were seriously looking, but had advised trade-ins on the model we were seeking were rare. Strangely enough, one happened to come in the very same weekend I flew to Ohio, so Julie went along to check it out and see if it was going to meet our needs. As it turned out, the coach in Colorado was a 2011 (not a 2012) which meant the stovetop was not flush mounted, thus reducing kitchen countertop space – something that was high value for Julie. In addition, the color was not our first choice, and importantly, the condition of the 2011 coach just wasn't as good as the 2012. So even though it would have eradicated the need for 2 airfares and a 3 day drive, we mutually opted to pass on the Colorado coach and proceed with the 2012. Interestingly, the Colorado dealer wasn't very negotiable on price (it was more expensive than the 2012 in Ohio) until we told him we weren't going to buy it. All of a sudden, he was able to reduce the price quite substantially, but by then, our hearts were set on the 2012 Rocky Mountain Brown coach. Besides, we'd recently earned a couple of free flight coupons from United (coincidence?) which would cover our airfares from Denver, CO to Columbus, OH and the idea of a little interstate adventure and road trip were quite appealing. Yep, we were more clear than ever that this was the right coach for us.
During our conversations, I could tell it was tough for Manuel and Elizabeth to be letting their RV go. In previous conversations, they had mentioned they planned on full timing for many years, but the ailing health of Elizabeth's mom meant they had to spend more time closer to home.
Sometimes life throws you curveballs and your best laid plans need to be modified.
That is actually one of the reasons why we wanted to set off on this adventure soon rather than later – while we are young and have an opportunity like this presenting itself. You just never know what the future will hold.
Happily, we were able to agree on a price and seal a deal on the transfer of ownership. I left a cash deposit with Manuel who wrote me a receipt and we made a plan to return the following month to complete the transaction. I couldn't have been happier! Seven months of research and solid shopping to narrow down to what we believed to be the perfect coach brought us to this moment. We sure hoped we were right LOL.
Purchasing from such a warm and wonderful couple who have clearly taken such great care of the coach made the experience so much better and gave us much confidence in our decision. Now we just needed to finalize the details in the coming weeks and return with Julie to drive our new home back to Colorado and start packing up for our adventure! Finally, it was all happening! It can feel kind of surreal when your plans turn into action and then a reality – all in a good way, though. Thank you Manuel and Elizabeth. We are honored to have as a part of our journey and we look forward to sharing our adventure with you.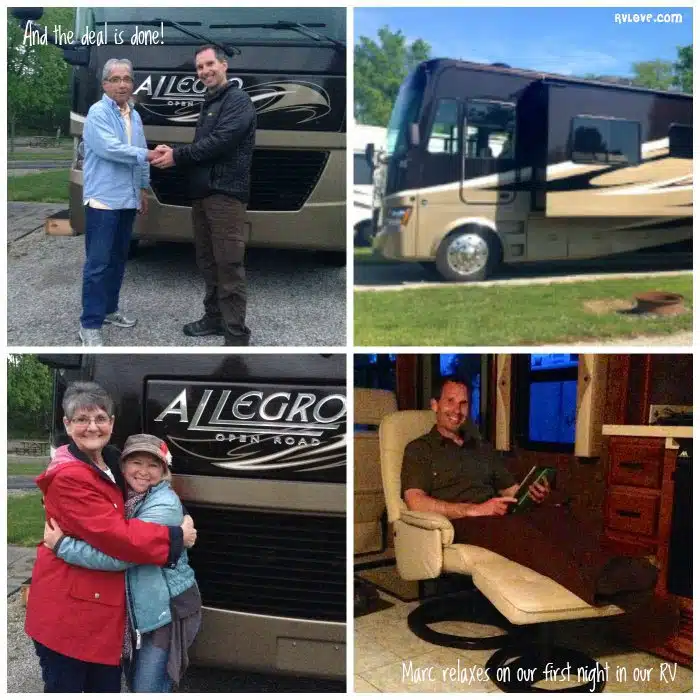 One year later
After living, working and traveling full-time in our coach, we're back in Colorado for a couple of months and it's amazing to think it's been a whole year since we sold our home, bought the coach and hit the road to live as full-time RVers. We can still vividly remember our feelings of nervousness, coupled with anticipation while wondering "are we doing the right thing?" Of course, that's a natural way to feel with any major decision. But the fact that everything seemed to fall into place so smoothly – from selling our house on the first day to having "our coach" still be available at the time we were ready to make our move – all seemed to feel very serendipitous and confirm we were on the right track.
As for whether or not we were right? Yes, we can say without reservation ABSOLUTELY. While we believe we would have also been happy with the Winnebago we almost bought (thank goodness it was priced higher than we really wanted to spend) we can't imagine it would have worked as well for us in a couple of key areas, namely:
Office space – in the Winnebago, Marc would have had to work from the living area but with our Tiffin he was able to convert the bunkhouse into a dedicated office
Storage – our Tiffin has around 50% more storage capacity (inside and out) and yep, we use pretty much all of it!
Overall, our coach has proven to be very reliable and is still in excellent condition. Of course, we've had to replace or repair a few things, which is to be expected with any RV – regardless of brand, type or age – but it really hasn't cost us much at all in terms of repairs and maintenance. We continue to be very impressed with how the coach drives, how well the floorplan/layout works for our needs and especially, how fantastic Tiffin is when it comes to getting advice or after sales service. In fact, when staying at Palm Springs over the winter, we looked at some other new RVers (Tiffin and other brands) which were being showcased at the campground and honestly, while many of them were beautiful and spacious, we simply wouldn't swap what we have as our current setup just works so perfectly for us. At least for now 🙂 Never say never, right!? And as for the lifestyle?
While it took a little adjusting
in the the first couple of months (mainly for Julie), we are definitely both loving the lifestyle and plan to keep on going for the forseeable future. There's a lot to see, do and explore, and we expect this coach will continue to fulfil our needs perfectly along the way. © RVLove.com
Like this post? Here are a few others you might like:
How we chose our RV
Take a virtual tour of our motorhome
First time driving our motorhome : + video
Our first 9 days on the road
The truth about how we are adjusting
3 months on the road – living, working and traveling fulltime in our RV: video update
6 months on the road – our 4 biggest changes: video update
9 months on the road – our big news + travel highlights: video update