This post may contain affiliate links.
Dreaming of RV adventures and wondering if it makes more sense to rent an RV – or buy one? The price of RV rentals, and the cost of RV ownership, will vary greatly depending on a variety of factors. We'll dive into upfront costs, ongoing costs, and other factors you need to consider. Whether you're a seasoned RV enthusiast or an RV lifestyle newbie, this post will provide you with valuable insights to help you decide which option is best for you.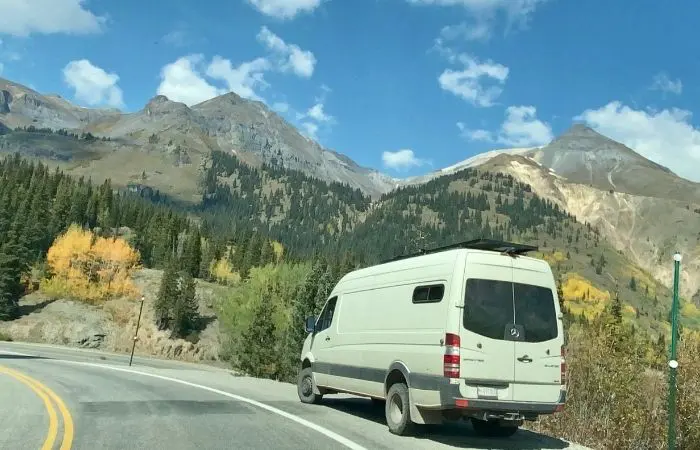 RV Travel Is Still Extremely Popular
2020-2023 saw record numbers in both RV rentals and sales of RVs, which was fueled by the pandemic. These days, remote work is not only possible but required by many employers. More people are seeking freedom and adventure. And there's no better way to see the country than an RV road trip. Since the lifting of pandemic travel restrictions, demand for other forms of travel has increased. But the RV lifestyle remains as popular as ever. 
According to RVshare's 2023 travel report, 99% of Americans plan to do leisure travel this year. Yet RV sales have slowed. In this report by RV Business, RVIA expects a 32% drop in new RV shipments for 2023 compared to 2022. Still, a strong interest in outdoor leisure and RVing remains among consumers. New and used RVs are still selling (albeit at lower prices). And there's still a healthy interest in RV rentals, especially among families, millennials, Gen X, and Gen Z.
So for those planning to RV, what makes the most sense? Renting or Owning? Let's take a look at all the factors you need to consider when deciding what is best for you.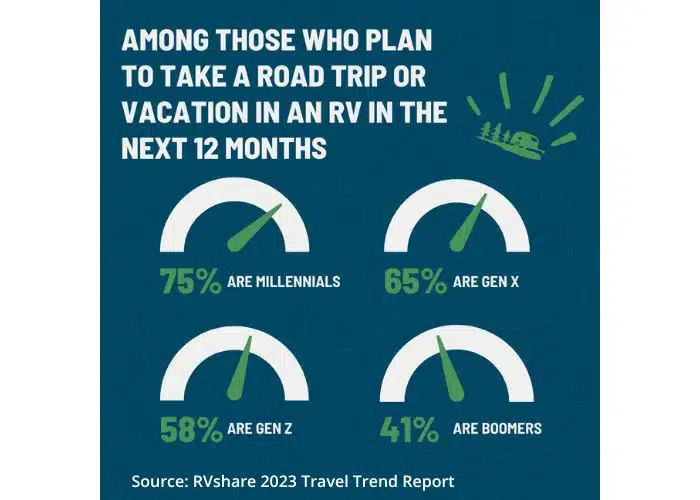 Photo Credit: Tati McAlister
The Price Of RV Rentals vs RV Ownership
When you first start looking at the cost of RV rentals, you might get sticker shock, as the price can seem very high. But, as we will explain in more detail, there is a LOT to consider when you compare the costs of renting an RV versus owning an RV. Let's break down some of the biggest factors that determine the price for RV rentals. And keep in mind, when you own an RV, you would be covering all of these fees yourself year-round.
The Type of RV and its Value
One of the biggest factors in the price of RV rentals is the type of RV and what it costs to purchase one. For example, buying a new small towable travel trailer might only cost $25,000. But a new Class A luxury diesel pusher motorhome can easily cost $250,000 up to more than $ 2 million dollars. Buying an RV also entails paying taxes and registration.
So, it only makes sense that the small travel trailer rental price will be much less and likely cost under $150 per night. But the nightly rental price of a large luxury motorhome could be several hundred dollars or even well over a thousand dollars per night. Of course, there are many types of RVs in between those two extreme examples, which account for much variability in the prices for RV rentals.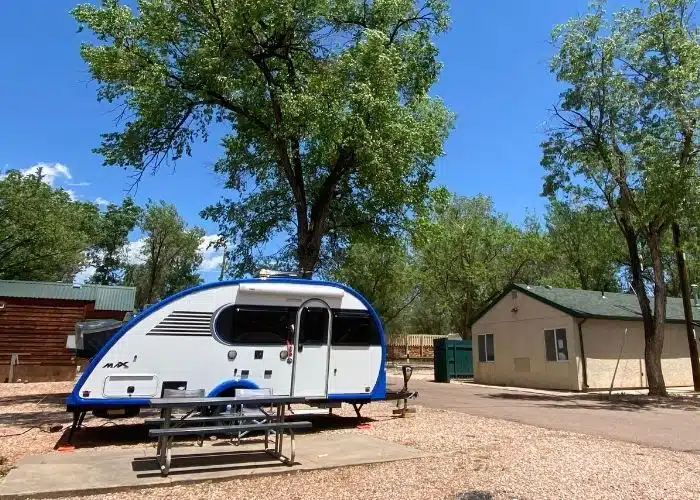 Towing an RV vs. Stationary RV Rental 
Consider that if you rent a towable RV, you also need a vehicle capable of towing it. Otherwise, your rental RV can be a stationary RV rental. And this may be exactly what you need. Some RV rentals will even offer delivery to your chosen destination if you don't want to drive or tow it yourself.
Perhaps you are traveling to a festival event or a destination like Disney's Fort Wilderness and want to stay in an RV on-site. In that case, having a rental trailer in one location is ideal. It's also common for people to rent an RV as temporary housing, say after a disaster like a hurricane or fire. Or accommodate visiting guests. Oftentimes renting a trailer without the ability or need to move it is the ideal fit. And this helps keep the price of RV rentals much lower.
RV Maintenance, Insurance, and Cleaning
RVs generally require much more maintenance than cars, real estate, and other types of rentals. From our RV ownership experience, RV maintenance has been one of our highest costs. Motorized RVs (Class A, Class B, and Class C) also require much more maintenance than towable RVs since they have powertrains and more moving parts. Which gets more expensive.
And getting an RV repaired is not always quick and easy. This means the RV cannot be rented while it needs repairs. That downtime is costly and needs to be factored into the pricing of an RV rental.
Some RV rental companies include the insurance cost in their regular quoted price. Others offer insurance as a separate additional fee. As you might expect, insuring an RV that is traveling around the city or across the country is more expensive than insuring a hotel room or Airbnb.
There is substantially more risk of damage – or theft – when it comes to mobile accommodations like an RV. So, this cost also needs to be considered and passed onto the RV renter. Likewise, an RV traveling around, being heavily used in outdoor environments, and visiting remote locations will require more extensive cleaning.
Another factor involved in the price for RV rentals that is not a factor in real estate rentals is depreciation. Hotels and other forms of real estate generally appreciate in value. This makes them much better long-term investments for those who rent them out. On the other hand, depreciation significantly adds to the RV ownership cost for the rental company or RV owner. 
Mileage is a big factor in the depreciation of motorized vehicles. That's why the price of motorized RV rentals usually includes a limited number of miles per day. Additional miles driven can add up quickly when you are charged nearly a dollar for every mile over the base limit.
But remember, you'll likely also spend a day or more exploring areas with less or no driving. So when planning an RV road trip, look at your average daily mileage. Similarly, RVs with onboard generators often include a limit on the number of hours a generator can be used each day, with an additional hourly charge for generator overage.
Don't forget RV Rental Add-Ons and Gear
Depending on your RV rental, there can be even more fees. Some RV rentals include items like bedding, cookware, dishes, towels, camp chairs, a BBQ, and other equipment, while others do not. Keep in mind that the initial nightly price for RV rentals can start out low, then quickly climb if you are billed separately for each item, especially if they have a daily charge instead of a flat rate.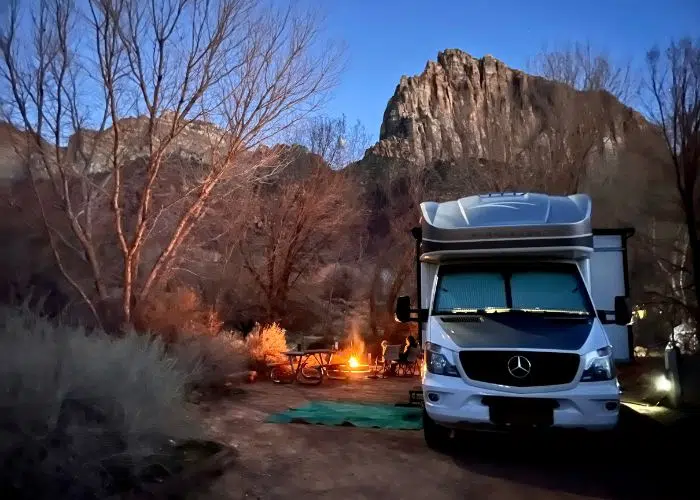 What other factors impact RV rental cost?
The price of an RV rental can also be impacted by things like rental duration, season, geographical location, and availability.
Daily rates tend to be higher for short term RV rentals, but you may be able to get a discounted rate on a longer term RV rental. Of course, peak seasons, like summertime or holidays, may result in higher rates. Additionally, certain locations may have higher demand for RV rentals, which can drive up the price. 
Finally, RV rental costs frequently depend on availability and demand. If there is a high demand for RV rentals in your area, and low inventory, rates may be higher, simply because there is limited availability.
Is An RV Rental Good Value When Compared To Owning An RV?
OK, so now you understand there are a lot of factors impacting the price of RV rentals. Many of these also relate to the cost of owning an RV. The privilege of owning an RV can easily cost hundreds, or well over a thousand dollars a month, depending on the type of RV. There are just so many variables. But let's share a few high-level personal examples of our own RV ownership costs. We've owned several different RVs over the years, so this will give you at least some idea of what to expect.
The biggest thing to remember is this…
All the costs of owning an RV will exist no matter how much you use it. So, your nightly average really depends on how much you use the RV each year. In our real-world examples, we break down the costs per type of RV, then summarize our average monthly cost of ownership. Again, this is a guide, and your costs will vary for each factor below.
RV Ownership Costs include…
But are NOT limited to: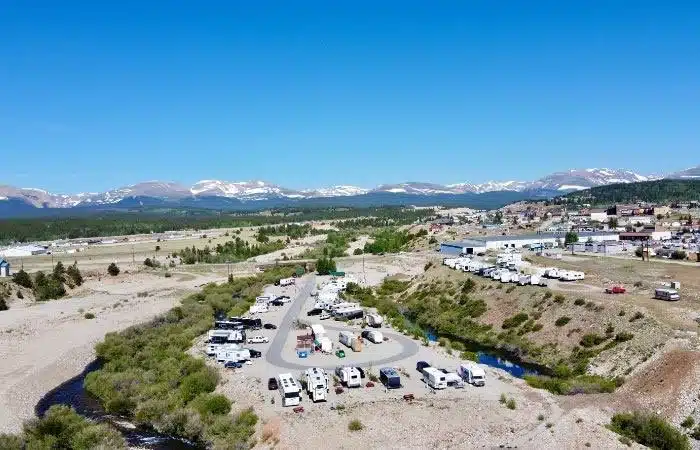 What is NOT included in RV Ownership Costs?
Things like campground costs and fuel costs are not included for these reasons. First, they are highly variable and will cost about the same whether you rent or own an RV. Campgrounds and fuel are a cost of RV usage, not RV ownership.
We also do not include storage costs in our examples, as we didn't need to pay to store our RVs. But this is a common additional expense for many RV owners that are not living and traveling full-time in their RV. Or for those who RV part time but don't have a place to store it on their property.
What Does it Cost to Own a Class A Motorhome?
Class A motorhomes are the most expensive type of RV to own and maintain. We have owned two Class A motorhomes over a combined period of 75 months. One was a newer gas motorhome. The other was a much older, high-quality diesel. 
During this time, our Class A motorhomes cost us an average of around $1,300 per month. This averaged out to more than $15,000 per year. Remember that we lived, worked, and traveled full-time in these motorhomes, and we didn't also have a home mortgage. Also note that an extended RV warranty covered some of the repairs on our first RV. And we did most of the RV repairs on our second RV ourselves, plus an RV makeover, to save costs as much as possible. 
What Does it Cost to Rent a Class A Motorhome?
Class A motorhomes similar to ours typically cost in the vicinity of $300 per night (plus fees, taxes, and extras). So, based on that, you could rent a Class A RV for about 52 nights per year without the big financial outlay upfront or having to worry about ongoing repairs and depreciation.
Now, let's look at some more examples.
What Does it Cost to Own a Class C Motorhome?
Class C motorhomes are among the most popular to own and rent, as they are smaller, more nimble, and easy to drive. Based on the data from 15 months of ownership, our Class C diesel motorhome cost us around $954 monthly. If this sounds high, here's why. We bought the used RV at a good price from a friend, knowing it needed several repairs, new tires, and a major service. Many big expenses were front-loaded, but we expect the average cost of around $11,000 annually to decrease, reducing the average monthly costs.
What Does it Cost to Rent a Class C Motorhome?
Class C motorhomes similar to ours are popular as RV rentals. And gas Class C RVs are even more common. Class C RVs like ours often rent for around $250 a night (plus fees, taxes, extras). So that equates to about 45 nights of rental use. But again, keep in mind that with an expected lowering of our monthly average cost of ownership, it would, in theory, be worth owning one of these RVs for well under 40 nights a year. Plus, gas Class C RVs are generally less expensive to own and operate than diesel motorhomes.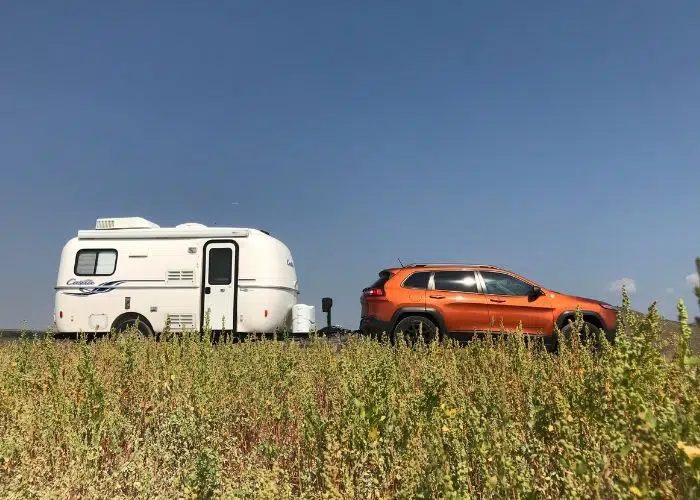 What Does it Cost to Own a Small Travel Trailer?
Small travel trailers are the most popular kind of towable RV as they are more affordable and easy to tow. We paid cash for our fiberglass Casita camper, so we had no financing costs. Being small enough to store at home, we paid no storage fees. And being a simple, well-built, and reliable RV, our cost of RV ownership over 16 months was very low, around $100 a month.
So after the initial purchase, it cost us about $1,200 a year. Note this doesn't factor in the typical depreciation costs, as we bought this RV very well, and we sold it at the top of the market in 2021 for more than we paid for it, which is NOT typical. You should plan for a depreciation hit on most travel trailers, especially now that the RV market has cooled.
What Does it Cost to Rent a Small Travel Trailer?
Small travel trailers often rent for around $120/night (plus taxes, fees, extras). So that's about ten nights of rental use, based purely on our RV operational costs i.e. insurance, repairs, maintenance, etc. This does NOT include the RV purchase price. So keep that in mind when doing your math to compare. And also, remember you need an appropriate vehicle to tow it, and if you want to rent a bigger travel trailer, you'll likely need a more capable truck.
What Makes More Sense? Renting or Owning?
Let's start by looking purely at the financials based on the examples we shared above. We divided our total combined cost of ownership of all of our RVs by the total number of months we owned them. This came out to an average cost of around $1,070 monthly, or just under $13K annually. 
Since most of our RV travels have been full-time in Class A motorhomes (followed by Class C), we'll use an average nightly RV rental cost of $275 for comparison. For breakeven, that equates to renting a motorized RV, at $275 per night, for about 47 nights a year.
Of course, this isn't a perfect formula, as there are so many other variables to consider. Our RV ownership costs may be higher or lower than others for several reasons. And we didn't factor in all the additional RV rental fees on top of the RV rental face-value rate. But this is definitely a useful exercise to go through when considering whether owning an RV or renting makes the most sense for your situation. 
With the vast majority of RVers using their RV for weekends or vacations, it's worth exploring your options and crunching the numbers to see what's the best option for you and your budget.
Learn more about the real costs of RV ownership
You can read our in-depth post about the real costs of RV ownership here, where we share real examples from the many RVs we have owned over the years. 
We also compare the costs of full-time RVing versus part-time RVing in this article.
Benefits of Owning an RV vs Renting
Of course, there are many advantages to owning an RV compared to renting. The more time you spend using your RV, the better the value it becomes to own. For example, if you live in an RV full-time, it will definitely be more cost-effective than renting. That is because full-timers usually trade traditional home expenses for RV expenses. They usually don't have both. And most full-time RVers only need one vehicle, whereas most traditional households have at least two cars. 
But presuming you aren't a full-timer, consider these benefits of owning an RV:
The convenience of having RV set up with your gear so it's always available and ready to go

Choose the exact type, style, size, and floorplan RV you want
You can upgrade, modify, and renovate the RV to suit your tastes and needs
It can be handy additional accommodation for visiting guests or a separate workspace (presuming you're able to store it at home)
Owning may increase the likelihood you'll do more travel and adventures
There is a caveat on that last point. If you don't use the RV as often as you initially thought you would, you may find you end up paying a lot for that convenience. 
Our Class C rental RV in Texas
Do the math for a reality check
Again, the reality is that most people only do a few RV trips per year. They may only spend a total of a couple of weeks in an RV. Some only use it for a few days over a long weekend or maybe take a longer one or two-week vacation. 
For those folks, renting an RV would be a better value than owning it in most cases. Especially when you sit down and do the math and factor in all of the expenses we covered above. Don't forget the storage cost if you don't have a place to store your RV at home. And the cost of interest payments if you have a loan on your RV. You need to add up every related expense to get a clear picture.
Benefits of Renting an RV vs Owning
Now, let's look at the benefits of renting an RV instead of owning an RV. Renting an RV allows you the following freedoms:
Learn what you like and what suits your needs best before you buy

No need to store or maintain the RV

You can rent different RV types for different types of trips

You can fly to the general region and rent the RV in that area to save on drive time

Don't have to pay the ongoing monthly costs of RV ownership, regardless of how much you use it
Types of RV Rental Companies And RVs For Rent
There are many different options for where you can rent an RV from. You have likely seen RVs from big national chains like Road Bear and Cruise America. These RVs often have big branding on them, advertising the rental company. Many RV dealerships even offer RV rentals. Some dealers may offer to apply the rental cost toward an RV purchase. This could be beneficial if one of the main reasons you rent is to decide which RV might be the right fit for you.
There are also popular peer-to-peer RV rental platforms similar to Airbnb and VRBO vacation rentals. The two most popular peer-to-peer RV rental platforms are RVShare, and Outdoorsy. Some smaller RV rental companies have a mix between their own fleet and RVs owned by others. These companies are often RV storage businesses that offer to split the RV rental revenue with customers that store an RV with them. They usually also offer free storage if your RV is in their rental pool.
What kinds of RVs can you rent?
You can rent just about any type of RV. Towable options include travel trailers, fifth wheels, small campers, and truck campers. Motorized options include Class B vans, Class C motorhomes, Class A and Super C motorhomes, even large luxury coaches. You can even rent converted vans and school buses (known as skoolies). But the most common types of RV available for rent are usually Class B or Class C motorhomes and travel trailers.
We usually prefer to rent from private parties and peer-to-peer platforms. That way, the RV doesn't have all the branding on it, and we can get more personalized knowledge about the RV we rent. Check out this detailed article and video about Our first RV rental in Florida. We also rented an RV in Texas. Plus, we have borrowed multiple RVs from friends over the years to try them out.
Renting from friends and family might get you an even better price for RV rentals. For example, we got a great RV rental price when renting our friend's RV for an 8500-mile trip to Florida.
Traditional RV rental companies and peer-to-peer rentals have had a great few years. But the costs of RV ownership have all gone up too. Keeping those two things in mind, if you already own an RV, you might also consider renting it out on a platform like RVShare or Outdoorsy to help offset your cost of ownership.
Related:
The price for RV rentals really can vary from less than $100 per night for campers to over $1,000 per night for luxury motorhomes. But you will typically find most RV rentals range between $150-$300 per night, with a huge list of factors impacting those prices. If you plan to travel in an RV for less than 30 days per year, renting an RV will likely cost you far less than owning one. But, owning an RV will likely be a better value than renting if you spend more than 90 days per year in it.
So think through how much you plan to use an RV before making such a large purchase. Do your homework, know your budget, and do plenty of research before making your decision!
Did you find this article helpful? Please leave your comments and questions below. We'd love to hear about your RV rental experiences – share them with us and others – below in the comments.
Photo Credit: Dino Carroll
GOT COMMENTS OR QUESTIONS?
We would love to hear from you. Drop us a note in the comments section below.