This post may contain affiliate links.
RV rentals are in the news everywhere we are turning these days. The word is out that RVs are the safest way to travel while still maintaining control of your environment. It is a re-birth of the North American road trips.  
For those who don't already have an RV, the next best thing is to rent an RV. So, as a follow-up from our recent article about our Florida RV Rental experience, we wanted to answer some of the most common questions about renting RVs.
Disclaimer: RVShare did not pay for any of our RV Rentals, but sponsored this video and blog post.
We have embedded the video into this post, or you can simply continue reading below.
What Questions Are Answered in This Post?
In this post we will share insight on these RV rental questions. 
(they are links to specific questions if you want to jump around.
Ok.  That is a lot of questions.  But we have answers, so let's jump in
There are many different reasons that people rent RVs, besides just for vacations.
The recent pandemic has seen RVs being used to set up mobile offices, and self-contained units for quarantine. Some front line workers stayed in RVs to avoid risking contaminating their primary homes and families.
Here are a few more you might not have thought of. Sporting events, nascar, tailgating at football, concerts. Maybe temporary housing when your regular home is damaged, or under construction. Some rent them for relocating in comfort especially if one of the passengers needs to lay down.  
We also think RV rentals are a great tool as part of RV shopping, or to feel out the type of travel before investing too heavily. It is great to pretend you are living in it at a dealers lot, but there is noting like really living in one for a few days to get the true experience. RV rentals allow you to mix up your travel experiences depending on the needs for each trip.
During our recent trips to NY, FL and TX, we rented RVs instead of staying at hotels, so that we could have the flexibility to be exactly where we needed to be. It was also a huge benefit to significantly reduce the number of times we needed to pack and unpack all our gear on the trip. 
How Much Does an RV Rental Cost?
At first glance, the nightly rate looks expensive. But if you're taking a vacation, you're likely going to want it for at least a week, and maybe two. Weekly rentals can average out cheaper in many cases. If you rent it for a month, the average nightly rate comes down even more. 
Look at this example. An RV like the Winnebago Trend we had in Florida has a nightly rate of $245. One week rates drop to $1,442 ($206 per night). A monthly rate is $3,675 = $122.50 night. Here is a link for reference https://rvshare.com/rvs/details/1148758 
In our research, we found RV rentals for under $100/night and over $5,000/night, but most seemed to range from $100 – $250 per night. Some class A motorhomes went up to around $500/night.
Many factors of RV Rental costs
Certainly the type of RV you rent will be a factor. Are you renting a simple pop up camper, or a Prevost bus conversion like a rock star tour bus? How new is it? Are you renting during peak season, or the off season? Where are you renting it from? How far do you plan to travel?, and how long will you have the rental?  
The good news is that with so many options out there, you are bound to find an RV rental that fits your needs and budget.
Search RVs and Get a Quote: https://rvlove.com/rentrv
Our Florida RV Rental Road Trip: https://rvlove.com/floridarvrental
Rent Our Same Class B+ RV: https://rvlove.com/rent-winnebago-trend
Rent Our Same Class C+ RV: https://rvlove.com/rent-coachmen-prism
Renting an RV vs Owning One
Let's also compare the rental rates to RV ownership. RV ownership can be quite expensive, especially when you only use it occasionally like most people. Many RV owners only use their RVs an average of 2-3 weeks per year. When you buy an RV, there are often secondary costs like depreciation, storage, taxes, maintenance, and finance costs. So renting may make more sense for occasional RVers.  
If shopping for an RV, renting can also help you make a better decision when it comes time to purchase. Of course, the more time you spend in an RV, the more it makes sense to purchase. Like us for example. We have lived full time in our RVs for over 6 years. We stay in an AirBNB or hotels the few nights we spend NOT in an RV. Check out our detailed article on the cost of RV ownership over 6 years.
We also have a detailed article comparing the cost of RV rentals and RV ownership here.
Hotels, and other more traditional travel options.
Depending on how you travel, there are also potential cost savings in renting an RV versus more traditional vacations. For example. An RV replaces the hotel, rental car, and allows most of your meals to be cooked at home. One of the biggest expenses with traditional travel is all of the meals at restaurants.  
On our recent 34 day trip, we ate almost all of our meals in the RV. Of course, renting hotels with kitchens, or AirBNB is an option too. But if you want to change locations during your trip, it is hard to transport your food without a fridge and cabinets like you would have in an RV. We will dive deeper into this comparison in an upcoming post.
What Is Included When You Rent An RV?
Unfortunately, this is not a black and white answer, and will depend greatly on where you rent from. But, it is very possible to have everything you need included in the rental.  RV insurance, roadside assistance, kitchen pots, pans and dishes, linens, bbq, etc.  
Some rental companies might even offer an upgrade to have an RV safe GPS. But our advice would be to simply buy and use RV Trip Wizard and their related RVLIFE app that has RV Safe GPS built in. It will likely cost less than renting a GPS unit, and you can have it before your trip, and long after your trip for future adventures.
In most cases, these add ons are separate charges. So if you don't need some of them because you are doing a local trip, you won't need to pay extra. There are no real universal rules. Our best advice to this question is simply to ASK. Study the RV rental listing.  Ask the owner questions. Also different if renting close to home or not. 
What Types Of RV Rentals Are There?
We have seen virtually every type of RV made being offered as a rental. Whether you are looking for tiny travel trailers, a van conversion, fifth-wheel, motorhome, or even a million dollar Prevost bus conversion, there is an RV rental for you. Of course, they all come at different price points.  
If you don't have a vehicle to tow a trailer, some renters will also rent their trucks. On the other hand, if you aren't planning on traveling around with the trailer, you might just have it delivered. This is especially common for longer term rentals, like when using the RV for temporary housing.
If you drive through a campground, or an RV dealer lot, you will see all kinds of different RVs. Thanks to peer to peer RV rental platforms like RVShare, you can rent virtually every type of RV out there.
Who Can You Rent An RV From?
Many have seen the highly branded Cruise America RV rentals. There are other major RV rental chains like El Monte, and Road Bear that are a little more subtle. Typically, the branded RV rentals have offices available near top tourist destinations. Rental RVs from these major chains are mostly Class C RVs. The large chains have a potential advantage of having back-up RVs and regional or national support if something goes wrong. 
But, we lean more toward smaller companies, and peer to peer platforms like RVShare. We like that they allow you to rent virtually any type of RV, and you won't be driving somebody's billboard. This offers greater variety, and a more personalized feel. There are other peer to peer platforms, but RVShare is the only one we are comfortable recommending.
Another option to consider is that some RV Dealers have demo RVs you can possibly even try before you buy if planning to buy. You can sometimes find small Independent local renting options too.
Will My Car Insurance Cover Me In An RV Rental?
No, it is not like when you rent a car! The rental RV is typically covered under the owner's insurance policy, but you can also get extra insurance coverage. Every RV renter seems to be different, so don't be afraid to ask. Be very clear because this is very important.
If renting from a peer to peer platform like RVShare, every unit is insured by RVShare.com/insurance. This protects owners and renters and is automatically included in the reservation. If you want to opt out you can, because it's removable. Just ask the owner. If you opt out, you might not be insured for damage. Again, do your research before deciding to opt out.
What If Something Breaks, Or The RV Breaks Down?
RVs are notorious for having little things break or go wrong. We have certainly learned to make simple repairs on RVs. In fact, we had to fix small issues on all of our rental RVs as well. But none were significant or impacted our ability to travel. 
If you are not handy and worry about being able to make repairs, companies like RVShare also offer 'Worry Free Rental Guarantee' included in all bookings. That is definitely an advantage in making your reservation through a major platform instead of directly with small, stand alone RV rental companies.
That said, regardless of where you rent from, the first step is to contact the owner, or place you rented from. They can guide you on what you need to do. In some cases, they could talk you through a repair because they know the RV well. In other cases, they will guide you to where is best to have your repair made. They might have relationships with local repair shops that will help expedite your repair.
If you have a flat tire, or mechanical issue, your RV might come with 24/7 roadside assistance, especially if renting from a major platform like RVShare.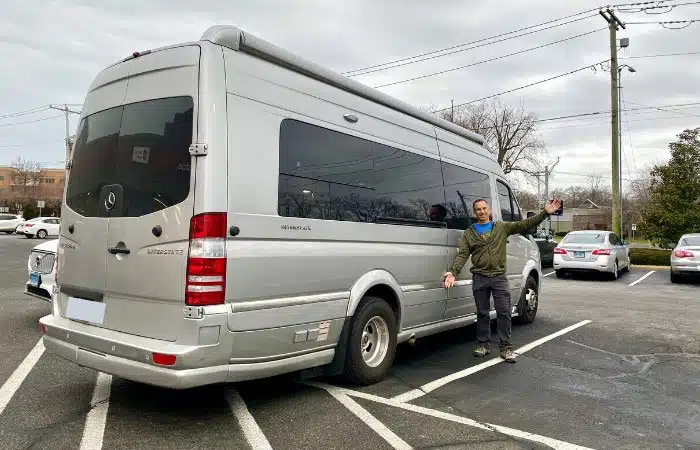 How Many Miles Can I Travel In A RV Rental?
From our research, the average daily mileage allowance without additional fees is around 100-150. Some RV rentals have unlimited miles. Everyone's prices are different for what they charge if you go over their stated limit. We have seen charges ranging from 10c – $1 a mile. Read the fine print, because $1/mile could get expensive quickly.
Remember that total mileage is usually based on the average, and will be more and more forgiving the longer you have the RV.  
For example, we drove them around 1200 miles with both of our recent two week RV rentals. So we covered a significant distance. But the miles averaged out well on the longer rental because we had quite a few days that the RV didn't get driven at all. Do the math! If you plan to travel great distances, be sure to get this part in writing.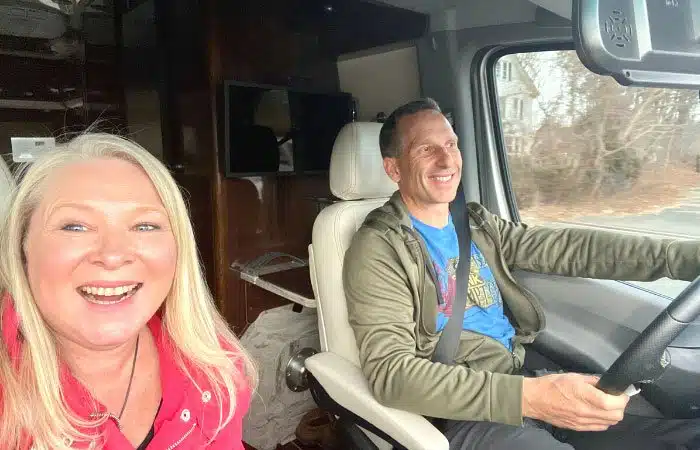 As mentioned above in the 'where to rent from' section, there are many options for RV rentals. That is a very good thing, because we all love having options. The best place to look is online. You can browse through all the different types in your local area, or where you plan to travel to.
This season is expected to be a very popular for RV rentals. Probably one of the best ways to get a feel for RV rentals is by looking at a major platform like RVShare.  
It is a fast and convenient way to book online via a platform that has listings from individuals, dealers, small RV rental fleet owners. You can see everything in one place, and have built in peace of mind with their insurance and other worry free offerings.  Both of the RVs we rented were listed on RVShare. There are other platforms out there as well.  But we either don't have first hand experience with them, or are not as comfortable recommending them.
Search RVs and Get a Quote: https://rvlove.com/rentrv
Our Florida RV Rental Road Trip: https://rvlove.com/floridarvrental
Rent Our Same Class B+ RV: https://rvlove.com/rent-winnebago-trend
Rent Our Same Class C+ RV: https://rvlove.com/rent-coachmen-prism
GOT COMMENTS OR QUESTIONS?
We hope you found this article answered many of your questions about RV Rentals.  If you have other questions, please share them in the comment section below so that we can all benefit from the discussion.
Wishing you safe travels in your RV Rental!