This post may contain affiliate links.
We just bought another RV, so now we have two! We hinted at downsizing a while back. And as most of you know, we've been trying different RVs on for size – toying with the idea of getting a second, smaller RV. Then 2020 threw us a curveball. 
In our latest video, we take you on a 2,000 mile road trip from Colorado to Texas and back again, to pick up our new RV. And on the way, we share the story, along with our insights and thoughts that led up to this decision.
So jump over to watch the video (under ten minutes) or get the quick overview by reading on. We'd love to read your comments and questions when you're done!
Let's Start with the Back Story
Our 40′ motorhome "CC" is super comfortable to live, travel and work in full time. But we've really been wanting to mix up our travels. We like the ease of maneuverability and nimbleness of smaller RVs. And earlier this year, we seriously considered buying a second, smaller motorhome so we could explore some smaller back roads.
You might have seen our videos and blog posts experimenting with smaller RVs in these related blog posts and videos
We also rented another smaller, Class C RV in Texas, but that video and post haven't been published yet. 
We also checked out some smaller Class B RVs at the Florida RV Supershow in 2019 and another small Class B luxury motorhome in 2020. We thought we had narrowed down the field. Then COVID-19 hit and changed both our thinking and our needs.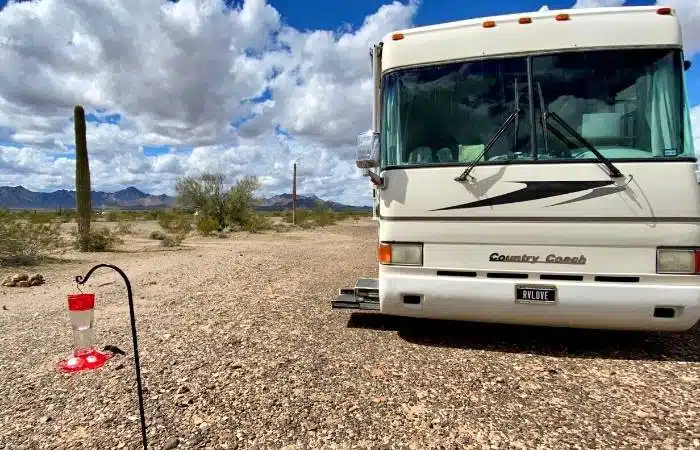 How Has the Pandemic Changed Our Travels?
It's fair to say that 2020 has been an unexpected year for just about all of us. Almost all of our plans were thrown up in the air and we've had to find ways to adjust our sails. The pandemic and its impact have caused many to step back and look more deeply at their lives and how they live them. That has meant changes for many of you – and for us, too. 
One of the gifts of this pandemic year has been giving ourselves permission to hit the reset button, and start over with fresh thinking. Asking ourselves if we were on the right track for what we really wanted, and what made us happy. Isn't that the ultimate goal?
Since March, we have slowed our travels way down. We've been exploring ways to have new travel experiences. And asking ourselves what we want more of. And as much as we love the homey-ness of our 40' renovated diesel motorhome – and towing our Jeep Cherokee Trailhawk – there are definitely limitations of traveling with a larger coach. But when it comes to RVs, everything is a trade off. You just need to weigh up your priorities (and budget) at any given time. And really, we were just itching for a bit of a change.
Keep in mind that we have been traveling full time in our Class A RVs for over six years and have visited all 50 states. Many of them several times. So right now, traveling far and wide just isn't that exciting to us.
Now, with the pandemic, more people (including us) are choosing to travel in a smaller radius – say within 300 miles – of their home base. By staying in one region /state much of this year – Colorado – it has allowed us to be closer to family if there is a need. It has reduced the time and effort involved in travel planning, and meant we've been able to avoid taking COVID tests or quarantine – as required by some states. So the idea of laying low – while traveling and living slow so we can really immerse in a place – has actually been very appealing. And there is SO much to see and do in Colorado – places we had never explored before.
Plus, we love our Jeep. We've really loved taking it off road, more than ever before. It is a very capable vehicle, and very comfortable. So it is great to finally be using all aspects of the Jeep's capabilities – off road, towing, cargo, etc. Colorado has amazing Jeep trails!
Our interest in having a smaller RV was linked to the idea of leaving our big rig more stationary then using the smaller rig for shorter trips and events. 
Of course, there are challenges with adding an extra RV to our family. Another motorized RV would be more expensive – both in the purchase price and additional maintenance of a third drivetrain. If you read our recent in-depth article about the real cost of RV ownership over the past 6 years, having owned both a gas and diesel pusher Class A motorhome, you'll understand what we mean!
When the pandemic hit and all of the RV rallies, RV shows and book signing events we had planned on attending were cancelled, we reset our thinking and started considering different options. We have loved boondocking off the grid in our motorhome(s). It is the ideal way to social distance! But at 40′ long with low clearance, we're also limited on where we can take it.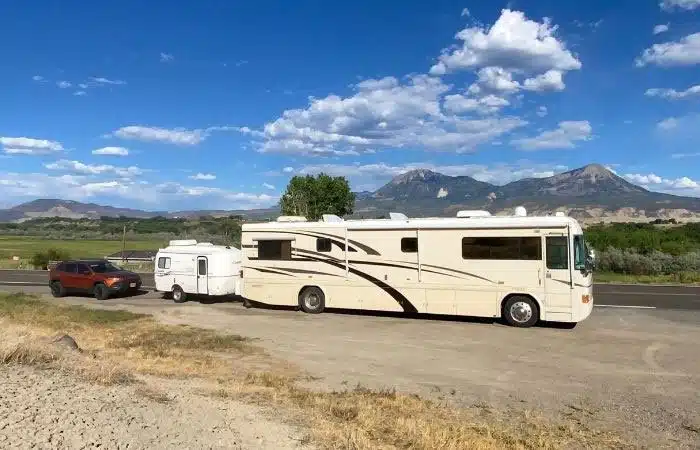 We Hatched a New Plan
So we began thinking… instead of going to the expense of buying another, smaller motorhome, why not find a small, towable RV that we could pull behind our Jeep? It would be a lower investment, easier to store when not in use, and provide even more flexibility in where we could travel and camp, with the off road capability of our Jeep. 
After all, we had specifically bought our Jeep equipped with the towing package. Having a 4,500 lb towing capacity meant there were a number of small RVs it could safely tow. We had been looking at our options casually for over a year, but now we were clear on the new experiences we wanted to add to our travel lifestyle.
It's funny. Once we were clear on our vision, the exact model, year and options we were looking for showed up shortly after on RVTrader. This unit was less than one year old, and barely used by the first owners. As you probably know, RVs are in high demand in 2020, selling like hot cakes, many of them at full asking price!
So, while we would not normally recommend doing this, we committed to making our purchase over the phone, sight unseen. We promptly mailed a $2,000 non-refundable holding deposit to the private seller in Texas. We had 'vetted' the seller and felt very comfortable with her, with no concerns about the deal going bad.
Of course, we still inspected the trailer in person ourselves before finalizing the deal. But we would typically recommend getting a professional RV inspection before buying. Especially if you want to avoid buying an RV money pit! But this particular RV is a very simple one, with not much to go wrong. It was almost new and only used 3 times. Plus, we were experienced RVers / buyers, so we felt comfortable with the risk level, especially relative to our outlay. And since then, we've already purchased an RV extended warranty so we don't have to worry about RV repair expenses for the next 6 years! (More on that coming up).
2,000 Mile Round Road Trip – Colorado to Texas
It was a full two days of driving each way to pick up the trailer, so that took up the best part of a week. We jumped in our Jeep with our Dometic 12V electric cooler packed full of food and drinks. Not only did we want to make fast tracks, we also wanted to avoid eating out on a cross country trip during a pandemic! It saved us time, money, and was super convenient. Plus, most of our 2,000 mile round trip was on pretty desolate highways with few options for decent food. Being able to stop on a side road for a quick lunch or snack was priceless! We hadn't really used our Dometic cooler a lot the first couple of years, but we've used it a TON with the Jeep and our new camper already.
When we arrived, the camper was in just as good a condition as expected. The sellers were a lovely, retired couple waiting on their new RV to be delivered.
After finalizing the transaction and hooking up the trailer, we gifted them a signed copy of our book, then began our 1,000 mile return trip back to Colorado. We took a short diversion to visit our friend Cowboy at his new RV dealership in Gatesville, TX.
Our new little camper is a 2019 Casita Freedom Deluxe Travel Trailer 17′. It's fully optioned with just about everything you can get. In fact, it has more options than we would have ordered, if we had bought the camper new. But that was going to be a 6 month wait, hence we jumped on this used one right away! We were the first people to contact her about it, and the seller told us she had a waiting list of 25 people who wanted it if our deal fell through!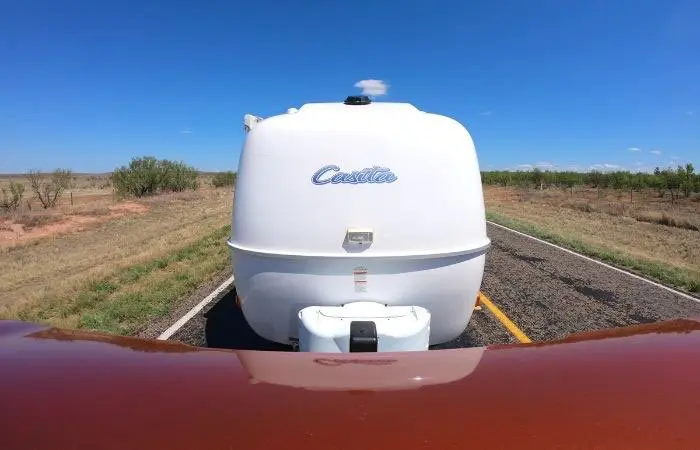 What's Next?
In our next post and video, we'll take you on a complete RV tour of our Casita trailer. And because we still have a lot of footage from our Class A motorhome, you will likely see a mix of footage between our new small Casita travel trailer, and our bigger Class A Country Coach – in the coming months.
We know this kind of RV won't be for everyone! There's no one size fits all when it comes to RVs. And our needs, travel style and desires all change over time. That's why we like creating content and tools like our book and online school. To help people like you determine how to find the right RV for you at any given time in your life stage and budget, so you are well educated and empowered to make your own right choices.
We're excited to share a different type of RV travel with you in the coming months and years. We expect this news will be a huge surprise to many of you! No doubt you'll have a lot of questions, so please leave them in the comments below. We always love to hear from you and plan on answering those questions for you in our future posts and videos. 
Until then, happy travels!
GOT COMMENTS OR QUESTIONS?
We would love to hear from you. Drop us a note in the comments section below.
Over the years, we've found many great resources that help save us money and/or enhance our RVs and RV life. Here are some of our faves that we recommend.
If you have any questions at all about these resources and providers, please don't hesitate to ask. We're here to help.