This post may contain affiliate links.
Take a tour of our new little Casita trailer camper as we show you the inside and out. It's a 2019 Casita Freedom Deluxe 17′ travel trailer that we tow with our Jeep Cherokee – and yes it even comes with a bathroom. In this video and post, we'll show you what it came optioned with, as well as the specs and tank capacities.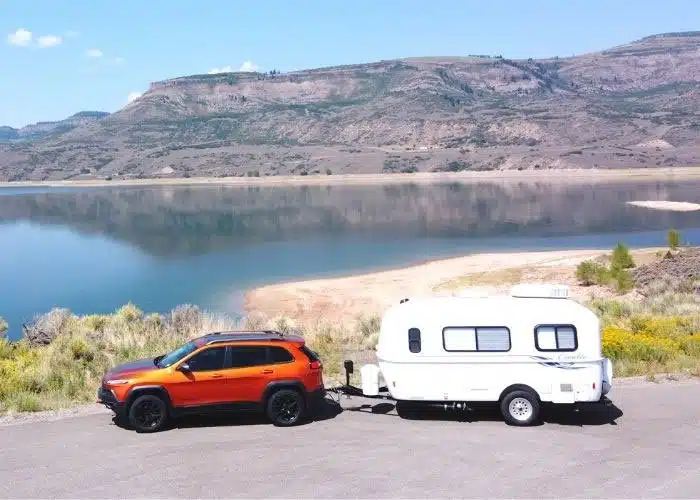 RV Tour of the Outside of our Casita Trailer
As you can see, this camper is pretty small. It is not much longer than the Jeep we tow it with. Our Casita trailer is 17 feet long, under 9 feet tall, and under 7 feet wide. The smaller 16' version of this trailer is only 7'8" feet tall since it does not have a rooftop air conditioner and has a lower interior height. Our 17' trailer only weighs 2,500 pounds empty and can carry a maximum of about 1,000 pounds of water and cargo when fully loaded. 
By comparison, our Country Coach motorhome is 40 feet long, 12 feet tall, and 8.5 feet wide, weighing 32,000 pounds. And it is quite luxurious and spacious, especially after our Ultimate RV Makeover.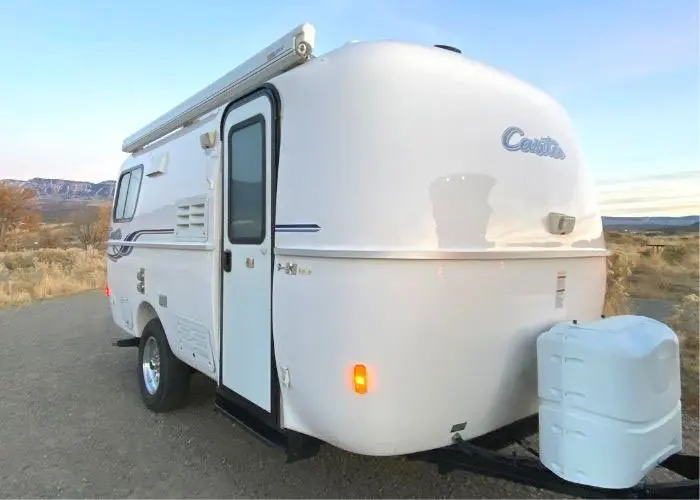 The Casita Trailer Fiberglass Construction Style
One of the best things about these little fiberglass shell trailers is their construction style. It is basically made up of two shells attached at the center, then attached to a base frame. This virtually eliminates seams/seals, which makes it virtually leakproof, pest-proof, and super easy to maintain. 
Some fiberglass shell trailers (like Oliver) take a step further and build double-hull shells, providing even better insulation. These Casita trailers are single hulls and are lined with carpet inside. The shells create the structure, so there is no need for internal framing with wood or metals. In fact, most of the internal cabinetry and internal walls are also made of large molded fiberglass pieces.
It is put together with rivets, like Airstreams. But there are so few pieces, so it doesn't need nearly as many rivets. We love that this model has many large windows considering its small size. They make for a light and bright interior and lots of ability to take in the views surrounding your campsite.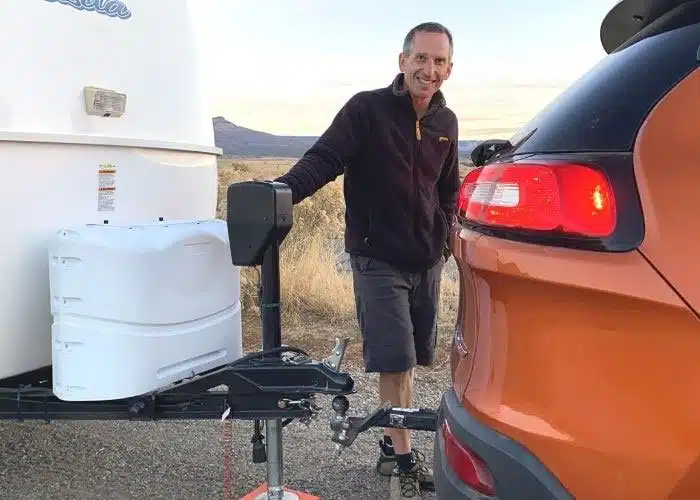 Walking Around The Casita Exterior
Up front, there are two 20-pound propane tanks. Ours also has the upgraded electric tongue jack for even easier connecting and disconnecting to our tow vehicle. We also have the high lift package and aluminum wheels.
On the street side, there is a city water connection near the back, an outside shower in the middle, and the sewer connections are located toward the front of the camper.
There is also a 6-gallon water heater and a small storage area for the power cord with enough room to include an extension cord and an adapter in case you don't park where there is a 30-amp power supply.  
Speaking of power, we are impressed that this little camper can run well off a regular 20amp 120 outlet. It can even run the air conditioner because it only needs a small air conditioning unit to keep it cool. There is also a battery bay that originally housed a single 44 usable amp hour lead acid battery. 
Update: After our first few camping trips, we upgraded it to a 100amp-hour Battle Born Lithium Battery.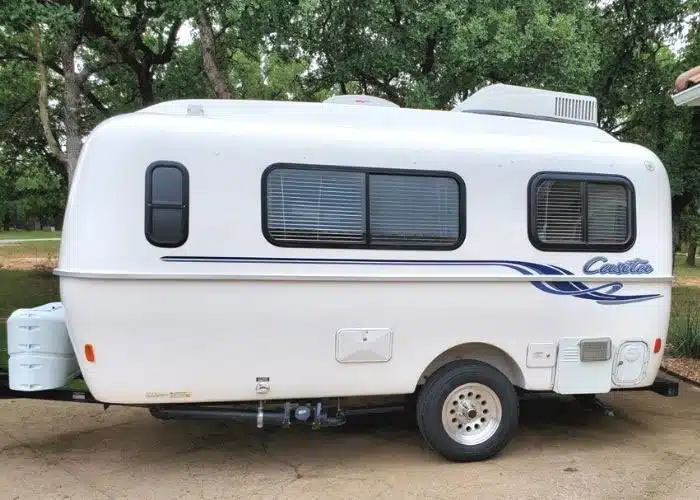 Back and Curb Side of Exterior
Around the back is a bumper that houses a sewer hose, and our unit has two stabilizer jacks. There is also a freshwater tank fill. But most of the back of the trailer is taken up by the huge window. There are big windows on three sides toward the rear of the camper.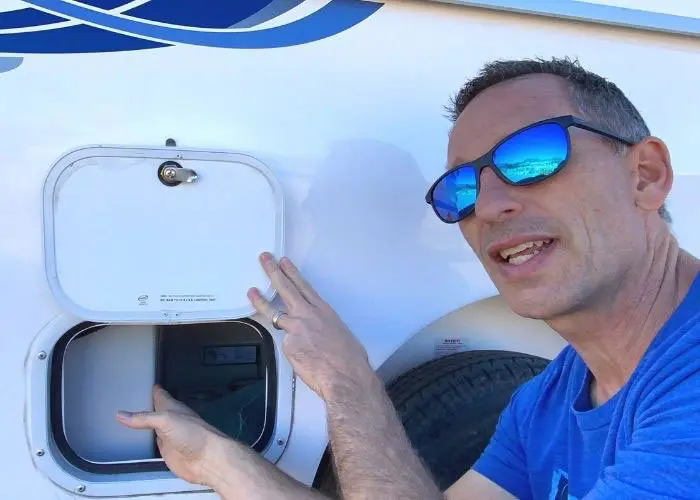 On the curb/patio side of the camper there is a small storage area and the ability to check the water level of your fresh water tank. There is no fresh water gauge. If you want to see how much water you have, you just open this bay and look at the tank. 
Our little camper has the upgraded 23-gallon fresh water tank. The standard size is 16 gallons. The large 32-gallon grey tank is located on the belly of the trailer, and the 15-gallon black tank is at the front under the toilet. Exterior storage is extremely limited. 
Our Casita trailer also has an upgraded awning, outside shower, furnace, and a huge list of interior upgrades. The original owners ordered this little camper loaded up with just about every option, even a Casita cover (which has never been used).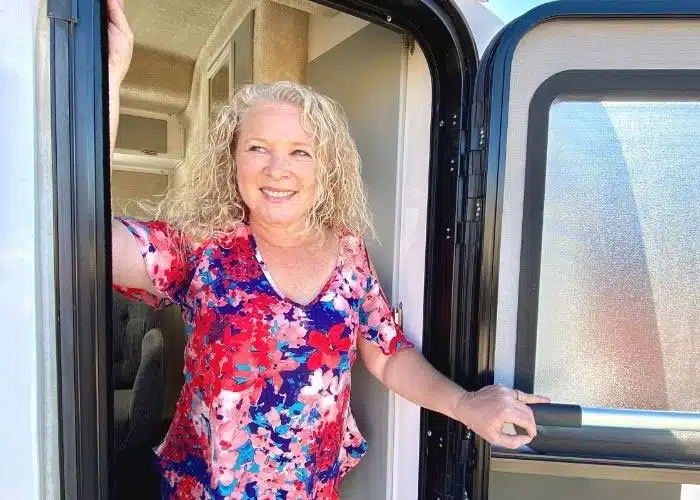 What is it like Inside our Casita Freedom Deluxe?
Though this is a pre-owned, one-year-old RV, it is in like new condition because the first owners only used it three times. They never used the toilet, shower, furnace, or many of the other features because they stayed at campgrounds and used campground facilities.
Being just 17 in total length, as you would expect, it is pretty compact inside. The living area is less than 14 feet long, and Marc can literally stand in the middle and touch both side walls with his arms outstretched. The total square feet is probably around 80-90. The interior height is a bit over 6' tall, which is fine for us because we are not tall. That said, at only 5'8", Marc has hit his head quite a few times on the low spots in doorways.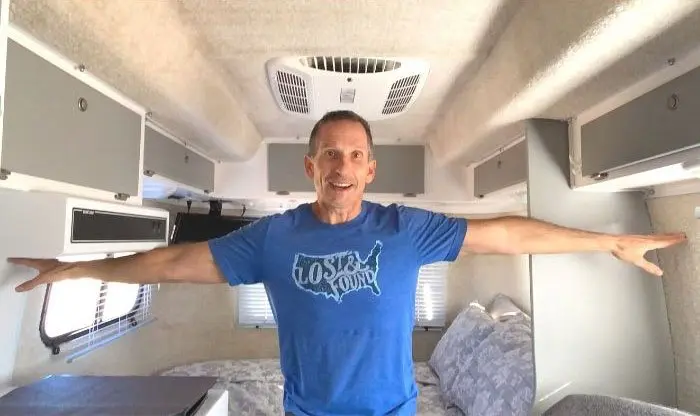 The general layout of our Freedom Deluxe includes a bathroom and small closet up front, to the right as you enter the trailer. Two swivel chairs are at a small table, and a kitchen area in the middle. At the rear of our camper, there is a bed that could be converted into a dinette area, but we leave it set up as a bed at all times. The interior walls are either fiberglass or carpet lined for insulation and sound reduction. Yep, carpet on the walls, but the flooring is wood look vinyl.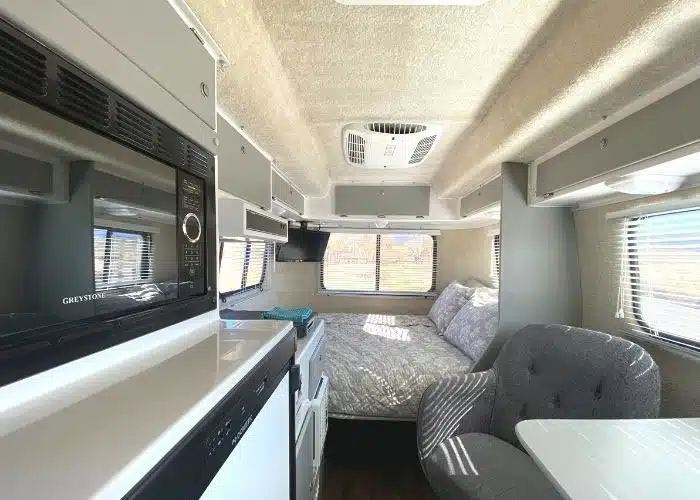 More Detail On Our Casita Trailer Interior
Starting at the front, the closet right as you enter is larger than it first appears because it is quite deep. We chose to hang a few clothes but felt the space was better utilized by using a hanging shoe rack, rolling our clothes, and using the cubbies for other storage. The base of the closet is good for bulky items like leveling blocks and tools.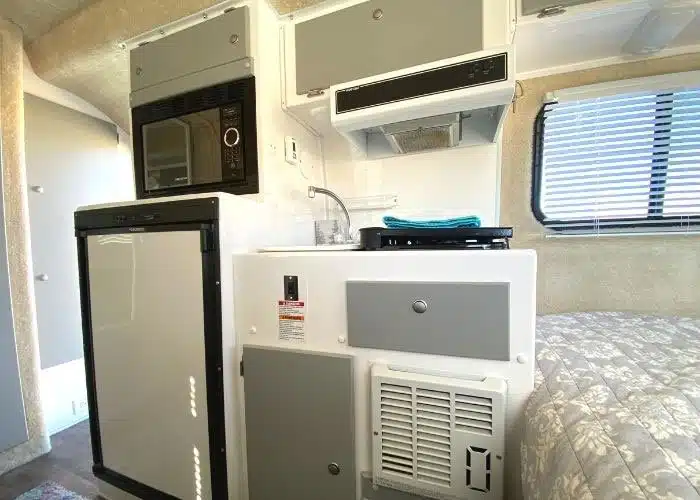 The Middle / Main Cabin Living Area
On the patio side of the main area, there is a kitchen. It has a 3-way fridge at the bottom, an optional microwave, and storage at the top. It is all built into a fiberglass mold which makes it really clean-looking and solid. The cabinet doors on ours are all light gray. Previous years often had brown wood grain cabinet doors. We really like the more modern look of the gray cabinets in the 2019 model. Also, all the cabinets have locking handles to keep everything in place while in motion. And they really do work well.
The Freedom model has two swivel chairs at a small table. The chairs are quite comfy, and the swivel is nice because you feel like you aren't locked into a small rigid space of other units. But, unlike those models with fixed seats, this dining area will not convert to an extra sleeping area. One of the fun things about a small camper is that nothing is ever far away. 
For example, I could be sitting at the dining table and get something out of the fridge or microwave, or set my dishes in the sink, grab some silverware from the drawer, or grab something off the bed. All of which without leaving my seat.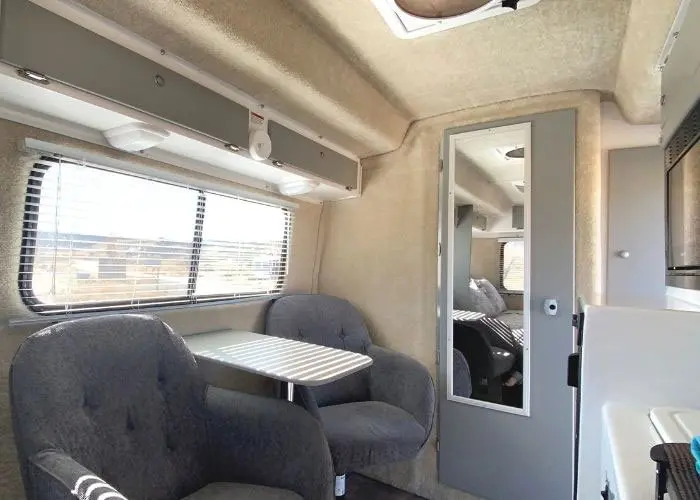 The kitchen area also has a small sink and a two-burner stovetop. You can use the stove top lid, a sink cover, or the dining table for prep space, as there isn't any other counter space. We really like how the lid for the stove serves as a splash/splatter guard to protect the bed area from getting messy.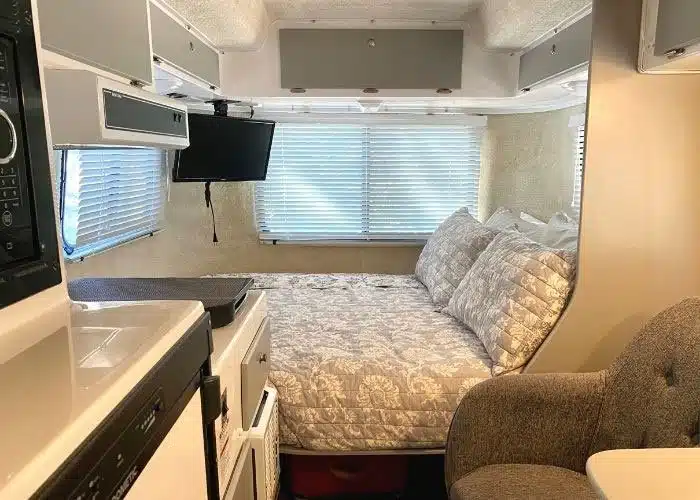 Bedroom / Dinette of Our Casita Trailer
The bedroom area can also be used for dining if you had a family and make it up as a bed each night. But we leave it permanently set up as a bed. It's a double-size mattress of around 54″ x 76″ with two rounded edges. So if you wanted your own replacement mattress, you'd need to get one custom-made to fit. 
This model came with a TV which is mounted to the wall, but we'll likely end up removing that. It also has a 12-volt charging outlet and a power outlet up near the TV (and another down under the dinette.)
There are three storage cabinets above the bed. The largest cabinet (other than the closet up front) is at the very back above the bed. You could probably stuff most of your bed linens or sleeping bags in there if you converted the space to a dinette. 
There are cabinets all along the upper part of the interior. Depending on how you option a Casita, you might have even more storage. For example, if you choose not to order a microwave or furnace, both of those areas become storage.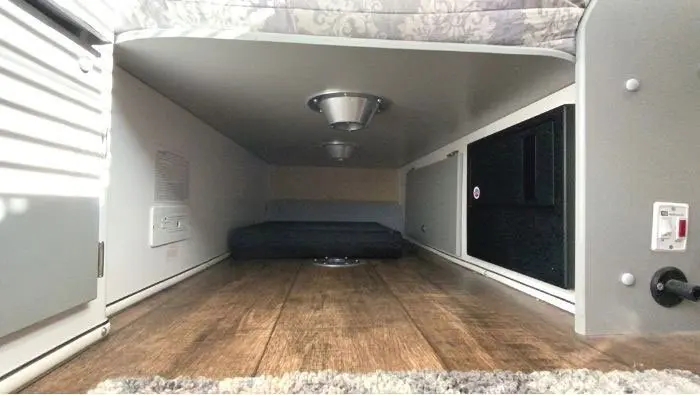 More Bedroom Area Details
By always leaving ours in the bed position, we also have a huge storage area underneath the middle of the bed. Only the middle, though, because one side is the fresh water tank, and the other is the hot water heater, battery, and other mechanicals. It is big enough to slide a large laundry basket in there with room to spare.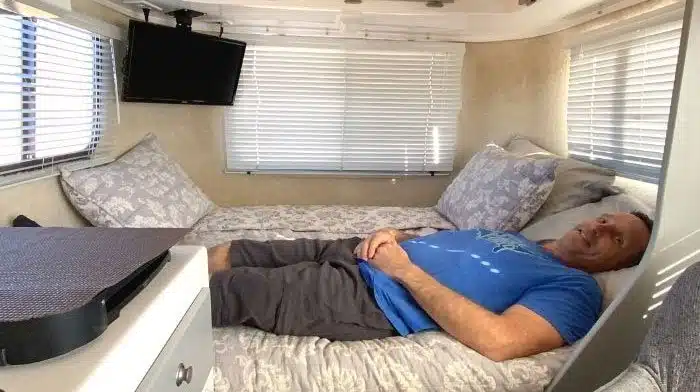 Our bed is quite comfortable because the previous owner bought a bed 'case' that you stuff the original cushions in, zip it up, and have a built-in pillow top. It feels like a real mattress, not just a few cushions laid down to pretend to be a bed. It works well for people our size but would be a bit cramped for taller folks. 
For perspective, Marc is 5'8" tall, and Julie is about 4'8" tall.  Julie sleeps at the very back because that part of the bed is curved on the ends, reducing the length. When Marc lays in the bed with the pillow touching the wall, his toes can touch the opposite wall. So if you are much taller, you might need to bend your knees or consider one of the other Casita trailer models with 6" longer beds, like the Independence or Liberty.
The Casita Trailer Bathroom
The Deluxe versions of Casita trailers have a small wet bath at the front. I say small, but it is actually bigger than some other wet baths I have been in. There is quite a bit of room to have a shower, and you don't need to straddle the toilet to do so. It is great that it is all one-piece white fiberglass inside the wet bath, making it easy to wipe down and keep clean. Also, with a small window and fan, it can air out and dry out pretty efficiently.
There is storage for bottles on shelves, and also some water-tight cubbies down low that have a marine-like feel. The toilet is a simple plastic gravity flush that drops straight into the black tank. There isn't a gauge for the tank. If you want to know how much is in there, you need to grab a flashlight and look down the hole.
There's a tall mirror on the outside of the bathroom door, facing into the living area. The door tends to get in the way a bit. We're considering removing it and replacing it with a curtain.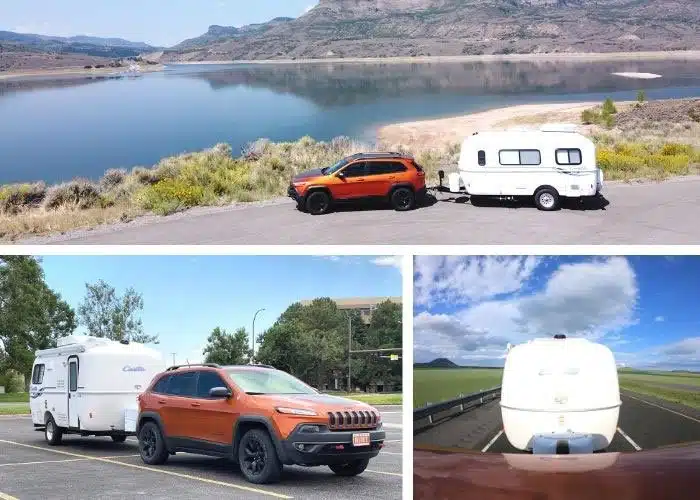 How Does The Casita Trailer Tow?
The Casita's egg-like shape is great for aerodynamic efficiency, whether from the head winds of being towed or with crosswinds.  It tows amazingly well behind our 2015 Jeep Cherokee Trailhawk with the V6, 9-speed transmission, and towing package. Our Jeep is rated to tow 4500 pounds. But FYI, most Jeep Cherokees are only rated for 2000, which is a great reminder to always be aware of your vehicle ratings before towing. We were impressed that we could average 20mpg towing the camper from Texas back up to Colorado.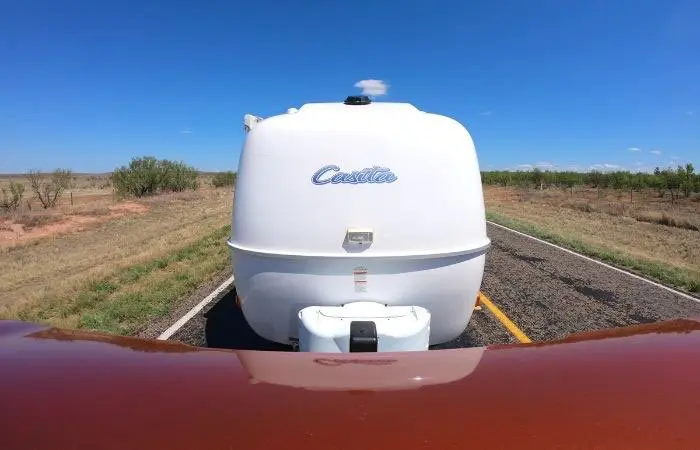 Our Overall Thoughts So Far
We really do love how efficiently laid out it is. A lot of RV goodness is packed into this little space, and we think it is very well thought out. Casita offers four different floor plans in the 17-foot length. Each is offered in standard or deluxe. The deluxe models include a bathroom in the area that is normally just storage or a bunk bed in the standard model. Ours is the 17-foot Freedom Deluxe.
We have also been loving our trips in the Casita trailer. It is so fun having a smaller, more nimble camper that we can park just about anywhere. Whether boondocking on a remote, rough road, squeezing into a tiny campsite, or parked in a friend's or family member's driveway are all easy. Especially compared to when we are used to trying to find places to put our 40' Class A motorhome. 
The floor plan works great for us. We plan to make a few little changes as we get more organized and start personalizing it for our needs. So far, we are super happy with how easy it is to tow, park, set up, and maintain.  
We'll share more about our Casita trailer – plus more content on our 40′ motorhome – in upcoming articles and videos. What else would you like to know and see?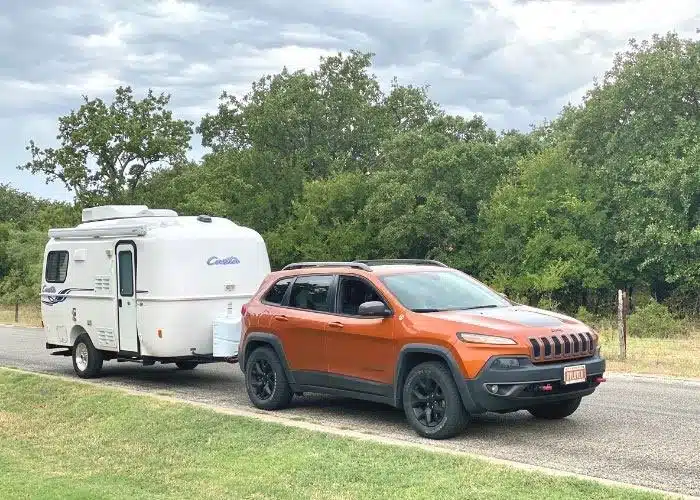 Specifications of our 2019 Casita Freedom Deluxe 17' Trailer
Here's how our 2019 Casita Freedom Deluxe 17′ came optioned, as ordered by the original owners, along with specs:
Standard Inclusions
Four cu ft Dometic refrigerator with freezer
Flat entrance door with screen
Large rear window (slides open with screen)
Roof mounted Air Conditioner with Heating Element
Rear dinette/bed
Pull out trailer step at the entrance
32 Gallon Grey Water Tank
Optional Extras of our Casita Trailer
Furnace
Aluminum Cased Patio Awning
23 Fresh Water Tank Upgrade
Microwave Oven
LED Interior and Exterior Lights
15″ Aluminum Alloy Wheels
Electric Tongue Jack
Friction Anti-Sway Control
Casita Trailer Cover
High Lift Suspension Package with High Lift Axle and 15″ D Range Tire Upgrade
Flat Screen 22″ HD Television with DVD Player
Air Conditioner Roof Mount
Water Heater 6 Gallon, Gas, Electric, Electronic Ignition with By-Pass Kit
Outside Shower/Wash Station
Funnily enough, we recently discovered that we have had the 2019 model brochure for over a year, and that's the exact model we bought, albeit lightly used!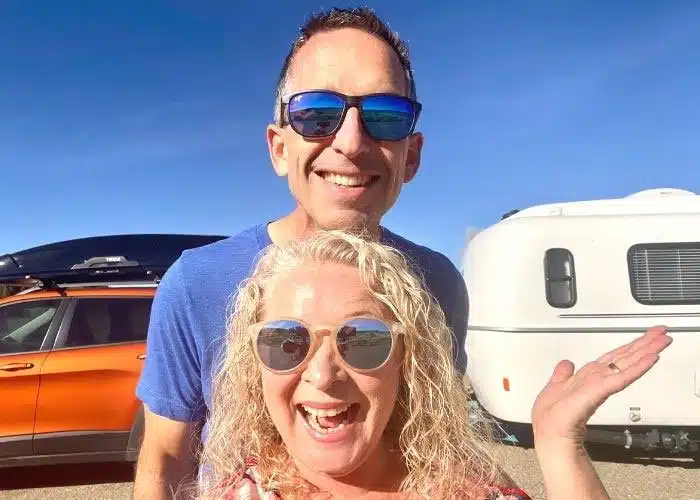 How to Buy a Casita Trailer
We found ours via an ad listing on RVTrader.com, and you can often find them on Craigs' List or in Owner's Groups. Casita trailers are not sold through dealers. Instead, they sell directly to consumers from the Manufacturing and Sales Facility in Rice Texas. If you want to learn more, their website is www.casitatraveltrailers.com; phone 1-800-442-9986.
You can order the base Casita trailer in 16′ and 17′ lengths, as a Standard or Deluxe (with bathroom) and choose from 4 floor plans. You can option it pretty much however you like, which will impact the price. We bought ours a year old, and while it wasn't a huge saving on buying new, it did mean we were able to get it now instead of waiting several months for a new delivery. And it came with some upgrades that the previous owner added.
Finally, this is NOT a sponsored post or video. We have NO affiliation with Casita. But if you do happen to buy one, let them know if our blog post / video was helpful to you. Maybe they'll share some of our posts.
Are you a Casita trailer or other fiberglass camper owner, too? Let us know in the comments below. And give us a wave if you see us out and about!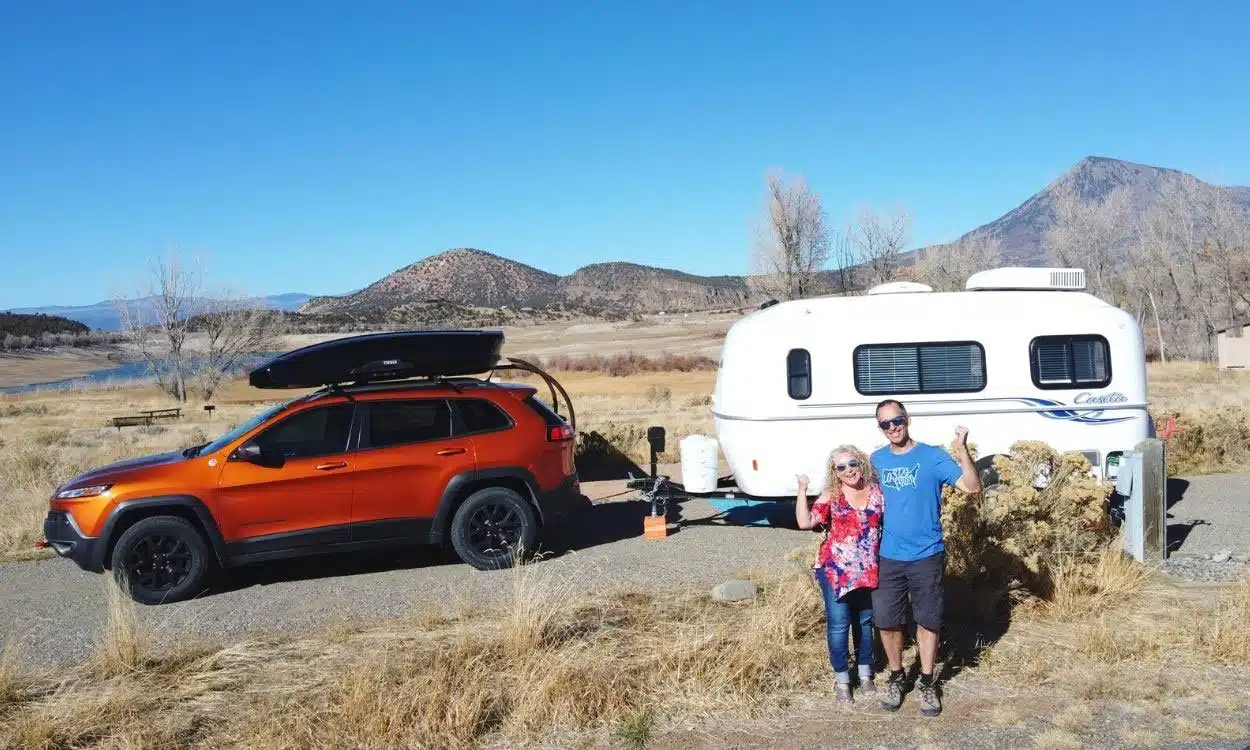 GOT COMMENTS OR QUESTIONS?
We would love to hear from you. Drop us a note in the comments section below.
Over the years, we've found many great resources that help save us money and/or enhance our RVs and RV life. Here are some of our faves that we use and recommend.
If you have any questions at all about these resources and providers, please don't hesitate to ask. We're here to help.