This post may contain affiliate links.
Which style of RV travel is better – a Class C or Class A motorhome? After experiencing both, we've had a lot of questions about how the smaller Class C RV compares to our bigger Class A's. Which do we like better? In this quick blog post, we compare the two types, and share our initial thoughts so far on what each setup has to offer.
The Back Story
We traveled in Class A's for over 6 years when we were full timing, and we've been trying a Class C motorhome on for size, since December.
We rented this Class C motorhome – a 2017 Winnebago Navion 24J – from a friend in Denver. We drove it south for the winter, from Colorado to the Florida Keys and beyond. We've been sharing our experience in short videos and posts on social media. You can find them here on Facebook, Instagram and TikTok.
Before we dive into how we're liking the Class C motorhome, let's start with a quick recap of our Class A motorhomes, and what we liked about that travel style and setup.
We were full time RVers from 2014 – 2020, living, working and traveling in two Class A motorhomes. We do love the travel style, space and comfort offered by Class A RVs. 
Our first RV was a 36′ gas Class A with 4 slides, and our second RV was a 40′ diesel Class A with one slide, and towed a car for local exploring. We started with a Mini Cooper convertible on a tow dolly for the first few years, then switched to a Jeep Cherokee Trailhawk (which we towed four-down).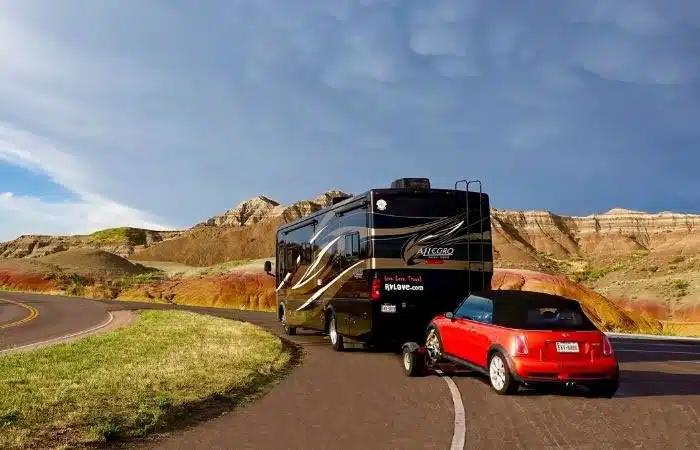 Our first Class A motorhome was a 2012, 36′ long, with 4 slides
Our gas motorhome had a bunkroom office, and separate bedroom with a queen bed
What did we think of our Class A motorhomes?
We loved the space and comfort that both of these Class A RVs offered. Especially as, with us both still working full time, we were able to create dedicated work spaces in each. We had a separate bedroom, and storage space – inside and out – was excellent.
But our gas RV had a weight issue – with tons of space but a lack of cargo carrying capacity (CCC) – hence one of the reasons we switched to a diesel motorhome. Albeit this was a much older and more affordable RV, which we fully renovated in our Ultimate RV makeover. You can take a tour of the 'after' here.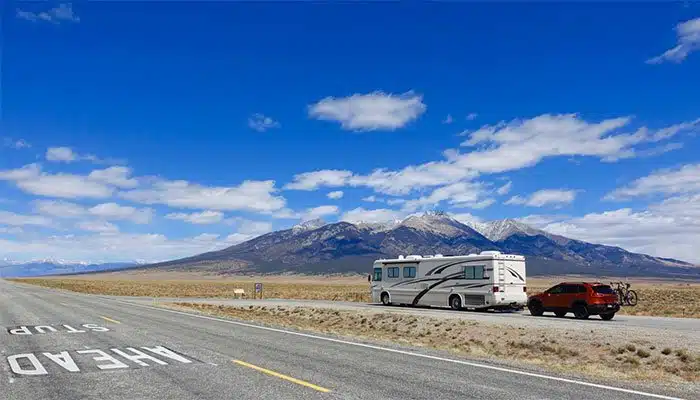 Our 1999 Class A diesel motorhome was 40′ with a single slide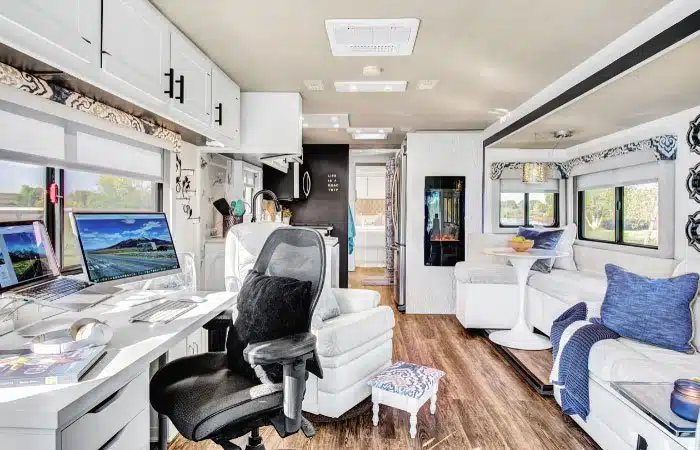 We did a complete remodel, of our 2nd RV, creating two dedicated workspaces
Route Planning and Fuel Economy – Class A
A large motorhome and tow vehicle makes for a long vehicle setup (around 60 feet), so we needed to plan our travel routes more carefully.
Our average fuel economy on the motorhomes was 6.5 – 8 miles per gallon. We drove around 9,000 – 10,000 miles per year in the motorhomes, and around 10,000 miles per year with our tow vehicle. So a total of about 20K miles per year all up. The higher fuel economy of our tow vehicle(s) – in the mid 20's mpg – helped offset the lower fuel economy of the motorhomes. You can find our in-depth report on fuel spend over 6 years of full timing here.
We loved both of our Class A motorhomes, but it just wasn't practical to keep a rig that big, when we decided to get a home base and put full time RVing on pause for a while.
We kept the Jeep and bought a 17′ Casita camper instead. Since adding a puppy to our family, we soon learned the Casita camper was too small for the 3 of us. Since 2020, we had been toying with the idea of downsizing to a smaller motorhome, and even rented one in Florida to try it out. So we decided to revisit this idea.
We headed south to Florida in December 2021, for what we anticipated would be a two month, 5,000 mile round trip, but it's turned out to be longer, which has given us a chance to really put this RV to the test.
This Class C motorhome is a 2017 Winnebago Navion 24J, 25 feet in length, with a rear corner J bed. The bed is permanently set up, a bit smaller than a queen. and has a privacy curtain. And the kitchen and bathroom, while adequate, are limited in space. We end up working from the booth dinette most of the time, which doubles as the dining/lounging area.
The storage is actually quite impressive, but we do find ourselves brushing up against the cargo carrying capacity, so we have to be careful of what we bring with us, and avoid driving with full tanks of fresh or waste water. 
Route Planning and Fuel Economy – Class C
While this RV is much smaller in terms of living space, we have really enjoyed how nimble it is. Especially the fact we can park it just about anywhere. We have gotten by just fine without a tow vehicle, and mostly plan our drive to include a stop at a grocery store en route. We mostly use our electric bikes to get around, or break camp to visit friends or go exploring.
We have been getting around 14-15mpg, which has been great, with the rising gas prices. Our route planning has actually revolved more around where we can fill up the tank using our discount fuel card, rather than based on vehicle size. Being a diesel on the Mercedes Sprinter chassis, it can't accept fuel greater than B5 (biodiesel 5).
The more compact size, ease of driving, and simplicity of not towing a car (even though we could if we wanted to) actually make this little motorhome a terrific fit for our current needs and part time RV lifestyle. We like it… a lot!
Have we considered a Class B van?
In case you were wondering, we are not considering a Class B van. We actually borrowed an Airstream Interstate van from friends in 2020 when we were trying other, smaller RVs on for size. While we admire those who can live, work and travel in a rig that small, it's just too small for us and our pup Sunny.
So what's the verdict?
Class A or Class C? Honestly, we love traveling in them both! So it comes down to what kind of travel experience we are looking for at a particular time. We truly loved our 6+ years traveling full time in Class A's. And we have also thoroughly enjoyed our time traveling in this Class C.
Could we see ourselves in another Class A someday down the road? Absolutely! What about a bigger Class C or a Super C? Yes! We could see ourselves in one of those, too. That's the beauty of RV life – being able to change your rig to the one that best suits your needs, preferred travel style, and budget – at any given stage of your life and journeys.
With that said, we do believe that after the past few months of RV travels in this little 25′ Class C, an RV like this one would be an ideal fit for us and our lifestyle right now. 
Stay tuned as we share more about what's next for us!
What about you?
What kind of RV are you currently traveling in – or leaning toward for your next RV? We'd love to hear the reasons for your choices and preferences in the comments below!
Follow our adventures on social media
We share our RV life and travels through social media posts and short video updates on Facebook, Instagram and TikTok. Follow along and connect with us there, too!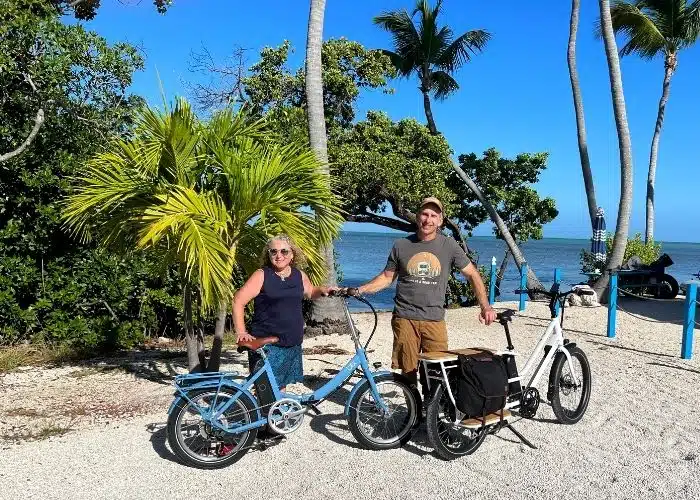 With our electric bikes at Sunshine Key RV Resort
GOT COMMENTS OR QUESTIONS?
We would love to hear from you. Drop us a note in the comments section below.