This post may contain affiliate links.
We've received SO many questions about our reasons for using a tow dolly, the advantages and disadvantages. It was high time we wrote a blog post about it instead of replying to individual emails each time! We've compiled the 21 most common questions we get about towing on a dolly versus four-down and shared our answers here.
Before You Dig In
But first, if you haven't already made a firm decision on which vehicle you plan to tow, start by reading our "Finding the Ideal TOAD" post. We share our own personal journey and thought process of narrowing down our choice of TOAD (also known as a towed vehicle or dinghy). More importantly, we share a list of helpful questions that will help you determine whether one of your existing vehicles is suitable to take along for the ride.
It's a good place to start. And, if it's time to consider switching out your car or truck to something else (as we did), the article will help you get clear on what vehicle will best satisfy your personal needs while maximizing your travel experience. 
But now, onto 21 Frequently Asked Questions about Towing With a Dolly. We hope you find the info useful in your search.

1. Did you consider all towing options: four down, tow dolly, and trailer?
Yes, I (Marc) fully investigated all of the options available to us, weighing up the pros and cons of each. We thoroughly researched all the options and still decided to start with towing on a dolly. Why? Here is our reasoning.
All three options definitely have their advantages. For example, if you are transporting a show car, motorcycle, extreme off-road vehicle, golf cart, and/or other 'toys' (e.g., multiple kayaks), a trailer is probably your best bet. But that didn't apply to us. So we quickly ruled out towing a trailer due to the higher cost and lower flexibility in terms of storing at a campsite. Plus, towing a trailer puts much more weight onto the towing vehicle.
This narrowed us down to towing 4-down or towing on a tow dolly.
In a nutshell, the biggest pros for towing four down are the simplicity and space concerns. The biggest pros for towing on a dolly are the lower entry cost and flexibility in the cars that can be towed.
Cons of towing four down are the higher cost of purchase/installation and the need to modify your towed vehicle. The biggest cons to towing on a dolly are the extra time and work required to load and unload (which some may consider a hassle). And the additional space the tow dolly takes up at a campsite. You need to weigh up what's more important to you.
If you want to narrow down which car to tow four down behind an RV, check out our article on that here.
2. Why did you decide to go with a tow dolly?
Our decision to tow with a tow dolly was based on four main things. The first of which is definitely the primary reason. We will explain that further down in the article.
a) Our choice of TOAD – a Mini Cooper S Convertible. A tow dolly was our preferred option, largely BECAUSE we chose a MINI. We are both car lovers. So having a fun car, especially a sporty convertible, was very high value for us. One of our favorite ways to explore an area is to go out for a long drive. We love hugging scenic, curvy roads with the wind in our hair and a smile on our faces. And we're almost always in favorable weather. So it's pretty hard to beat!
b) Hardware – We didn't want to drill mounting hardware into the MINI fascia or perform other complex installations. With our car being a 2006 model, we were not sure if it would be our TOAD long-term. So a tow dolly lent itself to an easy change.
c) Cost – We estimated it would have cost us around $4-6k in set up to tow four down. This was definitely a significant factor for us. Buying a used tow dolly would be a far more cost-effective solution for our relatively inexpensive towed vehicle.
d) Protecting the car – Our Cooper S is a low-profile vehicle. We felt the tow dolly would do a better job of protecting the MINI while being hauled around the country behind our RV!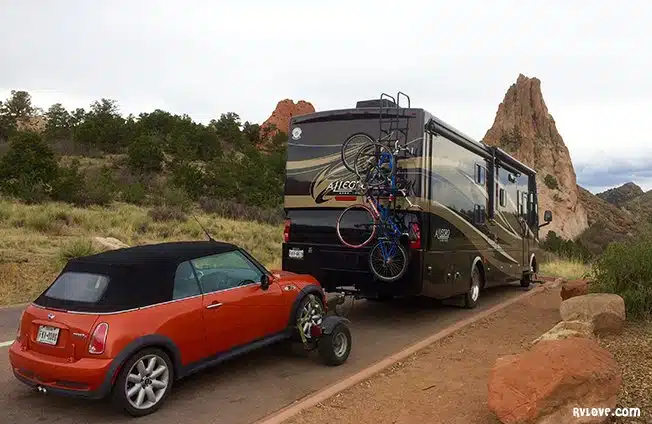 3. How much time is required to hook up and secure the car onto the tow dolly? Is it a difficult process?
Yes, it does take more time and is more work to load the car onto the tow dolly than simply hooking up directly to the RV with a four-down towing solution. But it is not a difficult process. It takes me about 10 minutes to load onto the tow dolly and 4-5 minutes to unload now that I have practiced it.
Don't expect to get it done that quickly on your first try! It took me much longer in the early days when I was new at it. Loading the first time took me about 30 minutes.
Note there are a LOT of different tow dollies out there, and each of these would have different procedures for properly loading. So this process and the time involved can vary a bit. A four-down towing hook-up is generally faster and easier than loading onto a tow dolly.
But we have actually witnessed some people take up to 15 minutes to attach their four-down vehicle. Most folks can do it in 5-10 minutes. The brake booster setup seems to impact the time involved. So keep that in mind if you decide to tow four down and want maximum ease and simplicity.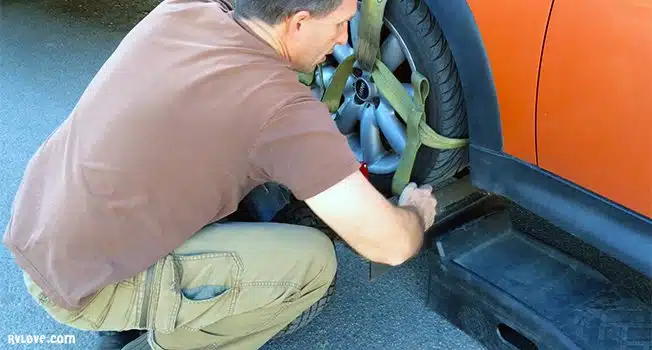 4. Do you have trouble storing the tow dolly at campsites?
No, but it really is going to depend on the size of your RV and where you plan to camp. Our RV is 36 feet long (35'10" to be exact). So far, we haven't had a problem storing our tow dolly on our site at campgrounds. If necessary (not often), we can slide the dolly under the rear of our RV up to 80%.
If you have a much bigger RV, it may pose more of a problem but not necessarily. Many campgrounds offer large sites that can easily accommodate RVs, dollies, and towed vehicles. You may need to call ahead to check RV site sizes for peace of mind.
Some campgrounds, where space is at a premium, may charge extra for you to store your tow dolly (or trailer) separately if it doesn't fit on your site. But so far, we have not encountered that.
The tightest campsite we stayed in was in Colorado Springs at Garden of the Gods RV Resort. We still managed to fit the dolly sideways next to the coach. Yes, there were larger sites available. But we scored the last 'cheaper' site, which also happened to be smaller.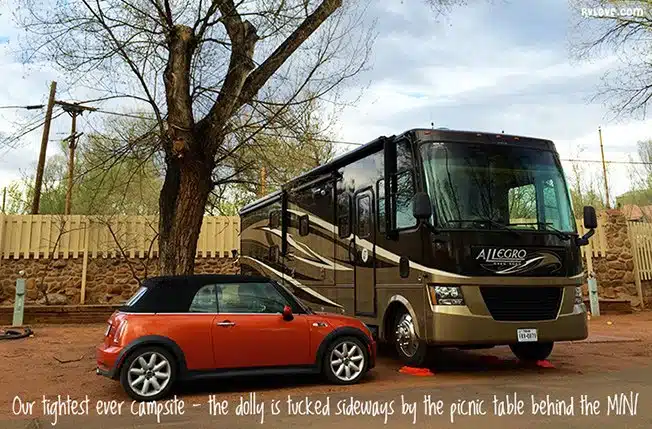 5. Isn't towing 4-down much easier than a tow dolly?
Four down is obviously the "easier" option in many ways. But like many easy solutions, this also comes at a "price." Mostly in dollars, but as mentioned earlier, we also felt towing four down wouldn't protect our MINI as well as if it was mounted on a tow dolly.
Also, remember that much of the expense with towing four down is sunk into modifying a specific vehicle. Using a tow dolly allows you to switch vehicles immediately without additional hardware. If you have a more expensive towed vehicle and/or are committed to keeping that vehicle for a long time, four-down towing might be the better choice for you.
6. Are you still happy with your choice of towing on a tow dolly?
Yes, more than three years later, we were still happy with our choice of everything in our setup. We enjoyed our Tiffin motorhome, MINI, and tow dolly. The combo worked really well for us. That said, if we had chosen another vehicle (say a Jeep or a Honda CRV – both very popular TOADS) and were willing to spend the extra $, we would definitely have more seriously considered towing four down.
It all comes down to a matter of priorities and personal choice. Our choice and number 1 priority was having a MINI convertible as our TOAD. For us, FUN prioritized the 'easier' solution of 4-down.
Update: we did eventually switch to towing a Jeep four-down behind our motorhome. But still no regrets about our 3+ years of using a tow dolly. Check out our four-down towing solution here.
7. Does towing a vehicle void the manufacturer's warranty?
Assuming a vehicle is still under warranty, some vehicle manufacturers (e.g., MINI) may not honor repair warranties on cars that are towed 4-down as it may damage the transmission. Contact your vehicle manufacturer and research this in more detail. In our case, our 2006 MINI with manual transmission (an older car no longer under warranty) CAN be safely towed, either 4-down or on a tow dolly.
8. Where can I find out what vehicles are towable?
Motorhome Magazine has a great guide about which vehicles are acceptable as a TOAD (also called a dinghy). They include detailed information about specific requirements for each vehicle. For example, A certain type of car might be OK to tow four down for 200 miles. But then, the vehicle needs to be started up and put in gear for a few moments before being put back in neutral to resume towing.
Other details may relate to whether the ignition needs to be left 'on' for the steering to remain unlocked while towing. Click here to check out our dedicated article about the best cars to tow behind RVs.
9. What kind of tow dolly do you have and why?
Our tow dolly was bought used. But new ones are available from Cartowdolly.com (hydraulic disc brakes). My research revealed that while there are many choices and brands of tow dollies, the Acme is ideal for MINIs and other low-profile vehicles because it has a low load height.
Our tow dolly also has built-in surge brakes, which was important to us. Plus, being lightweight and not having a swivel deck makes it easier to move by hand, which is very important. You often need to disconnect the dolly if you are going to be backing into a campsite. Roadmaster and Demco are other popular tow dolly choices.
10. What did your tow dolly setup cost?
We bought our tow dolly (about four years old) on Craig's List for $800 in May 2014. A comparable new tow dolly costs at least double that, and some are over $3k. We spent an additional $25 on spray paint and stickers to spruce it up a bit in the first month. Early in our travels, we also spent $200 replacing both tires/wheels. 
The first tire was bought in advance as a spare. When one tire started shredding during our drive to CA, we were very glad we had that spare on hand! We immediately replaced the second tire/wheel when we arrived at our destination in Lake Tahoe and felt more confident having the two brand-new tires. One month later, we bought some new strap ratchets, which worked much more smoothly. Those cost $20.
All up, our towing setup cost $1,045 for a dolly that is "as good as new." Honestly, after giving it a bit of TLC, it's in much better shape now than when we bought it!
Was It A Good Investment?
One other advantage of the tow dolly is we are confident we would get most (at least two-thirds) of our investment back if we changed our mind or circumstances and decided to sell the tow dolly. In the future, we may either go 4-down, stop RVing, or go with a different setup. Maybe switch to a smaller Class B or Class C RV, which would remove the need for a TOAD (say, if we decided to take on Europe!)
Note: As of September 2016 (after two years and three months and 23,000 miles), one of our tow dolly tires has started to split. So we ordered two more (tire and wheel mount) at a total cost of $190, including shipping. We'll mount the two new tires on the dolly and keep the other one that isn't split as our spare.
Update October 2017. We sold our dolly for $750, recouping most of our initial investment after over three years of use. Our new tow vehicle is a 2015 Jeep Cherokee Trailhawk. We now tow that vehicle 4-down. Here is a link to an article about our new system.
11. Do you need more space turning with a tow dolly behind the RV?
We have found that the tow dolly tracks pretty well behind our RV. The tow dolly tends to cut the corner a touch more than the rear wheels of the RV. So we have gone over a couple of curbs in really tight spaces. But overall, it has towed very well.
Towing on a dolly will naturally add a couple of feet to your overall length when driving. Some tow dollies have very long 'necks', which add even more length. This could be a factor when navigating parking lots and other tight spaces.
As an aside, we like that our RV also has a built-in rear camera. This allows us to keep an eye on the MINI and tow dolly while driving. The rear camera also helps a LOT when backing the RV. This is especially true when backing the RV with an empty tow dolly because the short tow dolly and long RV wheelbase get tricky.
12. What are some other limitations or considerations of a tow dolly?
Tow dollies are primarily used for front-wheel drive cars as the drive wheels are elevated. Rear-wheel drive vehicles are generally not as well suited for tow dollies. But some rear-drive cars can be mounted backward in a pinch.
Four-wheel drive vehicles generally must be towed four down or on a trailer. Most four-wheel drive vehicles cannot be towed on a dolly. Of course, it is a good idea to rotate your vehicle tires regularly, as the rear tires travel more miles than the front when using a tow dolly.
We have a lock that we put on our dolly to prevent theft. You also need to factor in the weight of the dolly into your maximum towable weight. Going with a four-down setup saves this weight (400-600 lbs). 
13. What if you get into a situation where you must turn the coach around in a hurry – what do you do with the tow dolly?
When towing a car on a dolly, just like towing four-down, you cannot use reverse. If you end up in a sticky situation, you could certainly unhook a four-down vehicle more easily. You would not need to figure out what to do with the tow dolly.
To help offset this, we do nearly all our planning with an RV-specific GPS which allows you to plug in the specific dimensions of your RV/setup and guide you to roads and places that are friendly to your vehicle. This can reduce the likelihood or need to turn around at all. 
Update. in 2016, we broke our own rule of seeing the parking lot exit before entering a parking lot at a hotel. This resulted in needing to unhook the car and tow the dolly. Then a five-point turn with the RV before reconnecting. The delay was only 15 minutes because I was very experienced with the process by then.
Also, remember that RV GPS systems are not foolproof.  They have steered us wrong a number of times over the years. They help, but we still are sure to watch the road signs.
14. Would you recommend towing four-down?
Yes, if you are prepared to make the $4-6k investment in the setup. Especially if you plan on keeping the same vehicle as your TOAD for a while and you have a vehicle that is well suited to being towed four-down. It is a great option, and we would certainly recommend this path to others who felt it was a better fit for their needs.
Update 2017. As mentioned in #10, we switched to four down when we bought a new towed vehicle.
15. Anything you don't like about towing on a dolly?
No major issues we can think of. Yes, it is an extra item to keep at your campsite. But ours is rarely, if ever, in the way at all.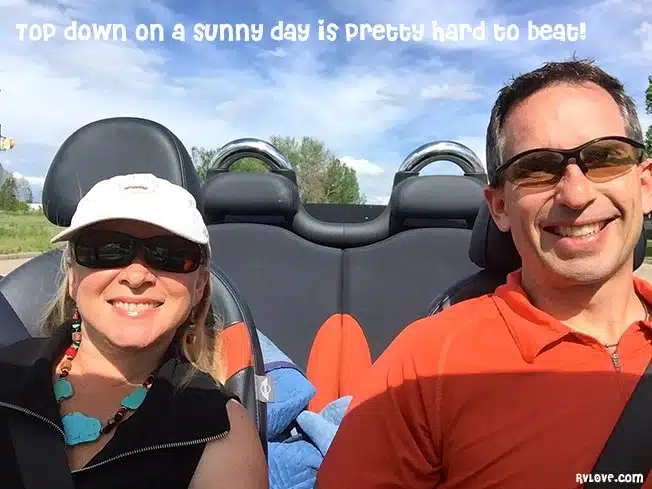 16. My vehicle is not towable four down – is a tow dolly my best option?
If you don't want to consider changing out your vehicle for your life on the road, then yes, a dolly is a great option. But remember that not all vehicles are suitable for towing on a dolly. Do thorough research.
17. Do you have any experience with electric brakes versus surge brakes?
I have towed trailers and tow dollies with electric brakes. But I prefer the surge brakes on a tow dolly because when towing the dolly without the car on it, you can end up locking up the electric brakes. This won't happen with the surge brakes.
Occasionally, we find ourselves towing the dolly around without the car loaded. If you do this with a dolly with electric brakes, you will probably want to disconnect the brakes before doing so. That is unless you have an electronic brake controller which can adjust braking power.
Disconnecting tow dolly brakes is fine if it is just around a campground. But if you are on the open road, you might want to keep the wiring connected so that you still have working lights. You could burn up your tires pretty quickly if you use the brakes at full strength on the tow dolly when it's not loaded.
The downside of surge brakes is that if you are doing long sustained down hills, the brakes can overheat as they stay on more steadily. Electric brakes with a brake controller are a good setup.
18. Have you ever thought of getting a different towing setup?
We would still tow two up with the tow dolly for our MINI. But if we had a higher clearance vehicle (even a regular car or SUV), we would probably lean toward towing 4-down. It all depends on the type of vehicle we are towing.
We are both avid drivers. Having a fun, sporty car for exploring is more important to us than finding the most convenient tow method. For others, ease and convenience are the top priority. They would likely choose a car/tow solution that made life a bit easier.
For us, any perceived "inconvenience" that might be considered to be associated with the tow dolly is far outweighed by the amount of fun and joy we get from driving the MINI. It's totally worth the little extra time it takes. We would certainly recommend this option to anyone who shares similar concerns and values to us.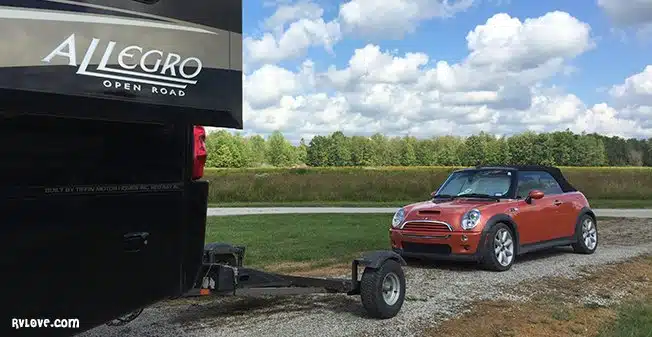 19. Do you recommend 4-down towing?
Yes, this is a great solution if you have a suitable vehicle and are willing to spend the extra money on setup. A lot of vehicles are covered under warranty when towing, but always check with your vehicle manufacturer first! Blue Ox and Roadmaster towing systems are the most highly recommended brands for towing four down. Be aware that you may need to have it professionally installed.
20. I am a woman traveling solo – would you recommend towing on a dolly?
Regardless of your gender, I would say it helps if you are physically able with a bit of strength to manage the tow dolly. But we'd probably be more inclined to recommend four-down towing as a better option. Four-down towing doesn't require as much physical exertion or strength. Plus, you're also less likely to get dirty.
21. Do you have any other tips to help me determine the best towing setup for me?
Ask yourself these questions:
Is your choice of car/TOAD more important than the towing method? Then go through the questions in our Finding the Ideal TOAD article to help you shortlist suitable vehicles. Once you are clear on this, you can consider the towing options you have available. 
Is the convenience and simplicity of the towing method more important to you than the cost of choice of car/TOAD? Then four-down is the way to go. Simply choose a vehicle that is compatible with a four-down towing solution. Check out this post for the best cars to tow behind RVs.
Do you plan on also towing one or more 'toys' such as a motorcycle, show car, ATV, multiple kayaks, or golf cart? A trailer (open or enclosed) may work better for you. Of course, this also means you would likely need a more powerful RV, such as a diesel pusher (not gas), to give you extra towing weight capacity.
Trailers are also nice for maneuverability as you can back up with a trailer. You cannot use reverse with a tow dolly or four-down. Motorcycles and scooters can also be mounted on the back of your coach with a special lift rack. Check out CruiserLift and Hydralift to explore your options while still towing a vehicle behind. Keep in mind, though, that these motorcycle lifts impact tongue weight and may significantly impact RV handling.
Our Final Thoughts For Towing On A Dolly
As you've probably gathered by now, like anything in the RV world, there really is no "one size fits all" or "best way" for towing. It all comes down to what works best for YOU and your specific needs and desires.
During our initial research phase, the simplicity of towing four-down was quite appealing. So we briefly considered a Jeep Wrangler that we could cruise around in and enjoy with the top off. But by now, you've probably realized that we simply love sporty little convertibles way too much!
Plus, the Jeeps were more expensive than we wanted to spend on a TOAD, and the gas mileage on the MINI is awesome (30 mpg). That helps offset the RV gas mileage of 7 mpg. This is a point worth considering. Doing all of your errands and exploring in a gas-guzzling truck might not be ideal if fuel economy is important to you.
Of course, a truck might be your preferred runaround vehicle. We saw a guy in Santa Fe who was driving a big tag axle coach with a cruiser lift on the back for one Harley. He was also towing a full-size truck four-down with a second Harley in the bed of that truck. I guess he found the towing combo that worked for him!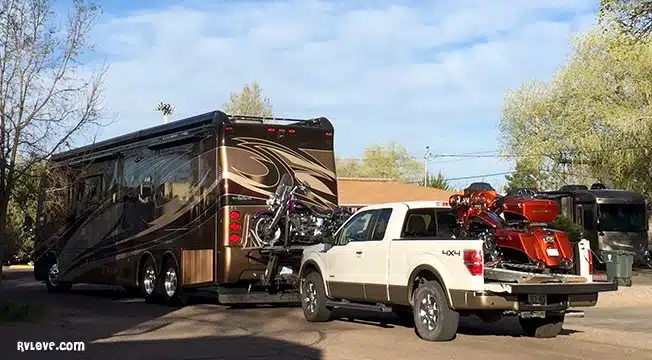 In Summary
So, in summary, whether to tow four down or with a tow dolly (or trailer) all comes down to your personal preference, needs, and budget. That's why we went into so much detail in our Finding the Ideal TOAD blog post. And also our best cars to two behind RVs post.
Sit down and determine what is really important, high value, and a top priority for YOU!  This will help you reach a sound decision in your choice of vehicle. It will naturally help lead you to greater clarity around the best towing option to support your lifestyle of choice.
After all, this is about helping you create a fun, adventurous life. One that enables you to really explore all of the places you've always wanted to see. And in the way that is most enjoyable for you!
I hope that helps! Good luck with all your planning, and let us know in the comments below what TOAD and towing method you choose to go with and why. We'd love to hear your stories.
Other towing related blog posts
Want to learn more about towing options? Here are some articles we think you will enjoy. Hover over the images to see the title.