This post may contain affiliate links.
Among the most common questions we get are how did we decide on what vehicle to tow behind our motorhome and why we did we choose a MINI? There are many reasons we specifically chose our Mini Cooper S Convertible. While a MINI is definitely NOT for everyone, it's a very fun car. One that we have absolutely loved exploring the country with, much of it top down, for the past 3.5 years. In this video we answered many of these questions, share our thought processes and also show a ton of our favorite MINI footage from all around the country.
But before we begin, in case you're not familiar with some common RV terminology, a vehicle that you tow behind an RV is commonly referred to as a TOAD or a DINGHY. So you'll see or hear us use that term from time to time. We've shared some additional insights and details about our MINI as our choice of TOAD here in the blog post, so read on to get some more of the backstory… and a surprise ending!
Not Normal. But Perfect for Us!
We definitely don't live a "normal" life… so we got a kick out of discovering (about 18 months into owning the car) that MINI ran an entire ad campaign around living a NOT NORMAL life… so it could be amazing instead. You could say we resonated with that! This pic was taken at the MINI dealership in San Francisco, which we're pretty sure is the MINI capital of the USA, based on how many MINIs we saw driving around the areas!
Criteria for Our Tow Vehicle
When we decided to hit the road in an RV, we knew we'd be living a pretty adventurous, fun and 'out there' kind of life, compared to most. We are both 'spirited drivers' and wanted a car that was fun, sporty and reflected our personalities and the colorful lifestyle we have chosen.
On the PRACTICAL side, we wanted:
Back seat for our dog

Coda

Vehicle with high fuel economy to help offset and balance out the low gas mileage (7mpg) that we get driving our motorhome

Less expensive car that we could pay cash for

Cheaper, used vehicle that we could drag around the country behind our RV without worrying about it getting dinged up by rocks and exposure to the elements. We figured we'd add a few more imperfections during our travels and didn't want to get upset about that when it inevitably happened!
On the FUN side, we also wanted:
a convertible so we could feel the wind in our hair, take in the sights and breathe in the smells of every place we traveled, to really immerse ourselves in the driving experience

heated seats so we could maximize our top-down time, even in cold weather

a bright, fun color – HOT ORANGE – that would scream FUN and make people smile…which the MINI does often! 🙂
We got very specific on our criteria for our ideal TOAD, right down to the year and options. Then searched high and low until we found one, and even flew to Las Vegas from Denver to pick it up and drive back. As you'll see in the video we wanted the best of both worlds of the two cars we owned previously – a Subaru WRX and a Mazda Miata.
For those of you who may not be intimately familiar with our MINI, here's a brief overview.
Year, Make and Model: 2006 MINI Cooper S Convertible
Transmission: Manual 
Nickname: JUICE
Mileage: We bought it used from the original owner in November 2013 for $10,500 and have put on more than 40K miles since hitting the road full-time in June 2014. Importantly, miles traveled while being towed on the dolly behind our coach are NOT tracked by the odometer.
Weight: 2,844 pounds 
We go into much more detail about our choice of tow vehicle in this blog post Finding the Ideal Toad For You which we recommend you read even if you're NOT interested in towing a MINI, as there's a lot of good information in here to help you consider what tow vehicle might work best for you and the kinds of things you need to be aware of.
What do we tow the MINI with?
We decided to tow our MINI using a tow dolly that we bought used on Craig's List in May 2014 for $800.
Acme Tow Dolly with Surge Brakes
We didn't know if we would like the RV lifestyle, how long we'd do it for, and we didn't know how long we'd keep the MINI. So as RV newbies back in 2014, we decided a tow dolly was a low-cost way to get us started. We specifically chose the Acme as it had a low load height and had surge brakes.
While owning it, we have replaced both dolly tires twice. First when we hit the road in June 2014 and again after about 20K miles. Each tire cost around $100. We also replaced the straps and also spent a few bucks sprucing the dolly up with some spray paint and added vinyl letter stickers to label it RVLOVE.com as a form of security, we figured it would be a less likely target for theft. Later we also added a tow lock to keep it secure. We estimate we spent about $500 on the tires, straps, paint, letters and lock. So we have about $1,300 invested all up in the tow dolly so far.
More on how to tow
We wrote a detailed blog post that answers our most frequently asked questions about towing in a separate blog post where we discuss the Pros and Cons of Towing with a Dolly vs 4 Down, which we wrote a while back to respond to the MANY questions we received about this very subject!
And back when we were doing our own research on the best towing solution for our needs, we couldn't find a decent video that showed how to load a car onto a tow dolly. And while the process may vary slightly depending on your vehicle and the tow dolly you use, we filmed this video showing you how we load our MINI onto our tow dolly, will give you a good general idea.
A MINI is not for everyone!
We've had a lot of people think we're crazy for choosing to tow a MINI. One friend told us he was curious to see just how many months it would be before we switched our MINI out for a Jeep. Of course, it's now been years! Ha! We should have placed a bet on it 🙂
Our fellow MINI owners and MINIacs "get it" – as do most people who can clearly see how much seen of a blast we've had driving that car. And we've had our fair share of criticism from those who think we're nuts for deciding to tow with a dolly! But both the MINI and the tow dolly were the ideal choices for us at that time, based on our values, life stage, priorities and budget. We don't regret either of these choices for a second.
No one size fits all
And just as with the many different options available when it comes to RVs and the RV lifestyle, there is truly no 'one size fits all' when it comes to tow vehicles and towing solutions. You just have to decide on what is going to be the best fit for YOU!
A MINI and Tow Dolly certainly won't be for everyone – and we're not suggesting these are 'the best' solutions for anyone wanting to tow a car behind their RV, but the MINI and dolly were definitely the best fit for our needs at the time, back in 2014 and have been for the past few years.
While we don't think our MINI 'Juice' would be the most well-traveled MINI out there, we reckon she has definitely earned respect and some bragging rights for having been to all of the lower 48 USA States, in just 3 years!
We've driven her on some of the most scenic highways and byways in the country, driven both the east and west coasts, through bumpy, dusty desert terrain, on curvy mountain roads, through over 30 national parks, on beaches, through snowstorms, and even taken her places she probably shouldn't have – like when we broke the MINI in our Boondocking Misadventures in Lake Havasu video (We're sorry MINI!)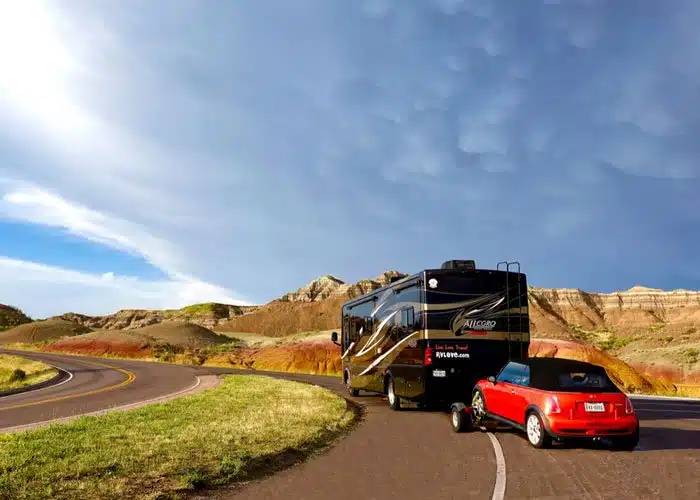 A little car that is big on personality
We've packed our MINI to the gills after big Costco shopping trips, used her as a trailer to carry extra gear and even carted building supplies from the hardware store when we turned our RV bunkhouse into an office.
Our MINI has been featured on our website, YouTube channel and all of our social media channels – after all, she's cute fun and looks GREAT on Instagram! It's also a very recognizable car, which has made it easy for people to spot us and stop by to say hello which has always been super fun!
We have had THE BEST TIME exploring this amazing country with our little MINI and have loved every minute of our adventures together.
… but all good things must come to an end.
It's time to kiss the MINI goodbye
Yes, it's been a long, hard decision that we've been quietly weighing up behind the scenes for many months… and now, having wrapped up our 50 states of travel, we've decided we're ready for a change in 2018 and beyond!
So we sold the MINI AND we're ready for a new set of adventures with a different kind of tow vehicle!
We know many of you will be as sad to see the MINI go as we were to wave her goodbye, but luckily, we have an incredible number of fun memories, photos and videos to remember our MINI by.
In our next video and blog post, we'll be sharing what we did with our MINI, our tow dolly, and drum roll… reveal our new tow vehicle! We hope you will love our new car too!
GOT COMMENTS OR QUESTIONS?
We would love to hear from you. Drop us a note in the comments section below.