This post may contain affiliate links.
Meet our "new to us" RV. It's a 1999 Country Coach Intrigue 40′ Motorhome, that we lovingly refer to as "CC". Yes, you can pick yourselves up off the floor now. We bought an old coach…. a REALLY old coach. Like 20 years old. And we absolutely love it! Don't worry, this was a shock for us too. But know it is the right RV for us right now.
When we began casually 'shopping' RVs about a year ago, we planned on buying used. We even planned on buying 'older' used, like 10 or so years old. But neither of us ever imagined we'd end up buying a coach that was built LAST CENTURY to become our next home on wheels.
So let's back up the bus for a bit and get the bottom of how all this happened.
We've been full-timing since 2014 and visited the entire country. Most of those with our Tiffin gas motorhome, having a fantastic experience along the way. We love the RV lifestyle. And we plan on living this way for many more years. This gave us comfort and confidence in making the decision to change RVs. We wanted to find one that was high quality, would last, and that we could personalize to truly make it 'our own'.
We had been casually shopping different RVs for about a year. Mostly to stay educated and because we find RV shopping fun, seeing what is out there. As part of what we do with RVLove and RV Success School, we are always trying to learn more about all RVs to share with our audience. And we just love learning. It's fun for us! Especially as we weren't in a hurry or feeling the pressure to buy or find 'the one'.
After our visit to Elkhart, Indiana in June of 2017 – the RV Capital of the World – and doing more than a dozen RV factory tours, we kept an open mind as we considered all kinds of RVs. We considered fifth wheels, diesel motorhomes, and Super Cs. There really is no "one size fits all" when it comes to RVs. Just finding the best one for YOU, your budget, needs, preferences and life stage. That's always the message we focus on when trying to help people find the right RV for them, as we do with our RV Success School students.
It's a very personal journey and there are pros and cons to every decision. In the whole argument about which is "the best" brand, "what is the best" is really a challenging question, as there are way too many variables and personal considerations to be able to properly answer that with any depth of insight, accurate data or consistency. Especially with thousands of choices of RVs out there and the different needs and priorities of every person. But I digress.
Weighing up options
As we weighed up our options for motorhome vs towable (fifth wheel), we knew our preferred tow vehicle would have to play a big part in that decision.
Back in the fall of 2017, we had a lot of discussion around what kinds of new experiences we wanted in 2018 and beyond. We made the commitment to change our tow vehicle from our MINI Cooper Convertible 'Juice' to our much newer Jeep Cherokee Trailhawk, 'Blaze'. So we could have new off road experiences. And while the idea of driving a big truck around and towing a fifth wheel appealed to me. It just wasn't an ideal option for Julie, being so petite at 4'8″. Plus, if you know us at all, you'll recall we have a passion for fun, sporty driving. And you don't get that with ANY kind of RV!
We had test driven the Jeep Cherokee Trailhawk (3.2L) and loved it. The car offered everything we wanted or needed. And as true 'drivers' this really helped solidify for us that our next RV would also be a motorhome so we could buy and tow the Jeep. However, this also meant that we should change coach ASAP,. The extra weight of the Jeep put us right up to the max towing capacity on our Tiffin 35QBA gas Motorhome.
Key Features We Were Looking For
So with our decision narrowed down to getting another motorhome, we set about defining the key features and options that were most important to us.
Heavier chassis with increased cargo carry capacity, to remove the 'RV weight anxiety' we had with our Tiffin

At least the same amount of storage (inside and outside), as we wanted to get better organized

Better braking and towing capability, especially on steep grades and mountains

Quality construction

Improved insulation (sound and temperature)

Better off-grid capability with large holding tanks

Decent size and layout kitchen, with the ability to install a residential fridge if it didn't already have one

Large windows

Open, spacious floor plan

Ability to set up two separate work spaces, even though they no longer had to be separate (in the living area would now be OK for us)

Split bathroom to provide more flexibility and privacy

Buy used to minimize the effects of depreciation

Affordable – we didn't want to overcommit ourselves financially, be "house poor" and ultimately end up removing the very freedoms we have worked so hard to create for ourselves with our new work schedule and lifestyle.
The last point is an extremely important one! As tempting as it was to buy a newer, more expensive RV, we would simply end up paying for that in more ways than we wanted to. By having to work harder and longer and feel stressed about meeting big RV payments, it would defeat the whole purpose of why we chose this path in the first place.
"It's all about freedom – personal freedom, financial freedom, emotional freedom, geographical freedom."
That's what everyone wants, at the end of the day. Freedom. But it's all too easy to forget the all the money we spend on the things we don't really need, takes away those freedoms, as you have to work to pay for it.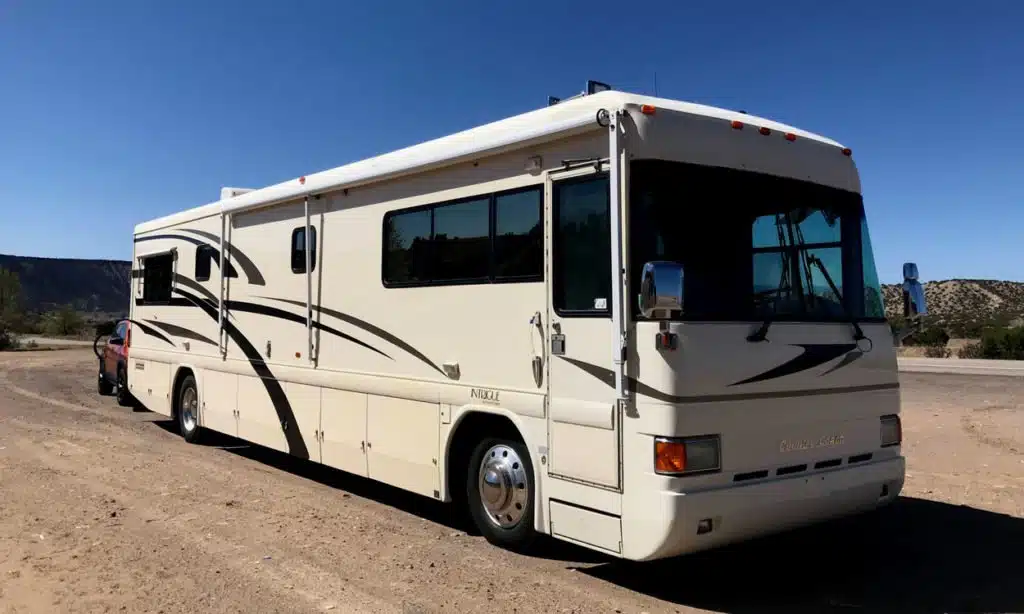 Finding and Buying Our Country Coach
We shared our sale process for our Tiffin Motorhome, Rocky. We still can't believe how smoothly and serendipitously this worked out. So let's now share how we went about finding and buying our Country Coach. Buying and selling RVs takes time, patience and logistics. So we knew we had to situate ourselves in one place for a period of time to make it all happen, without adding more stress and hassle to our already full plates.
We decided to winter in the Phoenix, Arizona area for the first quarter of 2018, with the full intention of making our coach change. Staying in one area would give us time to focus on it in January-February, and ideally make our purchase by March. So we could leave Arizona with our "new to us" RV.
Of course, at that time, we had no idea that a major publisher would reach out to us in January and ask us to "write the book on the RV lifestyle". Who is going to pass up an opportunity like that!?  We were officially offered our book deal on February 14, with a manuscript deadline of March 23. Yikes!
We had to reprioritize. All of our RV buy/sell plans (as well as everything else in our lives!) went on hold, as we had no choice but to throw ourselves into meeting our ridiculously short publishing deadline! There simply would not be the time available to advertise Rocky or do any more RV shopping until after March 23. But then… we got those emails from two people interested in our Tiffin in the middle of it all and we couldn't say no or delay. We decided to go for it and ended up selling Rocky and finding, then buying our Country Coach. All right in the middle of our book deadline, in the first half of March!
The Universe must have been smiling on us. We sold our Tiffin and found our Country Coach in the same week. This also meant our hotel stay was short lived. And free, thanks to the surplus of points we had accumulated over the previous year. The Universe must have known we were finally 'ready'.
Serendipity
Finding our Country Coach was another serendipitous story. Despite spending the better part of a year casually RV shopping, and spending hours scouring websites like RVTrader and dealer websites, looking for what we hoped would be our next home on wheels, our find and purchase of CC happened in under a week.
One of our long time followers, Don, had reached out to us to let us know he had decided to downsize. He was switching from full-time RVing to part time. And was selling his 2008 Newmar Mountain Aire diesel motorhome. We knew Don had taken excellent care of his coach and he was offering it to us at a great price. But it just wasn't quite right for us, so we passed. Don traded his RV in for a Class B Winnebago Navion at an RV dealer in Tucson. After that, I jumped onto the dealer's website, curious to take a look at the listing and photos for Don's Newmar.
It was while browsing that website that I happened across the ad for our 1999 Country Coach Intrigue. I was immediately drawn to it, inside and out. The motorhome met virtually all of our important criteria, and was priced incredibly well. In fact, the original listing price was  just under $50K. But the "sale price" on the windshield was just under $40K. Then they had an "internet special" listing the coach at just under $35K.
To put this in perspective, MSRP on this particular Country Coach motorhome back in 1999 was around $230,000 new. That's the equivalent of about $340,000 today. Similar to the same price of many new Newmars, Tiffins or Entegras. That just goes to show you the effects of depreciation.
I was drawn to the coach, but also nervous, thinking Julie would not be open to a much older RV, especially as it had a single slide and split windshield. Two things she'd been adamantly opposed to in the past. But it was also white inside and out, looked really solid, and was at a price point that would be a no brainer for us. Low financial outlay, low stress, AND great bones. With an attractive floor plan / layout and all white cabinetry, light colors throughout. We could definitely give it a makeover to suit our own personal taste and needs. And, of course, remove those mirrors 🙂
Seeing CC in person
The Country Coach was conveniently located in Tucson, less than a 2 hour drive away. I showed Julie the ad online, and was surprised that she loved it and got excited too. We called the dealer immediately, placed a $500 hold on it and drove down the next day to see it for ourselves and take it for a test drive.
The coach drove beautifully, even on crappy, old tires (except for the cabinet-mounted TV swinging above my head during the drive. Seriously, what was the previous owner thinking, mounting it there?. You could absolutely feel how solid it was on the road, as well as the quality of the build. Inside, it really looks and feels more like an apartment than an RV!
We both checked it out inside and out, then met up to share notes and thoughts. We were both excited, and both loved it! It wasn't perfect, but it was high quality. The coach had everything we were looking for, and at a fraction of the price we'd initially expected to spend. We could both "see" the potential, and were looking forward to doing some upgrades. Some of the upgrades we planned would have probably needed to have been done to a 10 year old used coach too. Things like updating to a residential fridge. We were 'sold' on CC on day one. But not without hiring a professional inspector first!
Inspecting and making the purchase
I did my own inspection first. It was obvious the tires needed replacing immediately, and the batteries would need replacing soon too. And of course, being 20 years old, there were some imperfections and blemishes on the paint/body, but nothing major.
We hired a professional inspector through Premier RV Inspections. We'll be covering that in more detail in an upcoming video/blog. Days later, I was armed with some valuable information from the professional inspection along with our other research. I headed into the office and was able to negotiate an even better price.
This is where our knowledge, research and experience with RVs and RV shopping really paid off – quite literally. The coach had been sitting on their lot for 40 days. A previous buyer's finance had fallen through, and being March in Tucson, the snowbirds were getting ready to head back north. The pool of potential buyers was drying up.
The dealer knew they were dealing with an educated buyer, and we bargained hard. We ended up purchasing CC "as is" for just $25,000. That is LESS than we paid for our Jeep. Of course, the dealer made me sign in multiple places that we had agreed to buy it "as is" thus removing their liability. But for that price, we knew we simply could not lose. With signed docs and keys in hand, I headed straight to the local tire shop and had them replace all 6 of the tires with new Michelins.
More detail
It's pretty rare to be able to buy an RV with the confidence that is a quality product, an extremely low and easy financial outlay, and won't be subjected to further depreciation hits. But with CC, we nailed it. We sold our Tiffin privately at retail value and bought our Country Coach through a dealer at wholesale value. When we added up the dollar difference in what we saved through all of our research, negotiations and the 'hassle' we were willing to undertake ourselves, we estimate that we saved a good $35,000.
On top of that, our savings will continue with:
A much lower total amount of interest we'll be paying on our much smaller loan. We'll pay about $1,000 a year in interest over 7 years.

The sales tax paid around $1,500

Little or no depreciation. CC has pretty much hit the bottom of the depreciation curve. Any improvements we make to it will at least hold if not increase the value of this motorhome
Like we've said before, this path isn't going to be for everyone. But remember, we're still working age and saving for retirement, So the more we spend on a new, higher priced RV (as many of you were expecting), the more we would also pay in interest, taxes and depreciation. Not to mention the hefty deposit we would have had to fork out for a down payment. And the financial hoops we would have to jump through to get such a sizable loan approved.
This is something we would like to see more RVers pay attention to and really think about before making a large purchase. Buying a new and higher end RV may be the right choice for you, if you have the financial means. But don't overcommit yourself if it's going to cause you stress.
Just be sure to do all the math well in advance, before signing on the dotted line.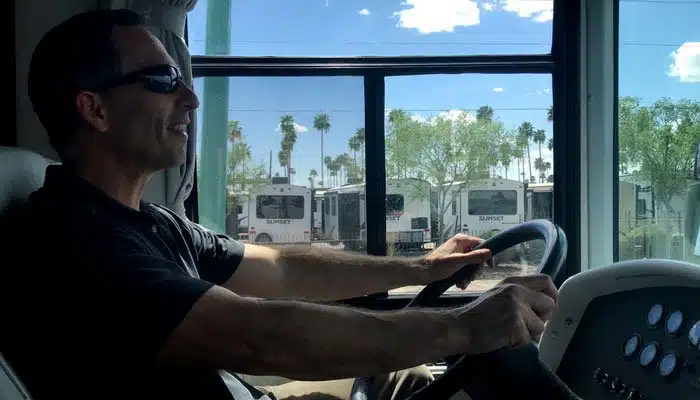 We knew that before we even moved into CC, we'd have to make some immediate changes. As mentioned above, we needed to put on new tires as soon as we drove off the dealer's lot. Before even filling it with fuel. They were that bad. And as it didn't come with a mattress, we ordered one right away. Ordering the same again from Mattress Insider that we had ordered for our Tiffin the year prior.
Aside from that, the coach is actually very livable with all the other features in the short term. The decor is light and fairly neutral and not overly offensive. Especially compared with many other RVs that we've seen. And we are very excited to no longer be living in a sea of brown and beige!
We did make some modifications to improve our work space in the first couple weeks. But plan on living in it for a couple of months to really get a feel for what works and what doesn't, before planning a larger scale renovation and truly 'making it our own'. Of course, we'll be sharing that throughout the year as we make mods and upgrades to our Country Coach 🙂
There is No One Size Fits All With RVs
Like we said above, there is truly no "one size fits all" when it comes to RVs. We know this news of our choice in coach will surprise many of you. I don't believe anyone guessed we'd buy a much older, less expensive rig and plan to renovate it. Although many of you guessed we'd be upgrading to a diesel pusher motorhome – most assumed another Tiffin or a Newmar. And while they too, are quality brands, in the whole "which brand is best" debate, we don't know of anyone that would dispute the fact that Country Coach was one of the highest quality coach builders that ever existed.
It's a shame they went out of business in 2009, following the global economic crisis. That was a time that saw many RV manufacturers close their doors. Of course, in order to survive, many have had to cut costs and cut corners along the way. And we're seeing that trend continue now, with the huge demand for new RVs, and manufacturers' inability to keep up with that demand while maintaining a high level of quality. And as much as we all hate to admit it, they don't have to. They are selling RVs hand over fist anyway, without even trying. That's the realities of "business" especially for companies that report to shareholders who are more focused on profits and dividends.
We're encouraged that Winnebago Industries has now purchased the Country Coach brand name, and the Junction City, Oregon factory, where they used to build them. A lot of former Country Coach employees are happy to be back there working again. But this time they are building Winnebago diesel pushers. There has been some talk of resurrecting the brand and building new Country Coaches again. I guess time will tell if that happens or not. In the meantime, four months later, we remain very happy with the quality construction and comfort of our 1999 Country Coach "CC".
She's not perfect and, like any RV, she definitely has her "quirks". But it's a lot easier to deal with those quirks – in fact, we often find them more amusing than anything – knowing how little we paid. It's a great opportunity for me to also do some of my own work on our RV to continue learning and becoming familiar with the systems. That without worrying about the complexities of some of the newer coaches. While advanced for it's time (and even today) CC is still a 'simpler' coach overall, which we like. Plus, we have the money available to make the changes we want or for any other travels we may choose to do.
Specifications and Key Features
1999 Country Coach Intrigue 40' (Grandview) – Special 25th Anniversary Edition

Single Slide on driver/street side

Full body paint

Rare white-washed ash interior cabinets made from solid wood

Split bath with great separation of toilet from shower and vanity

Carpeted living and bedroom area, ceramic tile floor in kitchen and bathroom

97" long kitchen counter (15″ longer kitchen than our previous RV)

2-door Dometic New Dimensions fridge (room to replace with a residential fridge)

Estimated 140 cubic feet of exterior storage – much more than most 40' diesels we have seen

Massive interior storage

5,400 lb cargo carry capacity (our Tiffin had 2,600 lb)

100 gallon fresh water tank plus 10 gallon water heater

130 gallons of waste water tanks combined (black/grey)

Floor plan able to accommodate two work spaces with some creativity

Lower 79″ ceiling height makes cupboards easier to reach for Julie especially

8.3L ISC Cummins side radiator engine with 350hp and 1050 ft lb torque on 32,000 GVWR coach

Alison transmission

Tow capacity 6,000 lb

Pre-emission engine, therefore no need to add DEF (diesel exhaust fluid)

Automatic air leveling and air suspension

7,000 watt Powertech diesel generator

Dual air conditioners with heat pumps, two Fantastic Fans, and a propane furnace for climate control

2000 watt Inverter (not working)

3 x 8D lead acid batteries (all starter batteries, not proper house batteries, so need replacing)

Mirrored dual pane windows for excellent insulation, solar heat prevention, and daytime privacy

Window awnings and large patio awning

278 inch wheelbase on 40 foot coach providing a great ratio of 58% which helps provide great ride quality

Our new (to us) RV met all of our 'must haves'. There were some features we wanted that we had seen in other coaches, that were not on this coach. But we knew that we could change/add features to this motorhome. And the money we saved on the purchase left us with more money available for improvements.
We truly do love our new Country Coach. It certainly isn't the right RV for everyone, but is definitely the right one for us, right now. We definitely have some big plans for personalizing and updating the coach in the near future. So we'll keep you posted on this as we get closer to doing our RV Makeover. We're really excited to share it with you!
And, if you haven't already, click the link to watch our first video tour of our Country Coach  motorhome 'as is' before we moved our stuff in.
GOT COMMENTS OR QUESTIONS?
We would love to hear from you. Drop us a note in the comments section below.