This post may contain affiliate links.
We spent the week doing RV factory tours in Elkhart County, Indiana – RV Capital of the World while celebrating our full-time RVing 3 year anniversary. Over 80% of all RVs in USA are manufactured in Elkhart County and surrounding area. The sole purpose of our trip was complete RV immersion.
A Focused RV Factory Tour Trip
We could learn as much as we could in a short, focused timeframe. Over 9 days, we drove over 1,000 miles, visited 4 states, did over a dozen RV factory tours. Spending 20+ hours picking the brains of RV industry experts, and racked up over 25 driving hours in our rental car. Yep, that definitely made it worth the few extra bucks we spent upgrading to a Mustang to enjoy those wide open, country roads!
We put together this high-level video summary of the key lessons and insights from our trip. This accompanying article dives into a lot more detail. So settle in for a good, long read. You're going to learn a lot!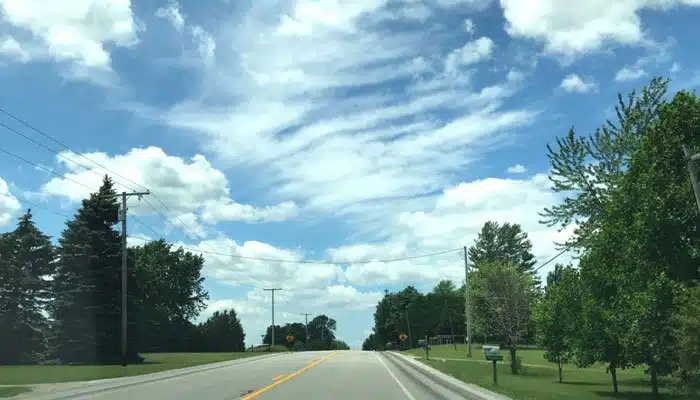 Why Indiana is The RV Capital
Rather than drive more than halfway across the country in the opposite direction of our Pacific Northwest summer travel plans, we decided to leave our RV behind in Phoenix, AZ to get serviced and take a more time-efficient flying trip instead.
We calculated that if we drove the RV, we'd be spending around $2,000 on fuel and campgrounds. Plus it would put over 3,500 miles of wear and tear on the RV. Not to mention a week of our time just in driving there and back. We would be exhausted before we even arrived!
Better to stay fresh and focused for the task ahead. So for about the same investment, we decided to save ourselves the time and energy of driving the RV. Instead, we booked a couple of airfares to Chicago, an Airbnb and a rental car – squeezing the whole trip into 9 intense days! Yep, total RV factory tour immersion!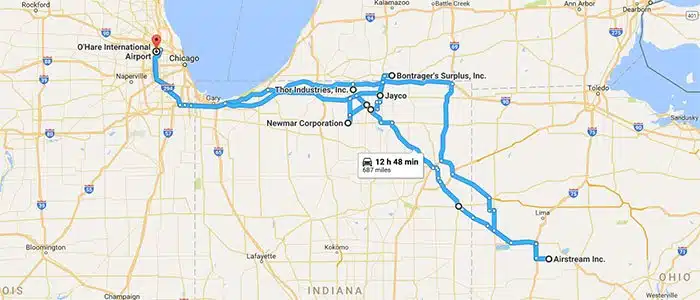 What Type of Places We visited
We based ourselves in a cute little Airbnb Cottage in centrally located Goshen, Indiana.  Touring RV factory after RV factory. Expanding our knowledge and experience. Learning while we watched 5th wheels, travel trailers and all types of motorhomes (A, B and C) being built from the ground up AND asking oh, a million or so questions!
It was a great time spent visiting so many RV manufacturers, component suppliers, and even aftermarket furniture and used parts suppliers.
Our RV Factory Tours Immersion Schedule
Here's the list of RV manufacturing facilities and related companies we visited (in alphabetical order): 
Airstream (travel trailers and Class B vans).

Augusta/The RV Factory

Bontrager's Surplus.

Bradd and Hall

DRV

Entegra

Grand Design

Heartland

Jayco

Keystone

Lippert Components

Newmar

REV Group (American Coach, Fleetwood, Holiday Rambler, Monaco)

Thor Motor Coach (gas and diesel)

Winnebago (factory tour video showed at RV/MH Hall of Fame).
It was a fun, fascinating, and very busy week, with at least 1-2 meetings or RV plant tours each day. Tours are usually 1.5–2 hours apiece though some were longer. Some days we did 3 or 4 tours and there were often many miles of driving in between. But as you know, we're avid drivers, so time behind the wheel is fun for us.
In terms of the RV factory tours, I (Marc) enjoyed every minute of the plant tours and RV education and could have kept going for many more days or even weeks. Julie started out strong. But, by the end of our trip, she was definitely started to get a bit "RV-toured-out".
What's Behind My Passion for RVs?
I have a background in construction. I've built both residential and commercial properties over the years. So I have a particular interest in how homes and RVs are built and what materials and processes are used. Having a lot of experience seeing things 'behind the walls' – the framing, electrical, plumbing, and structure – of stick and brick structures.
To me, it is very interesting being able to see the RV manufacturing process up close. Observing the similarities and differences between the construction, materials, and quality of RVs compared with homes and commercial buildings.
I'm also a lifelong lover of cars, trucks and pretty much anything with an engine and wheels. I've owned close to 30 vehicles and devoured car magazines, buyer guides and specs for most of my adult life. RVs are the ideal blend of my love for both construction and vehicles.
What That Means For You
Julie and I are both car lovers and long distance drivers. Our idea of a good time is jumping behind the wheel just for fun and taking a road trip to pretty much anywhere.  For us, it's almost always about the journey, and not just the destination.
We really do love soaking up every bit of knowledge and education we can. So we can share it with you on the blog, and in our RV Success School courses.
The more we know and learn, the more we have to share and the more impact we can have helping others on their own journey to RVing. After all, we realize that not everyone has the time, energy, interest or means to make a dedicated RV factory-tour trip like this.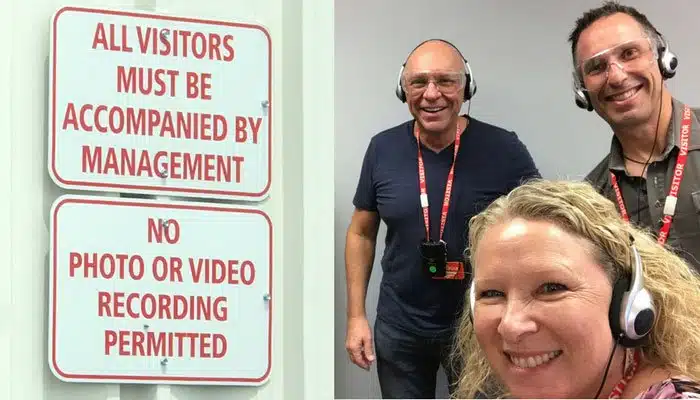 Yes, there is an ENORMOUS amount to learn about the RV industry. Yet not all of it is necessarily as fascinating or relevant to everyone. So with the keen awareness that not everyone has the endurance or interest in every detail and comparison of brands and manufacturing practices that I/we have. We'll do our best to keep this post relatively concise and speak to some of the higher level points that will be of interest to our broader audience.
Before we begin, we wanted to highlight a few things we feel are important for you to know:
Important Points
We showed up and attended most of these RV factory tours along with the general public. And (with a couple of exceptions) didn't tell them that we were RV bloggers / YouTubers / from RV Love or RV Success School. Or that we planned on sharing any of our experience here with our audience.

Our preference to stay as anonymous as possible was intentional. We wanted to attend the RV factory tours just as anyone else would. So we could report back and share our findings in an unbiased way and without expectation from any manufacturers.

All of this helps us maintain brand independence. It allows us to report honestly and without bias.  Which is extremely important to us, our credibility and reputation. Our opinions cannot be bought!

Please note that in almost all instances, photography and videography were not allowed on the RV factory tours. But we were allowed to take notes. One manufacturer even had us sign a waiver saying we weren't allowed to share anything about what we learned on the tour.

There were a few exceptions that allowed photos and video to be taken on the RV factory tours. Fifth wheel manufacturers Augusta, DRV, Heartland and Keystone. So those are where most of these photos and video footage came from. We just wanted to clarify this point for those of you who may be wondering if we only looked at fifth wheels.  Or why we didn't share a bigger, more diverse selection of photograph and video of travel trailers and various types of motorhomes.
10 Key Learnings from RV Factory Tours
OK, without further ado, let's jump into our 10 key learnings and takeaways from more than a dozen RV factory tours and 9 days in the RV Capital of the World!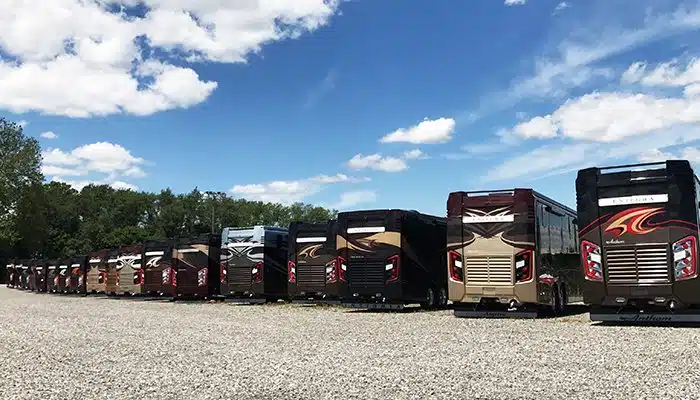 1. The RV Industry is Booming?
The overriding message we got loud and clear was that the RV business is booming! This is a stark contrast to the darkest days of 2008-2010 when so many RV manufacturers closed their doors or struggled to stay afloat. The RV industry has made quite a turnaround in recent years.
During the peak of the 2008 global financial crisis, the RV industry was one of the hardest hit in the country. Over 70% of RV-related businesses either went out of business or were bought out by others.
Unemployment in this region was the highest in the nation at well over 20%. At the time of writing this post, Elkhart County's unemployment is the lowest in the nation at under 2%. There are currently more than 20,000 open positions and you don't even need to have previous experience.
The competition for labor means they pay well – even for factory floor type jobs – and companies will train you. So, if you're looking for work, you may want to seriously consider heading to Elkhart county and building RVs!
The Flip Side Of That Is
The flip side of this booming industry is that RV manufacturers are stretched to, and even beyond, capacity.  Same goes for suppliers to the Industry. So they are hiring just about anybody they can get their hands on. Just in an effort to try to keep up with production. Be aware that this new, less skilled labor force will likely open up more opportunity for errors and shortcuts. Especially when combined with the hurried pace of production.
Also be aware that the RV industry already has a challenged reputation for poor or inconsistent quality. That is before really pushing the envelope on production right now in response to the strong demand. How will this impact the industry's already underwhelming quality control standards? I guess time will tell.
2022 Update: The RV industry saw another enormous boom in 2020-2021. It started to soften again in the second half of 2022.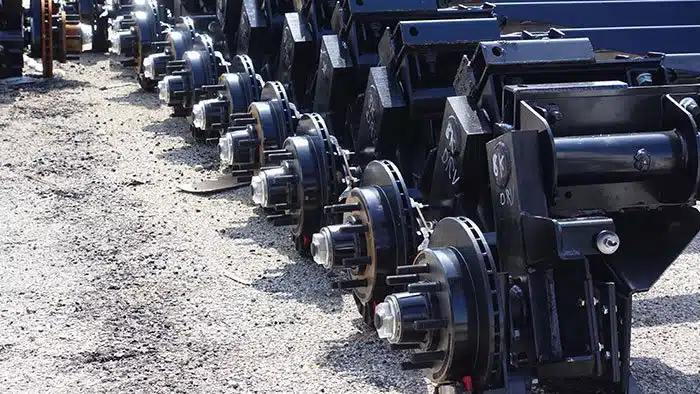 2. Most RVs Have A Lot In Common
We quickly found that the majority of RVs and RV manufacturing processes actually have quite a lot in common. This is regardless of brand and price point. There are certainly differences, especially in higher-priced RVs. But generally speaking, RVs still all have a lot more in common than they would probably like to admit. They all like to think they are unique, different or better than their competitors.
Most of the differences in build techniques and quality are in things that are not usually immediately visible when looking at a finished product. It is what goes on behind the scenes, under the floors, and behind the walls. Some of those build materials and techniques account for the variances in the price of an RV and quality of construction.
But the bottom line is this. Just about all RVs are a simple house structure built onto similar chassis/frames. Or as Julie put it, "we're pretty much living in boxes on wheels!". I know, some of you may beg to differ. But at the end of the day, when you strip away all the bells and whistles, that's what most of them are.
We love our boxes on wheels and the freedom and adventure they offer us. So let's take a deeper look at some of the similarities and differences we found.
What do RV manufacturers have in common?
Most start with similar frames/chassis,

Many trailer manufacturers were using frames built by the same 3rd party, supplier. And axles and suspension from one of three different manufacturers,

Gas powered motorhomes are usually built on a Ford chassis,

Most diesel motorhomes are built on Freightliner chassis. Some are on Spartan, and some (less commonly) are custom to a brand (like Tiffin's Powerglide).

RVs are made from a combination of steel frames, aluminum or wood wall framing with fiberglass or aluminum exteriors, and fiberglass or TPO roofing.

Most use the same appliances and components made by third-party suppliers. For example, water heaters, furnaces, air conditioners, awnings, steps, furniture etc

Many RV manufacturers use offsite companies to make their cabinet doors.

Insulation and underbelly materials are often the same products, from the same third-party suppliers. But interestingly, marketing brochure claims related to those materials can differ dramatically between manufacturers,

Many of the construction techniques and the order of the production steps are very similar.

Most all RV are built with very hands-on, manual build processes Very little automation when compared to the auto industry.

Nearly all RVs are built in low technology, unassuming, simple metal buildings. We'd go so far as to call some of them sheds!

Full body paint (for available RVs) adds a couple of weeks of production time. Also adding many thousands of dollars to the cost. Many manufacturers outsource the paint process to companies that specialize in paint.
What do RV manufacturers do differently?
Although chassis frames are mostly built by the same suppliers, each brand has slight changes to frame design that are unique to the manufacturer.




Quality of woods, flooring materials, exterior fiberglass and insulation varies.




Wall construction techniques vary.




Some brands will state that their processes are better than their competitors. But if they both make that claim, who is right?




Quality control – some claim to check every unit before it leaves the factory. Others do a spot check (and none are perfect).




Shops vary widely in how clean and tidy they are.




Some keep a tighter control of inventory.




Some have more rigid automation and production schedules than others, with pros and cons to each.




Two very similar appearing production lines can have vastly different production speeds when in operation. One manufacturer might build 20 units a day. Another might build 100 per year for an average of one every 3 days.




Some RV types, models and floor plans are batch produced and some are not. There are potential efficiencies and other benefits in grouping similar types of RVs together. Other manufacturers just build RVs on a first come first served basis, based on the date of orders that come in.
RVs Are Mostly Built By Hand in Sheds
You might be surprised to learn that nearly all of the manufacturers build these RVs in relatively low-tech metal sheds. Even builders of high-end, half-million dollar RVs are still being built with very simple tools and materials. It's very interesting to watch them build them, at least to us!
They integrate additional efficiencies by having cabinets and other furniture pieces built off the main assembly line. Allowing them to be inserted and secured on the main line instead of completely assembled in place. Certainly, some manufacturers use more machine assistance than others.
For example, many manufacturers on our RV factory tours use laminated walls with block foam insulation. Some manufacturers use automated laser tables to cut out the foam before placing the frame in it. Others might cut out individual pieces of block foam and place them in the open spaces after the frame is in place.
How Do These RV Tours Compare to Other Industries?
Many of these laminated walls can be placed in large presses when being glued together. Other manufacturers use residential style insulation.This is a more hands-on process. It removes the ability to put the walls in large presses for lamination.
All of the hands-on manufacturing helps explain the variability of RVs, even when comparing the same model of the same brand. No two RVs are exactly the same. They are more similar to home building than the automotive industry.
If you have ever built or bought a brand new home, you will understand there is always a 'punch list' of things that the builder needs to come back and remedy after the home is 'finished'. It might be paint, caulking, or simple cosmetic things. Sometimes it can be missing heating ducts or other more serious issues.
RVs are pretty much the same way and are open to even more little improvements being needed. When the RV is finished on the assembly line, it is often driven hundreds, or thousands of miles before it reaches a dealership. This undoubtedly shakes a few things loose.
4. RV Quality Control & What You Don't See
We all know that quality costs money. But that does not necessarily mean that the most expensive RVs are always the best quality. There will always be a brand that asks more for their product than it is truly worth, compared to another. We just want to call out the fact that often the reasons for a higher priced RV (like a luxury motorhome or fifth wheel) are because of things you cannot see on the surface when looking at a unit.
The building process, and materials behind the walls and under the floors. The things you don't see are a big element of quality. One manufacturer might use thicker grade aluminum for the walls. And when they weld the frame pieces together, they may do full-length, beautiful welds.
Another brand might do a simple spot weld with the welding torch turned up too high. This results in melting and scarring the thinner and cheaper grade aluminum used on their product. We saw it all on our RV factory tours. These are the things you will never see on a dealer's lot.
RV Factory Inspections
Some RV manufacturers save money by reducing quality control inspections. RV inspections are time-consuming and expensive. There are very few manufacturers that do thorough quality inspections of every single unit that rolls off their production line. Shocking but true.
We would like to think that, based on the money we're spending, our RV has been quality checked before being shipped off to the dealer. Sadly this is rare. It is more common to spot check 20-40% of RV units for accuracy before they leave the RV factory.
Clearly, a brand that is thoroughly inspecting every unit will have much more time and money invested in their product. But it will be a higher quality product. It is our opinion that these manufacturers will likely end up saving some of that money in the long run. Because they will spend less money paying dealers to fix their errors.
And they will end up with a more loyal customer base and stronger brand reputation. One built from a consistently positive customer experience. But that is a long-term strategy, not a short-term one
Quality Considerations After RVs Leave The Manufacturer
The lack of full quality control at the RV manufacturer, combined with the transportation of the RV to the dealer is one of the reasons it is so important to have a dealer that really cares about the products they are selling. Dealers who do a thorough PDI (pre-delivery inspection) before allowing you to drive off the lot with an RV.
Some dealerships will simply spray off the road grime with a hose, sell you the RV and send you on your way. Others prefer having a two to three week period. This allows them to fully inspect and prepare the RV for delivery. They will also do a thorough walkthrough with you.
The dealer may even suggest you stay at least overnight (or for a few nights) in the RV to make sure everything is working as expected before sending you down the road. As you might imagine, that will result in a very different experience than the dealer who simply hosed off the RV and waved you goodbye.
That Said
That said, you will likely still have a few things to iron out during the first year warranty period. This is also known as a 'breaking in' or 'seasoning' period. It just goes with the RV territory. RVs are mostly built by hand and are rolling earthquakes. So it can take time to iron out the kinks and get things running smoothly. Each RV has its own quirks. No two are exactly alike as they are not mass produced by a high-tech, automated factory line.
Some RVs will need more 'seasoning' than others. But if you buy a good product from a respected brand. And from a dealer that does a thorough PDI, your chances for a pleasant and enjoyable experience are much higher than most. It's certainly still not guaranteed you won't have any issues at all! Your level of tolerance for imperfections, your 'handiness', willingness and ability to maintain and repair things are big factors.  A good dose of luck might also be involved.
RV Quality Considerations for the Consumer
Keep in mind that the quality of an RV will often matter more to somebody who uses it more frequently. For example, the person who only uses their RV a couple of weeks a year is less likely to experience the impact of lower quality than somebody who lives in their RV full-time.
Most RVs, in fact over 85% of RVs being produced, are towables ie. travel trailers or fifth wheels. The vast majority of people that buy RVs intend to use them for getaways and vacations. Not as their full-time home.
How This Impacts RV Quality
RV manufacturers know most people rarely use their RVs. They don't build most of their products with the expectation that people will live in it for extended periods. First, it's not always necessary. Secondly, RV prices would be higher and they simply wouldn't sell as many RVs. Because most consumers are price sensitive.
In fact, when a manufacturer states that an RV is appropriate for full-time use, they generally mean it's designed to be used up to 120 days per year or about 4 months. A manufacturer's definition of full-time and ours are very different! When we say full-time, we're thinking up to 365 days a year!
That said, we have certainly seen and met others who live full-time in RVs that the manufacturer intended only for occasional vacation use. Not even the ones they build for 120 days or more. We expect these are the ones that require more ongoing care, maintenance and more frequent replacement of items. But It is also worth noting that this distinction of 'full-time' or not can impact warranty claims if buying new.
5. Past vs Present RV Brand Reputation
There are some RV brands that had legendary reputations in the past. But quite simply, they are not building the same product today that they were years ago. The RV industry has seen many ups and downs. 2008-2010 saw an enormous shakeup in the industry.
The industry saw large numbers of companies closing their doors, or being purchased by other companies. When a company goes bankrupt or is bought by another, it can cause massive changes within a company. Sometimes this is for the better, and sometimes not so much.
What About Top RV Brands?
Even some of the top RV brands who maintained their same ownership still make mistakes, take shortcuts, or cut costs. We have come across specific examples of highly respected brands that have released RVs (not inexpensive ones) with significant errors rolling off the production line. These respected brands then try to look the other way and hope nobody notices.
Most of their products are still good. But sometimes things slip through, especially if it is a brand new model or floor plan. So, when you are looking at your next RV, be thorough in your research regardless of brand. But especially if that brand does not have a great reputation at stake, or if it is one of the first units of a new model.
6. RVing Experience of Employees
We always find it interesting how few RV salespeople we meet at dealerships actually own RVs themselves.
One would think that owning an RV – or at least having experience with an RV – would make you much more familiar with the wants, needs and desires of RV owners. But I guess the good sales people just try to listen to what their customers say they want. Or perhaps pay attention to what they get excited about when looking at RVs, as ultimately their goal is to sell you one.
Similarly interesting, most of the leadership, sales staff and production staff we have spoken with don't own RVs either. At least some of the manufacturers we visited during our RV factory tours have programs that allow employees to borrow RVs for personal use.
We find it ironic, amusing and somewhat disturbing that so many of the influencers, designers and decision makers in the RV world have so little personal experience actually using or living in them. This does explain some of the design choices we see when looking at RVs.
Why This Matters
Some floor plans look good on paper or even at first glance. But when you try to move around or live in an RV, the flaws of the layout really begin to show. Maybe the bathroom or refrigerator door can only be opened if the bed is lifted up. Perhaps in trying to make a larger cabinet, it sticks out so far that you are prone to hitting your head on it when trying to reach a common area.
Maybe a floor plan is great when the RV is parked with all the slides out. But when the slides are in, it is virtually un-useable, not allowing access to a bathroom or other basics. We have seen RVs where the bathroom door is so close to the toilet, that you cannot shut the door if you are going to sit down. Just a reminder to pretend you are living in an RV to test these things out, whenever you are seriously considering a purchase.
Learning What Works
When we were first doing our own RV shopping back in 2013-2014, we would spend considerable time inside each RV. We were trying to assess whether or not it would work for us. Now, with many  years of full-time RVing experience under our belts, we innately know what works and what doesn't.
We can literally poke our heads inside an RV or do a very quick walkthrough of an RV. That is often all we need to identify a shortcoming, limitation, or simply where it won't meet our needs. What used to take us hours now takes us mere minutes, with the benefit of experience and a keen self-awareness.
Consider The Source And Who To Trust
An important consideration which may surprise you to learn is that the RV industry is mostly self-regulated. Which to some folks means unregulated. Think about it. If, as an industry, you are able to make up or modify your own rules and regulations however you feel, instead of needing to meet or follow the rules of somebody else, how much more flexible would you be with those rules?
Be sure to keep a healthy skepticism and don't blindly believe everything you're told or even what you read. We do believe that generally speaking, many in the industry are trying to build better and safer products. But all too often, we see things in RVs that would never get by in the automotive or home building industries which are far more regulated.
It is also important to remind you to not take everything you see in marketing materials as the truth or the full story. The looser industry regulations also allow for more 'creativity and flexibility' in marketing claims. During our RV factory tours, we saw two different manufacturers who were both building RVs using the identical materials. They were even installing them in the same way on their RVs. But, those two manufacturers made very different claims in their marketing materials about the effectiveness of those materials in insulating their RV.
The RV Factory Tours Guides
Many of the RV factory tour hosts at the factories we visited made statements about how their process was the best. They may fully believe that it is the best way to do it. But then so does the other company that does it a different way, for a different reason. By doing RV factory tours yourself, you can add your opinion into the mix. This helps weigh in on which approach makes the most sense to you. Just food for thought.
Also remember that many (not all) RV factory tours are given by members of their sales team. The sales team, of course, have the end goal of selling more units either directly or indirectly by steering you away from competitor products and toward theirs. Some tour hosts are fairly young and inexperienced. Others may be very knowledgeable about their own products, but not necessarily products of other manufacturers.
They will speak to all of the things they do well but will quickly gloss over areas that might be a shortcoming of that brand. So in truth, very few know how their product compares with others. We asked a lot of questions during each tour and were clearly educated on the subject matter (especially compared with most people they see on these tours).
Some RV factory tour hosts welcomed our questions, and others did not. Some didn't want to answer specific questions. They would move us along quickly or change the subject. This did not go unnoticed by us.
Doing Multiple RV Factory Tours Close Together
We feel it is useful to do more than one RV factory tour. Even if you only have your eye on one particular brand or model. Doing other RV factory tours will provide you with more information to compare. And it will allow you to ask more questions of the RV tour guide.
We did some tours that were conducted by extremely knowledgeable and experienced staff members. People who had literally been a part of virtually every aspect of manufacturing their product over many years. But RV factory tour guides like that are certainly the exception, not the rule. Some were fairly junior members of the sales team who were still learning the ropes.
The young and enthusiastic junior members had clearly drunk the company's Kool-Aid. They simply recited what they'd been told to share with us on the tour. Those guides weren't always equipped to answer our questions or provide deeper insights or reasons for the way things were done.
We are actually very surprised at the number of people who work at the RV manufacturers and especially those who host the RV factory tours, who have never visited or done RV factory tours at other manufacturers. Likewise, we are surprised to meet many RV dealers and salespeople who also have either never been to an RV factory tour. It is difficult to have a point of reference for comparison, to compare the pros and cons if you haven't had broad and deep exposure.
The Source Matters
We encourage you to really think about all of this when you are out and about researching, learning, and shopping for your RV. We never cease to be amazed by the number of people who rely on dealers and salespeople for their RV education. Their goal is not so much to educate you but to sell to you.
Of course, there is nothing wrong with an RV salesperson wanting to sell you an RV. They are just doing their job, after all. But how can they truly sell you the right RV for your needs, when they may not be truly knowledgeable on the pros and cons. One needs to consider the intricacies of the differences, your lifestyle, preferences and how they align with what will meet your needs.
That is a lot to expect of a salesperson or tour guide.  Which is why you need to empower and educate yourself in order to make the best decisions.
Dress Appropriately for RV Factory Tours
Most tours take you on a walk on the actual factory floor and therefore require close-toed shoes. Many also require safety glasses, ear protection, and safety vests.
The special items like vests, safety glasses, and earplugs will be provided when needed. But please remember to wear or bring along a pair of closed toed shoes. We saw some folks turned away from the RV factory tours when they didn't have the appropriate footwear. Every manufacturer we visited was very strict on this rule.
You will need to watch your step and dodge an occasional forklift, step over and duck under things. It really is great to get so close to the products being built. Some RV factory tours are conducted after production stops for the day. But, most of the tours we did were during production hours.
Most workers like to start early and finish early, often by 2 or 3 pm. It was nice to participate in a much quieter tour after the factory workers had left for the day. But where possible, we preferred doing the RV factory tours during production time. We enjoyed seeing the staff, how they worked, and liked to watch things get built in real time. It is better than just hearing about what normally happens during each step in the build process.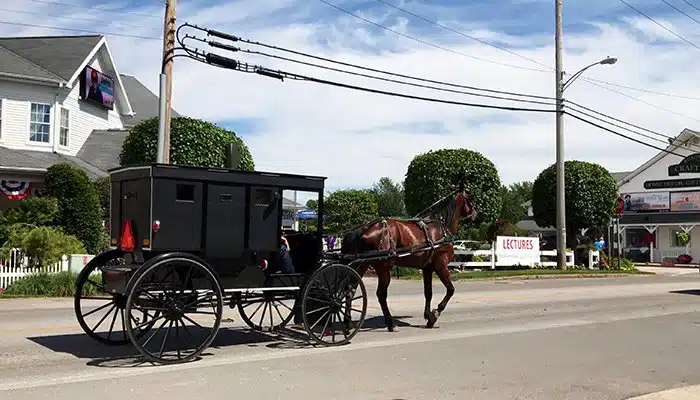 Other Clothing and Gear Considerations
RV factory tours hours are usually conducted between 10am and 3pm. Most production occurs between 6am and 3pm for a couple of reasons. A high percentage of workers are Amish. They like to finish early as they usually have to go to work on their farms or homes after their factory work is done.
Another reason for the early hours is that because most of the buildings are very low-tech metal sheds. It would be very hot to be working inside during hot summer months with limited climate control. Production is usually slower in the winter months. So this becomes a bit less of a factor during that time of year.
What Else To Bring
Remember that most RV factory tours do not allow photos or video. So don't plan on being able to bring your camera along. We did encounter a couple of tours that allowed photos. So at least we have a few photos to share with you.
Consider bringing a notepad and pen (or your smartphone) to make notes during the tour. There may be a few interesting things you want to be able to remember.
We did so many tours in a short period of time that we needed to take copious notes in order to keep them from blurring together. Our notes helped avoid confusing the information, and continue to be a valuable reference for us months later.
9. Do RV Factory Tours, Even if Not Your Brand
We definitely recommend that you go do a tour of an RV manufacturing facility, even if it is not for the same company that you currently own or intend to buy.
They all have differences, but doing a tour at any RV manufacturing facility will at least give you a basic understanding of how an RV is built. This will in turn, give you a better understanding of your own RV. It will help you troubleshoot issues. And will likely give you more confidence in your ability to fix some items on your own.
Most RV factory tours are free, and even though the vast majority of manufacturers are located in a relatively small part of the country, in or near Elkhart County. However, there are others spread out across the country that might be closer to where you are. There is, of course, an additional benefit to visiting the manufacturer of the RV brand and model you already own or plan to own.
Visiting More Than One
We feel it is great to visit more than just one manufacturer if possible so you have something to compare to. This helps you better understand the similarities and differences and what makes 'your' RV great (or not)!
If you go to the Elkhart area, be sure to stop by and visit the RV/MH Hall of Fame so you can see the evolution of RVs over the years. While we saw many technological and design enhancements, we also noticed that the basic layout of many RVs really hasn't changed too much. It's worth spending a couple of hours there, browsing the RVs old and new.
You might also enjoy checking out the photos on the Hall of Fame and reading up on some of the many resources in their extensive library of RV resources, books and magazines.
10. So, Which RV Brand Is The Best?
Ah yes, the question you have all been burning to ask! We know that many of you out there would love to just be told which RV is 'the best'. After all, wouldn't that make life so much simpler and easier?
After reading through all of the information above, you probably already have a sense of the complexity of that answer. It's just not black and white. In this article, we are just scratching the surface and giving you an overview. There are so many different types of RVs, and different needs for their owners.
The best RV for one person could be a poor fit for another person. That is part of why there is such an enormous selection out there. There are literally thousands of RV brands, types, models, floor plans, years and price points. We cannot possibly make a sound recommendation of the best RV for someone without first asking them dozens of questions.
One would need to get a much deeper insight into their needs, preferences, priorities and a thorough understanding of their budget. Also how they plan to use their RV and how long they plan to keep it. This is a very personal choice and one with many variables.
That Said…
What we have shared here from our own learnings during our immersion into the RV factory tours in the RV capital of the world will surely help open your eyes. It will expand your own understanding of why RV shopping can be such a complex and time-consuming exercise. And help guide you in some of your own decisions. Or at least consider some of the things to be aware of and watch out for.
A visit to Elkhart County, Indiana to tour RV factories isn't everyone's idea of a dream trip. If you're new to RVing, the prospect of it may be overwhelming and confuse you even more! But if you are as passionate about RVs and RVing as we are, this is an experience that can only be had in this part of the country on such a grand scale.
Some Will Tell You There Is a Best
Many influencers (like dealers) in the industry have not even seen the RVs they own or sell being built for themselves. Let alone the products sold by their competitors. So how can they really tell what is 'the best'? Of course, it's going to be the RV brands sold on their lot. So please, be very discerning and get properly informed through an unbiased and independent source.
There is truly no "one size fits all" when it comes to RVs. The more informed and educated you are, the better decisions you are going to make. And the better overall experience in researching, shopping, buying and enjoying your RV, you will have. You will have more confidence in your purchasing decision. And will be able to avoid mistakes and you will avoid paying too much.
If you found this article helpful and would like to continue expanding your knowledge of RVs, manufacturers, quality and more, we invite you to check out our RV Success School. We offer several online courses and go into great detail and teach you all the important things you need to know when it comes to getting educated, choosing and buying the right RV for your needs. Taking you step by step through the process with videos, written classes, workbook, and an invaluable resources section.
Not everyone will have the opportunity or desire to do RV factory tours. So we're happy to share that we are now available to share our knowledge, experience, personal opinions and advice directly as it relates to your situation in live Q&A sessions for RV Success School students.
Other Ways We Can Help
We can help substantially shorten your research time. And can direct your attention to focus on specific brands and models that will be a fit for your own unique needs. Maybe even specific dealers that we trust and recommend. The advice we share will certainly save you money. 
And of course, if you haven't already, be sure to sign up for our FREE email updates, so you can receive links to our best articles and alerts when new content is posted.
Sign up for our FREE newsletter to make sure you don't miss anything.