This post may contain affiliate links.
The Newmar Supreme Aire Super C luxury motorhome is hot, new and we found it at the 2020 Tampa RV Show. We take you on a tour – inside and out – and check out that price tag!
Newmar Supreme Aire Super C goes even BIGGER!
The Newmar Supreme Aire is a big bold move for a company that normally only produces Class A motorhomes, Newmar is making big bold moves into the Super C market. They first introduced the Newmar Superstar in 2019.  Now Newmar is making another big splash at the 2020 Florida RV super show in Tampa. Newmar shared their latest and greatest entry into the luxury Super C market called the Supreme Aire.  
Check out the related video for a visual tour, and read on below for more detail.
Introducing the Supreme Aire
The Newmar Supreme Aire includes the innovations they introduced with the Super Star, but takes things to a whole other level of power, performance and luxury. The Supreme Aire is an extremely luxurious and capable coach. It is 45 feet long, filled with every luxury, and built on one of the biggest and most capable foundations out there.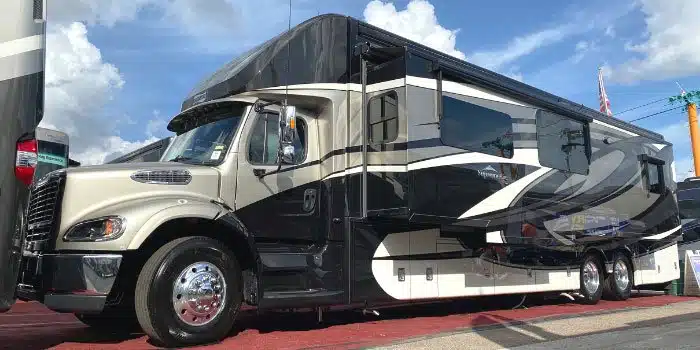 Supreme Aire Foundation and Chassis
One of the main reasons people choose Super C coaches over Class A coaches is for their towing and cargo carrying capacities. The Supreme Aire is built on a Frieghtliner M2 chassis with the 505 hp Detroit diesel engine. That engine is 12.8 Liters and has 1850 ft pounds of torque. 
This is a very heavy duty chassis with massive capacities.  Even after loading up the interior with every luxury, it still has over 14,000 pounds of cargo carry capacity.  That is not the towing capacity, that is the weight it can carry on board (when properly loaded of course).  
The tricky part of that is where you might fit that cargo. One of the most ironic things to me is that there isn't much space to put that cargo.  Despite the appearance of massive basement storage with huge basement doors, most of those bays are filled with systems. One bay is hydraulics for the jacks and slides. Another bay is the water heater, another for a huge bank of house batteries. Yet another bay makes room for a nearly 150 gallon fresh water tank.  
If you are hauling bars of gold and silver, you will at least have a couple sizeable bays to store your treasures toward the back of the coach. Joking aside, there are of course plenty of storage cabinets inside for most anything you want to bring along.
Towing Capacity
In addition to the massive cargo capacity, it can tow another 30,000 pounds. Do you have a huge stacking trailer that houses multiple cars and other toys?  No problem. I have a tough time imagining many private owner trailers that would exceed a 30,000 pound towing rating. The Supreme Aire even has the ability to connect air brakes for your heavy weight trailer, just like a normal semi-truck.
Even if a Class A coach had a lot of power, it could never have enough tongue weight for big trailers. Tongue weight is the weight of the trailer that rests on the hitch of the towing vehicle.  Most Class A coaches have very limited tongue weights because their heavy engines are already behind the rear axle. Some as little as 500 pounds. Which means you should not be putting motorcycle lifts on them (even though you will see it).
With large Super Cs like this Newmar Supreme Aire, the engine is up front, and it has two dual tire axles (8 tires) toward the rear like a normal semi truck. Tongue weight on this coach was 3,000 pounds.
Other Newmar Supreme Aire Chassis Features
Many Super C owners also like the driving style of a large truck instead of the bus-like Class A coaches.  Sitting high, but behind the front wheels with a big chunk of steel in front of you.  Plus features like collision mitigation, adaptive cruise system, and electronic stability control.
Also nice to have so much of the chassis being from a full production truck manufacturer, not a small production hand built RV manufacturer.  This also makes for more straight forward maintenance when getting it serviced since it has easier access to the engine bay, and other chassis components compared to Class A coaches.
As mentioned above, this truck has a big 505 hp Detroit diesel engine.  And it has a traction advantage to but that power to the ground.  Both of the tandem rear axles are drive axles, putting 8 tires in drive when fully engaged. It will likely have a very smooth ride with a 309" + tag wheelbase. Adding to that smooth ride will be BOTH air ride seats AND an air ride cab. That is actually one of the most unique features of the Newmar Super Star and Supreme Aire Super C coaches.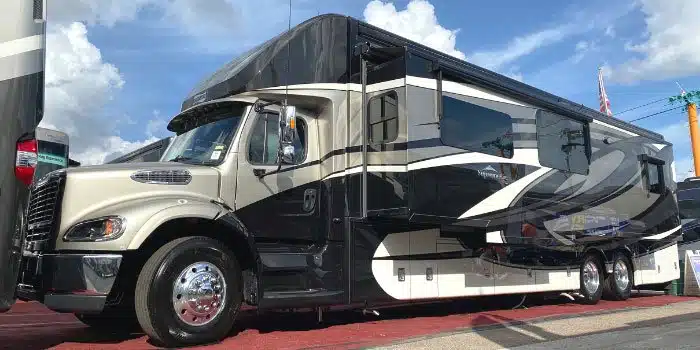 Riding on Air
Most Super C coaches have two shortcomings when integrating the cab into the living space.  The first is that they usually involve stepping down into the cab area, feeling separate.  The Newmar Super Star and Supreme Aire have created a unique way to have a flush floor from the living area into the cab.  Using a hidden articulating connection it is a nearly seamless transition from the cab to the main living space.  It is beautifully integrated.  
The second challenge is that these big trucks usually have the option of having the cab ride on air for a smoother ride. Unfortunately, before this unique solution of the articulating connection, most manufacturers chose to remove the air ride ability. They needed both to be fully rigid because there previously wasn't a way to have one soft and the other firm. Now, the living space can be a solid house like foundation, and the cab can float for comfort when in motion.  Brilliant.
The Softer Side of the Newmar Supreme Aire
Ok, speaking of the living space, let's check out the softer side of the Supreme Aire.  After all, it isn't all about business. As mentioned above, this is a very high end luxury coach. The interior has beautiful fit and finish, and very high quality components.  
Appliances are familiar residential brands like Fisher Paykel, and Whirlpool. Beautiful spa-like bathrooms, and luxurious textures on the furniture. For those who like the latest in technology, there are touch panels all over the place to operate lights and window shades.
I especially like the large front skylight above the cab.  There are also at least two larger touch panels that can operate virtually every on board system.  AC and DC electrical systems, water tanks, generator, you name it, it seems to be accessible from the touch panels.
Keeping Comfortable
The Newmar Supreme Aire model 4573 that we toured had three slides.  One of those slides was nearly a full wall slide. There are three Supreme Aire floor plans available.
Of course, there are also features like heated floors, continuous hot water, three air conditioners, and a standard 50" 4K television. It has a 12.5 kw generator to run all those appliances when not hooked up to 50amp power.
We also love that it has the Aqua Miser system we have seen on other Newmar luxury coaches that recycle the fresh water in the shower until it is your preferred temperature. No cold starts to that shower, and also a great way to save water when running off your onboard tanks.
Closing thoughts on the Newmar Supreme Aire
Super Cs have been gaining new attention in the last few years. There are other brands like Renegade who build a variety of models, and Showhauler that builds custom Super Cs on large chassis. But, the new Super Star and Supreme Aire are very exciting new entries from a well respected Class A coach builder. Newmar has a great reputation for building quality coaches, and some of their innovations on this coach are very impressive.
Starting at $560,000 MSRP (and going up from there), these are very exclusive, high end coaches. This price point is similar to Newmar's Mountain Aire line. There is a relatively small pool of folks that can afford, or that need the massive capabilities of a coach like this. But I think that Newmar will be tapping into a group of people who have wanted something like this for a long time, but wanted to buy from a brand they already know and trust.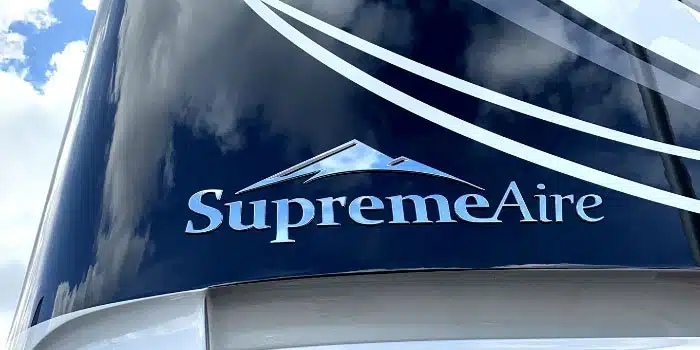 RV Park Limitations?
Of course, being 45′, you'll need to keep size in mind when trying to find RV parks, RV resorts and campgrounds to fit your rig (and towed vehicle).
Here is something to keep in mind for the high end buyers this rig will attract. Some high end luxury RV parks cater exclusively to Class A motorhomes, and may not allow Super C's. We think those resorts are a bit short sighted in that approach. There are a number of superb Super C coaches like this, and owners that like to bring along big 'toy-box' trailers with them on their travels.  
Perhaps as more coaches like this hit the scene, the tide will change. One notable exception is Palm Beach Motorcoach Resort in Florida, where we stayed in our Class A in 2019. They DO welcome big Super C motorhomes as well.  Click here to read our detailed review.  
I love the coach, and everyone that walked through it while we were checking it out loved it too. We don't currently have the need (or the budget) for this much coach, but know that there are folks out there that find this may be exactly what they are looking for.
For more detail, visit the Newmar Supreme Aire website.
What do you think of the Newmar Supreme Aire Super C?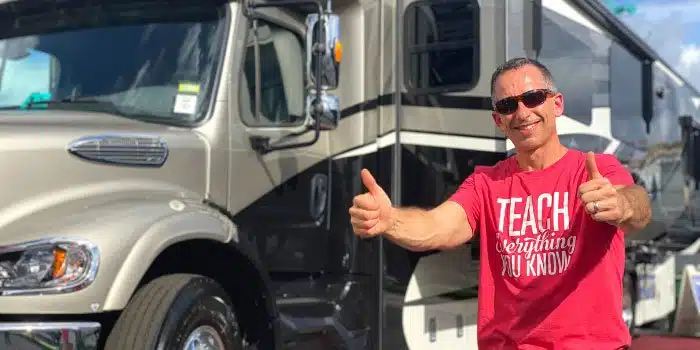 GOT COMMENTS OR QUESTIONS?
We would love to hear from you. Drop us a note in the comments section below.