This post may contain affiliate links.
Luxury small motorhome manufacturer Regency RV is one of the newest motorhome manufacturers on the market. They exclusively build luxury Class B Vans, and Class B+ wide body vans. This was the first time we have had a chance to see one, at the 2020 Florida RV Supershow. Take a look at the style and craftsmanship in this RV video tour. And read on, to learn what we liked most, and what we didn't.
Regency RV has an interesting history.  They have produced RVs based on truck or van chassis in low numbers, on and off for many years.  But most of their company and owner's history over the last 50 years revolves around restoring classic cars. According to their website, they are now looking to produce a couple hundred RVs per year. Their new Ultra Brougham models have only been in production since 2018. Manufacturing and headquarters for Regency RV are in Fort Worth Texas.
A Look Inside the Ultra Brougham 25IB
At first glance, it was pretty apparent to me which manufacturer they are modeling after.  Their Ultra Brougham body lines, even their paint graphics, and interior styling are very similar to Leisure Travel Vans from Canada. Regency RV is clearly targeting high end Class B+ buyers.
Fit and finish, both interior and exterior, seems very nice. Which would be expected from a company whose history is in classic car restorations.  We'll speak more to the interior and exterior layout and design touches a bit further down.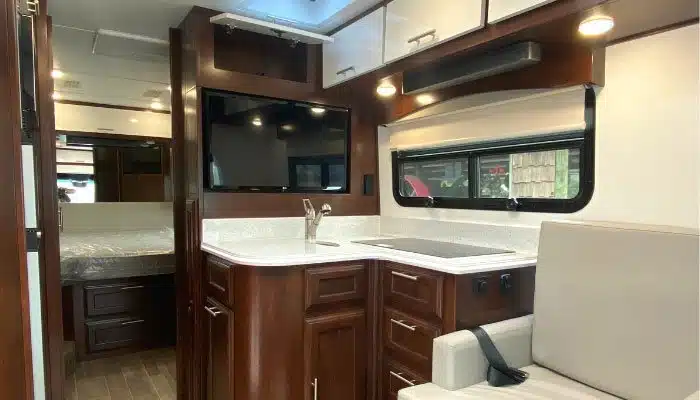 What Floor Plans Are Available?
Let's first talk about the available floor plans, and which one we chose to have a closer look at.
Regency RV offers three floor plans in their Ultra Brougham model, all of which are built on the Mercedes Chassis.  Floor plan options include a murphy bed, twin bed, or island bed.  We were most interested in their island bed model.  We place a high value on having a nice bed, and prefer to sleep together rather than apart in twin bed units.
Importance of Cargo Carry Capacity
The murphy bed unit required having a slide out, which would have added even more weight to a coach that is already a bit short on cargo carry capacity. The 25IB (Island Bed) model we toured had about 1,000 pounds of cargo capacity.  Class B+ coaches like this are not known for having a lot of capacity. Some have as much as 1,600 pounds, others have less than 700 pounds.  
Percentage wise, and in practical use, that is a really big difference. For example, consider that two passengers probably weigh a combined total of 340 pounds, and 20 gallons of water weighs over 160 pounds.  If you only had 700 pounds to start with, now you have less than 200 pounds left for all your clothes, food, linens, cookware and personal items.  In other words, you will need to pack very light, and don't plan on putting heavy e-bikes on a bike rack on the hitch. Definitely would not work well for authors like us who often carry books.
By comparison, if you had the same size coach with twice the cargo capacity at 1,400 pounds, you could comfortably make use of all the available storage cabinets, and even a couple bottles of wine to enjoy during sunset with friends.
OK, back to how the layout looks and feels, and what we think of it.
The Regency RV Ultra Brougham Exterior
First, when walking up to a Regency RV Ultra Brougham, the exterior paint is noticeably high quality.  These are very attractive RVs with beautiful paint, polished aluminum, and stainless steel accents. Even the air conditioning units are painted to match.
I also really liked that Regency RV left significant ground clearance behind the rear axles below the body.  This is very important in Class B+ RVs like this as most people use them as their primary driver when traveling, since they rarely tow a car.  That means they will regularly need to find places to park the RV, and it is too long for a regular car space.  So, drivers often need to back the tail of the RV over open areas to fit in a space. Or find a parking lot where two parking spaces can be used.
Regency RV Ultra Broughams have nice basement storage bays all along both sides of the coach. Some models, including the Island bed model we toured, have a pass through storage area, and an optional sliding tray in that bay.  The model we toured also had the optional LP powered Onan generator, and two leveling jacks. Diesel generators are available as an option.
Cabinet work is very nice, and is available in three colors. The model we toured had dark stained base cabinetry with glossy white door faces. Cabinets had exposed handles rather than hidden latches. Countertops were white Corian. 
We thought it was odd that the seats in the living area were light grey, but the driver and passenger seats were black.  Normally, we prefer to have the fabrics match, or at least coordinate.  Having them match gives a more cohesive feel, especially when the front seats are meant to be able to rotate around and be part of the living space.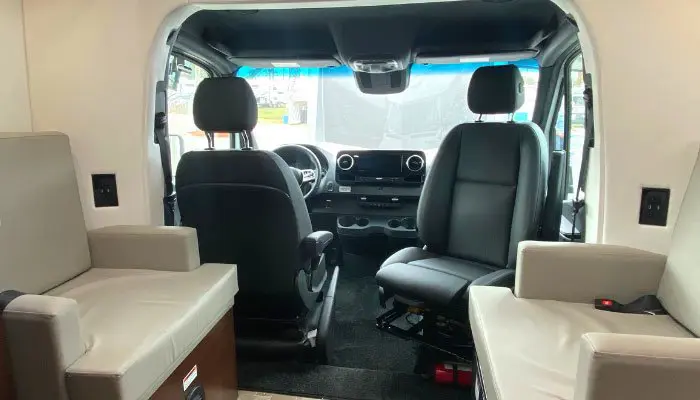 Kitchen/Living Area
The circular kitchen sink was nice and deep, counter height was good, and we felt the layout was functional and not cramped.  Many of the mechanical controls for the generator, jacks and tank capacities were mounted above the entry step area.  This would be a problem for Julie as they were so high above the steps.
We did like that they had a drop down cover for the stairwell similar to the one offered in Leisure Travel Vans.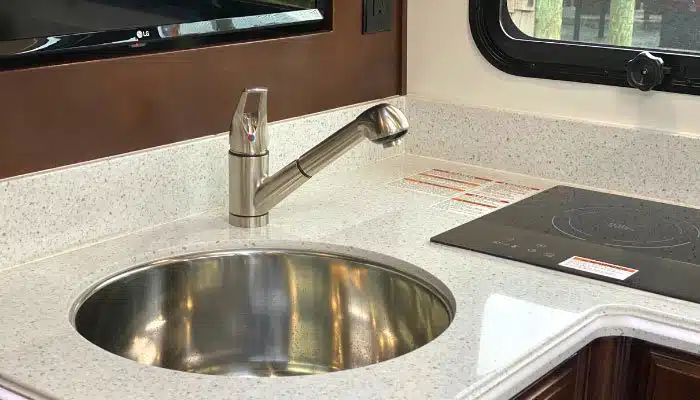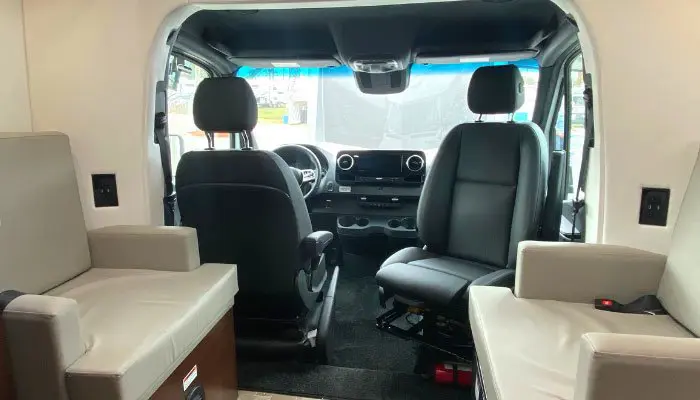 The living area seats face each other and there is a post hole between them to insert a table.  Table top and post are stored under the bed when not in use.  This front seating/table area also converts into a sleeping area for one person if you have a guest. 
Bathroom 
Walking toward the rear of the coach, we really liked the split bathroom layout.  Our current RV has a split bath layout and we feel that it works very well for couples.  The shower is on the passenger side, and the toilet and sink are on the driver side.  
We also really liked that the door for the shower, when fully opened, can latch in place in the hallway. This provides excellent privacy in the rear of the coach. Having a way to provide privacy in the bedroom and changing area means that you don't always need to put up covers on your front windows. Not just for privacy within the coach.  Privacy from outside.
The toilet and sink part of the split bath was good. But we thought the toilet was not placed quite right.  It was a little tight against the wall, and was not angled optimally.  I felt that if it was angled in a different direction, it would be more comfortable and more usable. 
Others might think differently, but pay close attention to details like this when touring any RV.  If it bothers you during a quick tour, it will likely drive you crazy in the long term.
Bedroom
Being a Regency RV Ultra Brougham 25IB, this model had an island bed.  That means that the majority of the rear of the coach is taken up with a relatively large bed in the center, with walking space on both sides.  The twin bed model is virtually identical in the front half of the coach. But instead of one bed in the center, it would have two smaller beds, one on each side in the rear section.
Julie and I really value having a good night sleep on a quality bed.  If you have been reading our blog or watching our videos for a while, you probably also know that we love our custom mattresses from Mattress Insider. You can learn more about those in this blog post and video..
The island bed in this coach seemed pretty comfortable. But it is worth noting that it might not work as well for taller people, as it felt shorter than a normal bed.  Also the corners of the foot of the bed are cut off at angles to make more room to walk around the bed.
There is a small step up to a higher floor level on the sides of the bed. Again this wouldn't be ideal for taller people.  I am 5'8" tall and was still able to stand up fully on the elevated area.  But I would estimate that I only had two inches to spare. So if you are over 5'10" tall you will probably need to hunch down in the bedroom area. 
Also worth noting that when you open the cabinet next to the bed the door hits the window valance and does not open fully.
The salesperson we spoke with mentioned that they were trying to price them $10-$20K less than the Leisure Travel Van (LTV) they are targeting.  But the coach we toured had a sticker price of $160K.  That is actually MORE than the price I come up with when building a comparable LTV unit online.
Maybe Regency RV is more negotiable on MSRP than LTV?
We felt that the Regency RV Ultra Brougham is a very attractive coach that is doing (or copying) a lot of things right.  But, it also falls short in a few areas when compared against the more established brand they are seeking to grab customers from. 
Our initial research into customer feedback on them online seems that early on, customer service was lacking.  But more recently Regency has taken customer experience more seriously and folks seem to be relatively happy with them. 
We enjoyed having a look at Regency RV, and will appeal to the luxury Class B and Class B+ RV shopper. They have potential to make waves and capture market share in this popular category.  We feel there are many buyers who will really appreciate the details and hand crafted elements of a small production company like Regency RV. 
We would definitely be interested in taking this for a test drive, if the opportunity arises.
To find out more, visit the Regency RV website.
What do you think of the Ultra Brougham by Regency RV? We'd love to hear from you, so leave us a note in the comments below.
GOT COMMENTS OR QUESTIONS?
We would love to hear from you. Drop us a note in the comments section below.