This post may contain affiliate links.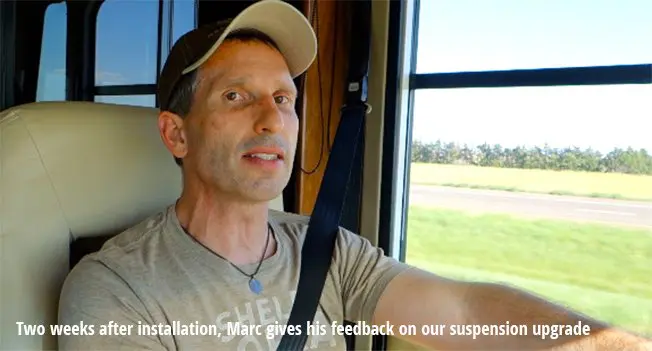 After 2 years of full-timing, driving over 20,000 miles across 40+ states, we decided to upgrade our RV suspension. Marc began considering this in the fall of 2015. He explored the many options available. Finally, after reading an article in Motorhome Magazine about an 'airless airbags' solution called Sumo Springs, he got even more excited about improving the way our gas coach rides and handles.
If you're more of a reader, then you'll get the general gist by reading this article. But if you want more detail or simply prefer video content, then jump right over to watch the video. Marc shares his thoughts and research on the various suspension upgrade options. It also explains why we chose SumoSprings and our experience driving our coach both BEFORE and AFTER the install. If you want to upgrade the ride and handling of your RV or truck. Or if you are grappling with the decision of whether to buy a Gas or Diesel coach, then this video (and article) are definitely for you..We help answer your burning with questions. What is involved? What do they cost? Do they really work? Are they worth it? 
We hope that by sharing our experience it will help provide some insight and answers to others on the journey. Please forgive the road hum, as we filmed this video while driving across I-70 WB in Kansas.
Why Upgrade the Suspension?
As you might have seen in our blog post and video Our Experience Driving a Gas RV gas coaches are known for not handling nearly as well as diesel coaches which run on air suspension. It's one of the many reasons for the big ($50k-$100K) price difference of Gas vs Diesel coaches. Which is probably the most asked question when it comes to considering which RV to buy? We certainly appreciate the performance, handling and braking capabilities of diesel coaches. But for us – still young-ish, working and saving for retirement – it was paramount for us not to overcommit financially when buying our RV. We are well aware it's a depreciating asset. But it's also important that our home on wheels is reliable and comfortable.
While we remain extremely happy with our gas coach, there have been a number of times that we both (Marc especially, being the primary driver) wished the handling was more solid and stable with less swaying, especially when entering and exiting driveways, off-camber surfaces, rough roads and in windy conditions. Though Marc has never experienced 'white knuckle driving' we know plenty of fellow RVers who have. So we figured if we could find a way to improve the suspension without breaking the bank, then it would be money well spent.
It's a subject of interest for many gas coach owners and future owners. Suspension upgrades make a lot of sense for high profile and heavy load vehicles.  RVs and trucks that tow 5th wheels and trailers definitely qualify. Suspension upgrades are designed to enhance load carrying ability, stabilize sway and improve overall driver control and comfort.
What are the Options?
There are many different solutions to choose from when upgrading your RV/truck suspension. Sway bars, track bars, steering stabilizers, shock absorbers and torsion bars are a few of the most popular. You could literally go down the rabbit hole of suspension research for hours, days or weeks on end, investigating the pros and cons of each. But we kept our research focused on finding affordable solutions that came highly reviewed by other gas RV owners with coaches built on the same Ford F53 chassis that we have.
After scouring RV and Tiffin owner forums and speaking to other RVers during our travels, we found that everyone has their own opinions on what is 'the best' solution. Regardless, it seemed that no matter which way we went, we would end up with a better outcome than what we currently have.
In the end, for us, it was about finding the balance between a significant improvement to our driving experience and an affordable upgrade investment.
We're realistic enough to know that our gas coach with leaf spring suspension can never compare with the way an air suspension diesel coach drives. But as we shared in Our Experience Driving a Gas RV video we tend to drive shorter distances, stay for longer periods and we're rarely in a hurry. Hence why it's taken us 2 years to get to this point. Upgrading our suspension wasn't essential. But after 15 or so months on the road, we came to feel it would definitely make for more enjoyable driving and worth spending money on for our future travels.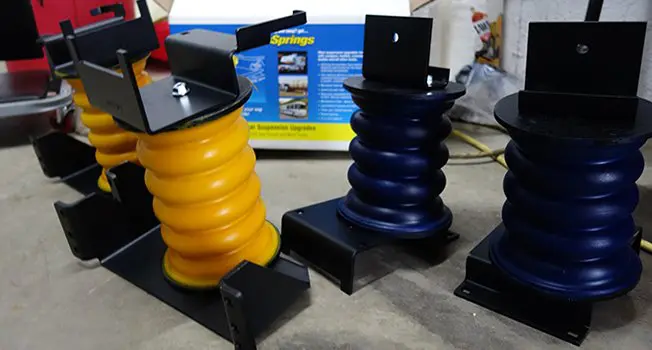 What Suspension Upgrade Did We Go With?
After looking at the many options available, Marc decided that SumoSprings were the way to go for us and our coach Rocky, for several reasons:
Ease of installation
Affordability (about $1,000 less than some other solutions we considered)
Zero maintenance after install (set and forget)
Overwhelmingly positive feedback on results – from other RVers, Motorhome Magazine and Tiffin
Confidence knowing that SumoSprings are now a factory installed option available on new Tiffin coaches
What are Sumo Springs?
Known as an 'airless airbag' Sumo Springs are a closed-cell microcellular polyurethane supplemental spring that results in a smoother and quieter ride for the Ford F53 chassis, which our gas Class A motorhome is built upon. We got the 'Maxim' which is one piece that attaches in two places – the chassis and the axle. The front set are blue and the rear set is yellow, replacing the substantially smaller factory bump stop.
According to the manufacturer's website, SumoSprings:
will compress up to 80% of their original height and stretch up to 50% of original height with full memory rebound
have progressive load control
are leak-free and highly resistant to oils, salts and UV rays
will perform within temps of -25°F and 200°F and are 100% maintenance free 'fit and forget'.
The latter was especially appealing. We didn't want to have to bother with constantly adjusting air levels for air bags as temps and elevations changed, or have to worry about them developing cracks or leaks.
Can You Install Sumo Springs Yourself?
Yes, if you are mechanically minded and have the tools, space and time to do it, you can install SumoSprings yourself. This could save yourself a few hundred bucks on labor and get the satisfaction that comes with doing a DIY job well. While Marc is mechanically handy and did consider this option initially, being full-time RVers we're definitely short on time, space and tools. So it made the most sense for us to opt for a professional install. Just be sure to order the correct parts for your specific vehicle. You can check the manufacturer's website or contact them by email or phone for support. Follow their instructions for installation. You should be able to find a step-by-step instruction PDF and video that shows you how to do it.
The Installation Process
Initially we planned to have the SumoSprings installed at the Tiffin Service Center in Red Bay during our visit in May. But they don't do after market installs. So they recommended a local shop to do the work. Belmont Diesel is only 7.5 miles and a 15 minute drive from Red Bay. They were able to get us in quickly, the day after our Service and Paint/Body work was completed at Tiffin.
The shop owner, Rodney, advised the install typically takes 6 hours. But he put two guys on the job and we drove out of there in under 3 hours. Fortunately, we were able to work from the coach while they did the install. This was very convenient for Marc who spent almost the entire time on conference calls while I (Julie) watched the install process. It was fun learning about the process while capturing footage for this blog post and the video.
The guys worked very fast and knew what they were doing.  They do plenty of these installs, which instilled us with a lot of confidence. Just watching them, we knew we had absolutely made the right decision in having them professionally installed. It would have taken Marc at least an entire day or weekend. And, we would have had to buy specific tools and frankly, we'd rather spend our time exploring!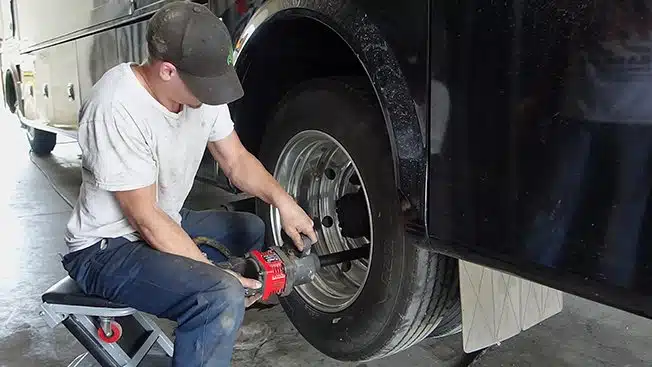 What Was the Cost?
We had Belmont Diesel order the parts and bill us for parts and labor. Total cost of $1,450 including tax.
Considering the parts are the majority of the cost, we felt this was very reasonable. The labor rates at Belmont Diesel are (at the time of writing) $65 an hour. Tiffin rate is $95 per hour (again, at time or writing). The cost may vary depending on the shop you choose. We would recommend going to a place that has done them before to expedite the install and keep your labor costs down.
Depending on where you buy them from, the parts alone can add up to anywhere from $1,000-$1,200 ($500-600 a pair – front and rear). We noticed Tiffin had at set of SumoSprings for sale in their Parts and Supplies Store for $1,300-$1,400. When we looked online, we saw them on e-Trailers.com for between $500-600 a pair.
The cheapest place we have found to buy the parts is Amazon ($470-$500 a pair). Just be sure to order the correct model number parts for your specific vehicle. We suggest checking with the manufacturer Super Springs first to confirm what you'll need before ordering. You could probably order the parts yourself and then simply pay for a shop's labor time to install them, or do it yourself.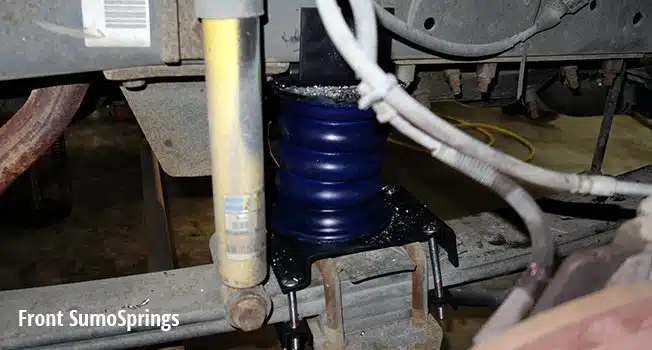 Product Details
Our motorhome is a 2012 Tiffin 35QBA on a 22,000lb Ford F53 chassis (built in 2011) and the Part Model Numbers we installed are:
Front SuperSprings SSF-180-40-1 SumoSprings Maxim Front Airless Airbag Kit – click to view/buy on Amazon
Rear SuperSprings SSR-180-54-1 SumoSprings Maxim Rear Airless Airbag Kit – click to view/buy on Amazon
Naturally, if you have the same chassis as ours, these part numbers will work for you. But for anything different, we recommend you contact the manufacturer to find out the specific parts model numbers to suit your RV/vehicle. Oh and by the way, don't be deterred by the 1 star Amazon review for the front SumoSpring. When you read it you'll understand why.
The Results?
And the moment you've all been waiting for. Do they really work? Are we happy with them? Do they make a difference? Are they worth the investment? Do we recommend them?
The short answer is absolutely 100% YES on all counts! We noticed the difference in reduced sway even before we even left the shop's gravel, pot-holed parking lot! Since then, we've driven over 1,000 miles across 5 states in the past two weeks and we are extremely happy with how much better the coach drives. It feels more planted and stable on the road. There is noticeably less sway. Marc feels less fatigued after long drives and in general he feels more in control of the vehicle and is less impacted by winds. In Marc's immortal words, he has less "pucker factor" now!
If you're interested in the longer answer with more detail or you are shopping around for a suspension upgrade, you will find the video extra helpful. Marc talks comprehensively about our entire experience – research, reasoning, installation and 'before and after' driving experience. The video is just under 17 minutes but it is thorough and will speak directly to many of the concerns, questions and hopes of fellow gas RV drivers (or trucks towing 5th wheels or travel trailers). It will be well worth your time (at least, we think so). As always, Marc aims to take a balanced approach in sharing his feedback, considering the many different options available and different needs of RVers.
This suspension upgrade is the single largest expense we have made on an RV repair/upgrade in the two years we've owned it. We are already thrilled with the difference it's made. it was unquestionably money very well spent.
We've included links to related articles, videos, the manufacturer and the shop who did the install below.
Related Videos and Articles
Driving a Gas RV Our Experience, Advice & Tips
A Slice of RV Life Episode #26: Windy Day
Our RV Repair Punch List (for the Tiffin Service Center, Red Bay, Alabama)
Our 'Visit to Tiffin' Series
Motorhome Magazine February 2016 Issue (article on suspension upgrade with SumoSprings)
SumoSprings Overview by Manufacturer, Super Springs
Belmont Diesel Service (Belmont, MS) – our contact is the owner Rodney. If you end up going there, please tell him we said hi and we still love them!
We hope you've found this article and video helpful. Please feel free to share with anyone else you feel may find it useful.
What's Your Suspension Upgrade Experience?
Have you done a suspension upgrade to your RV or truck? What did you install and what has been your experience? Please feel free to share your comments, questions and feedback in the Comments Section below for the benefit of others doing research on this subject.
Disclaimer
We want to make it very clear that we are in NO WAY affiliated with Tiffin, Super Springs (SumoSprings) or Belmont Diesel, MS and we were not paid or compensated by anyone for this article/video. The content was produced purely to share our honest opinion on our experience – before and after – of our suspension upgrade. We create all of our content to help others. This article/video were produced specifically in response to the huge amount of interest we have had from other RV owners who learned we were considering installing Sumo Springs in our Tiffin Service Repair Punch List Video.
As mentioned, there are other suspension solutions out there. We are not experts in suspension. So we cannot comment other than what Marc shared in the video. If you've found this info helpful, the links to products are Amazon links and we receive a small commission if an order for any product is placed within 24 hours. This is at no additional cost to you. Thank you for sharing the journey with us! Happy Travels!