DRY CAMPING / BOONDOCKING
It's known by many names  – dry camping, boondocking, free camping and wild camping – so we've rounded up all posts related to 'camping without hookups' here. Whether you're parked on BLM land (Bureau of Land Management) for a couple of weeks, spending the night in a Walmart parking lot during a long cross country drive, or pulling up at a truck stop, you'll find all of our posts and experiences here.
With winter just around the corner, one of the most common concerns of RVers relates to their batteries. The big question is: which batteries work best in cold temperatures – lead acid (AGM) or lithium? This can be a complex topic, and with the latest release of some interesting new data testing on battery performance,
read more »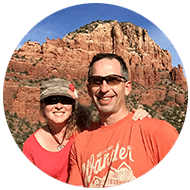 WANT TO LIVE & LOVE THE RV LIFE?
We're full-time RVers who have traveled to all 50 USA states over the past 6 years, sharing our journey and learnings along the way. We want to help YOU hit the road and live your RV dreams too.
Sign up for free email updates with inspiration, in-depth articles and tips to help you get there – better, faster and cheaper. We hope to see you there – and on the road!