There are many other kinds of camping options aside from Thousand Trails memberships and dry camping so we've included them here. Occasionally we stay at state parks, in national parks and other private campgrounds and this section will grow over time as we add more posts about the various options, like Harvest Hosts which offers the ability to stay on farms and wineries for a night which is free for members. These are typically dry camping so we've also included them in that section as well. Keep on eye on this page as we'll be adding more posts soon.
When it comes to unique and memorable stays, we fondly remember our night at Giusti Farm in Robbins, California. If you read last week's blog post which introduced you to our Thousand Trails campground membership, you'd have learned a bit about how we manage to travel and live so affordably. Another program we recognized the value in joining was
read more »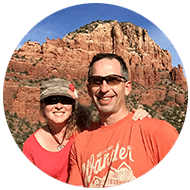 WANT TO LIVE & LOVE THE RV LIFE?
We're full-time RVers who have traveled to all 50 USA states over the past 6 years, sharing our journey and learnings along the way. We want to help YOU hit the road and live your RV dreams too.
Sign up for free email updates with inspiration, in-depth articles and tips to help you get there – better, faster and cheaper. We hope to see you there – and on the road!