This page covers everything related to Thousand Trails (TT) camping memberships. We've written a lot about TT as this is how we mostly camp and it makes our RV lifestyle so much more affordable. We started out with a Zone Camping Pass in 2014. But when we realized we wanted to slow our travels down with longer stays, and more flexibility while still camping affordably, we began researching our options for a membership upgrade. This opened a can of worms, as we began learning about the many different options available – new membership upgrades you can buy direct from TT and used membership upgrades on the resale market. Then there's the Trails Collection add on to consider. Working out the best option for you can be confusing territory, and after much intensive research, we know how and where to find the best deals and options available. We've written a whole series of articles to help people like you make the best decision for your situation and budget. These are some of our most popular posts and the ones we get the most "thank you" emails about. We hope you find them useful and that they save you a ton of money too. You will also discover our campground reviews on Thousand Trails, the Trails Collection, and many other RV parks in the buttons below.
So what does a Thousand Trails Camping Membership cost in 2021? Here's the latest pricing for all new Thousand Trails (TT) memberships, and the latest promotional deals. We cover the Zone Camping Pass, Trails Collection, Elite Basic, Elite Connections and NEW Adventure upgrade – with an overview of each membership type and key benefits. We
read more »
Thank you for all of the information that you have made available on Thousand Trails. There are a lot of opinions out there, but RVLove has been a consistently reliable source of facts and information that is balanced and reasonable about what to expect from TT. We also enjoyed your book!
We've been following Marc and Julie for over three years and have learned sooooo much from them! We love their upbeat spirit, sense of adventure, and how they share their knowledge and experiences with everyone. As we get ready to set out on our own full-time RV journeys, we feel so much better prepared because of Marc and Julie and RVLove!​
Great couple that have provided so much information and insight to the RVing life. We have followed them for years and find them both to be a great inspiration! We spent a couple of years learning and planning to become full time RVers and have recently taken the leap! We couldn't have done it without Marc and Julie's guidance.
We read all your TT articles and armed with this info we were able to snag 2 zones (running special), zone switching option, and 6 Encore properties in Florida! It helps to know what to ask for. Thanks for all your work, it really helped us newbie full timers. Love your other content too. Thanks again.
Marc and Julie are down to earth people that tell it like it is. Lots of good information from friendly folk.
Your book arrived today! It looks fantastic and has all the information I really wanted to know. I can't wait to really dive in!
This couple is so much fun to watch as they continue on their journeys. I love watching their videos, reading their posts and blogs. Thanks for sharing your journey and entertainment with us all, guys!
I wanted to thank you for your blog on Thousand Trails. We just purchased a full Elite membership because of your help. Thank you for all the hard work you did and for sharing your Tiffin Allegro 34TGA and plan on going full time in March. I am learning so much through your videos. I also had the Sumo Springs added to our RV based on Marc's video on handling better with the springs. Needless to say you both have been so helpful. Thanks again. Blessings to you both.
This couple is such a positive reflection of the RV lifestyle. I love that they are so willing to share the good, bad and ugly in such an interesting and informative manner.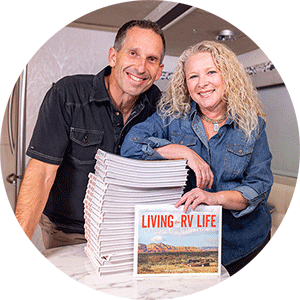 THINKING ABOUT HITTING THE ROAD IN AN RV?
There's never been a better time to get ready to hit the road in an RV and explore – SAFELY! As full-time RVers who have traveled to all 50 USA states over the past 6 years, and authors of the bestselling book Living the RV Life – Your Ultimate Guide to Life on the Road, we are here to show you the way. 
SIGN UP TO GET OUR BEST STUFF – sent straight to your inbox.