Whether you're planning to embrace the RV lifestyle on a full-time or part-time basis, or even just as a vacationer, it pays to do some advance planning and budgeting to help you prepare you financially so you have a good idea of what you're getting into. The cost of RV living can vary widely, depending on your RV, travel style and pace, and lifestyle choices – such as eating out and entertainment. With so much to consider – RV and vehicle setup, towing options, financing, extended service contracts, campground fees, camping memberships, fuel, ongoing maintenance, and repair costs – you don't want to end up with any nasty surprises. So to really enjoy all that the RV lifestyle has to offer, do your homework and you'll discover many ways to save money and make this life financially sustainable for you. The articles below share some insights and examples.
Oh how we'd love a dollar every time we're asked: "how much do you spend on fuel for your RV!?" The answer, of course, depends on many things, including how many miles we drive. But we did the math after 6 years of full-timing and think the answer may surprise you! Here's our in-depth report
read more »
We've been following Marc and Julie for over three years and have learned sooooo much from them! We love their upbeat spirit, sense of adventure, and how they share their knowledge and experiences with everyone. As we get ready to set out on our own full-time RV journeys, we feel so much better prepared because of Marc and Julie and RVLove!​
Great couple that have provided so much information and insight to the RVing life. We have followed them for years and find them both to be a great inspiration! We spent a couple of years learning and planning to become full time RVers and have recently taken the leap! We couldn't have done it without Marc and Julie's guidance.
Marc and Julie are down to earth people that tell it like it is. Lots of good information from friendly folk.
Your book arrived today! It looks fantastic and has all the information I really wanted to know. I can't wait to really dive in!
This couple is so much fun to watch as they continue on their journeys. I love watching their videos, reading their posts and blogs. Thanks for sharing your journey and entertainment with us all, guys!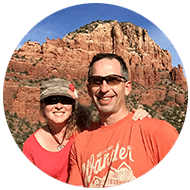 WANT TO LIVE & LOVE THE RV LIFE?
We're full-time RVers who have traveled to all 50 USA states over the past 6 years, sharing our journey and learnings along the way. We want to help YOU hit the road and live your RV dreams too.
Sign up for free email updates with inspiration, in-depth articles and tips to help you get there – better, faster and cheaper. We hope to see you there – and on the road!