Just as with RVing, no "one size fits all" when it comes to towing solutions. And what works for us at any given time may be different to what works for you. Over the years, our setup has evolved to suit our changing needs. We started out towing a MINI Cooper Convertible on a tow dolly behind our Class A gas motorhome. We later switched to an older diesel Class A motorhome, flat towing a Jeep four down. Here you'll find all of our towing related articles rounded up in one place. You can learn much more about towing for all kinds of vehicles (whether a motorhome or truck and trailer) in our online courses, specifically "Choosing the Right RV For You".
This is a follow up post from our previous post and video about our recent experience with the infamous 'Death Wobble' that sometimes occurs when towing a car.  Ours is a 2015 Jeep Cherokee Trailhawk.  You can learn more about our hair raising experience with the wobble in our 'Something is Really Wrong! Death Wobble Breakdown post and
read more »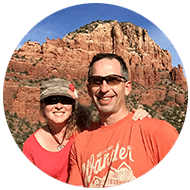 WANT TO LIVE & LOVE THE RV LIFE?
We're full-time RVers who have traveled to all 50 USA states over the past 6 years, sharing our journey and learnings along the way. We want to help YOU hit the road and live your RV dreams too.
Sign up for free email updates with inspiration, in-depth articles and tips to help you get there – better, faster and cheaper. We hope to see you there – and on the road!