These days, just about everybody wants (or needs) to stay connected to the interwebs, and when you hit the road, you'll likely want to take your email, social media and Google searching habits with you. Luckily, the major cellular networks are (mostly) widespread and reliable these days so it's completely possible to stay mobile and connected quite affordably. If you're still working full-time like us, you'll need a constant, reliable signal. Perhaps you're retired, yet like to keep an eye on your online share trading portfolio, read the news and Skype with family. If you're traveling with kids, they'll likely want access to social media, Netflix and gaming sites. And if a comfortable, ergonomic or even separate workspace is high value to you (as it is for us) you may want to explore ways to modify a space in your RV to suit your needs. We love the freedom and flexibility of being completely mobile to live and work anywhere we choose and share some of the ways we do that below.
It's that time of year again! The Holidays are upon us. Thanksgiving, Christmas, Hannukah, and Festivus for the rest of us. And while we're not big on accumulating "stuff", the joy of gifting is on our minds. Whether you're looking for something special (or just plain practical) for loved ones. Or you just want to
read more »
We've been following Marc and Julie for over three years and have learned sooooo much from them! We love their upbeat spirit, sense of adventure, and how they share their knowledge and experiences with everyone. As we get ready to set out on our own full-time RV journeys, we feel so much better prepared because of Marc and Julie and RVLove!​
Great couple that have provided so much information and insight to the RVing life. We have followed them for years and find them both to be a great inspiration! We spent a couple of years learning and planning to become full time RVers and have recently taken the leap! We couldn't have done it without Marc and Julie's guidance.
Marc and Julie are down to earth people that tell it like it is. Lots of good information from friendly folk.
Your book arrived today! It looks fantastic and has all the information I really wanted to know. I can't wait to really dive in!
This couple is so much fun to watch as they continue on their journeys. I love watching their videos, reading their posts and blogs. Thanks for sharing your journey and entertainment with us all, guys!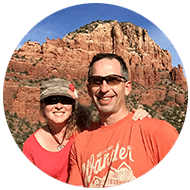 WANT TO LIVE & LOVE THE RV LIFE?
We're full-time RVers who have traveled to all 50 USA states over the past 6 years, sharing our journey and learnings along the way. We want to help YOU hit the road and live your RV dreams too.
Sign up for free email updates with inspiration, in-depth articles and tips to help you get there – better, faster and cheaper. We hope to see you there – and on the road!