Effective: April 25, 2020.
General
This website (the "Site") is owned and operated by Marc and Julie Bennett of RVLove.com, and Go Places Media LLC ("COMPANY," "we" or "us"). By using the Site, you agree to be bound by these Terms of Service that follow and to use the Site in accordance with these Terms of Service, our Privacy Policy and any additional terms and conditions that may apply to specific sections of the Site or to products and services available through the Site or from COMPANY. Accessing the Site, in any manner, whether automated or otherwise, constitutes use of the Site and your agreement to be bound by these Terms of Service.
Intellectual Property Rights
Unless otherwise stated, all written content on this site is owned by RVLove.com and/or our affiliates or licensors, and are protected by copyright, trademark, and other intellectual property laws. The Site is provided solely for your personal noncommercial use. You may not use the Site or the materials available on the Site in a manner that constitutes an infringement of our rights or that has not been authorized by us. More specifically, you may not modify, copy, reproduce, republish, upload, post, translate, sell, create derivative works, exploit, or distribute in any manner or medium (including by email or other electronic means) any material from the Site without prior permission. You may, however, download, print, and/or share one copy of individual pages of the Site for non-commercial use, provided that you keep intact all copyright and other proprietary notices.
Your License to Us
By posting or submitting any material (including, without limitation, comments, blog entries, Facebook postings, photos and videos) to us via the Site, internet groups, social media venues, or to any of our staff via email, text or otherwise, you are representing: (i) that you are the owner of the material, or are making your posting or submission with the express consent of the owner of the material; and (ii) that you are thirteen years of age or older. In addition, when you submit, email, text or deliver or post any material, you are granting us, and anyone authorized by us, a royalty-free, perpetual, irrevocable, non-exclusive, unrestricted, worldwide license to use, copy, modify, transmit, sell, exploit, create derivative works from, distribute, and/or publicly perform or display such material, in whole or in part, in any manner or medium, now known or hereafter developed, for any purpose. The foregoing grant shall include the right to exploit any proprietary rights in such posting or submission, including, but not limited to, rights under copyright, trademark, service mark or patent laws under any relevant jurisdiction. Also, in connection with the exercise of such rights, you grant us, and anyone authorized by us, the right to identify you as the author of any of your postings or submissions by name, email address or screen name, as we deem appropriate.
Limitations on Linking and Framing
You may establish a hypertext link to the Site so long as the link does not state or imply any sponsorship of your site by us or by the Site. However, you may not, without our prior written permission, frame or inline link any of the content of the Site, or incorporate into another website or other service any of our material, content or intellectual property.
Accuracy of Information
While we shall endeavor to ensure that all information on the Site is accurate, we cannot vouch that all information will be accurate and up-to-date at all times. The Site contains a large amount of data, and errors are likely to occur in tracking changes – for example, changes in dates and times of events.
We therefore do not accept any liability for error or omission with regards to content of the Site. Should you find any inaccurate information on the Site, please inform us at [email protected] and we shall correct it as soon as it is practicable to do so.
Part of this Site contains materials submitted to RVLove.com by Third Parties. It is the responsibility of these Third Parties to ensure that the materials submitted for inclusion on this Site comply with national and relevant foreign laws.
We cannot guarantee the accuracy or reliability of this material and hereby disclaim any responsibility for error, omission or inaccuracy in the material or for any misinterpretation, loss, disappointment, negligence or damage caused by reliance on any material contained within the Site.
We also cannot accept responsibility for any failure, or alleged failure in the delivery of the services referred to herein, or in the event of bankruptcy, liquidation or cessation of trade of any company, individual or firm referred to herein. You are advised to check with the establishment concerned.
We accept no responsibility for the content of any Site to which a hypertext link from this Site exists. Such links are provided for your convenience on an 'as is' basis.
Limitations on Linking and Framing
UNDER NO CIRCUMSTANCES, INCLUDING, BUT NOT LIMITED TO, NEGLIGENCE, SHALL WE, OUR SUBSIDIARY AND PARENT COMPANIES OR AFFILIATES BE LIABLE FOR ANY DIRECT, INDIRECT, INCIDENTAL, SPECIAL OR CONSEQUENTIAL DAMAGES THAT RESULT FROM THE USE OF, OR THE INABILITY TO USE, THE SITE, INCLUDING IN OUR MESSAGING, BLOGS, COMMENTS OF OTHERS, BOOKS, EMAILS, PRODUCTS, OR SERVICES, OR THIRD-PARTY MATERIALS, PRODUCTS, OR SERVICES MADE AVAILABLE THROUGH THE SITE OR BY US IN ANY WAY, EVEN IF WE ARE ADVISED BEFOREHAND OF THE POSSIBILITY OF SUCH DAMAGES. (BECAUSE SOME STATES DO NOT ALLOW THE EXCLUSION OR LIMITATION OF CERTAIN CATEGORIES OF DAMAGES, THE ABOVE LIMITATION MAY NOT APPLY TO YOU. IN SUCH STATES, OUR LIABILITY AND THE LIABILITY OF OUR SUBSIDIARY AND PARENT COMPANIES OR AFFILIATES IS LIMITED TO THE FULLEST EXTENT PERMITTED BY SUCH STATE LAW.) YOU SPECIFICALLY ACKNOWLEDGE AND AGREE THAT WE ARE NOT LIABLE FOR ANY DEFAMATORY, OFFENSIVE OR ILLEGAL CONDUCT OF ANY USER. IF YOU ARE DISSATISFIED WITH THE SITE, ANY MATERIALS, PRODUCTS, OR SERVICES ON THE SITE, OR WITH ANY OF THE SITE'S TERMS AND CONDITIONS, YOUR SOLE AND EXCLUSIVE REMEDY IS TO DISCONTINUE USING THE SITE AND THE PRODUCTS, SERVICES AND/OR MATERIALS
DMCA Notices
We create all of our own content and we buy images from Image Libraries or find images via Creative Commons if we don't supply them ourselves or get permission from the artist to use their work. We have the deepest respect for others' rights in their work.
If you feel that your copyright rights have been violated, please send us a DMCA takedown notice and we'll gladly remove it. You can send the notice to [email protected] (for the fastest response) or Marc and Julie Bennett, RVLove.com, 1312 17th Street Unit 2344, Denver CO 80202 USA. (Note: we use a mail forwarding service, so receipt of physical mail may be delayed by 30 days).
Governing Law
These Terms shall be construed in accordance with and governed by the laws of the United States and the State of Texas, without reference to their rules regarding conflicts of law. You hereby irrevocably consent to the exclusive jurisdiction of the state or federal courts in Livingston, Texas in all disputes arising out of or related to the use of the site.
Contact Us
If you have any questions about these Terms of Service, please email: [email protected]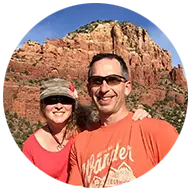 WANT TO LIVE & LOVE THE RV LIFE?
We're full-time RVers who have traveled to all 50 USA states over the past 6 years, sharing our journey and learnings along the way. We want to help YOU hit the road and live your RV dreams too.
Sign up for free email updates with inspiration, in-depth articles and tips to help you get there – better, faster and cheaper. We hope to see you there – and on the road!