You can buy the book Living the RV Life – Your Ultimate Guide to Life on the Road at any of the retailers listed below. Please note the book was only available at Costco during the November-December 2018 launch. But it's available just about everywhere else – in print, digital and NOW in audio format!
PS. If you'd like to buy a personally autographed copy direct from us – and/or get a free RVLove bookmark and RVLove sticker, just click here to send us an email request.
Where else can I buy the book?
Some awesome, independent retail and online outlets now also have copies of Living the RV Life – some of them are even personally autographed by us. Here's where you can find them, and support local businesses at the same time.
PHYSICAL STORES
Here is where you can buy a copy in person at bookstores, campgrounds and other specialty retailers:
ALABAMA
Page & Palette, Fairhope, AL – SIGNED
CALIFORNIA
Catalina Spa & RV Resort, Desert Hot Springs, CA – SIGNED
COLORADO
Boulder Bookstore, Boulder, CO
Garden of the Gods RV Resort, Colorado Springs, CO – SIGNED
Kebler Corner Cabins and RV Park, Somerset, CO – SIGNED
FLORIDA
Craft & Common, Orlando, FL – SIGNED
INDIANA
RV/MH Hall of Fame and Museum, Elkhart, IN
MAINE
Moody Beach RV Resort, Wells, ME – SIGNED
VIRGINIA
Barrel Oak Winery, Delaplane, VA
Black Swan Books & Music, Staunton, VA – SIGNED
Chesapeake Bay RV Resort, Gloucester, VA – SIGNED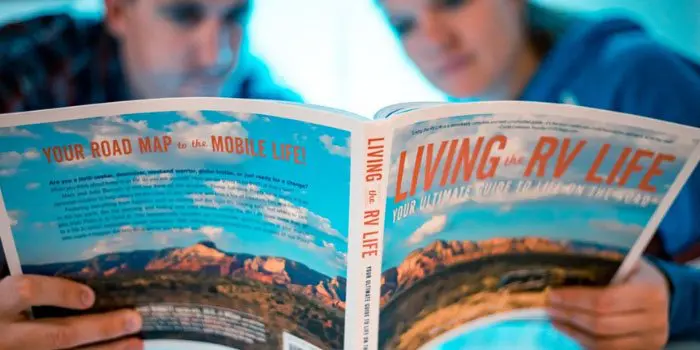 We've been following Marc and Julie for over three years and have learned sooooo much from them! We love their upbeat spirit, sense of adventure, and how they share their knowledge and experiences with everyone. As we get ready to set out on our own full-time RV journeys, we feel so much better prepared because of Marc and Julie and RVLove!​
Great couple that have provided so much information and insight to the RVing life. We have followed them for years and find them both to be a great inspiration! We spent a couple of years learning and planning to become full time RVers and have recently taken the leap! We couldn't have done it without Marc and Julie's guidance.
Marc and Julie are down to earth people that tell it like it is. Lots of good information from friendly folk.
Your book arrived today! It looks fantastic and has all the information I really wanted to know. I can't wait to really dive in!
This couple is so much fun to watch as they continue on their journeys. I love watching their videos, reading their posts and blogs. Thanks for sharing your journey and entertainment with us all, guys!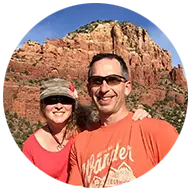 WANT TO LIVE & LOVE THE RV LIFE?
We're avid RVers who have traveled to all 50 USA states over the past 7+ years, sharing our journey and learnings along the way. We want to help YOU hit the road and live your RV dreams too.
Sign up for free email updates with inspiration, in-depth articles and tips to help you get there – better, faster and cheaper. We hope to see you there – and on the road!