Over 25,000 copies sold • 800+ 5-star reviews • Available in print, digital and audio
This beautiful book feels like a hug for my dreams! The content is so comprehensive... and I appreciate the realistic, honest assessment of what it takes to live on the road. I love this book!
If you buy only one book this year, it should be "Living the RV Life". Save yourself wasted time and get a jump start on RV Living by learning from authentic folks who know your pain and help you through it.
Excellent guide for success on the road for all RVers, whether a new or a seasoned full-timer. Everyone who is traveling and living in an RV should read this book thoroughly. Enjoy!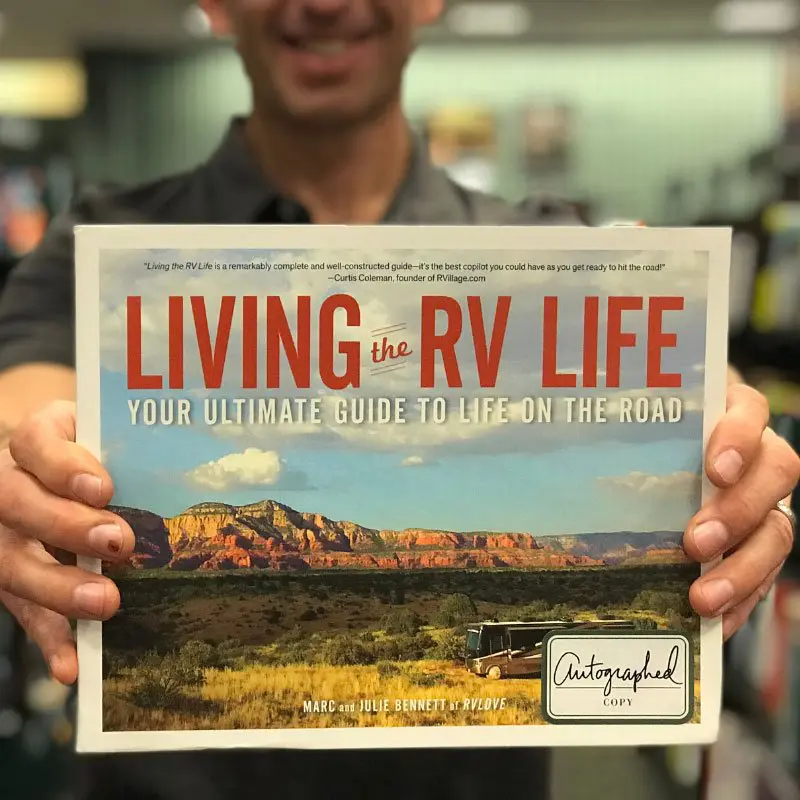 YOUR ROAD MAP TO LIVING THE RV LIFESTYLE
If you're looking for more travel, adventure or freedom on the open road, find out if the RV life is right for you.
Whether you want to go weekend camping, enjoy extended RV vacations, or sell everything to become a full-time RVer, you will learn how to make sound decisions, even transition from a life of traditional home-ownership to one on the road. Do you love traveling, meeting people, and seeing new places? Are you craving a life that feels more relaxing and meaningful? The RV lifestyle could be the answer.
Both aspirational and practical, Living the RV Life is your ultimate guide to living life on the road — for people of all ages looking to travel, downsize or work on the go.
Discover insightful details from experienced full time RVers, learn how to choose an RV (how big? new or used?), whether to sell your home (and if not, what to do with it), mail services, model costs, sample routes and destinations, basic vehicle maintenance, legal and government considerations, like choosing a state of domicile – and much more!
Packed with useful info and written in a light, easy-to-understand style, Living the RV Life is your must-have guide to living the RV lifestyle.
This is simply the best book on RV living and life available! If you're considering getting out on the open road, read it!! You will find yourself referencing it again and again.
This book is very easy to read, with beautiful pictures, and is fact filled. I cannot stop reading it. It's excellent!!! If you want to be a full time RVer, or are seasoned, you'll want this book in your library.
We find your book a wonderful resource. When we got interested in buying an RV we purchased several books. Yours was the only one we did not return! We so appreciate your experience and research.
AVAILABLE IN PRINT, DIGITAL AND AUDIO
The Number 1 bestselling book "Living the RV Life – Your Ultimate Guide to Life on the Road" is available where all books are sold, in paperback, digital and NOW in audio!
Sound on! Hear an excerpt from the audiobook now, simply by clicking the book image on the right.
Download your copy today from your favorite audiobook retailer. Duration: 7 hours, 57 minutes.
You can buy "Living the RV Life – Your Ultimate Guide to Life on the Road" at all good bookstores, in paperback, digital and NOW in audio! 
Click one of the bookseller links below to order your copy now.
Marc and Julie Bennett of RVLove are RVers and bestselling authors of Living the RV Life and RV HACKS. Since 2014, they have lived, worked and traveled in their RVs, while exploring the world. They have visited all 50 USA states, plus Canada, Mexico, and Australia, while still working full time. They share at their blog RVLove.com, on YouTube, and social media. They are the co-founders of the online RV Success School and Hit the Road RV Summit. 
Over the years they have inspired and taught thousands of people what they need to know to hit the road successfully in an RV. They are best known and loved for their positive attitudes, and can-do approach to dealing with the inevitable bumps in the road that go hand in hand with #RVLIFE.  They regularly appear at RV shows, bookstore events and in the media, sharing their experience and advice for others aspiring to live a life of freedom and travel.
Their latest book RV HACKS – 400+ Ways to Make Life on the Road Easier, Safer and More Fun! was released in July, 2021 and is also a #1 bestseller with over 20,000 copies sold.
Book Specifications – Living the RV Life
PUBLISHED ON NOVEMBER 20, 2018
ISBN: 9781507208984 | USD $22.99 (CAN $32.00) | Category: Travel | Format: High Quality, Full Color Paperback, Digital eBook, Audio | Size: 10″ x 8″ | 256 Pages | Over 20,000 copies sold | Publisher: Adams Media, a division of Simon & Schuster, and Simon and Schuster Audio.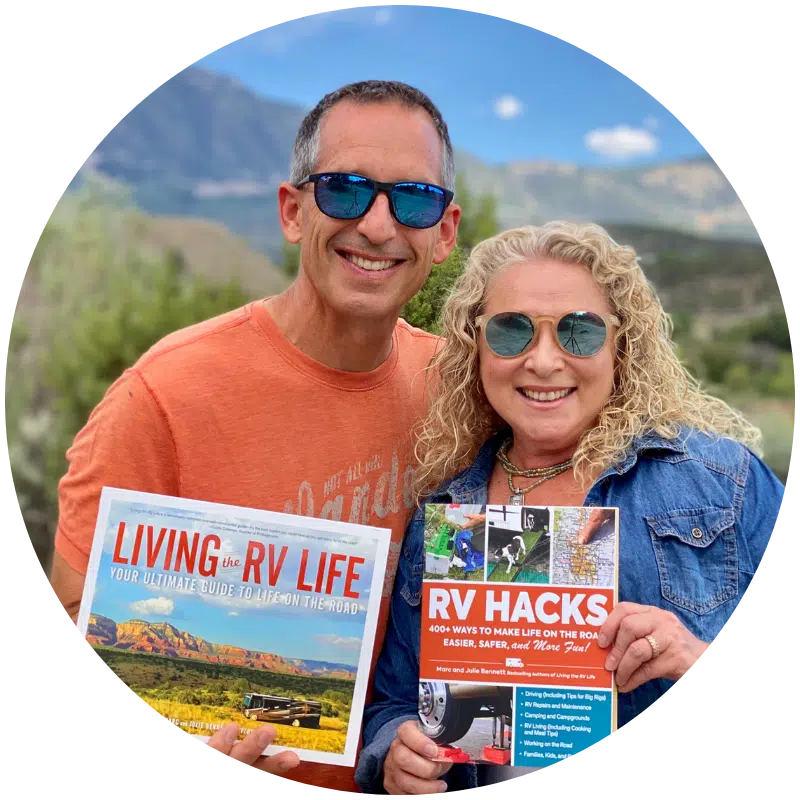 WANT TO LIVE AND LOVE THE RV LIFE?
There's never been a better time to get ready to hit the road in an RV and explore – SAFELY! As RVers who have traveled to all 50 USA states over the past 9+ years, and bestselling authors of Living the RV Life – Your Ultimate Guide to Life on the Road and RV HACKS, we are here to show you the way. 
SIGN UP TO GET OUR BEST STUFF – sent straight to your inbox.