Disclosure: Please note this post may contain affiliate links. This means – at no additional cost to you – we earn a commission if you make a purchase using our links. We only link to products and companies we use and recommend. The income goes toward supporting the free content on this site and community.
Fuel is one of the biggest expenses for RV road trippers. Filling up at the pump can be a pain in the wallet. Especially when you travel a lot of miles, or drive a big motorhome, as we do. But now we've found a discount fuel program that has been saving us over $50 on average, every fill, we're thrilled! Here's how you can get one and start saving big, too.
We learned about the Open Roads TSD/EFS Fuel card in August 2019, and decided to try it out for ourselves. We applied for the card online (for free), received the card a couple of weeks later, and put it to the test in September.
Over 12 days, we drove our RV over 1,500 miles from Oregon to Washington and through Nevada, on our way to southern California. Filling our RV with diesel fuel, using our Discount Fuel Card, along the way. 
Update 2023: Our savings have continued to be excellent for years now. And we recently learned that they have saved RVers over $55 Million dollars in fuel in the last four years.

In a nutshell, our new Open Roads discount fuel card through TSD Logistics Fuel Program has so far, been saving us over 50 cents per gallon of diesel fuel, on average. We have tested the program filling our motorhome at three different locations in the past two weeks, and already saved more than $135. What we had initially thought was a program that sounded 'too good to be true' IS true after all… and we love it!
Update 2023: We still love this card years later and have saved as much as a dollar per gallon at times. Many others have thanked us for sharing as they love their card too.
Ready to learn more? Yeah, we thought so! Let's dive in.
P.S. Already seen the video and ready to apply?
Click here to apply online for your discount card (for free) today
What is the discount fuel card program?
This is a new fuel card program that offers amazing diesel fuel discounts to anyone who purchases diesel fuel regularly. Whether you are an RVer with a diesel motorhome, or own a diesel truck, you can apply for this program and start saving big on your fuel bills. 
Who runs this fuel discount program?
The company behind it is Open Roads / TSD Logistics, a bulk-freight transport-trucking company based in Texarkana, Texas. They have a fleet of 115 trucks and a fleet card program. Their drivers use their EFS fuel cards to get discounted diesel fuel prices at the pump. 
A few years ago, TSD Logistics expanded their discount fuel card program beyond their fleet of truck drivers to create a fuel program for RVers that use diesel fuel. This means we can take advantage of discounted diesel fuel prices, just like professional truckers do. As you might imagine, the higher the volume of fuel that TSD Logistics purchases, the bigger the discounts their company can negotiate on fuel prices. By expanding their 'fleet' to include RVers, they are able to purchase more fuel, without increasing the number of actual trucks and drivers for their own company. 

How Open Roads / TSD Logistics makes their money from this program is by keeping 10% of the savings per gallon their customers get when buying discounted fuel using their EFS card. So if the retail cost is $3.00 per gallon and our cost is $2.50 per gallon, your fee will be 5 cents per gallon. If they can't save you money, you owe them nothing. Of course, TSD Logistics also benefits as the increased volume of fuel on their account will enable them to negotiate better fuel prices – for their existing fleet of trucks and everyone else in the new program for RVers.
The EFS fuel discount card program is run by WEX Worldwide, a global payment solutions provider. They offer fuel cards and fuel management services to large fleets, government fleets and small businesses. Open Roads / TSD Logistics is a client of EFS/WEX. And we are customers of TSD Logistics. More about the TSD Logistics / EFS Fuel Card Program for RVers from the company website here.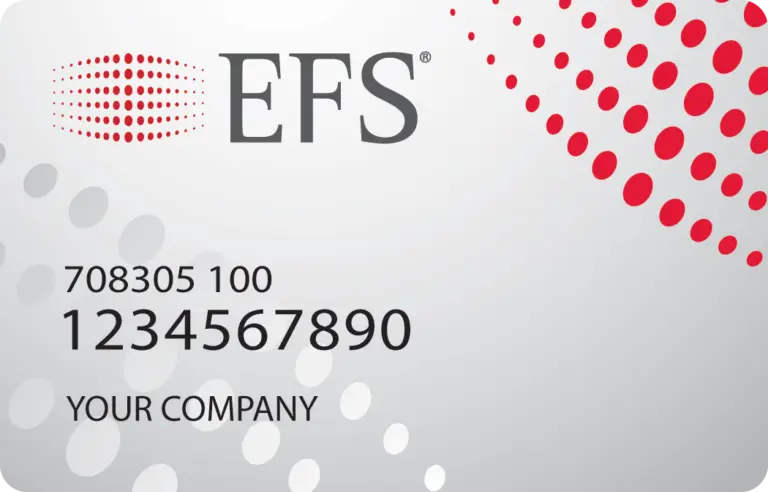 How does the fuel discount program work?
You apply for your discount fuel card 

online

. Once approved, Open Roads / TSD Logistics mails you an EFS card with a letter to walk you through the steps to activate.

You download the EFS Card Control app on your smart phone, and connect it with your card.

Use the app's Price Locator feature to find fuel stops along your route. These show as location pins in black or green. Green pins indicate the best fuel price in your selected map area.

You pull into the truck line in the back of the store and insert your EFS card into the fuel pump.

A prompt may show to ask for specific information that verifies you as the owner.  You enter the correct information and pump your diesel fuel.

The transaction appears in your EFS Card Control app, showing the number of gallons, price per gallon charged, and the total discount received. Keep in mind that 10% of this discount amount will be retained by Open Roads / TSD Logistics.

The next day TSD Logistics will draft  the money from your bank account. You will receive an email showing you the details of the transaction and fees from.
Note: The NEW app is called the Open Roads app. Download here from Google Play and download here from Apple App store
So how much is our discount fuel card saving us?
Why is this program such a big deal?
Fuel discounts with this program are far beyond what we have ever seen before in our more than five years of full time RVing. The most common fuel discount cards we have seen are the Good Sam membership card (which we have) and the Good Sam credit card – offering fuel discounts between $0.03 to $0.10 cents per gallon. And while that's better than nothing, we never found either of them worth getting too excited about. Especially as fuel prices can be inflated at the locations where those programs apply. 
However, all that changed for us when we applied for and started using our new Open Roads TSD discount fuel card program.
Saving big on diesel fuel costs
We had used our EFS fuel card three times as at the time of writing this, in September, 2019. 
Here's a detailed summary of what we saved on our first few fills. 
Fill #1: Love's travel stop, Troutdale, Oregon
September 3: On our first fill, we saved over $55 on 73.04 gallons of diesel fuel. The price showing at the pump was $3.149 per gallon. We used our discount fuel card, and were charged just $2.298 per gallon. Saving a whopping $0.851 per gallon. That's works out to be a discount of about 27%. 
As Open Roads / TSD Logistics charges 10% of the cost saving per gallon – in this case $0.085 per gallon – they got to keep $6.21. Meanwhile, we saved $55.94. On 73 gallons. Pretty amazing, huh?
Fill #2: Love's at Fernley, Nevada
September 13: Just 10 days later, we pumped 89.28 gallons into our tank for a pump total of $245.66. This was actually made up of two consecutive transactions as we accidentally bumped the fuel nozzle holder with the camera, which stopped the flow. So we had to start over. 
The second time, we also selected the cash advance option for $100. Our pump price showed $3.349 and we were charged $2.752 per gallon. As you will see in the receipt/app screenshot below. This is a discount of $0.597 per gallon. 
So our total fuel saving that day came to $53.35. Subtract the 10% fee of $0.597/gal = $5.33 for TSD Logistics. This meant we netted a savings of $48.02 for 89.28 gallons.
Not quite as much as we saved on our first fill, but still… very impressive!
Fill #3: TA in Las Vegas, Nevada
September 15: Just two days later, we still had half a tank of fuel on board in the RV. However, upon checking the app for fuel prices along our route, we noticed a huge jump in the price per gallon in California. Over a dollar per gallon more, in some cases. We decided to top off the fuel in the motorhome in Nevada to avoid the higher California fuel prices. This time we filled at a TA fuel station. The price at the pump was $3.359, but we ended up paying $2.752. Total savings on this fill were about $0.607 per gallon.  After subtracting the 10% admin fee, we had a net savings of $0.5463 per gallon. Which means we saved $30.58 on just 55.91 gallons of fuel. That would have saved $60 on a full tank.
Total fuel discount from our first 3 fills
Already, in two weeks with just three fills (218 gallons of diesel fuel), we have saved a net total of $133.50. That is an average savings of $0.61 cents per gallon when compared to the price at the pump.
Keep in mind that prices will vary. When talking to the folks at Open Roads / TSD Logistics, they indicated the average savings are closer to 30-40 cents per gallon. But in exploring the app, we have seen variances up a dollar or more per gallon.
How the discount fuel card works
When purchasing fuel, most fuel stations will allow you to use the card at the pump. Some may ask for additional identifying codes or ID – such as your unit number, driver name or zip code.  Other fuel stations may require you to go inside to pay with the fuel discount card (especially in Oregon).  
Depending on credit, you may also be eligible to make a cash advance from your card.  You may also be able to make other purchases, like DEF and other RV/truck-related products and services, like tires, and vehicle weigh-in. Although convenient to make additional purchases using your EFS card, discounts are usually only available on diesel fuel.
At the time of the purchase, the pump will be counting up at the regular pump price. The fuel discount will not show at the pump when fueling.  After your purchase is completed, TSD logistics processes the payment. The discounts will soon show up in the app on your smart phone. Often showing within a couple hours of purchase. 
Payment will come directly out of your bank account like a debit card the next business day. Regardless of where you fill at, the debit will be from TSD logistics. You will also receive an email confirming the purchase and showing you the discount received.  The emails have detailed spreadsheets attached.
Keep in mind when looking in the app, it is showing the gross discount on fuel. The actual saving will be 90% of what you see, as TSD logistics keeps 10% of the cost saving per gallon.
Where can you use the discount fuel card?
You can use the EFS fleet fuel card at more than 16,000 truck stop locations across North America. The most common ones are major chains like TA, Petro, Love's Travel Stops, Love's Travel Centers, Pilot/Flying J etc. Note that while you can use the card at all of these 16,000+ locations, not all of them offer the most attractive discount rates.
Open Roads / TDS Logistics has negotiated the BEST rates from TA Petro and Love's Travel Stops.
Unfortunately, Pilot/Flying J locations are not currently part of this program, so you won't receive discounts at those locations.
Note: When we first started with the program, Love's Travel Stops had the best prices. However, currently TA Petro does. Prices and contracts can change at any time without notice. So check the app for the best prices as you travel.
We like to use the price locator function of the smart phone app. This helps us find all of the available discounted fuel stations on our route and even highlights the best price. You will find more information about the app a little further down in this post.
When paying at the pump, there will be additional options on the screen that you might not be used to. The most notable is that you will need to select 'tractor' for vehicle type.  Other options in the menu will include if you want to purchase additional products or services.  You may also have the option to make a cash advance
What does the fuel discount program cost?
It is free to apply for the card. There are no long-term contracts to sign and no hidden fees. If you choose not to use the program any longer, simply stop using the card. It's that simple. 
Open Roads / TSD Logistics only charges a fee of 10% of the fuel discount per gallon, given by fuel the vendor to the card at the time of purchasing diesel fuel. 
For Example: If the fuel saving is $0.50 per gallon, TSD will keep 5 cents per gallon and your net saving will be $0.45 per gallon. If they don't save you any money, there is no charge.
Some fuel locations may charge an additional small fee. For example, we were charged $0.65 at TA in Las Vegas. But we were not charged a fee at any of the Love's locations. TSD Logistics has a better deal negotiated with Love's, so the fee is absorbed by them.
How much will you save on diesel fuel?
It depends. Fuel savings per gallon vary across locations around the country. However, the average cost saving is about 30-40 cents per gallon, according to Open Roads / TSD Logistics. But as you saw in our example above, we have personally enjoyed discounts as high as $0.85 per gallon (gross). We have found (so far) that Loves seems to offer the best discounts. But not always. TSD confirmed that they do have a better deal negotiated with Love's Travel Stops and encourage their drivers to use them where possible. 
Use the app to plan your fuel stops at the best priced fuel stations along your route. The green geo pin on the app map makes it easy to spot these locations..
Of course, the more you drive, and more fuel you purchase, the greater your total savings will be. We spend many thousands of dollars every year on fuel. So, we anticipate that we are likely to save over $1,000 per year on fuel, thanks to this discount fuel card.
How do you pay for your discount fuel and purchases?
Use your EFS card at the location where you are filling your RV or truck. You will need to pay for your fuel (and other) purchases, including any cash advances, with the actual EFS card to receive the fuel discount. You can't simply present the card to receive a discount and then place the purchase on a credit card. When using the EFS card, the amount you owe will be automatically debited from your bank account, the next business day after your diesel fuel purchase. You can keep track of your transactions via the app.
Significant savings on diesel fuel purchases
Cash advance up to $200 can be convenient
Can charge additional purchases to card (DEF, propane, tires, scales, showers (note: these extra purchases may not be discounted)
Available at over 16,000 locations in North America
App offers route planning and shows deepest discount in area
Not available at all fuel locations
Not available for gasoline purchases (only diesel)
Some vehicles cannot accept the larger fuel nozzle in the truck lanes, and discounts are only available if filling in truck lanes (not auto lanes, even at truck stops)
You have to provide your bank account details and social security card number to TSD Logistics to set it up
There isn't one. You apply for a card, start using it, and start saving on diesel fuel!
Seriously though. We understand that the biggest reservation for most folks will be the idea of having to hand over your bank account details and social security number to the company. While this is obviously sensitive information, keep this in mind. Open Roads / TSD Logistics is basically providing you with a credit line via their EFS Corporate Fleet account. They are the ones making initial payment for the fuel at the truck stop location, (and any other charges on your statement). Their company needs to recoup that from you by debiting from your bank account. TSD's Accounting Controller explained to us that a social security number was required in case they needed to pursue an unpaid account via collections. 
We did our homework on the company first. In our research, we discovered that TSD Logistics was established as a family business in 1980. So they have been around for over 40 years. They are a highly respected bulk transport provider, and known as the tire and rubber industry's most trusted carrier of raw materials, including carbon black. TSD Logistics is a values-based business, with a focus on quality. Their clients include Michelin, Goodyear and Firestone. We also found they have 4.3 star ratings on Google and a 4 star rating by employees (past/present) on Glassdoor.
We have now been using our discount fuel card for over 3 years (as at October 2022) and remain very happy with it – and our fuel savings!
Who can apply for the fuel discount card?
Presently, the Open Roads / TSD fuel card program is open to anyone with a diesel-powered vehicle (RV and/or truck) that can fill up in the truck lanes at the big truck stops.
And, it's available to anyone with a US Bank Account with US currency. So the program is open to US and Canadian residents alike, as long as you have a US Bank account with a US Bank 9 digit Routing Number. The bank account must allow for ACH Withdrawals from a US based Company. These are the requirements for the TSD fuel program.
How to sign up and start saving on diesel fuel
Ready to sign up for your discount card? Click here to apply online
It only takes a few minutes to complete the Open Roads / TSD Logistics simple, online fuel card application with your information, on a secure platform. Here's what you will need to provide:
Personal Information. You will be asked to provide your personal information, such as name, social security number, address, email, and phone number.
Processing and shipping. You will be asked to nominate your preferred method. Regular processing and shipping of the card is free.
Priority processing. This is $20 and guarantees your card will be mailed (regular) within 48 hours.
Expedited overnight shipping. This option costs $50 and also requires 48 hour priority processing, which costs an extra $20. So if you're in a hurry, be prepared to pay $70!
Bank details. The form will ask for your bank name, account number, routing number and account type.  
Authorization. Finally, you will electronically sign the form in the signature box (or type your name beside) to authorize TSD Logistics direct debit from your bank account for purchases. Here is the authority:
"I authorize TSD to Electronically debit by account. And I understand the authorization will remain in full force and effect until I notify TSD Company in writing that I revoke this authorization. I understand TSD requires at least 14 days prior to notice in order to cancel this authorization."
Submit Application. When you submit the form, you will get this message on the web page: "Thank you applying for our fuel program. You should receive an invitation email to download our app soon."
Referred by. You no longer need to type in who referred you (us, RVLove) on the form, as they created a special online application form that automatically adds that, for anyone who applies for the program via our content.
What's Next?
Next, you will receive an email from Open Roads / TSD Logistics with the subject header "User Confirmation Requested" asking you to confirm your email address by clicking the link provided within 12 hours of receipt. 
Once your application has been approved, they will mail your fleet fuel card with discounts, along with a letter with instructions to complete the setup of your account and PIN number. This information will be important for when you download the app. Next, download the TSD Open Roads app and integrate with your card, so you can start exploring fuel prices and filling your tank. Lastly, start using the card and see the savings add up!
You can choose regular processing and shipping or expedite with overnight – for a fee!
How long does it take to get the fuel discount card?
Completing the online application is very fast – just a couple of minutes. Once submitted online, applications are typically processed within 7-14 days. However, due to the popularity of the program and current volume of applications in the queue, we have been advised by TSD Logistics that processing can take up to 3 weeks.
Expedited processing is available at an additional charge. To have your application moved toward the front of the line, there is a $20 fee to have it processed in 48 hours.  Once processed, you could also choose to pay an additional $50 + the cost of overnight shipping to have your card as fast as possible. Typically the card is sent out via regular mail.
Ready to sign up for your discount card? Click here to apply online
Get the EFS Card Control App
On your smart phone, download the EFS Card Control App for 24 hour access to the latest fuel prices, and your card's activity. Enter your card number and pin. This app will keep track of all of your EFS charges and show you estimated prices after discount for all locations close to you that accept EFS.
Follow the setup instructions to connect your new EFS fuel card account with the app. If you have any issues at all, call the EFS customer service number shown on the letter. We found them to be very helpful and accommodating in completing the setup and getting started using the app.
This app allows you to track all of your transactions. Remember that fuel discounts shown in the app are the gross discount. You will receive 90% of that discount on fuel after TSD Logistics retains their 10%.
The app also has a handy price locator function. This provides you with their rates at any location along your route, so you can plan your fills in advance and maximize your savings.
RVLove partners with TSD Logistics fuel discount card
After discovering this program and having successful experiences with fuel savings, we reached out to Open Roads / TSD Logistics to ask if we could share this program and benefits with our RVLOVE community. We wanted to help educate you – our fellow RVers – about the program so you can save big money at the pump, too. They were thrilled and said YES, so we are delighted to confirm we are now partnered with TSD Logistics in helping to make this program available to you.
Simply use this link to apply for your fuel discount card, and it automatically shows RVLOVE in the "Referred By" field. This doesn't cost you any extra, and they send us a $25 fuel credit once you buy at least 100 gallons of fuel. It's an easy way to say "thanks" for finding and sharing this huge cost savings opportunity with you, and it doesn't cost you anything extra.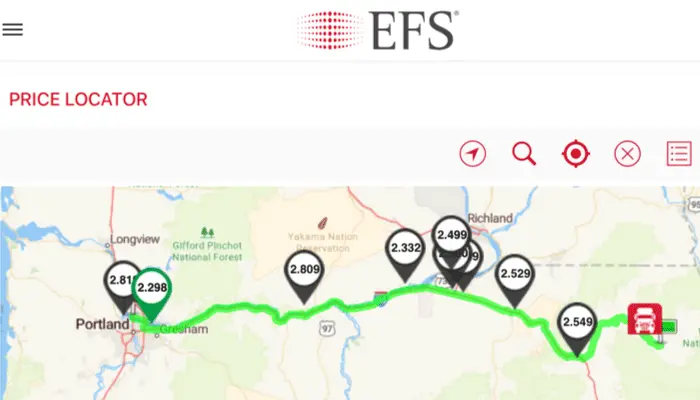 Are you ready to start saving on diesel fuel?
We hope you found this blog post and video helpful. If you have any questions, please let us know, so we can get the answers for you, and share them with others. This discounted fuel program has been fantastic for us, and we are excited to help you save money with it too. After all, the more folks we get into the program, the more we ALL save, thanks to even better negotiated and deeper discounted fuel prices in the future.
Want to learn about how we also save big on our campground expenses? We have a ton of useful information for you. We've saved well over $10,000 on camping fees over the past 5 years, thanks to our Thousand Trails camping membership. Click here to learn more and start saving on your camping.
Thanks for visiting and remember to share this article with a friend, who would also like to save!
GOT COMMENTS OR QUESTIONS?
We would love to hear from you. Drop us a note in the comments section below.