We love hearing from you so feel free to email us to say hi, ask a question, make suggestions for other posts or videos you'd like to see or even let us know if we've somehow played a small part in inspiring you to hit the road! Simply pop your details and questions and/or comments in the contact form below. Or, you can connect with us via social media, so hop on over and join the conversation there. While we do our best to respond to all messages in a timely manner, due to the volume of emails and social media comments we receive  – and the occasional message that gets lost in cyberspace – it may be faster to leave us a comment on one of our blog posts that relate to your question. If you are seeking in-depth answers or personalized advice, you may like to schedule a one-on-one private consulting call which you can book by clicking here. Thanks for visiting! – Marc & Julie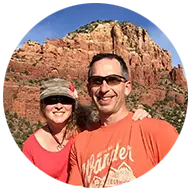 WANT TO LIVE & LOVE THE RV LIFE?
We're full-time RVers who have traveled to all 50 USA states over the past 6 years, sharing our journey and learnings along the way. We want to help YOU hit the road and live your RV dreams too.
Sign up for free email updates with inspiration, in-depth articles and tips to help you get there – better, faster and cheaper. We hope to see you there – and on the road!