Whether you're already living the RV lifestyle or a newbie in the planning phase, there are always a gazilion things to research, consider, shop for and make decisions on. It can be overwhelming and it's often tricky to know where to start. We're always on the lookout for ways to enhance, refine and save as we travel, so we created this list of valuable resources and links that we find useful and recommend. We hope some of these will also help you on your own RVing journey. Clicking the orange text name for each provider will take you to the relevant website(s).
RV Education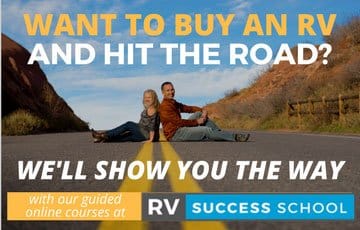 RV Success School – Anyone can buy an RV and hit the road, but the ones who have done it successfully didn't get there by chance. It takes a ton of planning, education and research to avoid many of the common and costly mistakes made by so many inexperienced or newbie RVers. There's a lot to learn and it's easy to get confused and overwhelmed by information overload. Now there's a way to fast track your learning, increase your safety and gain the education you need to hit the road with confidence.
We created
RV Success School
to deliver in-depth, online courses that educate and guide you through the process with well researched, unbiased information, workbooks, and recommended resources. Learn anytime, anywhere and at your own pace. 100% Money Back Guarantee.
Sign up for our free RVLove email updates
and save 10% using coupon code RVLOVE10 – visit
RV Success School
to learn more and get started today! Course access is instant upon enrolling.
Travel Resources
Campground Views – A handy and accurate resource for finding reviews, photos, useful info AND videos of campgrounds all around the country. We always look up potential campgrounds here to get more insight before making a reservation.
Campendium.com – Another one of our favorite resources for finding campgrounds, reading reviews and seeing photos. We especially love and appreciate the feature that allows you to check on cell coverage with different service providers at each location. Invaluable for us still-working RVers who rely on the internet to keep working and support this lifestyle!
RV Park Reviews – One of the many resources we use for researching, finding and reviewing campgrounds. Sometimes the reviews can be a little dated, but we still refer to it fairly often.
GasBuddy – This app helps you find the closest gas station and best prices for any vehicle. We use it often when trip planning and en route, but it's worth nothing that it doesn't always include Pilot, Flying J and Love's Travel Stops which are great for RVs. We use the brands individual apps to locate those.
National Park Service – The home of 59 national parks across 27 states in the USA. Start here to research the parks you want to explore and to plan your visit.
Roadtrippers – A handy Road Trip Route Planner, with Maps and Guides to help you plan your next road trip. Lots of great articles to help you research destinations as well as a place to share your own.
Other Discounts
RV Success School – Buying an RV and hitting the road can be an overwhelming experience – mistakes are common and can be VERY costly. Now there's a way to fast track your learning and get the education you need to succeed. We created RV Success School with online courses to guide you through the process with well researched, unbiased information that will help you make the right decisions with confidence and save money. Sign up for RVLove emails for free today and save 10% using discount code RVLOVE10 at www.RVSuccessSchool.com
RV Health – Getting sick while traveling, and then looking for healthcare options can be a frustrating experience. Now you can talk to a Primary Care Physician anytime, anywhere… saving you time and money. It's a virtual clinic that travels with you. Click here to start your first month for just $1 with coupon code "RVLOVE"
Camping Memberships
Campground Membership Outlet  – Contact trusted brokers Kim or Chad Hoel for discounted 'resale' camping memberships, especially Thousand Trails membership upgrades (like Elite). This has saved us literally thousands of dollars and has been among the best money we've spent on our RVing life. Be sure to let them know that RVLove referred you to ensure you get the very best deal and priority service. They know us well and will take good care of you. Ph: 800-272-0401 or click here to email 
Thousand Trails – This is the membership-based camping network of 80+ campgrounds nationally) that we have been members of since we hit the road. It's a great, affordable way to stay in campgrounds without breaking the bank. Be sure to read our Thousand Trails articles first to help you decide which is the best option for you. If a Zone Pass is the best fit for your needs, then contact Jim Reneau on 770-622-4188 and to ensure you get the best deal available (even if it's not advertised) tell him RVLove referred you and that you read our article. We can't always guarantee what additional benefits will come with your Zone Pass membership but at least you should be able to get a better deal than is advertised on their main website.
Encore RV Resorts & Campgrounds – This national network of 170+ campgrounds in 27 states is sister to the Thousand Trails network (they are both owned by parent company Equity Lifestyle Properties). Thousand Trails members get discounts of at least 20% on stays at Encore properties – exact discount depends on your TT membership type and level. We recommend adding the Trails Collection to your Thousand Trails membership to be able to stay at 110  Encore properties for free – click to read our article
Passport America – A discount camping membership that offers up to 50% off campgrounds. Be sure to check the fine print and eligible nights for each campground.
Reserve America  – A central online (and telephone) booking system for many State Park and some private campgrounds.
RPI (Resort Parks International) – This is an optional add-on discounted camping membership offered to owners of Thousand Trails membership upgrades. We find it a useful addition which enables us to stay affordably in areas where Thousand Trails doesn't have campgrounds.
Harvest Hosts – A wonderful program that offers free camping at unique and desirable locations such as farms, wineries and more. Membership is about $40 a year and of course, you're expected to 'thank/support' your hosts with a purchase.
Boondockers Welcome – A membership that provides access to private properties that allow you to boondock around the country.
Frugal Shunpiker's Guides – Invaluable ebooks to help you scout out some of the best, free or cheapest camping spots around the country! We have all of the PDF guides and they are worth every penny!
Industry Associations
Escapees – An advocacy group, support network and invaluable resource for RVers, especially full-timers. We are members and also use their very handy and affordable mail and domicile service. Annual membership is very reasonable at just $40 a year. If you decide to join, they will ask you for a referrer number, ours is #121165. For some reason they like to send out badges to referrers, we're getting quite a collection! 🙂
Xscapers – The offspring of Escapees created for "the new generation of RVers" we have been members since it launched. It's an active group of RVers – including many who are still working – who get together at rallies and events and share within their active Facebook community. Membership is optional and completely free of charge when you join the parent group, Escapees.
Good Sam Club – RV Club camping memberships offering services, discounts on campgrounds and online travel resources. We are members and feel we do get our money's worth – we just wish they would stop sending so much junk mail! Aside from that, it's affordable and worth the membership fee of around $20-25/year.
Motorhome Magazine – An informative monthly magazine that shares useful information, tips and articles about motorhomes (Class A, B and C) for those who own or aspire to own a motorhome.
Trailer Life Magazine – Published by the same group who publish Motorhome Magazine, Trailer Life is a monthly magazine and informational resource for owners and prospective owners of travel trailers.
RV Services
Wholesale Warranties – Click the link to get competitive and obligation-free quotes on an Extended Service Contract for your RV, or to get a cost estimate for one you are considering buying to help you as you budget. Extended Service Contracts can offer peace of mind knowing you're covered for larger, expensive repairs on your RV even after the initial manufacturer warranty period. Their service and pricing is excellent and it's definitely worth considering and obtaining an obligation-free quote.
MattressInsider.com – It can be challenging find just the right size – and even shape – mattress for your RV, let alone one that is truly comfortable. We ordered our new mattress from MattressInsider.com as they specialize in making custom mattresses to your specific needs – size, shape, comfort and support. You can describe what you want over the phone and they will custom make your mattress then roll and ship it to you for free within the USA. It's easy to unroll and doesn't smell at ALL. We're so happy with ours that Mattress Insider has given us a coupon code that gives you a 10% discount on your purchase. Just visit their website or call 1-888-488-1468 and use the code RVLOVE to save 10%.
GSRV Insurance – We have had insurance on our RV and tow vehicle with GSRV since day one as they specialize in insurance policies designed specifically for the unique needs of RVers and especially full-timers, when other insurers won't. So far, we've been very happy with them and continue to renew each year, as their price and inclusions have proven to be the best fit for our needs. Click the link to get a competitive online quote or call 855-894-7095 whether you're shopping around for a comparison or in the budgeting and planning phase. When shopping around, be sure to compare apples with apples.
RVillage – The social media network for RVers. You can use RVillage for so many things, from connecting with other RVers to finding RVs for sale, travel and route planning, and other RV services. It's like your virtual coffee shop for hanging out with your fellow RVers. You can connect with us there by joining our RV Love Fan Group or send us a person friend request to stay in touch.
Fulltime RVer Blogs & Vlogs
Famagogo – An adventurous family of 3 kayaking their way around America!
Our One Chance – Inspiring journeys of a traveling family with an allergy kid
Technology & Blogging
Bluehost – This is an affordable website hosting service and what we use for RVLove.  We recommend the annual hosting package over monthly as you will save 50%, so it's much better value. This is a great place to start if you're planning to start a blog/website.
Mailchimp – An affordable email marketing service and the one we use for RVLove to send out all our newsletters. It's free to get started, up to 2,000 subscribers. If you sign up with this link you'll get $30 of credit (MonkeyRewards).
WordPress – This is the #1 recommended technology platform for blogs/websites and it's what we use for RVLove.com as it's so customizable and flexible. If you're wanting to create a blog or website of your own, we believe WordPress is robust and hard to beat as it has a virtually unlimited range of options.
WANT TO LIVE & LOVE THE RV LIFE?
We're full-time RVers who have traveled to all 50 USA states over the past 4 years, sharing our journey and learnings along the way. We want to help YOU hit the road and live your RV dreams too.
Sign up for free email updates with inspiration, in-depth articles and tips to help you get there – better, faster and cheaper. We hope to see you there – and on the road!