This post may contain affiliate links.
Why a cargo electric bike? After riding the Blix Pack Genie Cargo eBike more than 300 miles across a variety of terrains, I share the features, specs, riding experience, range, speed, and my overall thoughts in this detailed review. I'll also share the reasons for choosing this particular ebike. 
After trying MANY different brands and types of ebikes over the years, the Blix Packa is actually the first ebike I have ever owned. Finally, I found an electric bike that is an ideal fit for my needs – both in our RV travels and at home.
You may have already seen our reviews of Julie's first electric bike, the folding Blix Vika+, that she got back in 2018. The one that 'brought the joy of biking back' to her. Or saw that she upgraded to a Blix Vika+ Flex e-bike?
After I ordered my Packa cargo bike, Julie decided she wanted the latest version of her folding bike, with all the new features. So we both got new ebikes for Christmas. Observing the quality of Julie's Blix ebike, and how well it has lasted all these years, is one of the reasons I ended up deciding on a Blix bike too. The Packa Genie cargo ebike.

Let's jump into the review!
What's important to a cyclist like me?
As a lifelong, avid cyclist, I have a true love for and appreciation of bicycles. I have owned dozens of bikes over the past 40+ years – road, mountain, cruiser, BMX and commuter bikes. I have owned as many as 5 bikes at any given time for different purposes, and ridden far more. So perhaps I notice the differences between them more than the average occasional biker. 
I do not like buying cheap, low quality, entry level bikes. They don't ride well, don't last, and end up being a miserable ride and a waste of money. Nor can I justify the cost of the most expensive, high end bikes. I tend to be practical, and have a 'middle of the road' budget. So I look for bikes that are well built, have quality components, look good, and offer excellent value for money. I want a bike that is easy to take care of and maintain, and will last me for many years. 
With that in mind, let's take a closer look at the Blix Packa Genie cargo bike, and the benefits of ebikes in general.
How we use our ebikes and which ones have we tried?
We love being active, whether out on our RV travels, or in our regular life at home. Our electric bikes are fantastic for getting out to explore areas. We find we can be so much more carefree when exploring new destinations and terrains, knowing we can rely on the electric motor do some (or all) of the hard work for us. 
They allow you to ride much farther, and worry less about getting back! We can tackle hills and long distances with ease. Or take the bike out to pick up mail from the RV park office, get groceries, or take a leisurely ride to a cafe, bar or restaurant – wherever we happen to be. 
It is worth noting that over the past 4 years, in addition to Julie's first electric folding bike, we have ridden many other brands and types of e-bikes. We have test ridden Lectric, Rad Power, e-joe bikes, plus a few other lesser known brands. Others may be happy enough with those bikes. But, we have to say that having had the chance to ride those other brands made us even happier with our choice of Blix bikes – again!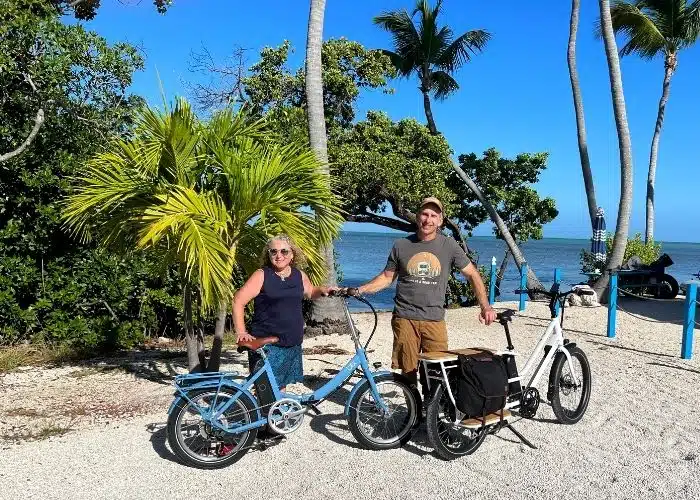 Our new Blix e-bikes arrived at our RV site in Florida, just in time for Christmas
Why I chose the Blix Packa Genie Cargo E-bike
As shared above, the other electric bikes I had tried out didn't really excite me. I really liked the quality of Julie's Blix Vika+ folding ebike, but wanted something bigger with more carrying capacity. I didn't need a folding bike, as I planned to use it at home a lot as well. Julie's original Blix Vika+ electric bike has held up extremely well over the years. So I had great confidence in that brand, and this is what drew me to look more closely at the other Blix bike models. 
In my research, I discovered Bicycling.com awarded the Blix Packa Genie cargo ebike "Best Value Cargo Ebike".
The reason I specifically chose the Packa, is because I loved the idea of a cargo bike to function as a car alternative. Cargo bikes are incredibly functional. I already have a road bike and mountain bike for recreational use. But this would be my first electric bike. With the extra available power from the batteries, I wanted something sturdy that I could use to run all kinds of errands, and carry a lot of weight.
My Blix Packa Genie cargo ebike, loaded with accessories, pictured at Zion National Park
Electric bike as alternate, cost effective transport
At the time we placed the order for our new ebikes, we were already out on a multi-month RV trip in a Class C motorhome. We weren't towing a vehicle. So I figured the Blix Packa Genie could be our main 'run around town' vehicle for local trips. When back home, this cargo ebike is my primary mode of local transportation. We live pretty close to downtown, so now we mainly only drive our Jeep at night, or for longer trips – more than ten miles.
Because I love to ride, being able to do both my errands AND recreational activities on a bike instead of in a car is really fun for me. I love that I can get in some extra exercise and fresh air. It is better for the environment, and I love that it saves on fuel expenses, especially with gas being so high right now! I'll admit, I was somewhat of a cycling purist who believed biking is for exercise. 
It took a while for me to come around to getting an electric bike. Ebikes really are such an efficient way to get around. Easy to park for free, a way to avoid traffic when using bike-only routes, no fuel expenses, no registration or insurance needed (of course, bike insurance is optional). Plus, it's just plain fun and good for your health, too.
My Experience With The Blix Packa Genie Cargo Ebike, So Far
We ordered our ebikes to arrive by Christmas, for delivery at our Florida Keys campsite at Sunshine Key RV Resort. The Blix Packa Genie cargo ebike arrived in a big box with built-in handles, which made it easier to move around. 
Delivery, Unboxing, And Set Up
The Blix Packa Genie was very well protected in the box, with foam padding protecting most areas of the bike. Very little assembly was needed. I needed to put the front wheel on, attach the pedals and handlebars, and make a few adjustments for personal sizing. 
A handy toolkit was included. But you will probably need scissors or wire cutters to remove the zip ties that attach the protective foam. Most anyone could do the little assembly required on their own, without needing to visit a bike shop. I was ready to ride it within about 30 minutes. Keep reading for how it rides.
Assembling the cargo ebike was pretty simple, and came with good instructions
Additional Accessories For The Blix Packa Genie
I also chose to order a few accessories for my Blix Packa Genie ebike. The rear rack board, rear rack cushions, running boards, and pannier bags. These make it even more usable, and Julie can even jump on the back as a passenger. More on that in a bit. There are a ton of other accessories available for Blix bikes to make it your own, especially for the Packa Genie model. 
A nice addition to the new Blix bikes is they now come with what they call Smart Mounting Points. These allow you to add or change accessories easily, for hundreds of different configurations. Some other popular options for this cargo bike model are the rear VIP area for carrying 1 or 2 children, plus many different front racks.
I really like that the front racks mount to the frame. They stay in place when turning, and don't impact weight on the steering or fall to the side when the bike is sitting still on a kickstand. I opted not to get a front rack on my Packa yet. But Julie added the basket to her Blix Vika+ Flex, and it's very sturdy.
New Blix Packa Genie cargo ebike, with rear rack/running boards and panniers
Another great feature on the new Blix ebikes are standard front and rear fenders. Fenders are great for keeping you and your bike clean while riding. We went on a long ride along a low tide beach on Hilton Head Island. The fenders meant Julie and I ended up with very little sand or water spray on us, or our bikes. Our friends we were riding with had bikes without fenders, and they definitely came home a lot dirtier than us!
We parked the RV for free, then biked downtown to Key West – all 3 of us on the Packa!
Riding Experience: Blix Packa Genie Cargo Ebike
I really like the excellent ergonomics, riding position and comfort of the Blix Packa Genie electric cargo bike. 
So far, I have ridden my new cargo ebike about 320 miles, and on all kinds of terrain. Most rides have been less than 5 miles, but a couple of rides were over 20 miles. Riding surfaces included bike trails, small gravel, rough pavement, dirt roads, grass, wooden bridges, sidewalks, bike lanes, even a hard packed sandy beach at low tide.
The Packa has the 24″ wheels which are a great size for a cargo bike. They are big enough to roll over rougher terrain, especially with the wide 2.4" tires. But small enough to keep the center of gravity and step through height lower. The seat is comfortable, the height is easy to adjust, and the handlebar stem has some adjustability too, which makes it a great fit for a range of rider sizes.  
Marc sits with his Blix Packa and Julie's Vika+ Flex in Zion National Park
Design geometry and positioning of handle bars make it an easy, comfortable ride. The 24″ tires handle bumps – and even a little rough terrain – very well, although it's not designed for off road biking.
This cargo ebike seems to carry momentum really well, even without the batteries turned on. A longer wheelbase makes for a smooth ride, but requires a little extra room to turn around. I have still been able to successfully turn around on a bike path without going off the edge. TIP: This is easier with pedal assist turned off.
Riding at Night
We have also ridden both ebikes at night, thanks to the integrated headlight and taillight with brake light. I like that the main bike battery can power the bike, the lights, and can even charge a smart phone or other USB chargeable device. We added a smart phone holder to our handle bars so we can use our phone's GPS for directions in unfamiliar areas, or to take photos and video while riding.
Marc's Blix Packa cargo ebike is great for errands and local exploring in our RV life
What have we carried on this cargo ebike?
All of my rides have included carrying panniers with at least 10 pounds of gear. Most of my rides have carried far larger loads. Sometimes transporting a big load of laundry in the campground, or a couple of hundred dollars worth of groceries back from the store. Other times, Julie sits on the back deck with her feet on the running boards. We used to have a tandem bike. This provides a similar feel and experience of riding together, except she doesn't have to do any pedaling! 
I have towed our dog Sunny behind in a dog trailer, and also mounted his trailer onto the rear cargo board with tie downs (which he seems to prefer). We have even gone out with the whole family on the bike several times. Julie sitting on the back, and Sunny being towed in the trailer behind. Our heaviest rides had a total of around 370 pounds of rider, passenger, cargo and trailer. This is well within the bike's weight rating (see specs further down). Of course the battery power made these rides nearly effortless.
Laundry day is easy with the laundry bag on the rear deck, and other items in panniers
Battery Range: How Far and Fast Does It Go?
Even when I was carrying a heavy load on so many of my rides, I was still able to get 100 miles of range out of just one battery, on my dual battery bike. Of course, I am not afraid to do some pedaling on my e-bike, mostly using pedal assist levels 1 or 2. Occasionally I will use levels 3 or 4 on hills, or if I start getting tired on a long ride. Sometimes I also use a little touch of throttle to get started, especially on busy roads. 
If I was using bike battery power alone, or riding much faster, my range would have been much shorter. But I expect that the 80 mile range suggested by Blix would be easy to achieve with a dual battery bike in almost any terrain, as long as the rider is pedaling some. 
I was able to ride nearly 200 miles with my dual batteries on a single charge. 
Towing our dog's bike trailer behind my Blix cargo ebike, at Bahia Honda State Park, FL
How long does it take to charge the batteries?
Charging the batteries takes about 6 hours, using your regular home (or RV) power outlet. The batteries have a lifespan of 500-800 charging cycles, which translates to at least 25,000 miles. I calculated that if I consistently got as many miles per charge on my bike as I have been getting so far, that could (in theory) be as many as 150,000 miles, before needing to replace the batteries!
How fast can the Blix Packa ebike go?
Using just throttle alone, the bike can go up to 20mph. When using pedal assist, you get up to a maximum speed of about 28 mph. So it can be classified as a Class 2 or Class 3 ebike. I generally like to ride between 10-15 mph so I can relax and enjoy it. 
Getting the Blix cargo ebike out on Florida's many biking trails
How Much Does The Blix Packa Genie Weigh?
The single battery model starts at 67 pounds with the one battery. My dual battery bike, with accessories, weighs more than 80 pounds. The batteries weigh about 7.5 pounds each. With my bike's loaded weight of 80+ pounds, this might be heavy for some to load and unload from a bike rack. 
But, I imagine that the majority of Blix Packa Genie owners rarely load and unload their ebikes onto racks. I would expect that most use their bikes in their home area for running errands, so the weight would be of less importance. That is, unless you're considering this cargo electric bike as an alternative form of transportation for your RV travels, as we have been doing on our most recent trip.
Loading our ebike onto our cargo rack behind our RV has not been difficult for me, especially if I use the included ramp. But I usually just lift the front tire up, roll it forward then lift the rear tire. It is not difficult if you only lift one wheel at a time. If your bike rack isn't rated for the higher weight, you might consider removing the batteries and bags. 
We carry the cargo ebike on our Mototote rack, on the RV hitch, and remove the panniers
In fact, I do not recommend leaving loaded panniers on the bike while mounted onto the back of the RV. The weight in the bags will bounce around while the RV is in transit, causing them to fail prematurely. I learned the hard way by unknowingly exceeding the recommended weight for the pannier bags (about double), then transporting the bike thousands of miles on the back of the RV. The panniers are well made and sturdy, and should last well with proper use. That is, not overloading them beyond the recommended 10 pounds.
Features And Specifications
Let's take a look at what you get with the Blix Pack Genie electric cargo bike.
Features
Lithium Batteries for lightweight power storage
The front battery is color matched and integrated into the bike frame
Optional second battery is black and mounts behind the seat tube. Both batteries lock into place with separate keys
Standard front and rear integrated LED lights
Rear light is also a brake light
Color matched rear luggage rack, color matched accessories available
Additional luggage racks, baskets or bags are optional
Black PVC fenders, regardless of bike color
Available in 3 colors: Bright White, Teal, and Slate Gray
Smart bell integrated into brake lever 
Trip computer tracks trip mileage, total mileage, current speed, top speed, battery life, Pedal Assist Level, and LED front & rear light
Charge your phone or other device with a built in USB charger
All lights powered by the main battery pack
Smart mounting points for modular racks and accessories
Comes with Owners Manual, Toolkit, and lithium battery charger
Color coded integrated main battery, hydraulic disk brakes, and integrated lights
Specifications
Aluminum frame with relatively low 21" step through height
24" wheels and puncture resistant tires with reflective sidewall
Cushy 2.4" wide tires with nice traction for most terrain
Hydraulic disc brakes with integrated electric motor shut off
7 speed Shimano shifters and 5 levels of pedal assist, plus variable throttle for extra boost when you want it, providing a lot of flexibility in riding experience
750w continuous power hub motor, with 1350w peak power when needed
12 magnet cadence sensor for responsive motor assist
One 48V 614Wh battery with range up to 40 miles per charge. Two 48V 614Wh batteries on the dual battery model provide 80 mile range
Recharging batteries takes 6 hours from a standard 110v power outlet. 500-800 charging cycles means a very conservative lifespan of at least 25,000 miles (note: my riding experience indicates much more)
Visiting the lighthouse during a bike ride on Gasparilla Island, Florida
Dimensions And Capacities:
Length: 81", 28.5" high at rear rack, 44" handlebar height
Weight: Single battery version from 67 pounds (59.5lbs without battery)
Cargo capacity: Approximately 400 pounds of rider plus cargo. See Blix website for specifics, but recommend less than 250 lbs for rider and less than 200 lbs of cargo
Highly adjustable to accommodate riders 5'1" – 6'3"
Stand over height: around 21"
Who Is the Blix Packa Genie Cargo Ebike A Fit For?
This bike is perfect for running errands, because it's so easy to do without working up a sweat. Plus, with the massive cargo capacity and flexibility of this bike, you'll be ready for just about anything your adventure brings. Whether it is heading out to do grocery shopping, pick up packages, transport your kids, grandkids or pets, or to give somebody else a ride home. It's a great alternative to a second vehicle, or towing a vehicle behind your smaller Class A, Class B or Class C motorhome.

Ultimately, I would recommend this bike to anyone that loves getting some exercise, but also doesn't want to be intimidated by going on a longer ride or going up hills – whether that's for health reasons or comfort and enjoyment. With the Blix Packa Genie you can just get on it, and have a blast without worrying about how far you are going, what the terrain is going to be like, or if you can keep up with your riding buddies. Because we're always in unfamiliar places as we travel, we never quite know what to expect when going out on a bike ride. So this electric bike removes that concern.
Loading up the cargo bike after a $200 grocery shop at Walmart
What size rider suits the Blix Packa?
According to the Blix website, it is estimated that the Packa Genie can comfortably accommodate riders ranging from 5'1" – 6'3" tall. I am 5'8″ and my wife Julie is 4'8″ and she has also been comfortable riding on the rear cargo rack, thanks to the rear deck, running boards and cushions we added to our Blix Packa Genie.
I sometimes mount our pup Sunny's bike trailer on top of the rear rack/board
What accessories did I get for my Blix Packa?
Here's a list of what I added to my Packa:
Rear rack board
Running boards
Rear rack cushion
Smart Pannier bag
You can find all of the available accessories here on the Blix Bike website: https://blixbike.com/collections/accessories
Please note: While Blix offers a bike rack on their website that fits all of their bike models, if you are carrying the Packa Genie cargo bike, the rack will not fit a second bike. AND it specifically says the rack is "NOT to be used on any RV, trailer, fifth wheel or towed vehicle" so this rack won't be an option for RVers wanting to transport ebikes.
How do we transport our Blix ebikes?
As mentioned above, we already had a Mototote motorcycle carrier that we used to transport our Flux electric moped. We can't fit both the moped and the Blix Packa cargo bike on the Mototote carrier, so it's one or the other. When traveling with the Blix Packa Genie cargo ebike, we mount it on the Mototote. 
Learn about Mototote carriers and save 10%: https://www.mototote.com/rvlove
We fold up Julie's Vika+ Flex and store it inside the RV, either above the cab area, or on a blanket on the rear bed on travel days. When not in use, we store it in the Blix Vika Carrying Bag. We also transport it in the back seat or rear of our Jeep.
Out Mototote carrier comes with a ramp that makes it easier to load the cargo bike
Final Thoughts and Conclusion
After resisting buying an ebike for years, I am very happy that I was able to try out other ebikes, before deciding on the Blix Packa Genie cargo ebike for my needs. Having owned this bike now for almost a year and riding it for over 320 miles, I have to say I am very impressed with both the quality and utility of the Packa.
This cargo bike offers a completely different riding experience, purpose and function, than my road and mountain bikes. I do love the quality of this electric bike, as it feels extremely planted, stable and durable. The Blix Packa Genie cargo ebike is an excellent combination of quality, design, and utility. It is a stylish, solid, practical bike that is truly a joy to ride. I ride it as much as I can, and now only drive our Jeep about once a week.
It's easy to see why Bicycling.com magazine awarded the Blix Packa Genie eBike the "Best Value Cargo eBike". As you've learned by now, I'm a big fan of this bike, too. Incidentally, Julie's bike – the Vika+ Flex folding ebike – was also awarded "Best Value Folding eBike" by Bicycling.com magazine. We're both loving our ebikes, and remain very pleased with our decision.
Julie's Vika+ Flex folding ebike and Marc's Packa Genie cargo ebike, with dog trailer
How much is the Blix Packa eBike?
The listed retail price of the Blix Packe Genie electric cargo bike, with one integrated battery, is $1,999. You can get the dual battery option for $2,499. 
Plus, you will SAVE $50 on any Blix electric bike, when you use our discount code: RVLOVE at www.blixbike.com
Blix Bike also offers financing, with no interest charged on 12 month plans. 
In my opinion, the Blix Packa is a LOT of bike for the money. This ebike could very quickly pay for itself with fuel savings, and reduced use of your primary vehicle. It could even remove the need to tow a vehicle at all, if say you are traveling in a small Class A, Class B or Class C motorhome, as we have been. When situated at an RV campsite, this bike could be used as your alternate transport, without having to tow or break camp.
Save $50 With Code: RVLOVE at BlixBike.com
Cruising around Zion National Park on our Blix ebikes
Where and How To Buy Blix Ebikes
Blix Bike sells direct to customers via their website, not through stores, and can ship your ebike right to you. They offer free shipping to the 48 mainland USA states. There was very little assembly required. The instructions provided were very good, and we were ready to ride our ebikes in less than 30 minutes.
If you're interested in learning more, Blix Bikes specializes in electric bikes only, and offers multiple options for all kinds of riders. You may prefer a cruiser, commuter, or the folding ebike that Julie has, instead of a cargo bike like mine. No matter which bike you choose, Blix bikes are all quality built, stylish, and low maintenance.
Use discount code RVLOVE to save $50 on any bike at www.blixbike.com
Well, I hope you found this review helpful. If you have any questions at all, please feel free to ask away in the comments below. Already have a Blix Bike? We'd love to hear about your experience, too!
GOT COMMENTS OR QUESTIONS?
We would love to hear from you. Drop us a note in the comments section below.