This post may contain affiliate links.
Ebikes are hotter than ever, and with so many new features available, we recently upgraded and added two new Blix ebikes to our fleet. I (Julie) upgraded to the new 2022 Blix Vika+ Flex electric bike. In our in-depth review, we share the specs, range, and features of the Blix Vika+ Flex. And we answer the question: is this really the best value ebike?
You may have already seen our previous blog and video review of our first Blix Vika+ electric bike back in 2018. Since then, Blix has made many appealing upgrades to this particular model. I was still happy with her 2018 Blix Vika+. But when Marc announced he wanted a new Blix cargo bike for Christmas, I'll admit I got ebike envy, and decided I wanted the new Blix Vika+ Flex for Christmas, too. 
Plus, I reasoned, it would be a great way to compare and share the differences, while enjoying all the new features. And get a different color, naturally. 
Why we prefer electric bikes
We love being active, whether out on our RV adventures, or in our regular home life. Electric bikes are fantastic for getting out to explore areas, especially if you want to go further or tackle hills. You don't have to worry about how long the ride is, if you have the fitness, or getting all hot and sweaty. We have really enjoyed having a folding bike in our RV travels over the years as it gives us much more flexibility in how we transport it. Whether in our RV or vehicle.
More recently, we have been traveling in an RV without a tow vehicle, and we find ebikes are a great way to get around. We love using them to run errands, do local exploring, or simply head out for a fun day with friends.
And, of course, we love that riding our ebikes mean we save on fuel!
The low step through, ergonomics, and stylish design are high value to Julie
Why did we choose the Blix Vika+ Flex?
There are many reasons we chose the Blix Vika+ in 2018. And in 2022, these remain the same for this newer model. To clarify, this is primarily Julie's ebike, but Marc also enjoys riding it occasionally. See which new ebike Marc chose for himself here.
Because I am only 4'8" in height, I REALLY love the super low 16" step through height. This makes it very easy for me to mount and dismount. Folding bikes actually have a lot of flexibility in matching the rider size. For instance, the Blix Vika+ Flex can accommodate riders up to 6'2" tall, and still be comfortable for me at under 5 feet. Yet, it is comfortable for Marc, at 5'8″, to ride, as well.
I like the smaller 20" wheels, and compact size of this folding bike. And, I really do appreciate the Swedish design and styling of the Vika+ Flex, which is aesthetically pleasing. My first Blix ebike was cream (which I still love) but this time I wanted a brighter color – blue – to mix things up.
To me, so many other ebikes out there look chunky and aren't especially attractive. I like my ebike to look nice, and I do get lots of compliments on it from others.
The Blix Vika+ Flex folds easily, in seconds, even with the basket (optional) attached
Folding the Blix Vika+ Flex ebike
The ability to fold the Blix Vika+ Flex is another huge benefit for us, as we like the versatility of how to transport it. When folded, it is only 36" x 21" x 28.5". This allows us to easily put it in the back of our Jeep, behind the rear seats. We could probably fit two of these behind the seats in our Jeep Cherokee. 
We do like being able to keep a bike inside the car while still having all the seats available, to keep it locked up and protected from weather. This is also handy in our RV travels because we can put it on the RV bed on travel days, in a basement storage area, or even in the overhead cab area of a Class C motorhome.
When folded, the wheels of the new version of the Vika+ Flex remain aligned which allows you to roll it while still folded. This could be handy if needing to maneuver in a tight space without carrying it.  Leave the handle bars extended to control it. 
Other (non folding) bikes 
While I prefer the folding ebike option, Blix has many other electric bikes that are non-folding – including Cargo bikes, Cruisers and Commuters. Most of these also have low step through heights, long battery range, and high quality construction and components. More on that as we continue our review.
The Blix ebike was delivered to our campsite in the Florida Keys
Shipment and delivery of the ebike
We ordered the bike online, which just like our first Vika+, was delivered in a box to our RV campsite. Everything was included, so all we needed to do was unbox, unfold it, make a few minor adjustments, and it was ready to ride. My original Vika+ is the Nu Cream color, and this one is called Steel Blue. It also comes in Burgundy and Racing Green.
Improvements on the new Blix Vika+ Flex
We were immediately able to see a few of the differences, compared to my original, 2018 Blix Vika+ ebike.
The tires on the new Vika+ Flex are still 20″, but they are more cushy and larger in width and volume. Other enhancements include disc brakes, color matched rear rack, smart mounting points for the many available racks. Plus, there's a new and improved digital display, which is easier to read, and also has a USB charging port for my smart phone!
I noticed the other changes when I started pedaling. 
Riding through Zion National Park, Utah
Riding Experience: Blix Vika+ Flex (2022)
The new Blix Vika+ Flex definitely feels more powerful, with 5 levels of pedal assist. (The older model only had four). The larger tires make the ebike feel even more planted and comfortable to ride, especially on dirt and gravel surfaces. We have noticed that the new battery also goes further on a charge. Of course, that all depends on the terrain, and how much effort you put into pedaling your e-bike. So actual range will vary, but I am easily getting at least 30 miles per charge, and I use the throttle a lot! The longest ride I've been on is a 20 mile round trip, which is plenty for me. If you pedal more, and use lower levels of pedal assist, you should have no trouble getting 45 miles or more out of a battery charge.
I was able to get the ebike up to 20 miles per hour, using just the throttle! It can go as fast as 28mph with the pedal assist, but I've only briefly had it up to 23-24mph, as I really just don't LIKE going faster than 20mph, and I don't need to!
The new version of the Vika+ Flex ebike has great ergonomics and high quality components and construction that clearly set it apart from some of the more entry level bikes. That was what we always liked about Blix bikes, and why we decided to get them again.
This is probably a big reason why Bicycling.com magazine also awarded the Vika+ Flex the best value folding e-bike. Incidentally, it also awarded Marc's Packa Genie cargo ebike "Best Value Cargo eBike" too!
How does the Blix compare to other ebikes?
We feel it is worth noting that, over the past 3-4 years, we have ridden many other e-bikes. Partly to see how they compare to my Vika+ and partly to see if there was another we might prefer. We have test ridden multiple electric bikes, including a few different kinds of Lectric, Rad Power bikes, e-joes, plus a few other lesser known brands. 
Let's just say that having that extra riding experiences with other ebikes simply made us even happier with our decision to get Blix bikes.
Spoiler alert: Marc now has a Blix Packa Genie electric cargo bike and he loves it! Learn more in his ebike review here.
We spent the day biking around Sanibel Island, Florida with friends
What kind of terrain have I biked with the Blix Vika+ Flex?
I have ridden my new Blix Vika+ Flex about 200 miles so far – in Florida, South Carolina, Lake Havasu, Utah, and Colorado. We've ridden on all kinds of terrain. Most rides have been less than 5 miles, but a couple were over 20 miles. From small gravel, rough pavement, grass, sidewalks, bike lanes, and even on the beach at low tide. Some of our bike rides have even been at night, so I really appreciated the integrated headlight and taillight with brake light – for safety and visibility.
It's super convenient knowing that the main battery can power the bike, the lights, and even charge your phone or other USB chargeable device. We added a phone holder to my handle bars, which is handy for being able to use the phone GPS for directions in unfamiliar areas. And using the big battery to charge the smart phone, means there is plenty of power for small devices.
Taking on a dirt trail in Zion National Park, Utah
How does it feel to ride?
I love how confident I feel riding my Vika+ Flex, especially with the new larger tires and disc brakes. It is a sure footed and easy to ride bike. And knowing that the throttle and battery are always there to get me back home gives me confidence in exploring farther and faster. Even if there are steep hills. Having the throttle is a huge confidence booster when in traffic or crossing streets. 
Being able to just push the throttle instead of getting up on the bike and pedaling from a complete stop is handy. Especially if you are not used to riding a bike, because balancing is much easier when in motion than at slow speed or stopped.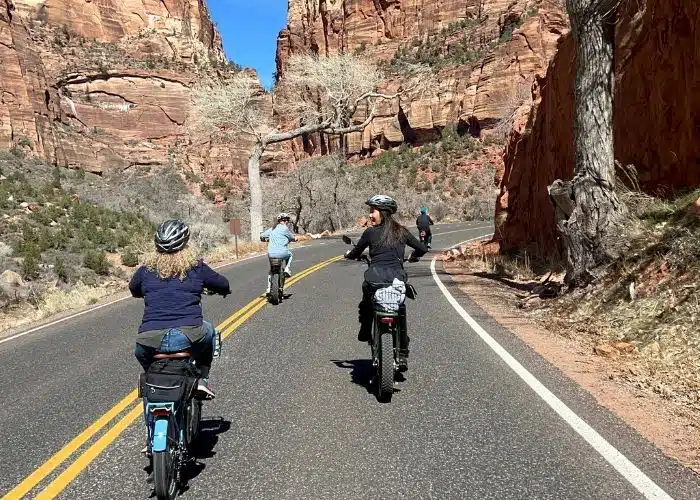 Ebikes Are Great Equalizers
One of the things I've loved most about my ebike is its been so much fun to get out and ride with friends who have electric bikes. E-bikes are such a great equalizer. No matter the skill level and fitness of the riders, it is easy for everyone to ride at a similar pace. Stronger riders can choose to use less pedal assistance if they want a tougher workout. At the beginning of the ride you can even choose to agree on a speed range based on the type of terrain you will be riding. 
I never have to worry about my fitness level – or being able to keep up – when out ebiking with friends. And we did a LOT of that the first few months!
Accessories For The Blix Vika+ Flex
I also ordered a couple accessories for my ebike. My new Vika+ Flex now has the color matched front basket, and top rack bag on the rear. The front rack mounts to the frame so it doesn't impact steering. There are a ton of other accessories available for your Blix bike to make it your own. The new Blix bikes have what they call Smart Mounting Points, that allow you to easily add or change accessories. 
There is one drawback to the two options we added. You can't fully fold the bike up with both the basket and the rear rack on. We were super impressed with the fact that the bike still fully folds with the front basket though. So, we just remove the velcro straps of the top rack bag and slip it off. It only takes a few seconds. And it really only matters if we are folding the bike up to transport it. Both the front basket (with cup holder) and the rear top rack bag have come in very handy. I mostly keep smaller items in the rack bag (like sunscreen, phone charger, hand sanitizer, bike lock, disinfecting wipes) and place larger items (like grocery bags or packages) in the front basket.
Another great feature on the Blix Vika+ Flex is that it has color matched front and rear fenders. This is not as common on folding bikes, especially the cheaper and entry level ebikes. Fenders are great for keeping you and your bike clean. There are many times I was glad to have fenders, to prevent water from spraying up on me. Like when we were biking along the beach at low tide, on Hilton Head Island.
OK, let's now dive into the details, with the features and specs of the Blix Vika+ Flex.
Features / Specifications Of Blix Vika+ Flex
As mentioned above, there are a bunch of upgrades from my original 2018 Vika+ available on the new 2022 model. Here is a list of all the features, and specifications. with bold highlights on the things that have changed from the original Vika+.
Features
Aluminum frame

Lithium Battery for lightweight power storage

Angle of frame & wider handlebars aid in stable feel

Standard front & rear LED lights

Color matched

rear luggage rack

Additional luggage racks, baskets or bags are optional

Color matched aluminum fenders

Available in 4 colors: Nu Cream, Racing Green, Burgundy, and Steel Blue

Smart bell integrated into brake lever

Trip computer tracks trip mileage, total mileage, current speed, top speed, battery life, Pedal Assist Level, plus LED front and rear lights

Charge your phone or speaker with a built in USB charger

All lights are powered by the main battery pack, so no separate batteries

Smart mounting points for modular racks and accessories

Comes with Owners Manual, Toolkit and lithium battery charger

Carry bag is an optional accessory (I still have my original one)
Specifications
20" wheels and

puncture resistant tires with reflective sidewalls
Cushy 2.4" wide tires
Disc brakes

with integrated electric motor shut off

7 speed Shimano shifters plus 

5 levels of pedal assist

, plus throttle for extra boost when you want it (original had 4 levels of pedal assist)

Max speed ranges 20–28mph (throttle / pedal assist)
48V 614Wh battery with range up to 45 miles per charge

Recharge takes 6 hours from a standard power outlet in your home or RV

500-800 charging cycles means a lifespan of around 25,000 miles

500 watt hub motor continuous, with even higher peak power

12 magnet cadence sensor for responsive motor assist

Folded Dimensions: 36 x 28 x 21 (L x H x W)

Folds up in less than 20 seconds

Total Weight: 56 lbs (the battery is about 7 pounds of that)

Highly adjustable to accommodate riders 4'10 – 6'2"

Low 16″ step over height

Comfortable seat and hand grips

Can carry up to 270 lbs of rider and cargo
The Blix Vika+ Flex ebike is stylish, with quality build and components
Is the Blix Vika+ Flex Good Value?
All e-bikes can be a bit of a game changer for helping people get out more, with the confidence of having a little help from the battery. But, not all e-bikes are created equal. My smaller size and our RV lifestyle made folding bikes very appealing to us. I have tried out many different folding bikes and folding e-bikes over the years, and firmly believe that the Vika+ Flex is the best folding e-bike value for me. 
There are certainly some less cheaper and also much more expensive folding ebikes, but when considering build quality, ergonomics, features, and riding experience, we feel this is the best value ebike out there for the money. I have been super happy with my original Vika+ (2018 model) for over 3 years, and this new bike (2022) is clearly superior. So I expect many more great years ahead with my new Vika+ Flex.
Importantly, the new version of the Vika+ Flex still has the excellent ergonomics and high quality components and construction that clearly set it apart from the entry level ebikes. While these may be cheaper, they are unlikely to last as long, or provide the same ride quality or enjoyment.
This is probably part of why, in 2020, Bicycling.com awarded the Vika+ Flex the best value folding e-bike.
At 56 pounds, the Vika+ Flex is lighter than many electric bikes, but it might still be a tad heavy for some people to lift and carry when folded. You CAN wheel the bike, when folded, which makes it easier to maneuver. Removing the battery when stowing will make the bike about 7 pounds lighter.
I did have one of my tires go flat, soon after I got it. Marc saw some mentions of flat tire issues online, so maybe there was a bad batch of tubes? However, we were able to replace the front tire tube pretty easily. Changing the rear tire is definitely trickier than the front. We added some tire sealant goo (slime) into the tubes, to avoid future problems. 

My Blix Vika+ Flex was rideable right away. But we did do a little fine tuning on the brakes and shifters. We reached out to Bike customer service and they sent us this helpful video to walk us through the brake adjustment. And a local bike shop was able to make an adjustment to improve the shifting. It's always a good idea to have a local bike shop give your bike a once-over, and ensure it's running smoothly. We usually take our bikes into a shop for a service every year or so, to keep them in tip top shape.
Blix Bike has a helpful section on their website for common questions, maintenance and use, which you'll find here.
Who is the Blix Vika+ Flex Folding Ebike For?
Ultimately, we definitely recommend this ebike to anyone that loves to get some exercise, but also doesn't want to be intimidated by going on a longer ride or going up hills. Whether that's for health reasons or comfort and enjoyment reasons.
With the Vika+ Flex, you can just get on it, and have a blast without worrying about how far you are going, or what the terrain is going to be like. Because we're often in unfamiliar places as we travel, we don't always know what to expect when going out on a bike ride. So this electric bike removes that concern.
If you are looking for a quality, stylish ebike that is easily transportable and lasts the distance, we believe the Blix Vika+ Flex offers excellent value for money, and you'll get many fun riding years out of it.
While Blix says this ebike can suit a wide range of riders from 4'10" to 6'2″, I am only 4'8″ tall and have no trouble riding this bike. The low step through makes it super easy to mount and dismount safely, so it's ideal for more petite riders. With that said, Marc is 5'8″ and can adjust the seat height to comfortably ride it too.
What kind of activities is the Blix Vika+ best suited for?
This bike is ideal for running quick errands, or long day rides – as it's so easy to do without working up a sweat. If you want to go pick up something, it has a little luggage rack on the back to be able to carry your cargo with you. You have the ability to add a front rack or front basket, too, or a rear bag.
I love the quality of this bike, as it feels extremely stable and durable. The geometry and positioning of handle bars make it an easy, comfortable ride. It is both compact and portable, which is ideal for our traveling RV life. The Blix Vika+ Flex is a stylish and beautiful bike, it's a joy to ride, and it handles hills (even a little rough terrain) quite well. Although it's not designed for off road biking. But I mainly ride bike trails, around campgrounds and local areas on paved streets.
Transporting the Vika Flex+ ebike
Being a folding bike, we don't need a bike rack to transport the Blix Vika+ Flex. Although you could certainly carry it on a bike rack if you wanted.
We fold up my Vika+ Flex ebike and store it inside the RV, either above the cab area of the Class C, or on a blanket on the bed on travel days. When not in use, we store it in the Blix Vika Carrying Bag. We also transport the bike in the back seat or rear of our Jeep.
Final Thoughts and Conclusion
This bike is very similar to my first Blix Vika+ folding ebike, which I loved. That's why I got the same – yet newer – model once again. I have been so impressed by the quality of my Blix Bike, and how well it has lasted, being almost 4 years old, and having traveled around the country with it! The improvements on the later model made it worthwhile for me to upgrade.
I really like the wider tires on this 2022 model bike, as it feels even more planted and solid when riding. Improvements like the integrated front and rear LED lights, 5 levels of pedal assist, USB charging for my smart phone, and a bigger/better digital screen that makes it easier to read all make for a much more enjoyable riding experience. Despite the slightly larger tires, this bike is still a great size for me and practical, too. I can fit quite a lot in the front basket and rear rack.
And while this may not matter as much to others, I really do love how attractive and stylish this bike is! It is a fun color, and stands out amidst the sea of generic ebikes we see around so many campgrounds. I am often stopped by people in the street or grocery stores, asking about my bike as it's so appealing and eye catching. But above all, it's the quality, comfort, and joyful riding experience that won me over.
My personal opinion on this bike seems to agree with Bicycling.com magazine, which awarded the Blix Vika+ "Best Value Folding eBike".
How much is the Vika+ Flex folding ebike?
The listed retail price of the Vika+ Flex is $1,899 including the battery. You will SAVE $50 on any Blix electric bike, when you use our discount code: RVLOVE at blixbike.com.
This also makes the Blix Vika+ one of the best value, quality, folding electric bikes out there. Of course, the more you ride your ebike, the more you'll save on fuel expenses, too!
While it may seem like quite an investment for a bike, after owning and riding Blix ebikes since 2018, we can attest that the quality of this bike is unquestionable. We've met many first time ebike owners who started with a cheap ebike, only to find it didn't last – or ride – that well, and ended up upgrading for a better quality riding experience. 
Blix also offers financing, with no interest charged on 12 month plans. 
Save $50 With Code RVLOVE at BlixBike.com
Julie with her Blix Vika+ folding ebike at Zion National Park, Utah
Where and How to Buy Blix eBikes
Blix Bike sells direct to customers via their website, not through stores, and can ship your ebike right to you. They offer free shipping to the 48 mainland USA states. There was very little assembly required. The instructions provided were very good, and we were ready to ride our ebikes in less than 30 minutes.
If you're interested in learning more, Blix Bikes specializes in electric bikes only, and offers multiple options for all kinds of riders. You may prefer a cruiser, commuter, or the cargo ebike that Marc has, instead of a folding bike like mine. No matter which bike you choose, Blix bikes are all quality built, stylish, and low maintenance.
Use discount code RVLOVE to save $50 on any bike at www.blixbike.com
View all Blix bikes and order at their website: www.BlixBike.com
View Julie's Blix Vika + Flex ebike here
View Blix bike accessories here
Well, I hope you found this review helpful. If you have any questions at all, please feel free to ask away in the comments below. Already have a Blix Bike? We'd love to hear about your experience, too!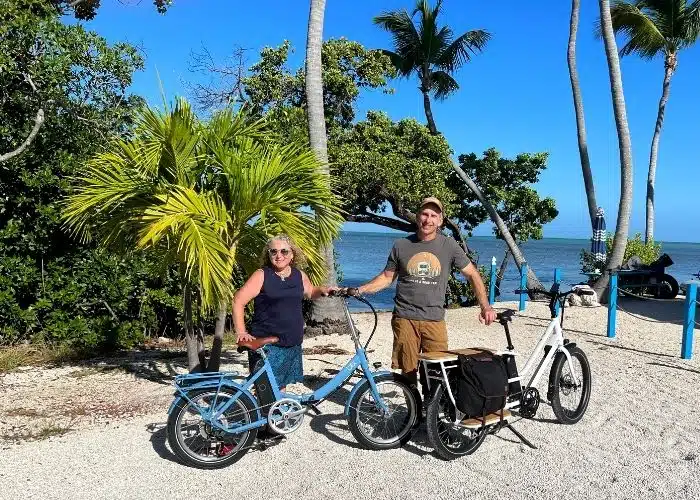 GOT COMMENTS OR QUESTIONS?
We would love to hear from you. Drop us a note in the comments section below.
Want to check out more reviews of our favorite gear for our RV and traveling life? Here are some we think you will like.