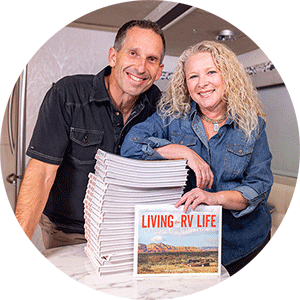 THINKING ABOUT HITTING THE ROAD IN AN RV?
There's never been a better time to get ready to hit the road in an RV and explore – SAFELY! As full-time RVers who have traveled to all 50 USA states over the past 7 years, RV course instructions and bestselling authors of Living the RV Life – Your Ultimate Guide to Life on the Road, and RV HACKS we are here to show you the way!
SIGN UP TO GET OUR BEST STUFF – sent straight to your inbox.
Are you ready for your best year of RV life and RV travel? Join us and more than 30 RV industry and RV lifestyle experts at our 2nd Annual Hit the Road RV Summit, over the weekend of April 24-25. You will learn from this amazing lineup of people who will be sharing valuable information, strategies,
read more »
In this detailed video and blog review, we introduce you to the Vika+ folding electric bike from Blix Bike, share the specs, a feature comparison, the range, who it's ideal for, plus our overall thoughts. Are we still happy with it after having it a while? Plus, you'll find a $100 discount code if you
read more »
Looking for a more natural, deet-free solution to keep mosquitoes and no-see-ums at bay? Warmer weather and longer days are fast approaching, and we're excited for the start of another great season. But with the onset of spring comes one specific challenge that we have found to be a painful nuisance, especially here in Florida
read more »
You guys are awesome! I just discovered your blog and have binged on all of your posts. I can't wait for more!!​​
We've been following Marc and Julie for over three years and have learned sooooo much from them! We love their upbeat spirit, sense of adventure, and how they share their knowledge and experiences with everyone. As we get ready to set out on our own full-time RV journeys, we feel so much better prepared because of Marc and Julie and RVLove!​
Great couple that have provided so much information and insight to the RVing life. We have followed them for years and find them both to be a great inspiration! We spent a couple of years learning and planning to become full time RVers and have recently taken the leap! We couldn't have done it without Marc and Julie's guidance.
Since you announced your RV Success School I waited impatiently for your launch of the program. I have watched your YouTube channel religiously and found all of your existing free online information very informative. I immediately enrolled and have been blown away by how thorough you are covering each of the topics. I am especially impressed by the interviews of other successful full-time RVers and the insight they add. Best money spent for my research into the full-time life. Keep the good information coming!
Marc and Julie are down to earth people that tell it like it is. Lots of good information from friendly folk.
I thought I was well informed about buying our first RV, but there were many issues I hadn't considered until I took your course. Your courses are a perfect match for those of us who have decided to join the RV life and are looking for relevant, well-researched, unbiased information.
Best RV book out there in my opinion. I started reading "Living the RV Life: Your Ultimate Guide to Life on the Road" minutes after it arrived. I cannot stop reading it. It's excellent!!!! This is more like the "RV Bible." Marc, and Julie, wrote exactly what I think most wannabe RVers want to know about. What a brilliant book. I just love it. If you want to be a full time RVer, or if you are a seasoned RVer, this is one book you want in your library.
We have been researching this for about 10 years. We thought we had covered just about everything in our planning. Your classes have covered far more that we ever thought of and is some of the best money we have spent to prepare for this dream.
Your book arrived today! It looks fantastic and has all the information I really wanted to know. I can't wait to really dive in!
This couple is so much fun to watch as they continue on their journeys. I love watching their videos, reading their posts and blogs. Thanks for sharing your journey and entertainment with us all, guys!