This post may contain affiliate links.
Keeping your tires properly inflated is key to safety on the road. This is especially true for bigger vehicles such as RVs and motorhomes. So when VIAIR invited us to review their 450P-RV portable, automatic air compressor we jumped right on it.
Over the years, we have heard many of our trusted, experienced RVing friends rave about how much they loved their VIAIR. I had been using a cheaper quality brand for a couple of years and was anxious to see how it compared to the VIAIR. This unit had been on my wish list for quite a while. So I was excited to try it out and see the difference for myself.
Disclaimer: VIAIR sent us this air compressor at no charge for us to test and share our honest review. As always, our opinion is our own.
VIAIR makes a wide range of higher end quality air compressors. This 450P-RV model was specifically designed with RV needs in mind. The VIAIR air compressor is MUCH higher quality than other compressors I have used. What makes it better than others is the higher quality components, better air flow, enhanced features, greater flexibility, increased ease of use and lower noise. I am very impressed with the quality of the VIAIR air compressor so I am very happy to be able to share this review with you guys.
If you're an avid RVer like we are, you would likely find that either the 450P or the 450 model would suit well for your needs. Both of these are quality products that do the job VERY well. The main difference is the volume of air flow and running time. The 400 provides a higher rate of air flow but the 450P-RV can run for longer, up to 40 minutes of continuous use.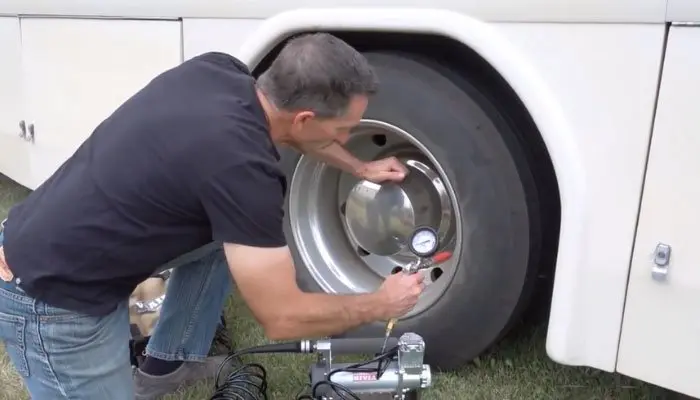 150psi max pressure

Pumps 1.8 cubic feet per minute at low pressure

Pumps 0.8 cubic feet per minute at 130psi

Can run continuously for up to 40 minutes

Auto-shut off when at pressure

Alligator clips to connect to battery of vehicle for 12 volt power (pulls up to 23 amps)

Kit comes with two 30 feet long braided air lines

Replacement air filters

Comes with air gun with built in gauge and inflation trigger

Kit includes multiple attachments to adapt to all your inflation needs

Canvas bag with multiple compartments to keep organized and easily carry

Dimensions: 11″ x 6″ x 7.5″ (L x W x H)

Weight: 18 pounds for full kit (13 pounds for compressor alone)
VIAIR makes some of the best quality portable, automatic air compressors on the market. I love how quick and easy it is to inflate my tires. The attachments makes it easier to reach my valves. They can move forward and backward so easy access. This saves me so much valuable time. I also love that it's quiet and I don't disturb our campground neighbors in the morning when I air up my RV tires before hitting the road.
You can also use the VIAIR for inflating kayaks, Standup Paddle Boards (SUPs) and other inflatable toys and devices.
How does it compare to our old unit?
The VIAIR is a noticeably higher quality unit than the cheap one I picked up from Harbor Freight a few years ago. I put both units to the test alongside each other, and found the VIAIR to inflates tires a lot faster, had much more power, and was quieter. Other lower quality units can't meet the PSI that the VIAIR does and it is awesome for these larger motorhomes because many of them need 100 PSI or higher pressures for their tires.
This is a powerful, high quality air compressor that does the job VERY well. Now I totally "get" why the Viair is such a popular item among experienced RVers. Once you use it, it's also easy to see why the VIAIR is well worth the higher price. Especially if you are doing extended travel and checking a lot of tires like on the RV, like us. Compared to our old system, I love this VIAIR so much more.
This VIAIR 450P-RV is available on amazon. Keep an eye out for sale prices. But even at full price, this is a valuable tool to have onboard your RV.
Want to see more of our favorite gear?
Visit our Gear Page, featuring video reviews of our very favorite gear – from RV Safety, to Trip Planning and Navigation, Outdoor Gear, Indoor Living, RV Makeover and more.
Shop our favorite products here at our Amazon Store
Visit our Road Gear Reviews channel to discover more gear from us and other RVers.
GOT COMMENTS OR QUESTIONS?
We would love to hear from you. Drop us a note in the comments section below.