This post may contain affiliate links.

About 11 miles east of Yuma, Arizona lies the tiny border town of Los Algodones, tucked right into the corner of Mexico that borders California and Arizona. Known as the dental capital of the world, Los Algodones has only 6,000 residents yet boasts more than 300 dentists, all offering their services to 3,000+ people a day – mostly Americans and Canadians – who travel there to have dental work done at prices that are 50-70% lower than they would normally pay in their home country. 
Dental tourism is becoming big business, with many dental specialists offering the same health standards you would find in the USA and Canada – at a fraction of the cost. But it's not only dental services that has people flocking to Los Algodones in droves – customers can also pick up inexpensive, quality prescription eyeglasses (while you wait) and prescription medications (over the counter) too.

Now, we know what you're thinking… who in their right mind would go to Mexico for dental work!? Believe it or not, we asked the same question when we first heard about it months ago, and after speaking personally to many full-time RVers who have been successfully doing just that for several years (and saving thousands of dollars in the process) we were intrigued. Although we have dental insurance in the USA, we were both curious enough about this concept to do some more research and check it out for ourselves in person.
While we didn't mention it in our recent post on preparing for our first boondocking adventure, one of the reasons we had chosen Yuma as a boondocking destination was it's close proximity to Los Algodones. Aside from the warm winter weather and sand dunes, it is Yuma's convenience to Los Algodones that brings so many snowbirds to the town. You can literally park your car at a parking lot off Algodones Road on the USA side and walk across the US-Mexico border right into the heart of Los Algodones, which makes it a quick and easy place to visit. It's safe, friendly and they freely accept US Dollars.
We had made an advance appointment for both of us to have a teeth cleaning first thing on Saturday morning February 7. As it turns out, I ended up having a dental visit in California in January when we were near San Diego and it seemed silly to have another cleaning just a week later, so we cancelled my appointment and just kept Marc's.
On Saturday morning, we drove the short distance from the Quechan Casino along Algodones Road to the border and parked the MINI in the parking lot on the American side, right by the border crossing. The parking lot is run by a local Indian reservation and they charged $6 for the day – cash only – for us to park our car in a large open lot. We thought that was pretty reasonable and were glad we did, especially when we saw the queue of traffic lined up to get back into the USA that afternoon! 
Walking across the border was a breeze – we just walked through the white iron revolving gate and voila – just like that we were in Mexico! We didn't have to show our passport or any ID at all walking into Mexico, but we were sure to bring our passports and my green card in order to return to the USA later that day.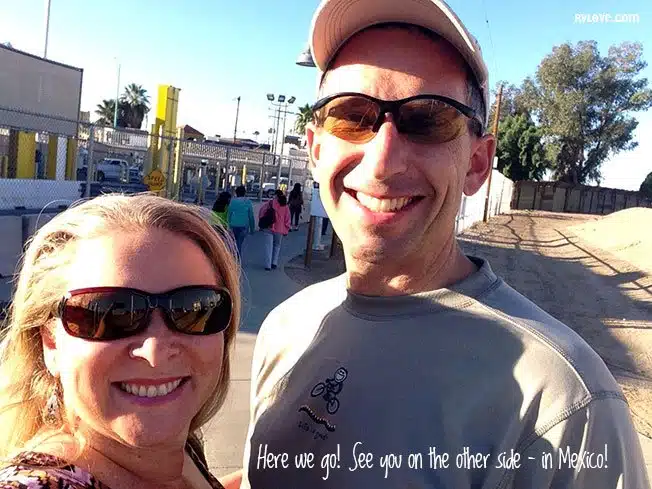 It was an amazing contrast, walking from the States into the town of Los Algodones and being immediately greeted by all of the vendors trying to hawk their wares. Hola! I have a good price for you! What you want? What you need? I have good dentist for you! Your dentist too expensive, mine is better! You need glasses? Prescription meds?
One of the first buildings we saw was a huge building  painted entirely in purple and offering all kinds of prescription medication – all over the counter – and a sister purple building opposite touting eyeglasses – and everything was dirt cheap. Yep, if you're in need of dental work, a new pair of glasses, and/or pharmaceutical medication at excellent prices, Los Algodones is your place! Whether you spend a little or a lot, you will end up saving a ton on USA or Canada prices.

On a mission to get to Marc's dentist appointment on time, we walked briskly through the dusty streets for 5 minutes – continually amazed at just HOW MANY dentist offices there are standing among the street vendors, pharmacies and eye doctors. Some of the bigger dental clinics were housed in their own modern buildings while other smaller ones were strangely tucked in behind a mess of street vendors, which didn't inspire as much confidence!
We had done a ton of research prior, so were not at all surprised to find our chosen dentist, Dr Rubio has his own office building which was very well equipped, spotlessly clean and well staffed by a team that speaks fluent English as well as Spanish.
We were greeted on arrival and Marc sat down to complete the required paperwork while I watched the wall-mounted flatscreen TV running the Los Algodones promotional video that showcased the town, it's dentists and wide variety of other services, highlighting the numerous reasons Los Algodones is the world's #1 destination for dental work.
While it's understandable that you might have some doubts and concerns about going to Mexico for dental work, once you start doing your research, checking the credentials of a shortlist of recommended dentists, read the reviews, listen to the experiences of others you know and trust who have been there/done that and rave about the results, AND then see it for yourself, your fears starts to dissipate.
Whether it's a visit to a dentist in Mexico or simply trying something new, it's common for most of us to have a fear of the unknown, but as you start to learn more and remove the unknown factors one by one, fear soon gives way to a level of comfort. At least, that's how it is for us.
Marc's dental experience
After a short wait, Marc was called back to the x-ray room and I was allowed to go with him. There, a dental assistant had him stand inside a panoramic x-ray machine like nothing either of us had seen before. It looked like something out of Star Trek and was certainly a far more advanced, quick, easy and painless process than the traditional x-rays I'd had in California the week prior! Almost instantly, a perfect panoramic x-ray of Marc's mouth flashed up on the display monitor, clearly showing every tooth and not a filling to be seen! Darn, I'm jealous!
Next, we were guided back into a clinical area where Marc laid back on a comfortable dental chair ready to have his teeth cleaning done. As soon as he saw the standard and cleanliness of the office and treatment area, Marc visibly relaxed.
The dentist was clean cut. male and his assistant was a clean, tidy, attractive young woman – both spoke English to Marc but Spanish between themselves. Marc and I were both relieved to see the high standards of hygiene, with sterile tools and new plastic guards and covers used for each patient. The dentist used the same kinds of tools you would see in a US (or Canadian) dental clinic including a water pick – in fact, some of the tools and technologies seemed to be even more advanced than either of us had seen!
In less than 30 minutes, the dentist's work was done. Marc was happy with his cleaning, shook hands goodbye with the dentist and we headed back out front to settle up the account.
What does it cost?
The cost of Marc's dental hygiene cleaning was USD$30 which we paid in cash. The panoramic x-ray would usually cost USD$50 however as we hadn't asked for the x-ray they didn't charge us for it which we appreciated. You can get an idea from the image below the difference in typical US prices compared with what you can expect to pay with a reputable dentist in Los Algodones.
How did we select a dentist?
We started out by reading the blogs and recommendations of other full-time RVers, checked Google, Yelp and Trip Advisor for reviews, keeping an eye out for any positive or negative comments to form our own opinion. During our research, we came across a handful of dentist names that continued to be recommended over and over again by other full-time RVers whose blogs we follow (some we have met, some we haven't) and whose recommendations we trust.
In our search, we discovered Dayo Dental – a dental network that matches you with top-ranking dentists in Mexico and that's who we made our appointment through. Dayo assures you get US-quality dental care at Mexico prices, saving you thousands over high-priced US or Canadian dental providers. Their service is free to customers because they receive a small percentage of the fee for your dental work from their partner dentists. Dayo also negotiates preferred (discounted) pricing which they pass on to you, the customer. 
They make the appointment, email you the paperwork, contact you with reminders and make your Mexico dental visit stress free and easy so you can relax. We dealt with Henry at Dayo Dental who made our booking with Dr Carlos Rubio's office – Henry was a delight to deal with, spoke excellent English and was extremely friendly, helpful and professional. The entire process – from answering our questions, providing clear information, maps and instructions to emailing us a booking confirmation which we needed to sign and return by email – was extremely simple and professional. 
Henry's follow-up service was also very good – calling a few days ahead to confirm our appointment and remind us to bring our passports and US cash. We really appreciated the professional service, clarity and transparency of Henry and Dayo Dental, as well as the comfort of knowing upfront what we would be charged. You can see some of the promises Dayo makes in this screen grab of their website home page.
If you are considering heading to Los Algodones for dental work yourself, you need to feel comfortable in your decision. That's why we have shared the shortlist of dentists we were considering below. We didn't investigate all of these fully, but these are some of the names that repeatedly showed up, had positive reviews and we felt were a good place to start. 
This is by no means a definitive list, so we recommend you conduct your own due diligence, do your own research, reading reviews and watching video testimonials of other patients who share more about their experiences. If you know of other people who have had more extensive dental work done in Mexico, ask them for more specific feedback –there's no shortage of people in the RV world who have had dental work done in Los Algodones!
Here is a list of some of the dentist names that we saw multiple positive reviews on (in no specific order) during our research:
Dr Carlos Rubio (this is who we visited)
Sani Dental Group
Dr Eva Urena
Dr Ana Maria Gutierrez
Dr Gerardo Castilo (Dr Jerry)
Dr Jorge Cortez
Dr Abdul Iniguez
You can also research the Dayo Dental website for dentists and/or do a Google search for the individual dentist websites to find out more about each dentist. We almost went with Sani Dental Group as they had excellent Google reviews, but Henry from Dayo Dental just happened to be the first one to return our call after leaving a few messages with a handful of dental clinics on a Saturday night, so we made our appointment with Dr Rubio's office via him.
Dr Rubio is both trained and credentialed by US and Mexico dentistry colleges, is founder and professor of a dental implant school, trains US and Mexico graduate students, is an international speaker on dental implantology, has installed 10,000+ implants in his career and speaks English fluently. His reviews were excellent and he had treated some people we know, so we felt very confident with our decision.
In all honesty, we would have been happy to visit any of the above dentists. The Canadians we met in the Quechan Casino parking lot also raved about their dentist (not on this list) who had done major work on them that very week and gave us his card.
Hopefully you're feeling a bit more comfortable about the concept. Now, let's address some common concerns.
Common myths and misconceptions about Mexico for dental
Low costs means low quality – The lower costs are due to a lower cost of operation, not a lower quality of care. Some, not all, dentists have training and credentials from the USA and/or Mexico and many are members of the American Dental Association. There are also some dental offices in Mexico that are in-network members of U.S. insurance providers. So not only is dental tourism popular with uninsured people, it is also attractive to people who need major work done, have dental insurance yet still have to pay a large sum out of pocket. Having major work done in Los Algodones can help reduce that, but you'll need to carefully do your research first to find a dental provider that qualifies with your plan.
It's dangerous – Los Algodones is just minutes in walking distance from the USA-Mexico border. It's safe and there are reliable transportation services available for patients who travel from San Diego, Palm Springs, Los Angeles and Phoenix. While it's common knowledge that the Mexican Government is fighting drug cartels, this fight is centered in two states and three cities – all a long way from Algodones. As an added safety measure local police and special tourist police patrol the streets and border crossing until the border gates are closed at 10pm. There are plenty of dangerous towns in the USA too, so keep things in perspective but as always, stay mindful.
It's not hygienic – Good dentists adhere to US standards, sterilize their dental instruments and use a disinfectant spray manufactured in US and approved for dental office use by the FDA and American Dental Association. From what we learned, common area surfaces in the office are routinely cleaned with Lysol. They also use sterile plastics barriers to cover the handles for the dental lamp and other controls for the chair and related equipment, use new gloves, saliva ejectors, protective masks and dental burs (drills) for each patient. Don't be afraid to ask about each dentist's hygiene standards and practices during your due diligence process. Don't assume that every dentist office will have the same practices.
They don't speak English – The dentists, front office receptionists and many other staff speak fluent English as well as Spanish, so they can communicate with their clientele which primarily come from the USA and Canada.
The water isn't safe – You will find that most, if not all, dentists use purified water stored in sterile containers. If you aren't sure – be sure to ask your chosen dentist about their source of water to put your mind at ease.
There isn't a guarantee on the work – Many dentists do offer a guarantee on their service, you just need to select one that is highly recommended and does offer a guarantee. Most of the dentist rely on word-of-mouth recommendations to build their business, so it's in their interests to keep their customers happy and return visits while referring them to others. Again, do your homework and ask questions to get the answers you need.
How long will it take and how much cash will I need?
That will totally depend on the purpose of your visit and how much time and money you anticipate you'll need for the purpose of your visit. Be sure to take enough money for lunch and shopping too. You can withdraw cash from an ATM located in the parking lot on the USA side and also use the ATMs in Mexico but those will attract a higher fee, being international. Knowing in advance that Marc's dental cleaning was only going to cost USD$30 and knowing we'd have lunch there, we thought we had taken enough cash (USD$80) for the entire day, but as it turns out, we bought a few extra things for ourselves so we used the ATM in the Purple Pharmacy. 
The fees were definitely higher than if we'd used an ATM in the USA, so plan ahead and be sure to take plenty of cash for the day as many places do not accept credit cards or if they do, they charge a fee. Call ahead to find out whether the places you PLAN to visit accept credit cards and what fees they may charge? I say "PLAN" to visit as you will probably also be tempted to spend more while you're there – whether it's on a salon visit, jewelry, hats, a handbag, a margarita or two and so on.
In terms of how long we spent in Los Algodones, here's a rough overview of our visit. We left our coach (we overnighted at Quechan Casino just 2 miles from the border) around 8.30am, drove to the USA/Mexico border parking lot, paid for and then parked the MINI and were walking through the border gate by 8.50am. We stopped to take in our surroundings briefly, asked for directions and walked into Dr Rubio's office building right on 9am.
Checking in, paperwork completion, panoramic x-ray, teeth cleaning and settling up the account took about 45 minutes all up.
By 10am, we were already browsing the local store fronts and vendor wares. As we were going to be dry camping/boondocking for the next 8 days, I popped into a salon to have my hair washed and blow dried straight (US$10-15) which took about 30-40 minutes – this meant I wouldn't have to use up any water washing my hair! We then spent an hour or so strolling the streets, looking around and taking photographs.
We spent about an hour having lunch, two margaritas and a Corona at a local restaurant (USD$30) which was decidedly average (both the food and the margaritas) – we wouldn't go back to La Parilla opposite Dr Rubio's office but instead go to Pueblo Viejo next time (another recommendation) opposite Customs.
For the next hour, we walked around a little more, took a peek inside a liquor store but didn't find anything that tempted us to take back. We checked out the purple pharmacy and almost bought a bottle of Ibuprofen for under $3 until we discovered they were the 800mg dosage and not the 200mg we keep on hand at home! We visited an optical place and saw their large range of very nice designer frames – handy if you're in the market for new glasses (we've both had LASIK). If you're considering buying alcohol, optical glasses and/or medication while in Mexico to bring back into the USA or Canada, do check the regulations on what is allowed ahead of time via the US Customs website.
We laughed at the hilarious piñata's, browsed a few more vendors and haggled on prices before buying a Texan hat for Marc (USD$17) and a silver and turquoise ring for me (USD$20). We ended up paying about a third of the prices we were initially quoted for those. With our last dollars spent, we headed back to the border to go back into the USA.
We had been warned that waiting in line at US Customs can take a long time on busy days but apparently Saturdays are generally quieter so we were in the queue for no more than about 20 minutes. We learned that Mondays and Tuesday are the busiest days, when it can take an hour or more to get through customs in the afternoon. We walked across and were back in the MINI by around 2pm.
All up, the entire visit took us about 5 hours. Depending on what you go to Los Algodones for, you could of course spend way more or way less time, but we felt we took our time and saw/experienced enough of the place without rushing.
Would we go back and do it again?
Absolutely. The great thing about seeing Dr Rubio's dental clinic for ourselves and being so impressed with their technologies, training, credentials, staff, Marc's cleaning procedure and the price, is that now we would have zero hesitation in going back to Los Algodones for other, more involved dental work such as fillings, crowns or even root canal – hopefully neither of us will need that, but you just never know.
It's certainly been a positive enough experience for me (Julie) to reconsider whether or not I want to continue paying USD$40+ per month for my Anthem dental coverage plan, which is very basic and only covers preventative treatment – x-rays, cleanings, fillings etc. Crowns, root canal and other big procedures are not covered by my plan. As I'd been paying over USD$500 per year for the basics, I canceled my Anthem dental plan in February and plan to visit Los Algodones for future dental work. Considering I'd just had a complete checkup, x-rays and 3 replacements of a few fillings that were starting to deteriorate in California in January, I figure I should be fine for at least another year and the California dentist confirmed that. I can simply pay for a cleaning in the USA (about USD$100) in between visits to Los Algodones.
Marc on the other hand, has a much better dental plan through his employer. Lucky Marc has excellent teeth and has NEVER had to have a filling (I am still amazed and rather impressed by that) – he is one of those diligent people who flosses daily so he will most likely only need to have his usual twice yearly cleaning. When we did the math on what he pays for his comprehensive dental plan (about USD$20 per month) we figured it's worth it for him to keep it as it's only about $240 a year out of pocket and also covers him for bigger dental work, should he need it.
If one or both of us needs some more extensive and expensive dental work done down the track, we'll be making a trip back to Los Algodones for sure. The cost of that trip – whether we fly or drive the coach – is still likely to amount to far less than what I was paying for my basic Anthem plan and what Marc might have to pay out of pocket with his employer-sponsored dental plan.
Well, that about sums up our visit to Los Algodones! We hope you found this article useful and, if you're considering Los Algodones for dental, that it helps give you the confidence to explore it further. Good luck!
Useful Links
We hope you found this article helpful! We'd love to hear your comments below.
Continue reading about our first boondocking (dry camping) adventure here in Part 2
© RVLove.com