This post may contain affiliate links.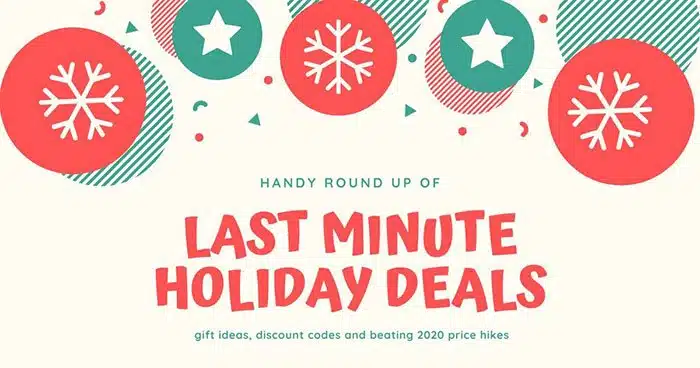 We get that it's a very busy time of year for everyone and we're all running out of time to get the perfect gift for those we love. Or snap up those last minute holiday promotional deals to save some money. But who has time to dig through a bunch of emails, blog posts and videos? 
There are definitely some great end of year offers we know some of you will be interested in. So we put together this quick list rounding up time sensitive special offers on RV and travel related gear and services, along with quick descriptions, coupon codes and links. 
Some of the items we have listed below are currently available at the best prices we have ever seen. Most are limited time offers and only available with special coupon codes and only direct from specific websites.  Other offers mentioned below are short term sale prices being offered on Amazon. (Keep in mind, these can change often).
Many of these items were also featured in our 2019 Holiday Gift Guide, which you can check out for more detail in our article and "show and tell" style video. That's where we share more detail on what we like about each item and why. You will find everything in that. But in this post, we've just highlighted a selection with special deals. Starting with our number 1 pick and deal…..
Lowest Prices on Tire Pressure Monitoring Systems
Our full time RVing friends Erik and Kala of Livinlite just launched a new online store and as part of the grand opening, they are offering these TPMS systems at the best prices.
Save 10% on top of already discounted sale price
Here is the link.  https://rvlove.com/TPMSMMH 
Add the TPMS of your choice to your shopping cart, you will see the sale price  
Use coupon code: TST10RVL2020 to save another 10% on top of the sale price. 
If you're in the market for a TPMS, this is a great time to snag one.
Here's our review on the TPMS and sensors we have
We love it and recommend it to all RVers to optimize tire safety for your RV, truck, trailer, and towed vehicle
Save 10% at Tough Top Awnings - our most recent upgrade
This is a BIG project and we had a great team helping us. Many hands made quicker work.  Special thanks toIf you're looking for new RV awning fabric, it's a good time to order them and save with Tough Top Awnings' holiday promo this month. Here is our latest recent blog post and video sharing "Before and After" and our experience replacing all of our awnings and slide topper on our motorhome.
You can save 5% year round on  Tough Top Awnings with the code RVLOVE. But just for the holidays, they are offering double our normal discount during until December 31, 2019.  
Here is the link:  http://toughtopawnings.com or call 360-953-3299
Use discount code: RVLOVEDEC to save 10% in December (or RVLOVE to save 5%)
Here's our latest video and post with Before and After
We are amazed by the difference in both the look and the performance. And we consider this a great, and affordable upgrade to your RV with a superior quality fabric.
Save 20% at Harvest Hosts - Plus lock in renewal rates for life
You can overnight in your RV at Harvest Host locations around the country – wineries, breweries, farms, and other attractions. The year round discount is 15% but for the rest of 2019, you can save 20% with our special link AND lock in your annual renewal price for life, as long as you remain an active HH member.
Use our special link to join Harvest Hosts yourself, or gift a HH membership to a friend: https://rvlove.com/HHSAVE
Using this link by 12/31/19 will save you 20%, AND lock in the annual renewal price so you will continue saving for years to come.
This week, Amazon has our bestselling book "Living the RV Life – Yout Ultimate Guide to Life on the Road" selling for substantially less than the suggested retail price. So, if you haven't picked up a copy yet – or would like extra copies as gifts, now is Prime time (literally). Living the RV Life has 170+ five star reviews  and is hands down the best resource to get you started. Jump over to read the reviews to see for yourself what people are saying about it. 
Here's the link: https://amzn.to/2Okur4A 
Available at all good bookstores and some other retail locations like campgrounds, gift stores in print. Also available on Kindle, Apple Books. https://rvlove.com/buybook
PS. We'd love to sign a copy for you at a meetup or event around the country! 
Save 10% on a Custom RV Mattress (or boat or home)
Save 20% on RV Success School
Over the past few years, we've helped hundreds of students save thousands of dollars in their RV journey through the knowledge, experience and resources we share in our RV Success School. Above all, they come away with the clarity and confidence necessary to make sound choices in their RV purchase and RV life. Our RVLove email subscribers always save 10% on our online courses that guide you through everything you need to know to hit the road successfully. But for the holidays, we've doubled the discount to 20% for everyone, until 12/31/19.
Click the link to view courses and bundles: https://rvlove.com/rvsuccess 
Use Discount Code HOLIDAY20 to Save 20%. Offer ends 12/31/19. 
Blix Bike makes quality electric bikes. We have had a Blix e-bike (Julie has the folding VIKA+ model) since the summer of 2018 and we both love it! You can order any e-bike online from Blix Bike and save $50 with our code RVLOVE. 
Watch our Blix e-bike review video
Visit the Blix Bike website: http://www.blixbike.com
Use the code RVLOVE to save $50
Beat Looming 2020 Price Increases
Some companies have automatic price increases at the beginning of the year.  So buying before the end of 2019 can add up to big savings. Two companies we know and recommend, that we know will be raising their prices in January are:
Wholesale Warranties
All RV Extended Warranty policies increase in price on the first of each year, so buying now can help you avoid the price hike. But you'll need to be quick, to get all the paperwork completed in time, and especially to arrange an inspection, if your RV isn't new.
Read our in depth blog post: Is an RV Extended Warranty is worth it for you 
Learn more about the 2020 price increase direct from the warranty company
Buying an RV extended warranty is one way to protect yourself from future repair price increases too, as parts and labor rates typically also increase each year. But with an extended warranty, qualifying claims are limited to your deductible.
Thousand Trails 
Their Trails Collection add-on is going up to $299 from January 1, 2020. Still a good deal even at that price. The Zone Camping Pass is expected to increase as well, but we don't know by how much. The rumor is $10-$20 a year, from our TT insider connections. They also expect the Elite and Elite Connections new membership upgrades to go up by as much as $500. We also heard the Ultimate Odyssey (stay up to 28 days at a time) may be going away for good. We don't have confirmation on all this (except for the Trails Collection increase which is firm). So at this stage, it's a "best guess" based on TT's previous annual increase history. 
Here's our article to help you decide which membership may be right for you – new vs used
Call our recommended TT Membership Specialists, Jim and Brandy Reneau on 770-622-4188 or click here to email
Click here to buy a Zone Camping Pass direct from Thousand Trails online (but if you want to save a few bucks on taxes, we recommend you buy direct from Jim and Brandy)
Mention RVLOVE to ensure you get the best price available. They have a special discount on the membership upgrades for our RVLOVE community.
More Holiday Gift Items On Sale
Looking for Even More Gift Ideas?
Here are a few more resources that may spark some inspiration:
Visit our Amazon Shop Front and Fave Gear Categories
Phew, that was a lot! We hope you found this round up helpful.
Wishing you a very Merry Christmas, Happy Holidays, and all that good stuff! Enjoy these last few days of 2019 🙂
GOT COMMENTS OR QUESTIONS?
We would love to hear from you. Drop us a note in the comments section below.