This post may contain affiliate links.
We took an Airstream Interstate Grand Tour Class B Van out for a weekend – test driving it and sleeping in the convertible bed. In this video and blog post, we share our experience! Yes, we've been trying all kinds of smaller RVs on for size, as we consider the idea of getting a second RV. You can learn more about what we've been thinking and why, in our most recent blog post and video.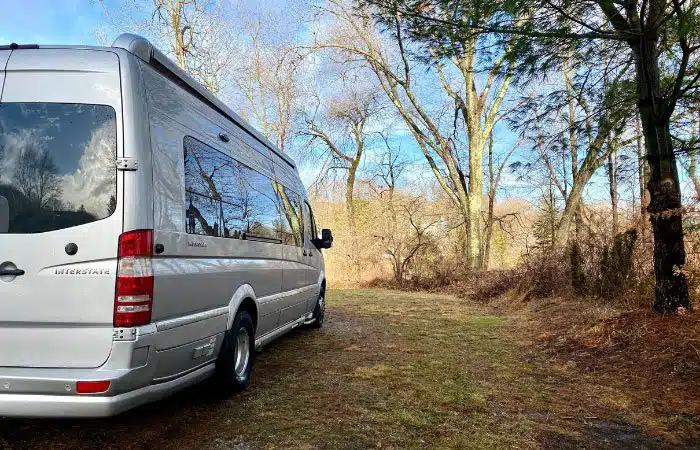 Airstream Interstate - First Impressions
This is the 2018 Airstream Interstate Grand Tour Ext, on the Mercedes Sprinter 3500 chassis. And our first impression of this van is that it is absolutely beautiful.  We loved the silver exterior and beautiful styling of the interior. The high end van (not RV) appearance of this coach lends itself to easier 'stealth' camping than would be possible with a more obvious RV. And it's much easier to drive around the narrow roads – and park – up in the north east, specifically Connecticut and New York.
After getting a tour from our friend to familiarize ourselves with the van, he handed us the keys for us to take it for a test drive around Connecticut.  
Before we head out, let's give you a quick overview of the RV. What we liked, what we didn't, how it drove, and more. For a more visual experience, check out our related video here.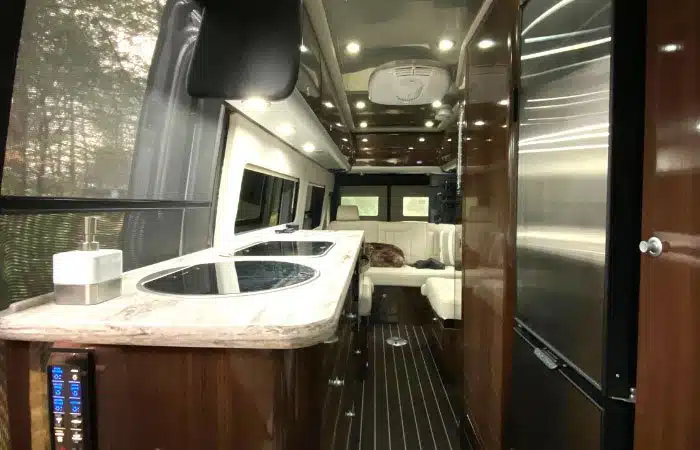 Interior Layout and Floor Plan
You enter this Airstream Interstate from the main passenger side large sliding door. It also has a large screen door, and you'll see the driver and passenger seats on your right.  Both front seats can turn around to face – and be part of – the main living area. 
There is a great little desk space behind the driver's seat, which turns around to make it a comfortable place to work from. This work space even had a permanently mounted screen set up, which you can connect to a laptop. It's a great use of space!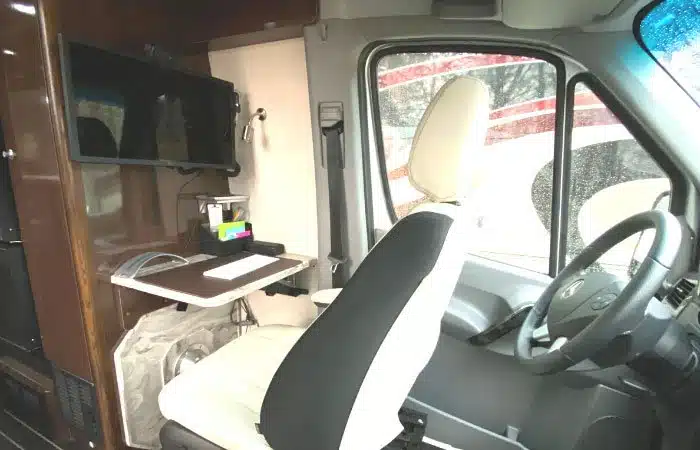 Next up on the driver's side is a single wardrobe for hanging clothes, plus some long drawers for a pantry – or for storing extra clothes. There is also a very large fridge (bigger than the previous model years) with a separate drawer freezer. 
Continuing on the driver side you will find a wet bath, with a shower, toilet and vanity. The bathroom is definitely compact, even for me at 5'8" tall and 170 pounds.  But, in fairness, most people probably spend less than 30 minutes a day in their bathroom. So it doesn't make much sense to use a ton of floor plan space for this area. And we have to remember it's a van!
Airstream Interstate – Interior Features
On the passenger side there is a long kitchen counter and tons of storage underneath in drawers. The sink is toward the front entrance.  When the main sliding door is open, a screen door offers excellent openness and views outside. It's great for when you are cooking or doing dishes. However if you are tall, you might find yourself staring more at the overhead cabinets. Especially if weather causes you to have to close the main door.  
The rear area of the coach offers a large bench seat and two side seats.  Enough to comfortably seat 5 people. There is also a TV in the rear area.  We loved the glossy hard wood cabinets, light colored leather furniture, and beautiful floor.  It is definitely a very stylish and visually appealing coach!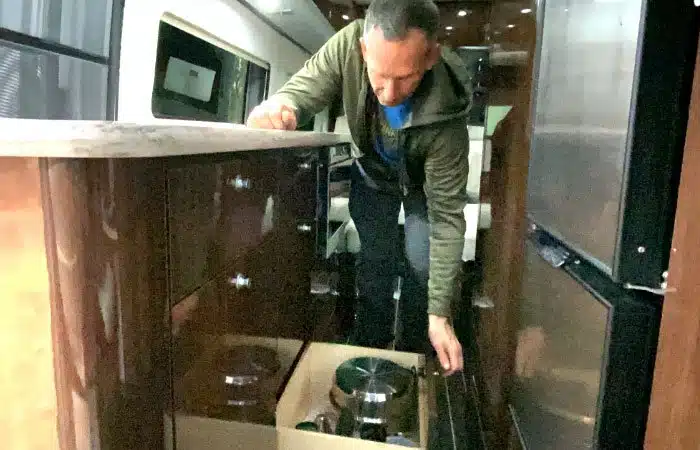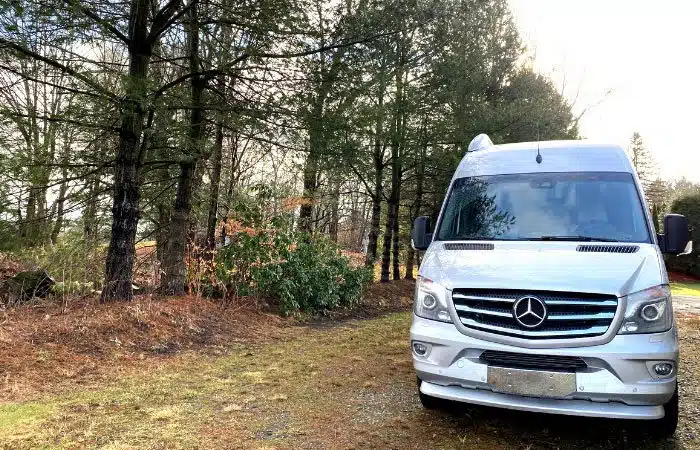 Living Area Technology Features
Being a high end, modern Class B van, the Airstream Interstate also had centralized control panels, with multiplex wiring. These operate all of the lighting, window shades, climate control and other systems.  The window shades were all motorized. And it was pretty cool to be able to open or close all of the shades simultaneously, at the push of a button. There is an onboard generator if you need to run an air conditioner or other high draw appliances when not plugged into a power pedestal at a campground, or recharge your batteries.
Now, let's go take this baby out for a drive!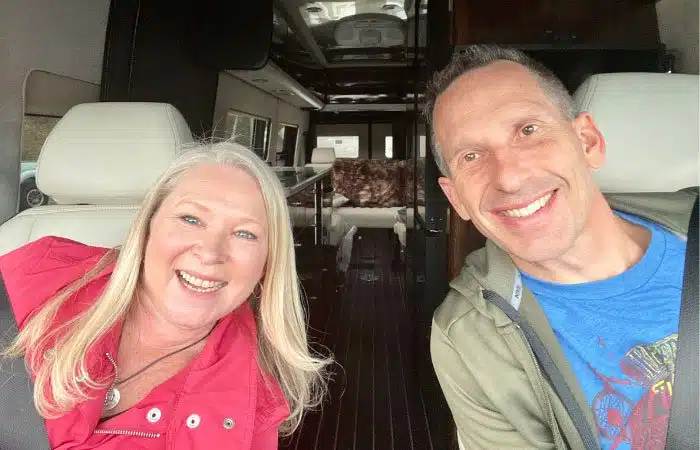 Test Driving the 2018 Airstream Interstate Van
First, let me say that being in Connecticut, I am very happy we were not borrowing our friends OTHER RV to drive around this area. Their other coach is a gorgeous 45' Class A diesel pusher that they full timed in for a few years before changing to part time RV travel.  The roads in the New England area, in general, are not very friendly for big coaches.  There are low bridges, tight turns, and narrow twisty roads everywhere. Hence the reason they bought a second, smaller RV, so they can take it into New York for business trips, and and stay overnight if needed.
It is really fun to be able to enter the cab just like a car – it's a much smaller and more nimble RV. And a very different experience to our usual, home-like entrance of our Class A diesel Country Coach.  That car-like feeling continues with the actual driving experience.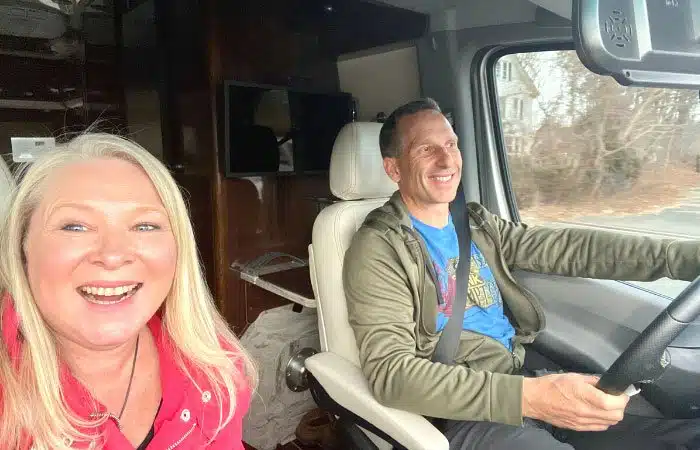 Specifications and Features
This Class B van is about 24 feet long, 6' 7" wide, and just under 10 feet tall. Weight is 9,000 lbs and GVWR is 11,000 lb, which leaves a generous 2,000 lb of cargo carry capacity.  The diesel engine generates 188 hp, and 325 ft lbs of torque. This provides very good performance on this size of coach.
We were impressed with the high level of safety and convenience features available on this Airstream Interstate van.  Lane departure warnings, blind spot notification, built-in navigation system, airbags, and much more.  It is built on a fully loaded Mercedes Sprinter 3500 chassis.  When doing tours of other Mercedes chassis based RVs in the past, it is obvious that many others start with a much more basic, entry level appointed platform.
Driving the 2018 Airstream Interstate
Super easy and nimble to drive, I especially appreciated the car-like 6' 7" narrowness of this van. Wonderful on the New England area narrow roads.  At just under 10' high, it is still too high for many of the low clearance bridges in this area.  But, far more route access than the 12' and 13' heights of many Class A motorhomes and fifth wheels.
Chassis feels a bit firm, but we believe that part of that is because our friend's van doesn't have much weight in gear loaded into it.  I would imagine that it would be a slightly smoother ride if carrying a bit more weight, or perhaps slightly lower tire pressure. Ride quality was great in general, but expansion joints in the road, or uneven surfaces were at times a bit jarring. As you will see and hear when watching the video.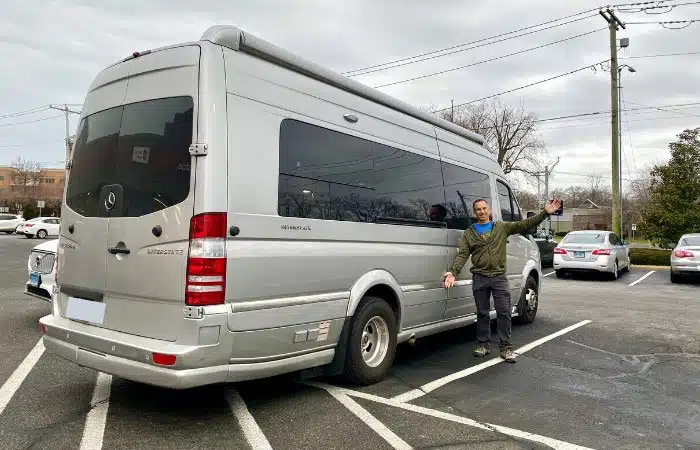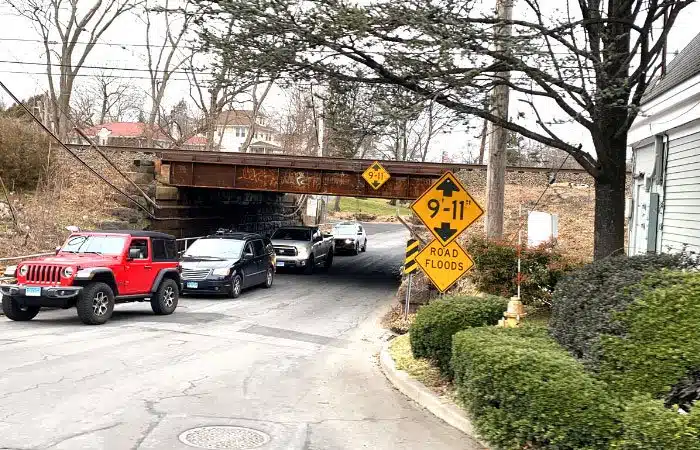 Parking the Airstream Interstate
We found it very easy to park and maneuver in parking lots.  One only needs to be mindful of the length, as most parking spaces are only 20 feet deep. Sometimes you will need two spots, or find a space that allows some room to allow the rear to overhang.  
Speaking of the overhang, one thing I didn't like was that the propane connections are one of the lowest and most vulnerable components. It is located behind the passenger side rear dual-tires. Therefore, it is one of the first things that would hit if you were backing over a curb that is too tall.
Livability of the Airstream Interstate
After we drove around for the day, we decided to spend the night in the coach.  We wanted to get a feel for what it would be like to cook, sleep, shower and live in the space for a longer term. Luckily, even though it was January in Connecticut, it was unseasonably warm at 59 degrees F. The van was plugged into power, so we were very comfortable temperature wise.
The kitchen had a great fridge. Huge for this size of RV. Counter space was quite good, and we liked that it faced the large window area, or large screen door, if the side door is open.  Storage space was also very impressive for an RV of this size. The drawers in the kitchen were big enough to hold a small Instant Pot.  Of course, being on a short trip, we didn't have many ingredients with us. So we just needed to pretend we were doing food prep, and cooking, to get a feel for the kitchen area. The kitchen counters are taller than usual (and taller than our own motorhome) which was more difficult for Julie, being just 4'8″.
Sleeping on the Convertible Bed
The rear area of the RV has a fold down bench seat that goes flat with the touch of a button.  Then there are two side seats that fold down to create what is then a quite large space – bigger than a queen sized bed, maybe even closer to a king size bed. The advantage of a conversion sofa/bed is that the space is usable for living, relaxing, lounging, and eating during waking hours.  However, there are a couple downsides to this convertible sofa/bed.  First and foremost, you do need to convert it every night when it's time to sleep. And that takes time.
Once the bed area is converted, it is mostly flat. But of course, not as flat as a proper mattress.  And, there was a vertical board sticking up to surface height.  The board is from the side of the seats that normally face each other in the rear area.  I guess the design of the seats requires these boards for safety with the mechanisms. You would think there is a better way to design it that would avoid having a hard lump that hits your legs while laying in bed. 
The solution offered by our friend, the owner of the RV, was to lay additional bed toppers over the top.  It took an extra few minutes to pull all of those bed rolls and sheets our of the cupboard above.  While it made for a quite comfortable sleeping area, it took a good 8-10 minutes to get the bed properly set up. Of course, being our first time, we were slower, so you may get it down to under 5 minutes with practice. Likewise, in the morning, it took some time to tightly roll up the foam toppers so they could fit in the cupboard above. The extra form roll bedding was bulky. and consumed what could otherwise be valuable storage space, if you were  planning extended travel in the Airstream Interstate.
Note: if you are under 5'6″ tall, you would be able to sleep across the width of the rear bench seat or with it folded down.  Then you would not need to worry about the uneven surfaces as much.
All that said, we were concerned that the extra time and effort involved with making the bed up and down every day would quickly get old.  
So, how did we sleep?
Once made, the bed was surprisingly large and comfortable – WITH the foam toppers. We had a pretty good night's sleep. Julie said she felt a little stiff in the morning, but overall, we slept better than expected. I slept really well, but it was so much work to pack it all up in the morning. So the idea of doing that on a daily basis – at night and in the morning – isn't very exciting. Being under 5′ tall, Julie could easily lay across the sofa length, if she was traveling solo in the van. But of course, for the two of us, we need to make up the entire bed at night.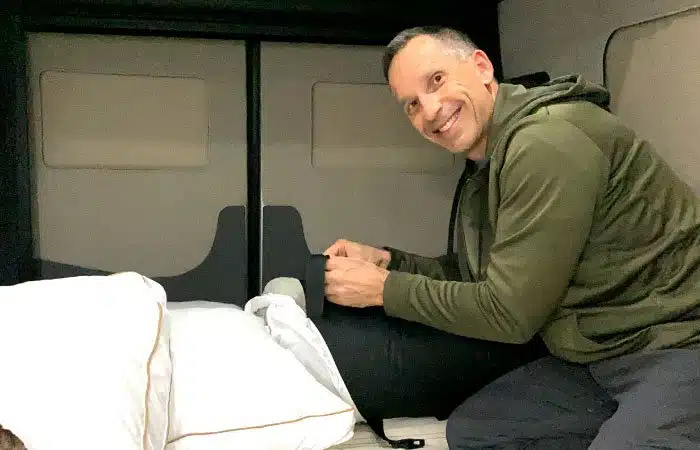 Other Livability Considerations
Water tank capacities include 27 gallons of fresh water, 21 gallons of grey, and 13 gallon black tank.  When emptying the waste tanks, this RV has a small diameter hose and a macerator. So it is more space efficient and able to move water a significant distance. You could empty your tank into a regular toilet if you could park close enough to one, therefore not needing to find a regular RV dump station. 
While the fresh water and waste tank capacities in the Airstream Interstate are better than some RVs in this Class B Van category, they are still substantially smaller than the slightly larger wide body Class B+ RVs.  In our Class A motorhome, we are used to four (4) times more capacity, so we can easily camp off the grid for MUCH longer.
These small tanks in a Class B van are great for nimble travel, but they will require frequent dumping and filling, unless you are hooked up to utilities at a campground.
Final Thoughts on the Airstream Interstate
While we love the visual appeal of the Airstream Interstate, and the amazing versatility of being able to use it as a daily driver, we don't believe this van would be a fit for what we are looking for at this time. We believe having something like this would be fantastic for people who have a more traditional stick and brick home and want an RV that can be used as an extra vehicle.  Then also have it available for short getaway trips, especially in areas where space is a premium. Like the north east! Which is why this van was the most sensible choice for our friends who own it. It's the narrow width – even moreso than the length – that makes this the ideal RV for their short trips around the north east.
The van would be quite livable for a solo traveler for more extended periods, or for couples who are mostly outside exploring and adventuring. But for a couple like us, who work full time inside our RV, we felt it was important for us to have a bit more space. That said, we do have whole new level of appreciation and respect for the tenacity and adaptability of our friends Chris and Aaron, who have successfully been able to live, work and travel in their Airstream Interstate van for over a year.
Overall, we are very glad we had the opportunity to borrow our friends' Airstream Interstate van as part of our smaller RV shopping and research. We really looking forward to trying out a couple of slightly larger rental RVs when we next head down to Florida, then Texas.  Keep an eye out for those posts and videos coming soon!
GOT COMMENTS OR QUESTIONS?
We would love to hear from you. Drop us a note in the comments section below.