This post may contain affiliate links.
Circle M RV Resort and Campground is a Thousand Trails (Outdoor World) property located in the heart of Lancaster County. Pennsylvania Dutch Country and Amish Country.
We visited here after our stay in
Gettysburg Farm RV Park
, because Gettysburg Farm was closing for the season.  Circle M RV Resort was also nearing the end of their season. The week we stayed was the last week that it was open during the week. After that the are open only on weekends in November.  Halloween is a BIG deal at this campground too, so if you like Halloween, it will be great if you arrive in the weeks prior.  The campground was so full the day we arrived, that we decided to boondock in the parking lot that night. Waiting for sites to open up the next morning, would offer more choices as we knew many would open up on Sunday am.

Overview of Circle M RV Resort
:Circle M RV Resort is a large, spread out campground with approximately 300 sites.  Most of the roads in the campground are paved, and the full hook-up sites are gravel.  Other sites are dirt or other natural surface.  Campground facilities were well maintained and if you like playing in a pool, you will love it here during the summer.  The indoor pool was still open, but the indoor water park and outdoor pools were already closed for the season.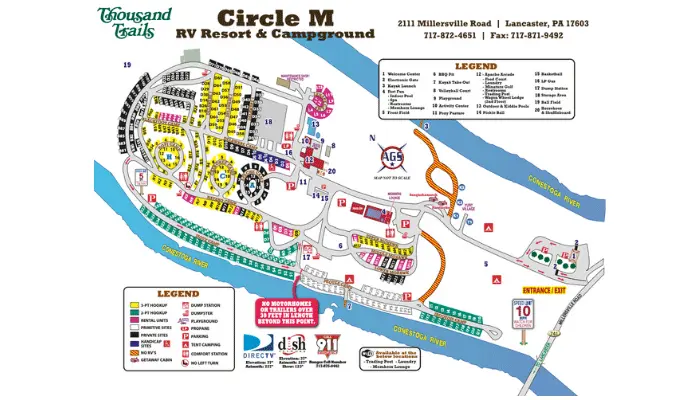 It is a very spacious park with a river that runs around it. Circle M RV Resort is one of very few that we have experienced that actually shows the annual/private sites on the campground map. It is nice to be be upfront about it, so we know not to look for sites in those areas.  There are not many full hook up sites available considering the size of the park.  

More about Circle M
I believe there were around 70 full hook up sites, 50 with water and electric, 30 with no hook-ups, and the remaining 150 sites are either private sites, or rentals.  Most full hook up sites are big rig friendly.  Campground is reasonably close to grocery shopping and to some pretty nice small towns.  One of the largest appeals for us is the proximity to so much Amish country.  We thoroughly enjoyed exploring the Amish communities and found the countryside and area to be really wonderful.
Pros
Proximity to Amish country
Wonderful pool areas and other outdoor sports
Nice covered mini golf
Actual real golf course ( I believe it was only 3 hole.. but was the only TT park we have seen that had a real golf course.
Spread out size of campground helps avoid feeling cramped.
Quiet general area
Fun for Halloween
Friendly staff
Cons
Not many full hook up sites available.
Didn't like power lines running through part of park
Better in summer when all pools are open
Some of the roads for the sites with partial hook-ups are a bit sketchy
Stick to main roads where the full-hook up sites are if you have a bigger rig
WIFI & Mail
Cell coverage was a bit dicey at times.  Signal showed between 1-2 bar LTE, and at times was good, but signal dropped and disconnected much more frequently than in most areas we visit.
We didn't have any deliveries here, so we can't comment on that for this location. We always recommend calling ahead to check with the campground, as rules can change.
Summary
Circle M RV Resort is a nice campground, and we would likely return. Even though the cell coverage was less than optimal, we really liked the area and the connectivity was still adequate for our needs.  If you love playing in a pool or waterpark, plan to visit in the summer when all would be open.  Nice to have a bike at this campground because it is spaced out for a 300 site campground.  
Interesting mix of being a campground with among the most amenities but at the same time having more rustic campsites with no hook-ups or partial hook-ups.  They do offer honey wagon service to dump your tanks if needed. Worth visiting especially if you don't need strong cell coverage or don't mind having a site without full hook-ups.  Note sure of rates paid by the public. We were able to stay here for no nightly fee thanks to our
Thousand Trails Membership
.

Address for Circle M RV Resort
211 Millersville Road, Lancaster PA 17603

Nearby Attractions
Hershey Park (32 miles), Chocolate World (32 miles), ZooAmerica (32 miles), Strasburg Railroad (16 miles), Indian Echo Caverns (31 miles), a variety of Amish Experiences and Tours (within 10-15 miles), Dutch Wonderland (16 miles), American Music Theatre (15 miles), Dutch Apple Dinner Theater. 
Our Experience of the Area
We spent a wonderful afternoon exploring Amish country and learning about their beliefs and how they live on a tour with the Amish Farm and House. We booked Option 3, which included a guided tour of the Amish House (45-60 mins); a guided bus tour of the Amish countryside where we saw farms, horses and buggies (90 mins); and a self-guided tour of the museum/farm with equipment, educational information and farm animals (take as long as you like, we spent a good hour exploring). Tour cost was $27.50 each and well worth it in our opinion. The guides were educated on the Amish way of life, respectful, very informative, engaged and happily answered our many questions. Amish Farm and House

Season for Circle M RV Resort
First week of April to 1 November. During November open weekends only except Thanksgiving weekend which is open Wednesday, Thursday, Friday, Saturday and Sunday. Circle M closes after Thanksgiving until the first week of April.
Please note: at the time of writing, the Thousand Trails website lists Circle M RV resort as being open year round – this information is incorrect as the season has now changed to that described above.
Read More Campground Reviews in the North East
Gateway to Cape Cod, Pennsylvania (TT)
Gettysburg Farm, Pennsylvania (TT)