This post may contain affiliate links.
After a month of exploring Georgia, Tennessee, North Carolina without reservations during our un-planning adventure, we were very excited to arrive in Virginia, and settle in at Thousand Trails Chesapeake Bay RV Resort.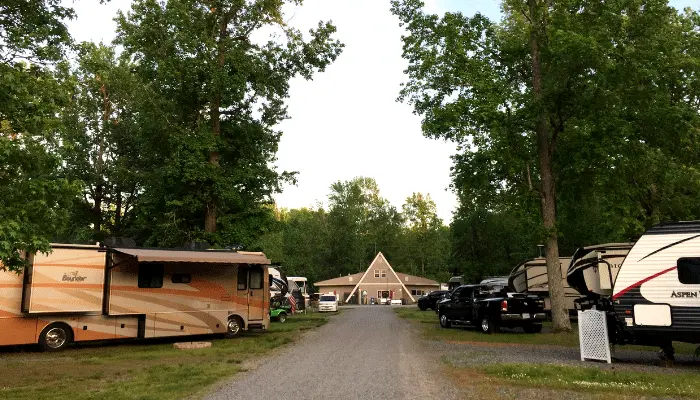 Location and area near Chesapeake Bay RV Resort
Thousand Trails Chesapeake Bay RV Resort is about an hour east of Richmond in a town called Gloucester. As you might have guessed, Gloucester is one of many cities that surround Chesapeake Bay. The campground itself has waterfront sites along the Piankatank River which flows into the bay and offers boating, crabbing, fishing and water skiing. 
Roads in the area are RV friendly. Interstate highways feed into the area, and the remaining roads are in very good condition and easily managed by larger RVs. No difficult hills, bridges, or tunnels were encountered in the area.  
The area immediately surrounding the RV park is mostly farm country, and small rural towns.  So it is a very quiet and peaceful area.  If you are a history buff, there are multiple historical towns within an hour drive, including Williamsburg, Yorktown, and Jamestown.
Grocery stores and shopping are about 20-30 minutes drive away, but in a good sized town with most anything you could need or want. 
Amenities at Chesapeake Bay RV Resort
Chesapeake Bay RV Resort has really nice amenities. There are two outdoor pools, baseball, basketball, volleyball, and pickleball courts.  You will also find a mini-golf course, shuffleboard, horseshoes, and a nice playground.
For water lovers, there is both a lake, and river access. From swimming, fishing, and crabbing, to kayaking, boating, and water skiing, most every water activity you desire. If you don't have a kayak, canoe or paddle boat, they are available for rent at the campground for a small fee.
Wanting to stay indoors? There is also an arcade, lodge and indoor spa area. The onsite dining hall serves breakfast regularly, and sometimes serves evening meals. We enjoyed a breakfast there during our stay and it was really good. We liked that they had an excellent recycling program at the park.  The campground also has a small laundry, dog park, and store onsite. Apparently the store serves especially great ice-cream as people were lined up everyday. 
Our book, Living The RV Life – Your Ultimate Guide to Life on the Road, is available in the campground store too.  Stop by and pick up a special autographed copy! They also have an active event calendar to encourage community fun. Chesapeake Bay RV Resort is well maintained and the staff were very welcoming, friendly and helpful. 
The area around Thousand Trails Chesapeake Bay Resort has many pretty coastal communities.  History buffs will love the proximity to the Virginia Historical Triangle of Williamsburg, Yorktown, and Jamestown. The Colonial parkway is a great scenic drive.  The nearby villages of Gloucester Courthouse, Mathews Courthouse, and Urbanna also have restaurants, , shops, galleries and museums. 
For more youthful and adventurous entertainment, there are two amusement parks in the area. Kings Dominion and Busch Gardens are both about an hour away. Definitely lots to draw people to the area other than the campground itself.
Great amenities and staff, including our favorite Thousand Trails membership specialists Jim and Brandy Reneau.770.622.4188




Quiet rural location and well maintained park




Great area for exploring, especially if you are a history buff.
Some might not like needing to drive 25 minutes to a store.




Majority of the sites are 30amp, but with all the trees for shade, most won't need dual AC




Very popular park, might be tricky to get reservations in peak season
UPS, FedEx and Special deliveries are accepted but not mail.  Regular mail must be sent to General Delivery, U.S Post Office Dutton, VA 23050 (7 miles from the Resort)
The resort does not offer Wifi or other internet. We use our own data with AT&T, Verizon and T-Mobile.  During our visit T-Mobile had occasional 1 bar, None were great. Verizon and AT&T both had 1-2 bars, but AT&T was consistently the best of the three during our visit.
Rates at Chesapeake Bay RV Resort
We stayed at this RV park at with no nightly fee because of our Thousand Trails Membership.  We are not sure of the normal nightly rates.  Annual sites are also available.
RV Sites and the property
Some of the internal roads are paved asphalt surface, but most internal roads and sites are gravel. The RV park is easy to navigate and the sites are above average in size.  The majority of sites would fit large RVs, but there are some exceptions, especially right along the waterfront. 
Most sites are pretty level, We didn't see many RVs needing leveling blocks. Chesapeake Bay RV Resort is spread out and has many trees, and a lake. The layout, landscape and foliage helps hide the number of RVs, and makes it feel smaller than it is. 
There are a total of around 365 sites on 280 acres.  All RV sites are back-in. Power wise, 135 of the sites have 50amp, 210 have 30amp, and the remaining 20 don't have power hookups, mostly used by tenters.  Section E is almost entirely annual residents, but there are other seasonal sites spread throughout the park. Most sites seem to be available for shorter stays.
Chesapeake Bay RV Resort also has 25 cabins, most of which are waterfront along the lake or the river. Two RV storage areas are also available at this park. Like most Thousand Trails RV parks and campgrounds, there is a ranger station at the entrance to the park with a security gate.
This is a very nice Thousand Trails RV park. Especially nice considering we can stay here with no nightly fee using our Thousand Trails membership. We visited this resort in May 2019.  The weather was nice with daytime highs in the 70s and night time lows in the 60s. We had a nice time here and would definitely come back to visit. 
Learn more about Thousand Trails memberships at these related blog posts.
Speaking of Thousand Trails. our favorite Thousand Trails membership specialists, Jim and Brandy Reneau are based here at Chesapeake Bay RV Resort in the summers.  If you have questions not answered in our blog posts linked above, or would rather just ask over the phone, give them a call at 770.622.4188. Here is a photo of us and their pups below.
To find out more or to make a reservation, contact:
Chesapeake Bay RV Resort:
Address: 12014 Trails Lane, Gloucester VA, 23061
Phone:1-800-388-7788 (members)
Phone: 888-481-6348 (non-members)
Editorial Disclaimer: Opinions expressed here are the author's alone, not those of any RV park, campground, or RV resort, and have not been reviewed, approved, or otherwise endorsed by any of these entities.
GOT COMMENTS OR QUESTIONS?
We would love to hear from you. Drop us a note in the comments section below.
Looking for more RV park reviews? Hover over each image to see campground and location and click to read our review. Find ALL of our campground reviews on this page.