THOUSAND TRAILS CAMPGROUND REVIEWS
In our seven years on the road as RVers, we've spent over 800 nights (that's over 2 whole years) staying at Thousand Trails campgrounds and Trails Collection parks (Encore RV Resorts). And we've saved literally thousands of dollars on camping fees in the process.  Click on any of the images below for campground reviews and memberships. If you're wanting to learn more about Thousand Trails memberships and how much it saves us every year, click here.
So what does a Thousand Trails Camping Membership cost in 2021? Here's the latest pricing for all new Thousand Trails (TT) memberships, and the latest promotional deals. We cover the Zone Camping Pass, Trails Collection, Elite Basic, Elite Connections and NEW Adventure upgrade – with an overview of each membership type and key benefits.
read more »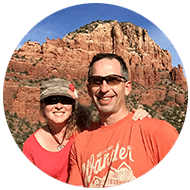 WANT TO LIVE & LOVE THE RV LIFE?
We're full-time RVers who have traveled to all 50 USA states over the past 6 years, sharing our journey and learnings along the way. We want to help YOU hit the road and live your RV dreams too.
Sign up for free email updates with inspiration, in-depth articles and tips to help you get there – better, faster and cheaper. We hope to see you there – and on the road!